Lumia 830 and Lumia 735 now available for pre-order in the UK for October release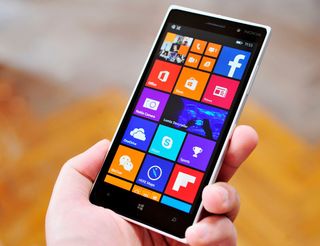 Unlocked Mobiles and Clove in the UK have announced listings for both the Lumia 830 and Lumia 735 ('selfie' phone), which are now available for pre-order. The Windows Phones are set to be delivered on October 2 and go for around £300 and £220 respectively.
The Lumia 735 sports a 4.7-inch display, while the Lumia 830 goes all out with a 5-inch IPS screen. The two mobile devices do not share the same design, with the Lumia 830 following the 930 and the 735 looking like older Lumia devices.
Pop on over to Unlocked Mobiles and Clove to check out pricing and more details on both Windows Phones.
Unlocked Mobiles
Clove
Windows Central Newsletter
Get the best of Windows Central in in your inbox, every day!
Rich Edmonds was formerly a Senior Editor of PC hardware at Windows Central, covering everything related to PC components and NAS. He's been involved in technology for more than a decade and knows a thing or two about the magic inside a PC chassis. You can follow him on Twitter at @RichEdmonds.
The 830 is priced too high, imo - should be round the £250 mark. Otherwise I think I'm picking that up sharpish!

I think that's cheap imho.

Considering the 930 can be had for around £320-350 then no, this phone is not that close in spec to a flagship. This is too high. Though I'd imagine the price will drop to more acceptable levels, after it becomes widely released.

I was hoping 830 to be priced £200 and 735 to be priced £160-170. Even £250 is high considering you get 930 for £320.

please show me reputable uk seller where you can get UNLOCKED umia 930 for £320. I think £300 is a goog starting price considering it is supposed to compete with phones ike gaaxy s5 mini and htc one mini 2

great release price for 830. no doubt it will drop to 250 before christmas.

I'd imagine it will, or lower. It must do, or the stiff competition will stifle sales.

Two comments:
1. Stop calling a phone 'selfie' if there is NOT dedicated camera button. 2. 830 launching at £300 mark is BIG mistake. Get the price right to start with. Don't adjust it few months later when no one is interested any more. £250 with big marketing will generate sales. MS badly need solid seller.

Agreed. As for selfie phones, isn't there a mid range htc with a 8mb selfie ffc and a 64 bit processor, 2 gb ram and all that for around £300 or lower also? The htc 820 if memory serves. MSFT need to come out of the gate fighting for sales with low prices! That htc is mid range gold. Offers bang for buck. I much prefer lumias but that price, for the 830, is off!

Isn't the 730 the selfie?

For your kind information there is something called Lumia selfie app which can auto click photos by just pointing it towards ones face

I don't see your logic. It's a selfie phone because it has a selfie centered camera. That's why we can call it a selfie phone. If it were the camera-button-phone, then sure, that'd be incorrect as there is none. But the existence of a button and the selfie focus are 2 completely different things. Also, I'm guessing you've never used a WP without a camera button, have you? You can put it in one of your notification center's shortcuts and it's quite easy to get to. Not much worse than long pressing the actual button.

Sorry, but 99% of the phones in the world don't have dedicated camera buttons. Early WP adopters are going to have to get over it.

I doubt they will retail that high. I often see that Clove's prices are higher due to early access.

Way too expensive. If someone can afford to spend £320, they can afford another 200 for an iPhone 6. This needs to be around £220-230. To sell this they'll need to do Photo comparisons vs the new iPhones. I am looking forward to see these comparison photo shoots though.

I don't follow your logic there. £200 is still a lot of money when deciding what phone to buy. If someone does have £300+ to spend on a phone it doesn't automatically mean that they can dispose of another £200 to get an iPhone. As an example, I bought my wife a 620 when it was first released because it came in under my budget of £250 but I wasn't going to go over my original budget in order to get her something more prestigious, even if I could have afforded it.

Umm, not really, lol! If someone's budget is £320 then they can afford to spend £320, not almost double it for a £520 iPhone. That kind of logic is always flawed.

Remember these places tend to price phones £20-£50 more expensive than they will be once they hit the carriers. Carphone Warehouse will probably have them for £180 and £270 in a couple of weeks.

Seriously considering 830 as upgrade from 820 but not at that price when the 930 can be had for just a few more pounds. Nearer £250-270 and I'd be more inclined.

The price will drop soon enough. Posted via Windows Phone Central App

Yeah like in the first week. I'm predicting super poor sales at those prices.

Lets hope it does, I'm more interested in 730 myself, but I will wait for one or both of them to have a price drop. I'm really satisfied with my 520 for now. :)

A you calling £100 a few pounds more or is there somewhere you can get the 930 for less. Everywhere I just looked had it at £400. Which makes £300 for the 830 about right.

£346.5 on Giffgaff - unlocked, so for any network. I just googled that, so you can too. There are deals out there. And frankly considering the poor comparative sales of these top tier devices, the pricing structure should be lower. Android devices are scalping sales - the newly abounded mini versions, and the aggressive pricing of the motos mean the top and mid tier is very competitive, as is the lower tier, where msft make their money. The 930 had been floating round £320-350 for a while, though you can get it for around £400 everywhere. Giffgaff is a good way to go, and that price is solid.

Ah cool. Well these 2 sites have the 930 on sales for £400 (ones actually £430) so if that's anything to go by the places offering it for £350 would likely have the 830 for £260 which is a good price.

True - clove and unlockedmobiles probably have a premium for the first buyers, but the price will and must drop. Fast. At £300, that price is crazy. But then at £400 it's crazy for the 930. MSFT need more control on their pricing. Oh, the 1520 was being sold, by a reseller from Germany, for around £350 - on amazon.co.uk. Though that offer is gone now. May come back though. The retail price are trumped up hard lol

Expected in October. http://gadgets.ndtv.com/mobiles/news/nokia-to-launch-low-cost-3g-and-4g-...

Waiting for 830 here in Saudi Arabia

£300 is $550 Aussie dollars. Only MS fan boys and the absolute mindless will shell out that much for the 830.
MS u sniffin too much.

It's incl VAT, which is 20% in UK I believe.

Also tell that to Apple fan boys too who are waiting in lines from weeks to get a phone off contract ~ 500-1000 dollars and 500 dollars on contract and nobody gives a shit about specs or anything...!

How much is 229 Euros in Assie dollars? Because the Lumia 735 is 229 Euros on Amazon.fr

Expensive. But I am guessing price drops in a few weeks time after release. 830 should drop around 200-250 range

Will they come with denim preinstalled? If so it should be out shortly after for my 930 !!

it is coming with Denim preinstalled, ,sometime Q4 it will be released to lumias, we gotta wait for date from MS

Is Nokia 735 supposed to be more expensive than 730? Because I need the second one. Posted via the Windows Phone Central App for Android

What about India? And we want 930 too in India.

930 hasn't released yet in India?
Strange. It launched about one or two(maybe) months ago in Bangladesh!

830 is expected to be priced between 25k to 30k and 730 for 14k to 16k as far as a retailer told me.

Instead of Lumia 730, I think it should have been called the Lumia selfie or something like that. Easier to market that way.

Thats a good idea unfortunately MS marketing dept are short on creativity but high on BS "budget flagship" nonsense. 300 pounds aint no budget and its features sure as hell aint flagship.

It's not meant to be a budget phone. It's not meant to be a flagship phone. It's meant to be a *mid-range* phone that provides a better *experience* than you'd typically get in that class. It will not necessarily win a spec-war on paper; wait to judge this until we can see real-world side-by-side comparisons with similarly priced phones. Specs are not everything. Just because two devices have the same or similar resolutions doesn't mean they deliver the same visual quality in day to day usage. Same with the camera; knowing that a phone outputs an 8 MP image doesn't tell the whole story about image quality. Ditto for battery life and everyday processor performance.

That's not a mid range price at all.

true, Lumia Selfie or something to that extent would be great, they did great ad though https://www.youtube.com/watch?v=vCPL17XyFKQ

What about here , what about there... Stop it already! Wpcentral is not affiliated with Microsoft so it doesn't know unless it gets info if a new phone is going to be released where and for how much! So stop, you will learn when they release since wpcentral will be the first to cover it! -_-

It depends if you want it right now or are prepared to wait. I picked up the L1520 for £350 in April 2014. Still probably the best Lumia out there. Prices drop on all Lumias.

This is dirt cheap. it will totally blew away competiton like Moto G which priced at £145

Haha. Exactly. MS have to suck it up and create a few loss leaders to gain market share. If One Plus can release an ACTUAL flagship spec device for under €300, so can MS. They have tl tempt people in with a low price. Unfortunately, the merits of Windows Phone are rarely enough to entice sales. So, it has to be price, and a low one at that

yep, Google who got 85% market share yet selling phone like Moto G at ridiculously low price to tempt more users.They even started something called"Android One" too. Where as MS still doesn't seems very serious about pricing. Are they expecting some kind miracle with WP that 2.5% will become 25% without doing any real effort ? At this current stage pricing should be like "even if user is Android lover seeing that price will force him or atleast put some pressure to try WP.

Agreed. MSFT really needed to work hard on their pricing.

Microsoft can afford to lose money on devices, but their OEM partners cannot. If HTC or any of the other 14 new manufacturers can't turn a profit selling devices then they will drop WP. Windows Phone cannot survive if MS becomes the only company making these devices. MS doesn't have the capacity or the reach (or frankly, the brand equity) to infiltrate every market (large and small) with devices that range from $50 to $500. They need Indian OEMs and Asian OEMs and LatAm OEMs to build and push WP devices to their local markets. If MS undercuts every one of these partners by selling devices below cost, then what incentive is there for a manufacturer to stay with WP?

That's a valid point I suppose. Google offer the heavily subsidised nexus range, but Android was pretty established before they entered the market. Really, MS should have destroyed the competition with low price points to get their foot in the door BEFORE they opened the gates by lowering requirements and dropping license fees. I just don't see WP gaining a viable foothold when people can buy Androids for similar pricepoints. WP doesn't have enough differentiating features anymore with Android L and so on and we all know it'll never win on the app front

If you compare the 735 with the Moto G which looking at hardware are competing, than even I would go for Andr**d. The 735 will sell in the EU for €277 while the Moto G only €190 costs. A difference of €87 for almost, if not, the same hardware.

Exactly. Sure, people have am issue with the android os, but you're getting a fundamentally better deal with the Moto. And what about the htc 820 - 8mb selfie cam and 64 bit blah. MSFT pricing does not offer solid value unless you're at the low end.

y wil Microsoft compete with android devices coz they ewrn from android. that's y they keep price little bit high so that their android royalty business should also run will. the Minecraft purchase was like a gift money Microsoft received from android. so their equity funds didn't get affected though market capitalization is little bit low. Microsoft will now focus marketing in windows as whole so they must hote better marketing team and make threshold a super hit

Huh? Look again. The Lumia 735 can be bought in the EU for only €229.

here in The Netherlands, I just checked, it costs at least €258 and that is before delivery costs, so it will cost around €262 not really far from €277/£220 and yes I hope the prices will drop quickly after launch.

1030, 1530 please now thanks bye

Nokiapoweruser gives a info about the launch of 730 & 830 in India..maximum in a week..but phones will be available only after 1st week of October.... I think it will be launched on September 30th the day when the Microsoft ceo will be visiting India.....

Release out in India already

U mean the 830 and 730? Seriously! How!

Bad timing... All phone stores have gone into iPhone6 Mode... There is not one phone reseller who would even mention these phones to customers... Sellers will tell people how the iPhone 6 camera is the best on the market... etc... Even if its not true people will believe it, and never understand that they get better pictures with this phone for 1/3 the price of an iPhone 6 Plus!

Waiting for the 830 in Uruguay! The new Lumias usually come here very fast

Brace yourself, "WHEN IS IT COMING TO INDIA?" comments are coming

america, america, where is my 830? (sung to the oh america song)


Just checked in a few countries in América: nothing.

Okay, I'll wait until the prices drop. 380 EUR for 830 is just over the top.

No new Lumia in the US this holiday season...for att.

Think we can confirm from most of the comments here that Windows Phone users are the cheapest and whiniest of all smartphone users.

I hope Lumia 830 or 730 will by available on Lithuania at least by the end of month.

what is price indian market? anyone's guess? i hope 16000rs?

Just bought the Lumia 830 couldn't resist it.

Iv also ordered a 830 too... Black

This is waaay to expensive! €270 for a 735!!! while a Moto G only €190 costs?! I thought they were in the same category :O

Spec-wise they sure are. Pretty much identical internals, except the Moto G (2014) lacks LTE for HPSA+, but gains water resistance. Nokia has marginally better cameras and materials quality. Definitely not worth that big of a gap though.

You forgot wireless charging and better mics a.o.

Look again. At amazon.fr a Lumia 735 is Euro 229,- The other ones must be some kind of preorder prices. In a couple of months a Lumia 735 will be <200 euro. Also The Lumia 735 is of a higher category.

cheapest here: €262 unfortunatelly

"when it's coming to india" comments are the new "seems faster".

What about the USA? Whatta heck Verizon!

India release date please?

12 october http://www.flipkart.com/mobiles/nokia~brand/pr?sid=tyy,4io&otracker=ch_v...

India please! Posted via Windows Phone Central App

Lumia 720 was priced at £300 appx.

Consider expensive for AFFORDABLE range, perhaps USD350 - 400 is competitive.

Why these phone doesn't have Headphones anymore?

Also available on pre-order from expansys.com 830 @ £324.99 and 735 @ £229.99

Everybody is talking about the iphone6 and the note 4. 735 and 830 will have a hard time selling their smartphones if they dont adjust their price. I guess ill wait for the price drop.

If people are having problem buying 735 or 830 because of the price. Trust me, they have the same issue with iPhone 6s and Note 4.

It's time for a 935 release by the end of the year

Nothing is going to release after 730, 735 and 830 at least this year from Microsoft.

Was it Lumia 830 and 735 announced ahead of iPhone 6and 6+? And iPhones are already being sold in the market? Why the hell 830 and 735 is still on pre-order?

That's why Nokia ruined itself by keeping high price.
And in future also Microsoft also going to RIP...

Microsoft has windows so its not going anywhere anytime soon.

In the mean time, they still can not tell people I'd they're going to be able to walk into a TMOBILE store and pick up an 830. Shame

Also I'm bored with windows OS restriction and UI.
Planning to go for Jolla an open source OS sailfish. it's launching its first phone in India tomorrow with snapdeal .
I want new UI and love gestures.

Lumia 930 Price drops to 299€ and people do really preorder such an outdated phone like lumia 830 for 300 pounds? I don't get it. http://www.smartkauf.de/Handys/Neuheiten/Nokia-Lumia-930-32GB-Black/p/90...

I had the 930 but wasn't to keen on the battery life and how hot it got (from what iv gathered amoled displays seem to use more battery life even though it should be the other way round?) iv just ordered the 830 as its got a ips lcd display, sd card slot, slimmer, lighter, removable back cover and a assessable battery

Am pretty much sure Lumia 730 will eat the sales of lumia 830.

Maybe these are preorder prices.

Nokia will comes out with the 5.5" screen very soon.

May I know that what's the meaning of Denim will supports 2k display and 805 processor? Does is mean that some features will improve through firmware update?

When is it launching in India?

Just pre-ordered an Orange Lumia 830, i'm getting back into Windows phone as i think now is the right time. For some its 'expensive' but i'm looking at it like this. SD Card, Glance, OIS/Pureview, Metal Design, Swappable Battery are all huge plusses! SD 400 + 1GB ram, yeah I guess compared to the likes of 801/805 processors and 3gb ram might seem rubbish but since no app requires more than 1gb ram (including the lock screen app) anything above that is just a bonus not a requirement. I wonder if they'll announce a wireless bundle like they did with the 930, but part of me thinks that was just to try shift a few since people wanted the icon to be global and then bought something else when it wasnt immediately.

830 is priced to high you could get the 930 for £350 on pay and go, was expecting the price to be within £200-250.

I was hoping for a bundle of Wireless charger, covers/speakers or something... Might wait for Amazon or carriers to offer this... Can't wait though.

Waiting for release in Indonesia Posted via the Windows Phone Central App for Android

Can someone verify if some of the new camera functions in Lumia Denim will not be available for Lumia 830? Need snapdragon 800?

At those prices... Nope I was expecting a sub £250 launch price for the 830. Unfortunately MS will need to compete with their OEMs in the mid range if they are going to make any sales. However right now there are no Midrange phones being sold by any OEM so they don't have anything to lose.

Why is the Lumia 830 and Lumia 735 so expensive from Amazon UK? Lumia 830 is 417 sterling from Amazon UK and Lumia 735 is 289 sterling. That's almost 100 sterling more than Clove and Unlocked Mobiles.
Windows Central Newsletter
Thank you for signing up to Windows Central. You will receive a verification email shortly.
There was a problem. Please refresh the page and try again.