Lumia 920 sold out at Expansys UK, tops chart with HTC 8X closely behind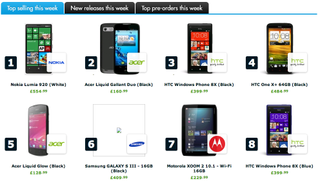 The Lumia 920 will be required to be rationed soon if Nokia can't produce enough to meet demand. We've seen retailers and carriers run out of initial stock. Whether this is down to high demand, limited stock or both, we're not sure but the Lumia 920 is proving to be a popular choice if the Exspansys UK Top 20 chart is anything to go by.
The Lumia 920 in white is at the top of the best selling chart (at a ridiculously cheap price of only £555) and is completely sold out - stock is expected in four days time. We're not finished with Windows Phones in this week's Expansys chart as the HTC 8X (black) is in third position behind the Acer Liquid Gallant Duo Android handset.
HTC also has another 8X variant (blue) in the top 8, which also shows some demand for the Taiwanese Windows Phone 8 handset. Now, the Expansys top selling chart is nothing to go by officially, but it does provide a useful insight into what consumers are purchasing from the popular mobile retailer.
Quickly checking the USA website, the HTC 8X (in blue) is in second position in the top selling chart behind a feature phone. Competing UK retailer Clove is also struggling to build enough resources to supply demand (more Lumia 920s are reportedly on their way), while Telstra took to Twitter to announce their excitement at the level of demand displayed by customers.
Be sure to check out our in-depth review of the Lumia 920, as well as the follow up holistic analysis, for an overlook at what's included in the Nokia Windows Phone that makes it stand out from the crowd. Have you placed an order for the popular Lumia 920?
Source: Expansys; thanks, Mike, for the heads up!
Windows Central Newsletter
Get the best of Windows Central in in your inbox, every day!
Rich Edmonds was formerly a Senior Editor of PC hardware at Windows Central, covering everything related to PC components and NAS. He's been involved in technology for more than a decade and knows a thing or two about the magic inside a PC chassis. You can follow him on Twitter at @RichEdmonds.
I have the popular windows phone handset

I hope both phones do really well. I prefer the Nokia, but it is good for consumers if both do well.

Sweet gorilla of Manila, £554.99!?

The demand for wp8 is so much better...and with the 920 sky is the limit..the iPhone 5 looked old tall and skinny all of a sudden..lol
Im still holding out for the 920..wp8 version is the 100% yet so as the apps for wp8..i will give it a month or 2 see what's up.. But if you are new to wp8 get the nokia you can't go wrong

The iPhone 5 is very wierd looking lol

The iphone 5 is actually funny looking. I saw it for the first time last week and it feels cheap and skinny but no extra width.

You can if you're on T-mobile and want an HD screen and top notch audio quality

Wow HTC has 2 windows phones in the top 10

Blue 8X is out of stock on amazon, and 8S premiere has been postponed from 15th to 27th. This is crazy.

I agree on the iPhone 5. It looks like they stretched it out without making it any wider. They were lazy when they made it basically. So light and cheap-feeling.


The prices are indeed high but then you should realise that these phones are probably imported from Germany as the 920 is not officially on sale sim free. I am expecting the price to settle at or around £500 once supply becomes readily available and the exclusives have run their course.
Normally we do not know what being sold out really means but in the case of expansys I think sold out is 100 phones in a couple days at a premium price.
So all in all definately signs of demand, I just wish it was more readily available UK wide (Heck world wide).

I think expansys is the official retailer of WP, isn't it? So, it is not remarkable to have so much WP devices in the top20. I would like to see the Amazon charts when they start to ship the Lumia920.
Overall, I don't care much. I have bought my L920 and I am happy with the best phone out there ATM :)

I'm really undecided on the 8X or the 810. Which do you guys think give more bang for the buck and which one is simply better?

The 810 and 8X are very different. I have two Euro 8X Hspa+ only, no LTE and I love em... Screen and sound and good camera. But you only get 16Gb and no removable battery. The 810 is Amoled with less resolution and more brightness, the 8X LCD...

Go for the 8X, can't beat that screen and audio quality.

I ordered a yellow 920 on 3.11. and today was informed that it'll take another 1-2 weeks before it becomes available with almost all other colours sold out or not yet available and I'm speaking about Germany here. Only option is to go to Vodafone for a black one on contract which would add up to almost 2000EUR over the next 2 years. Nokia that is a mess, a real mess.

"at a ridiculously cheap price of only £555" I seriously hope you're being sarcastic...that's far too hih a price, and I'm amazed it's selling out at that. Should be £100 less

Complaining about a price? Seriously stop being a cheapskate

I wonder if this is because the demand is super high or the volume of product is super low. I really hope its true demand. These are some awesome devices and I don't want windows phone to die or stagnate from lack of interest. The storm on the east coast has impacted shipments in North America

HTC 8X in 3rd and 8th positions. They are effectively the same phone in all but colour.
I wonder where the 8X would be if you added sales of both together?

The 8X sold in Europe has no LTE, it is only HSPA+. But they started selling them like Nov. 1st. Also Media Markt sold loads of them. I got my first blue 8X on Nov. 3rd, it was the last one they had, the Media Markt lady told me she didn't understand why the 8X was so hot... LOL The display read... HTC 8X, Android 4.8.... LOL... :-) But I recognized the 8X Windows button. Few days latter I got me a black 8X as business phone as well.

Both these phones are doing well due to sold out and short on demand and seeing many windows phone tv commercials on tv will for sure make consumer to consider getting a windows phone 8

Cheapppp?? Eugh I really didn't think it would be that expensive :-/
Windows Central Newsletter
Thank you for signing up to Windows Central. You will receive a verification email shortly.
There was a problem. Please refresh the page and try again.