Lumia 930 availability on Ireland's Meteor pushed back to mid-July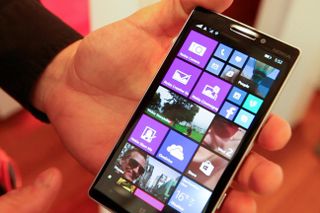 It looks like Irish customers have to wait a while longer for the Lumia 930, as Ireland's Technology Blog states that the launch of the device has been pushed back by two weeks. Earlier this month, it was confirmed that Nokia's latest flagship device would be making its way to Ireland's Meteor network in addition to Vodafone and O2.
While the original release date was July 3rd, the launch has now been pushed back to mid-July. There is no mention as to the actual cause of the delay, only that it is "from Nokia's side."
While the device may be delayed on Meteor, there is no evidence at this stage to suggest that other carriers, like Vodafone and O2, will also be pushing back their launch dates. Also, it is likely that this setback will not hinder the launch of the Lumia 930 in other territories like the UK. What are your thoughts on the delay? Would it affect your interest in the Lumia 930? Sound off in the comments.
Source: Ireland's Technology Blog
Windows Central Newsletter
Get the best of Windows Central in in your inbox, every day!
Harish Jonnalagadda is a Senior Editor overseeing Asia for Android Central, Windows Central's sister site. When not reviewing phones, he's testing PC hardware, including video cards, motherboards, gaming accessories, and keyboards.
What in July......weird. in Greece is gonna be available on 24 of June.

Looks like when I was told there had been manufacturing problems, they were right. I can't see any other possible reason for the delay.

Is it only Windows Phones that you have to search the high street and the internet to actually buy one! I want a Nokia Lumia 1520 and I'm yet to hold one in my hand, been looking for months. Nokia Lumia 720 is exactly the same. Oh I'm in the U.K. by the way.

Where in the UK are you? Maybe another member here can help.

I was in the same position; best place to go is an O2 shop. They usually have them on display and sometimes have display models in the back, but they only sell the red one in store at the moment and black is online only.

didn't know that! thanks. I have been looking round too all i can find is the 1320.

Went into O2 they had a demo unit which was damaged but have a good idea of the size... it's huge. Not sure if I could cope carrying it round. Do u get a free trailer, or backpack to put it in lol :)

I think you can order from expansys.

With a bit of luck it is because MS have sold a load of them on preorder. The more WP phones out there we have the better.

Nokia! Pull the finger out. There needs to be an official announcement from Nokia so we all know where we are at. All this speculation from the providers is just annoying. I just want to know when I can get my 930. (UK on EE)

Getting bored of this now. This just about sums it up really (should open in a new window).

Lol!!.. Don't worry about that kind of stupid crap.

i understand where you are coming from, but the lack of offical news or info from either Nokia, Microsoft, or Microsoft Mobile oy for that matter is getting kind of frustrating. Why did they even bother to announce the device at //BUILD if it was no where near ready, let alone say it would be released in June.

Before people get their hands on this device it could be considered old already. Don't know what they are waiting for

This has been the case with Lumia devices for a long time.. Hopefully when MS is in full gear with running things they can change this...

and the moon is made of cheese.

Provolone in my mind. Mmmmm

It has been the case with MS/Nokia. They announce a phone and then it takes upto 4-6 months to appear in Ireland. Even then its very few pieces available and hard to get hands on. Then they say that they are losing marketshare to ios/android. If you ask Nokia Ireland, they say ask carriers and carriers don't give much info or display share to WP.

disgrace.. it's a f!"#€! disgrace!

What makes you think it won't affect the release date in the rest of the U.K.? There is no release date!

Any word on a US release date?

So what is holding Windows Phone market share back more, "only" having a quarter of a million apps or having limited and late availability of the phones? For us it's availability of the phones! Seriously! In Western Canada if you want full coverage accross all of the provinces you have to go with Telus (or Bell). For months now the only WP you can buy from Telus is the L625, which is the only dud of a phone Nokia has released - since it doesn't have a clear black screen. So for those of us who actively advocate for the Microsoft ecosystem, there hasn't been a single phone we can recommend to anyone for months now. ..a number of swear words come to mind! How long does Microsoft expect us advocates to hang in there before we say the hell with it and tell people to buy an iphone? I really could go on a rant on this one :) Microsoft, PLEASE sell all the phone models direct from your store. Canadian carriers have BYOD plans, just sell us your phones. I can't believe customers are in a situation where they have to beg Microsoft to sell products, while Microsoft is desperately trying to increase market share.

I am headed to UK and Ireland in a month. I wonder if I buy an unlcoked 930 from there, would it work with ATT LTE in US?

Should work just check your carrier frequencies are correct ;)

This is the most beautiful smartphone that i wanna own. Perfect design. I hope it available soon to Laos

Damn it. I've been checking since beginning of June for the 930 on O2. Need to get rid of this P.O.S Galaxy S3.
Windows Central Newsletter
Thank you for signing up to Windows Central. You will receive a verification email shortly.
There was a problem. Please refresh the page and try again.