Nokia Lumia 930 confirmed to be coming soon to Ireland on Meteor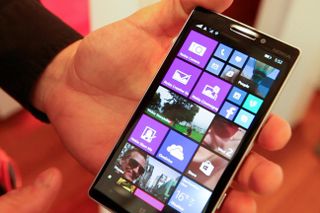 No, the Nokia Lumia 930 isn't strapped to a meteor in space, hurtling towards Earth. We're talking about the Windows Phone confirmed to be heading to Irish mobile operator Meteor. According to Ireland's Technology Blog, the operator has recently held a conference call covering handsets planned to be stocked and the Lumia 930 happens to be one of them. Perfect for those who are eagerly awaiting its arrival in Ireland.
While it is indeed confirmation the Lumia 930 will be sold by Meteor, there's no availability information yet. We'll keep our eyes open for further details, but prepared to be excited. The only question is which color would you get? Let us know in the comments.
Source: Ireland Tech Blog
Windows Central Newsletter
Get the best of Windows Central in in your inbox, every day!
Rich Edmonds was formerly a Senior Editor of PC hardware at Windows Central, covering everything related to PC components and NAS. He's been involved in technology for more than a decade and knows a thing or two about the magic inside a PC chassis. You can follow him on Twitter at @RichEdmonds.
How is wps progress in Ireland? Any Irish here??

Not much. A lot of Android and Apple. I saw maybe few Windows Phones here.

It depends where you are. I see tons every day. Apples, Sonys, Samsungs and Lumias would be the most common IMO.

I'm studying in Cork, and I saw few Lumias probably. All of my officemates have androids (HTC, Moto, Samsung) and one iPhone. My sister is working in Dublin for much time, and when I showed her my 1520 - she didn't even understand what the heck is that. Could you tell me where is this Lumia county in Ireland? :)

Hello fellow corkonian :)

Greetings. Love the Cork accent :D

Meath and Dublin. Seen loads of 520s and a few 800s. Good bit of 820s and 625s too.

There was a thread up on Boards.ie in the Bargain Alert forum where they listed the shops selling the 520 for 50 euros. There was a lot of interest and people reporting that all the stores around ireland where running out fast and sold out. Also both my parents (920's) and my 2 nephews (625, 520) have Windows phones. One of my nephews said a lot of his friends got Lumia's for christmas and birthday presents

In a recent article, Microsoft stated that the market share in Ireland is 10.3%. So it is improving and in line with the UK. There is still an overwhelming focus on iPhones and Galaxy's, whereby very little marketing is done on windows phone. Highly frustrating as Microsoft have no cohesive plan for marketing wp here but slowly but surely local apps are coming on board, no banks however.

Can I have the source please?

http://www.independent.ie/business/technology/microsofts-cloud-to-create... Did you mean this article? With 30% market share in Italy, I kinda doubt...

It's been Nokia marketing thus far. Microsoft is just now taking the reigns since it completed the audition acquisition of the devices division of Nokia, do if it's been scarce, that's completely on Nokia until the transition is fine in its entirety

I've seen a good few out in the wild. Bought a 520 each for my GF and mother and convinced my bro to get one too. And a friend of mine has an 8S.

Ya I've got a Lumia 625 not much around but I think their great

I have a 1020 in Ireland on meteor

See a few about. My wife has an L820, a mate has the L920. I know at least 2 with the Samsung Ativ. I've got the L925 myself from eMobile in Dundalk. They're definitely a lot sparser than the iPhone & Androids but we'll get there.

Its starting to pick up a bit but as others have said the carriers dont promote it and have no interest in pushing it, I am due an upgrade and when I went into my vodafone store to ask about the 930 they didnt know what Iwas talking about...... p.s. Loving 8.1 and cortana.....

Feels like the announcement was 5 years ago by now... Why not wait till it was ready and announce one day before they can ship the product? Terrible strategy, honestly

Because of all the coverage they are getting, granted people are fed up now. but still its all free press.

Tell me about it. I wonder when it's gonna arrive here in Brazil...

Sweet, now just waiting on Vodafone

Vodafone confirmed already. http://www.boards.ie/ttfthread/2057227421/1#post90774493

NOKIA Lumia 1520 all the way ! ;)

I actually love that device for its enormous abilities but also dislike for its enorm... size.

welll they sell the same hardware from october 2012 and call it new device releasing it more than half a year later. still waiting on my 920 replacement

Wow. The phone that never comes out is still coming soon. It's been at this stage since early April.

Imam really starting to doubt that we will see the 930 in June. They announced the date for the 630 weeks before it was released, but we have yet to see the same for 930.

You would probably be correct in your assumption. Nokia UK has already stated multiple times early July. However some stores online are showing a 28th June release date, while others are keeping quite.

Hmm, Nokia announced there availability, but instead focused their efforts on their X line of androids phones which ended up getting poor reviews despite the so called 4m that were supposedly pre ordered

Vodafone Ireland have confirmed in Ireland.

Lol @ the 930. Phone should have come last fall tbh

Is it true that wireless charger should be included in every Lumia 930 package? I mean globaly. I was just told by Nokia Czech Republic that there will be only normal USB charger. :-/

https://store.meteor.ie/coming-soon 'if you pre-order you get a free speaker & wireless charging plate '

No. That was an unsubstantiated rumour. Nokia never announced such thing, neither did Microsoft Mobile. Some places are bundling offers but it's their choice to do so, unfortunately.

Disappointing that AT&T still has no high end 5" windows phone device.

You should wait for McLaren ;)

Good knows how long the McLaren will take to come out...... Not good enough Nokia.....

Yea, what's the deal with the "Premiere" US partner? Sorry but a huge 16GB phone with no wireless charging is just a no go for me. Give me a suitable repalcement for our 920's soon please death star people....

Pathetic launch. Only a Windows phone takes this long to get to market.

+1 . Specially when this one is ready since last September.

Unless it's the One Plus One... That is a true joke Posted via Windows Phone Central App

Yeah. Though it's a tempting proposal. It's a cheap flagship. If they didn't screw up so much they could have had a hit in their hands.

Only Nokia, which by the way was their choice...... They chose to launch their Android line of X phone which from all reports have failed just like their Asha and meego, and Symbian lines. Please don't say they've been a success, because they haven't; if they were, then the deal with Microsoft to manufacture and market WP would not exist

The only thing worse than the time they take to release the 930 is the time they take to release the 2520.

Yeah, this is the phone I want. This is the phone I have been waiting for for over 2 years. Unfortunately I am on AT&T. So more waiting. Which is what it always feels like with MS. It's really getting old.

I really wish Nokia would just release the 930,it gets really annoying when they announce a phone and it is still not out months later. They build all this excitement and then don't capitalize on it Posted via Windows Phone Central App

I know......its so frustrating.. maybe the whole 8.1 thing held it up longer

Further to this article, the coming soon page shows some extra goodies!! :) https://store.meteor.ie/coming-soon Nokia Lumia 930
The amazing Nokia Lumia is arriving with a 2.2 GHz quad-core processor, 20 MP PureView camera, if you pre-order you get a free speaker & wireless charging plate 20 megapixel PureView Camera Quad-core 2.2GHz procssor Amazing 5" AMOLED screen 2Gb RAM mass memory 32GB Windows Phone 8.1 Full HD ClearBlack screen

I got the 1020 in December. My contract is for 2 years with meteor

I've been holding out to buy a 1020 off contract for very cheap (currently on 920) But the newer processors are making me rethink everyithing... still want the 1020 more than anything, but the always listening feature of the newer phones seems like a good trade off. Problem would be of course, 1020 cheap, or new phone at premium price.

Went into three shops looking for a Lumia 1020 this week (Three, Meteor and Carphone Warehouse); not one had one, nor had they a 1320 or 1520. As far Windows Phone in Ireland in general, I've seen a fair few Lumia 520s about and a few Lumia 800s still floating about.

1320 is available only on O2, and 1520 on Vodafone, nowhere else.

yeah, but the 1020 is on Three afaik, and Carphone Warehouse stock phones from all networks, don't they?

1020 was almost everywhere. but usually when Lumias are out of stock - it's very unlikely that they will appear back, at least soon. I noticed this on O2.

You can get the 1520 in Vodafone. They told me they would have to order it as they don't carry it in store.

I ordered mine online and received in 2-3 days by post.

Hopefully Vodafone will throw in a free charing plate and speaker, and at least have one other colour besides black. They have always sucked when it comes to colour options. As much as I love my Lumia 925, a white Lumia 930 with the free accesories is a no brainer.

930 is a behemoth compared to the 925 though, I'd wait for a slimmer phone to come out

Well that doesn't say released in Canada on TELUS. shit.

Getting the glossy green version

NETWORK +GOT UPDATED TODAY... NEW FEATURE SUPPORT FOR DUAL SIM AND ENHANCES IT'S FEATURES

Hey all I am the author of the original source article and to those wondering how WP is doing in Ireland the answer is quite well. There is still an app gap when it comes to banking, fitness and rde sharing services but for the most part people are getting it, they are now considering it in stores. Only today I had some electricians in the office and all were on WP, when I asked why they said due to the quickness of the OS and the best version of Office for mobile you can get. Android is still by far king but people always ask what type of camera I shoot pictures with and are always astounded when I say a phone, they ask what phone and I say Lumia 1020. All walk away looking at their phones almost giving out to them for having inferior cameras. So, for the most is catching on, but business and especially high street stores need pushing, a lot of these stores are on Samsung and Apple's payroll for example, offered better incentives to sell Samsung for example. Anyway please follow me on Twitter at @colmsmyth and my site Twitter @itb_news and of course check out my site www.irelandstechnologyblog.com if you can Cheers Colm

We use Lumia's as our standard company phones. WP popularity I'm Ireland is stable.

seriously much awaited is the Nokia Mclaren!!

Nokia 620 here in Dublin.

Will an unlocked 930 work on AT&T LTE bands?
Windows Central Newsletter
Thank you for signing up to Windows Central. You will receive a verification email shortly.
There was a problem. Please refresh the page and try again.