Lumia 930 now available in the UK, white color variant exclusive to Phones 4u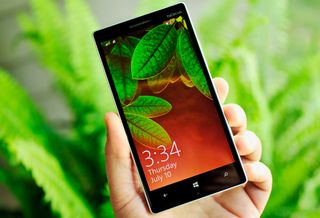 As announced by Microsoft last week, the Lumia 930 is now available for sale in the UK. Several retailers are offering a host of freebies upon purchase of the device, which includes a wireless charger, portable wireless speaker and £20 worth of apps vouchers.
Phones 4u, which is offering the white color variant of the Lumia 930 exclusively in the UK, is doing one better by bundling a white treasure tag along with the other freebies. The device costs £439.50 SIM free, with new 4G monthly plans starting from £35.50. Customers purchasing a SIM only plan are entitled to an additional discount of £50.
The retailer has also mentioned that customers visiting its Oxford Street store can get a free hands-on demo of the Lumia 930, along with a pair of free orange sunglasses.
Other retailers, like Clove (opens in new tab), Unlocked Mobiles and Carphone Warehouse (opens in new tab), have also started selling the Lumia 930 in black, green and orange color variations.
Are you interested in buying the Lumia 930? If so, what color variant are you most interested in?
Ordered a green one from Clove UK. Should arrive any minute now!

Wow.. Congrats on your new phone!

Congrats, dude! I so envy you right now. Here in Brazil we never get colours --' and I need the green one!

Can you not order from abroad? Not sure on the radio bands they use in Brazil, but I think EU phones tend to be open to most bands.

I believe we (Brazil and EU) have similar bands. It's the only way for me to get it, which I'll do, but I can't right now...

Ah, I see. Your English is fine, so I am sure you can navigate a UK site. Or possibly a Portuguese one.

Oh it's not a matter of language, but a matter of cash, really lol and thanks for the compliment; I try ;)

Try? Your written English is better than some I have seen from the natives here!

Gosh, that's really nice to hear (or see!). Guess those 12 years of English school really paid off, then. Are you native?

Yes, very native. Funnily enough, you actually studied English for the same length of time as we do here. Which doesn't surprise me, as you can tell by the structure of you sentence. Bem feito!

I liked your last sentence. Finally someone who knows the difference between Portuguese and Spanish lol during my exchange course in Canada everyone (the native ones, of course) would always try to talk to me in Spanish!!

Sadly, it was not from my own knowledge, the internet helped. It is my first Portuguese phrase. Perhaps if I had popped over for the world cup, then I may have gathered a few more. I did learn a Spanish phrase once, and that has stayed in my memory, so I will try and hang on to bem fieto also. I hope you put your English to good use, would be a shame not to use it as it is an excellent standard.

Wow getting it tomorrow!!

You should beginning to feel like a rap god, rap god.
All the other suckers have a crapdroid, crapdroid.
Some other iDiots pay a lot to get iCrap, iCrap.
If there was a championship Lumia will be the champ

No wonder we see the charts full of crap if people even like that

Rap god is amazing. Too bad you can't understand the punchlines and wordplays. You must be a drake fan or a metal dude. Gtfoh.

You clearly know shit about punchlines and wordplays.

I'm laughing hard lil kid.

Looks awesome, shame it's bigger than the 920 though!! ALready a tinge too big :( Also, I won't have it if I can't have less tiles on the start screen. I have only a handfull pinned and having the 'show extra tiles' option will ruin my start screen (they wouldn't even cover the whole screen let alone give me the ability scroll)

Oh few, that's good! I read somewhere it wasn't on the higher res screens. I hope that the size difference isn't noticable too. I'd rather slightly smaller than the 920 not bigger, but damn it looks so nice!

Don't believe so, it's not on my Icon.

The size difference is negligible, trust me. In fact, the 930 feels less chunky (it's thinner and lighter). The best thing I've found, though, is that the battery life is noticeably better on the 930. It might not be a revolutionary device but it improves on the 920 in virtually every area, so if you liked the 920, you'll love the 930.

So excited, my green one is expected this afternoon.

When is it gonna come to India?! I just can't wait

Tomorrow around lunch time.

Or maybe just someone who has connections

Raged that once again Frauds4U have got a White exclusive. Hate them so much but I do like white phones. Seems like I'll have to settle for Orange in 10 days when Vodafone get their stock.

are you renewing a contract? as they will be able to through all networks? or Sim free? good price lots of freebies? why wont you update with them?

F4U have missold to me 3 times so out of principle I don't use them or recommend them. The last episode was about 2 years ago. Total scam artists.
I'm mid contract with Vodafone but they are really good at giving me what I want. I had a 820 (Carfraud Whorehouse) and got an early upgrade through Vodafone to a 925 and ended up saving over my 820 contract. I don't trust the 3rd party retailers as they have agendas. I used to, and more recently will only deal with networks own retail stores. It means I do the leg work but there's no middle man not taking responsibility when shit goes down.

Hopefully we will get the 8.1 update soon for the 1520 now that's the 930 out

Got mine this morning in black.
Came exactly on 9.30 classic
Very nice phone
Now need some screen protector and case any idea

You got your 930 at 9.30 lol... Waiting for my pre-ordered orange 930 from EE to arrive...

Wonder if the courier do that on purpose... "well.. I've arrived earlier, now I just need to wait for a few minutes... Just as ordered" though that kind of thing will be awesome though... Extra thoughts from the manufacturers.

My GF got a tempered glass protector for her htc one, it applied perfectly and fits a treat. I assume you can get one for the 930. Hers came from Phones 4u.

Screen protectors and 930 don't mix.

Carphone Warehouse are doing a £100 cash back deal as well as the wireless bundle.

Is that only for contract or also valid for simfree? Posted via the WPC App for Android!

It's only on selected upgrades and new monthly contracts. However, I got a sim-only contract with £84 autocheque-back so I don't feel that I lost out by much and of course, I'm not locked-in for 24 months either.

Bollocks it is amazon and ebay have it in white two along with red and green black

Received my white unlocked 930 yesterday. Impressed so far. Build quality is great, have noticed the purple hue a bit on some menus but hopefully this will be fixed with an update.

My daughter got her green 930 last week. Since then they are inseparable! Best phone ever, she tells me... :-)

Good for her.., now if I can convince my parents to do that...

Now I'm a bit conflicted, should I get this now as an early upgrade or wait for McLaren when my upgrade is due in November? Decisions, decisions...

November isn't too far away

I'm getting both. Right now, that free Nokia bundle is too good to pass up and my contract has only 3 months to end anyway. Also, the sim-only 4G tarrifs at CPW are very good value at the moment with upto £84 autocheque-back. When the holiday season models arrive, I'll simply swap the 930 and use as my business phone and get a proper 8.1 upgrade - to Mclaren or something similar.

If this release is anything to go by the McLaren phone will be announced in November but we'll still be discussing the release date this time next year.

And the firmware to activate 3D touch next fall.

I am waiting until November. Hoping for an 805 Snapdragon or better, plus improved gamer tech and battery. Although, I do think the 930 is stunning.

Is the white version in phones 4 u not stuck on Vodafone but

Device is also available in turkey

Was very close to getting a pay-monthly plan with CPW because of the £100 cashback but in the end I was committed to getting a sim-only 12-month tarrif so I pre-ordered an orange one from Clove. It's been dispatched, should be with me today.

Also available in Ireland. Picked mine up this morning

I need that wallpaper... Anyone have a link for it?

Handset coming today, sadly my replacement nano SIM did not arrive in the post today. Not sure I want to risk cutting down the micro SIM in my 920 and breaking it! Patience required!

It's easy. There are templates on the web. I've just used a sharp pair of scissors - done it a few times over the last year.

On their home page under Latest phones are actually older than Lumia 930. They got away with exclusive color and Lumia 930 should be at the front page which can attract customers.

I'm so torn between getting this and just waiting for McLaren, but my lumia 925's battery is awful so want an upgrade :s

Has anyone had any joy getting one from Vodafone directly? They're still not listing it on their online store and all 5 of my local stores have been less than useless when it comes to picking up their phones!

After finally getting through to a store I asked a member of staff to give me a call when they got their delivery. They did and it had Lumia 930s on board! After getting them to reserve me a handset (1 of 3 they received) a few hours later I am the owner of a nice green 930! First Windows Phone. Really enjoying so far!

Would have loved to get this but my network Three are not doing Windows Phone anymore it seems as they have no plans to release any more WP handsets this year. Shame as I am so reluctant to leave Three because of their data offerings.

Really? Since when? They have an big issue with 8.1 they cant get it to work without blocking it

@mcsherlocks Not at all - we have more on the way soon. Watch this space :) >D

That from Twitter? Which one, the main three account? Good news if true but I was told what I put above twice by them on the phone.

Just go sim free...
Or buy from O2 and then get a contract customer friend to order a free unlock code.
Who wants a network locked Three phone anyway?!
(sent from my Lumia 1020 which cost me £150 after cash back from O2 Refresh!)

You need money to go sim free and pay up front. Not for me

Available from EE UK for £349.99, including wireless charger, wireless speaker and a £20 gift card.

That's a bit sneaky. Carphone Warehouse are doing exactly the same except on contract with £100 cashback. The £349 is just the same deal but without a contract - it's sim locked so you need to get a contract anyway..

Got mine yesterday in Ireland in white. Really is a beautiful phone. Was expecting to feel alot heavier but its actually really comfortable to hold. Cant go wrong with the free goodies too.

Got mine today in the UK from Clove in Green. Loving it so far.

Just picked up my Green 930 from O2. So purdy!!!

I work for Vodafone, just to let you know stores have stock!!

Just a pity your customer services team don't know anything about that - I just cancelled my contract with Vodafone to get the 930 through Carphone warehouse with, wait for it, Vodafone. Idiots.

Not in Newcastle they dont but they're delighted to tell me they have the mock up units in

Still rocking my L925, pleased with it, had one since launch, had 2 replacements, hopefully the L930 won't have any issues for you guys. I'd have the Orange colour.

A Green one could be mistaken as a iPhone 5c

And what about Cortana for UK ?
Shouldn't it be available along with 8.1 hardware ?

It arived in serbia too, if someone is interested

Should have waited a few months instead of getting the 925. Such a sweet bundle.

Got my green Lumia 930 yesterday from Plugins at Dubai Mall.

My lovely new green 930 just arrived at the house but I'm at work so I have to wait until I get home so I can play with it. I think I feel a headache coming on ;)

I really don't get it why I takes so long bring a freaking cyan update
Omg bunch of slackers !!!! Hurry op with stupid update ppl waiting forever now slackers !!!! Btw waiting with 1520 netherlands

OMG..!! Its been more dan 3 months since d launch of d phn. Its hard to wait any longer for L930 here in INDIA. C'mon MS, u r gonna loose many of ur customers if u r dis slow.. !! :( Posted via the WPC App for Android!

Got an 930 Orange due from CPW between 1557 and 1657 today :)

Waiting for my clove order, should arrive today! Went for orange!

i got my green one from phones4u in store today, but no freebies :(

No sd card slot. A great shame.

I got my orange 930 from Phones4U yesterday. Signed up online for the freebies, but only yellow left. I'm OK with that. Deal seems very god value for a top spec smartphone. Still feel I want to continue using my 920 too :)
Windows Central Newsletter
Get the best of Windows Central in in your inbox, every day!
Thank you for signing up to Windows Central. You will receive a verification email shortly.
There was a problem. Please refresh the page and try again.