Lumia 930 goes on sale in the UK July 17 with a number of freebies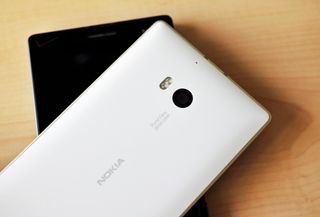 Microsoft has confirmed it will launch the Lumia 930 smartphone, running on Windows Phone 8.1, on July 17 in the UK and will offer pre-order customers some freebies to intice them into purchasing the phone.
While we have reported that some Carphone Warehouse stores in the UK have already put up signage about their contract and non-contract prices for the phone, Microsoft has not officially offered any info on what the off-contract price will be for the Lumia 930. The signage indicated that the SIM free price for the phone will be £479.95, or £99 up front and £28 per month for a contract.
Here's the full press release from Microsoft. Will you be getting the Lumia 930 if you live in the UK?
Lumia 930 available in the UK from July 17th
The latest Lumia beautifully integrates the best of Microsoft and Lumia services
07/07/14 – London, UK
With the latest 8.1 software and the best of Microsoft and Lumia services, the Lumia 930 delivers an unrivalled user experience and the ultimate in video and imaging smartphone capability, all from only £33 per month on contract.
The Lumia 930 packs a rich suite of differentiating applications and services into a beautifully crafted design featuring metallic details and vibrant new colours. All this is achieved while still keeping content like photos, videos and documents in sync using the free OneDrive cloud service across Windows Phone, PC, tablet, Xbox and other connected devices.
The crystal clear 5-inch OLED display lets you watch in full HD and your favourite shows, movies or video clips are viewable in any light conditions as the device uses PureBlack screen technology. Equipped with a high capacity 2420 mAh battery and built-in wireless charging, there is little need to worry about running out of battery.
The class-leading 20MP PureView camera with optical image stabilisation and high quality ZEISS optics ensures that capturing and reliving amazing images and videos is quick and easy.
The enhanced Nokia Camera app with Living Images makes it easy to add movement and emotion to static pictures and the addition of other free imaging apps such as Nokia Storyteller, Nokia Creative Studio and Nokia Refocus lets you bring even more levels of creativity to any picture.
With four high-performance microphones and Rich Recording, the Lumia 930 captures HD video like never before, with incredible directional audio and support for 5:1 surround sound capture and playback.
A 2.2 GHz Qualcomm Snapdragon 800 quad-core processor ensures that experiences such as Xbox gaming, image capturing and video processing, are faster, smoother and richer than ever before.
SensorCore technology brings low power motion sensing, helping you track your activities all day long with minimal power use – perfect for apps such as Bing Health and Fitness and external wearable monitors.
Integrated features including single swipe notifications in the Action Centre, the new Microsoft Enterprise feature pack, Microsoft Office, OneDrive, Nokia Camera, and HERE Maps and Drive+, all work seamlessly to make the Lumia 930 a great tool for productivity, work and play.
"We live in a world that is becoming even more social and where sharing and capturing moments has never been so important," said Conor Pierce, VP of Microsoft Devices for the UK & Ireland. "The Lumia 930 is the perfect blend of design, colour and Microsoft Lumia services, delivering cutting-edge technology to create an unrivalled video and imaging smartphone experience that are instantly shareable."
Wireless charging functionality together with a wireless charger will come as standard in the sales pack of the Lumia 930. In addition, Microsoft will run an exciting promotional offer - from the 17th until the 31st July all Lumia 930's purchased from participating retailers will include a free additional wireless charger, the outstanding MD-12 speaker plus a voucher for £20 of free apps from the Windows store. Altogether, this promotional offer is worth around £130 RRP.
The Lumia 930 will go on sale with UK retailers from the 17th of July and will be available from Vodafone, EE, Phones4U, O2, Carphone Warehouse, Tesco and Amazon. It will also be widely available across other UK High Street and online retailers in a range of vibrant colours including bright orange, bright green and black. Phones4U will stock the Lumia 930 exclusively in white.
Windows Central Newsletter
Get the best of Windows Central in your inbox, every day!
Nice! Shame this doesn't have an SD card slot otherwise it's a seemingly great phone! Can't wait to get this into my hands!

Same here, why no SD card slot for 32GB extra. This is the only thing that puts doubt in my head on getting it. but will more than likley break anyway lol.

You don't need sd card. You have OneDrive. Dint forget Microsoft is bumping the free one up 15gb on top of the 7 already.. Free speaker two chargers. Very tempting. White looks good

OneDrive and the likes thereof are only good for those people that have unlimited data plans. If you're taking a LOT of photos, store videos and music on your phohne, then 32gb isn't all that much. I've had to get a separate music player because my Lumia 920 just doesnt have the space. So it may be okay for you with your 15gb of OneDrive space, but for other people it's not. :)

That's it! OneDrive is a great solution in theory, however data usage and speed mean an SD card is always preferable. I love my 1520 for that very reason! But 930 sizing is so tempting. I'm going to try it out...

When it comes to uploads don't forget the thing can hold-off on doing that until you hit WiFi, and when it comes to browsing photos... well, if you're browsing your OneDrive photos so much it's doing serious damage to your data allowance then maybe there's a problem there but ... huh, don't see it as a huge problem personally.

I ended up having to resample my music collection to lower bitrates so I could switch to a (dirt cheap) 920 from my ageing N900, which had a total of 64GB storage. Not exactly ideal. I won't buy another WP until one is released with the right spec AND a MicroSD card slot.

You can't install memory hogging games on OneDrive.

Just purchased a 1320 waiting for this phone. Only if Microsoft didn't take 3 months to launch a phone.

I think i still prefer my 1520. Didn't get the charger and speaker but did get a voucher so can't complain.

Also comes with a wireless charger here in Ukraine :D

Dammit. I lost patience and ordered one from amazon.fr this morning, without the freebies, of course. (Bit cheaper, though.)

If I wasn't currently typing this on a 1020, I would buy one of those!

Just ordered mine from amazon.fr will be here by friday. Funny how the uk m$ store and places like car phone warehouse etc dont even have preorder pages...just register interest lol Posted via Windows Phone Central App

Now if only they'd hurry up and announce prices! Shame O2 won't be stocking the orange version though...

Indeed, this is the colour I want. Looks like I'll be getting it from Phones4U like I did my last phone. Only thing to concern me is whether I can still extricate myself from my current contract using O2 Refresh without using O2 directly, I don't want a new contract i.e. new number and billing reference.

I am not in UK, and am waiting for the 8.1 flagship (expecting McLaren) all US launch. I want to be a day one customer, but might wait a week or more for Christmas specials. Nice to see some incentives for the purchase. One of the best ways to get some defectors from iOS and Android are the Windows Store credit. Even though WP comes stocked with many great apps, this will allow for some exposure to paid apps. -SAB

Nothing on Three? They don't have the 630 either on their website so if they don't pick this up they won't have a single 8.1 handset.

Nearly £40 cheaper from Amazon France. QI wireless chargers can be had for less than a tenner on eBay. I suppose the bluetooth speaker makes it worthwhile (if the freebies are the same as on Expansys.fr) but I already have three of them, and four wireless charging plates!

Also on sale in Estonia from today! :)

I will wait to see if any Microsoft branded devices get announced in the next 6 months, if not, then I'm going to get this when the price had dropped, which always happens quickly and drastically to UK Nokia phones at the moment

Once it's been out a month, it'll be £100 less.

How about 3 network but. ???

If it had an SD card slot I would consider this!

So does that mean that all the stores listed will be going the offer or have we got to guess?

Instead of bringing out phones give us the freaking cyan update for 1520 in the Netherlands wth 1520 is even better than the 930 Hurry up nokia and microsoft !!!!!

Why on the earth are they so late to launch it in other countries. Waited patiently for my upgrade for 1520 but most provider like three doesn't hv launched it yet, so finally brought it from Expansys. They hv launched in white and black colour except o2 with red. I like red n yellow but had to settled with white with disgrace.
Why don't they calculate their launching target like for 8.1 and forecast the time frame for particular region, like second week of August for europe, rather than luring n frustrating customers by publishing, soon, near future.
I am not surprise anymore that many people still don't know the existence of windows phone, Lumia 1520 and so on, including customer service advisors in the store. When I carry my 1520 most of them got attracted and praise it for its quality n performance but they were completely unaware of the existence of such handsets. Wow good luck MS concentrate more on us n extinct bfore comming to existence .

Looks like the Three network is bypassing the new lumias again this year. They did the same with the 920. Looks like I'm changing networks then!

Agree with you, they avoided 1520, I brought it through Expansis and put the three sim. Just struck with their lame network for unlimited internet.

Thought that they got it? Couple of months after the rest, but I thought they stocked it. I could be wrong.

I'd mentioned this before but, if the price better represented the fact that the device is basically 5months old (Icon) then I'd definitely be buying one. Now after all this time I'll probably wait for the winter 'blockbuster' model.
Still, 930, awesome looking hardware.

With you on that sentiment. Now dont get me wrong, the 930 is still quite a nice piece of kit, its just that there was no reason it couldn't have been out along side the 1520 way back in Nov-13. I think taking until early April (announcement date) was already a bit late and now add another 3+ months and it's still not here, leaving me with the distinct impression that someone is asleep at the wheel over there in Redmond. I'd fire someone for this!

I was on holiday and broke by 920. Do I get this or the the 1520. What you think guys?

If you could compromise with its size, I think 1520 is better. With micro SD card support and glance screen. I am using white 1520 for few months and till now haven't got any concerns or issues. Even the size gets used to it after using for a week.

All this free stuff with the phone is awesome. Microsoft needs to do this when releasing phones in the USA, it might help increase sales.

I assume the free stuff is for SIM free purchases only (ie not bundled with contracts)? Posted via Windows Phone Central App

I wouldn't have thought so. The UK retailers sell them as unlocked so they can sell you any plan. The freebies will likely be for contract or non contract.

Fingers crossed! No way I can blast £450+ on a sim free version, so if it comes with the contract version toot hat'd be great.

My 920 came with a charging plate and wireless speaker. Carphone Warehouse, Phones4u etc do the offers quite frequently. I have seen oodles of examples of similar things on Sony, Samsung et al.

I got an email to say mine (ordered from, and shipping to Germany) was dipatched this morning. When I checked the tracking information it says it is in Slough waiting to go to Heathrow.

I think the phone looks beautiful, but my contract is not up until November. So McLaren for me.

ya para qué ? ya estoy esperando el 1525 ! ( 1525 is now coming. i do not care about the 930 anymore. does not have sd support nor glance or a huge battery) i know complaining here changes nothing but maybe just maybe some Microsoft worker can read me and think " gosh this whining bitch is right ! "

This is the best looking Windows Phone yet, and I'm totally upgrading. Perfect timing too as my contract is just about up for expiry - I may go to a chaper SIM-only plan though and get myself out of this whole 'contract' lock-in nonsense. Only question now is ... Orange or White? I personally favour those two versions myself. Total head-turner phone, can't wait to show the thing off! :)

Okay. This is only an observational question. Does non-US countries get first dibs on new devices since these places have had embraced the platform for many years?

Nokia is a European company, so the latest phones are released first in the major EU countries, eg. UK, Germany etc. But yes, being popular in these countries also counts..

I hope this doesn't sound like a stupid question but is the new 930 4G enabled i cant find confirmation anywhere?? If it is then its gonna get pre ordered in white bring it on!!! And the old HTC 8X is going the journey sick of waiting for 8.1 update im not techy enough for the developer preview thing!

Yes it is LTE network bands: 1, 3, 7, 8, 20
LTE max data speed DL: 150 Mbps
LTE max data speed UL: 50 Mbps
WCDMA network: 850 MHz, 900 MHz, 1900 MHz, 2100 MHz
WCDMA max data speed DL: HSDPA - 42.2 Mbps
WCDMA max data speed UL: HSUPA - 5.76 Mbps
GSM network: 850 MHz, 900 MHz, 1800 MHz, 1900 MHz
GSM max data speed DL: EGPRS 236.8 kbps
GSM max data speed UL: EGPRS 236.8 kbps

Ah nice one thanks for the info, im gonna go see if i can pre order one ready for the 17th

At BUILD, Nokia announced that the new Nokia Lumia 930 will be coming to the UK at the end of June. Which means, it's officially late. Source: http://bit.ly/1qFGMgL

Well thats nice, all I got over here in Germany is a shitty 6 month voucher for maxdome (streaming content)

i dunno whats so important with sd card. my lumia 920 for almost two years now haven't reach critical memory. i always have more than 10GB. i use onedrive a lot. i always refresh my offline music in mix radio. i dont keep my hd movies more than a week on my phone. i have exténal hard drive for that. yes i am complaining i cant finish the 32 GB of my lumia 920!