Microsoft pulls Lumia 950 and 950 XL from German store
The Lumia brand has been slowly selling out in various Microsoft Stores around the world, with many not showing up as coming back. Microsoft Store Germany seems to have taken it a step further, and the phones are no longer listed on the website.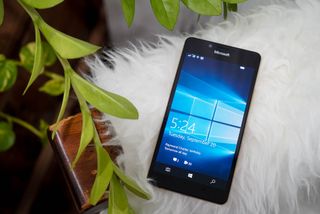 The Lumia 950 and the Lumia 950 XL have been completely removed from the Microsoft Store in Germany, indicating another move toward the sad death of the beloved brand started by Nokia a few years ago. Accessories for the phones are still listed, but they may soon be gone too.
The phones are still listed for sale in other countries for now, with some listed as "out of stock." However, this is the first time Microsoft removed the pages for the phones altogether.
There is no official information regarding the removal and no information about a possible comeback for these models. Judging by the availability of these models, other stores in other countries may soon follow suit.
Lumia 950 on Windows Central – Everything you need to know
Get the Windows Central Newsletter
All the latest news, reviews, and guides for Windows and Xbox diehards.
Dennis Bednarz is a former writer for Windows Central and the guy behind ModMy. He has been a recognised member of the Microsoft community for years and owns everything from Lumia phones to Surface PCs. He occasionally likes to rant about Windows Phone and drink tea. You can go ahead and follow him on Twitter at @DennisBednarz