Microsoft pulls Lumia 950 and 950 XL from German store
The Lumia brand has been slowly selling out in various Microsoft Stores around the world, with many not showing up as coming back. Microsoft Store Germany seems to have taken it a step further, and the phones are no longer listed on the website.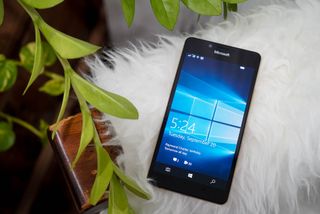 The Lumia 950 (opens in new tab) and the Lumia 950 XL (opens in new tab) have been completely removed from the Microsoft Store in Germany, indicating another move toward the sad death of the beloved brand started by Nokia a few years ago. Accessories for the phones are still listed, but they may soon be gone too.
The phones are still listed for sale in other countries for now, with some listed as "out of stock." However, this is the first time Microsoft removed the pages for the phones altogether.
There is no official information regarding the removal and no information about a possible comeback for these models. Judging by the availability of these models, other stores in other countries may soon follow suit.
Lumia 950 on Windows Central – Everything you need to know
Get the Windows Central Newsletter
All the latest news, reviews, and guides for Windows and Xbox diehards.
Dennis Bednarz is a former writer for Windows Central and the guy behind ModMy. He has been a recognised member of the Microsoft community for years and owns everything from Lumia phones to Surface PCs. He occasionally likes to rant about Windows Phone and drink tea. You can go ahead and follow him on Twitter at @DennisBednarz
Ah. Well. We will soldier on.

950 have been out of stocks in UK for months. I have managed to buy one more phone (for my wife) from MS store at the end of Nov. The sales assistant tracked a single unit in Italy's store with free delivery.
She sold her iPhone 7 since and never looked back. Happy days!

She must have had little use for her iphone 7 than in the first place

Good on you 🙂 congratulations

Tried that, recieved a sub sub-par experience on my 950xl. if the over heating isn't killing may battery, the software doesn't perform as advertised...

I really hope it's to make room for a new phone, although that could be awhile...

sure... sure. just tell yourself they are preparing for something big to suddenly support all the Win10M guys hanging around in mid air

Everyone knows Microsoft is working on their next mobile device, it's just a matter of "when" [will it be released] and "how" [well it will do]

More like WHEN it's released, WILL any of us be alive to see it?

I can can confirm they have not started working on a new phone.

They do things like this so Carriers, OEMs, Developers, and customers will continue to be increasingly confused, scared, and distrustful of Microsoft's mobile strategy and commitment. Why else would they consistently send such horrible and confusing messaging? We'll, maybe incompetence could play a roll too. :)

They were out of stock for the last months. I tried to buy one at the end of the last year, but it wasn't possible.

RIP Lumia :-( ... I still love my Lumia 950XL ... and hoping for better days ahead.

The Lumia 950 XL is very strong 💪 phone... But the problem with it.. It's applications...

Can't deny its got some decent hardware and abilities but unfortunately little to properly use them on.

My 950 XL works great and does everything I need it to do. I'm very happy.

Mine works great too, but personally sometimes it can be less capable than other phones despite the fact it easily has the technical power to beat them.

....and here we goooooo....

The 950 is gone from the UK store as well, but the 950 XL is still listed, though the latter is out of stock.

The 950 killed the OEM market. It was just too good and too cheap just a few month after release.

Well I just read elsewhere that Acer aren't releasing Anniversary Update for the Jade Primo....If true, I'd say the OEMs are doing a good job themselves - Hopefully they will release the creators update. This is the kind of thing that will always make me reluctant to buy a non-MS branded Windows 10 Mobile device. At least you know they will continue to deliver all possible updates to their own devices. I do agree the 950/XL have been the best price:value Windows 10 Mobile handsets for a while. At one point you could get it for £249 on the UK MS Store, and by going through a cashback site could get another £50 back bringing the 950 under £200 with display dock

Hopefully Microsoft is just making way to the "Surface Phone" the current best Windows phones (as far as Continuum stability(Alcatel Idol4S and HP EliteX3)) leave much to be desired.

Continuum works pretty good on my Elite X. In fact, outside Continuum mode Powerpoint is pretty much useless, except for showing presentations.

This is great news. It clearly means MS are getting ready later this year to show the world Full Windows 10 on Surface Pocket. Even my Android friends are eager to see it. It's the last piece in a puzzle. Xbox is back in the game big time. Surface took the tablet, laptop and all in one devices by storm. Roll on November for the conference.

"Later this year" could mean: December 31. 😂

Dude, great news sound differently.

And I'm expecting Jennifer Lawrence to visit my house later this year to consummate our Facebook friendship.

I think you're looking at 2018 personally, but I'm patient and my 950 will easily see me through 2017.

Order 66! Nice one Dennis 😨

Haha. Thanks. It struck my head as soon as I read the news.

MS should launch a new phone before Surface Phone to fill the gap. Perhaps 960 & 960XL......

The 950 and 950Xl were already gone on the Dutch Microsoft store for weeks. The only Lumia mentioned in the store is the 650. But the 650 is out of stock.

Here in Russia there was one internet shop that had a Lumia 840, 940 and Surface Phone listed back in December. No specs but photos of said phones. I can't find them now. Here you can still buy a L950 for $355 and the L650 for $150 on the internet.

It's fake. Don't worry about it.

In Thailand, we can still find a few remaining on clearance, not online though. I was able to get a 950XL on a very good price at the end of the year. Very happy with it so far.

The price on the UK site before they went out of stock offered fantastic value. For £249 you got one of the best all round W10M devices, and a display dock - You could also get £50 through a popular cashback site. Probably the best value phone on 2016 for W10M fans (at that price w/ cashback)

"The Lumia Brand has been selling out..." - A very gentler way of putting things. 😄

So, we're supposed to wait on the mysterious Surface mobile device (notice I didn't say phone), without anything in stock to hold us over. It going to be a cool cool summer.
PS, Maybe I can win something at Android or Crackberry, eww.

Don't worry. Next week they'll find some more stock, and the 950/950 XL's will be back on offer.

So Nutella shoves his political views down our throats'....but THIS he sits and says nothing? Clown...

What more would he say? They already made it clear the Lumia line is done and they are not interested in the consumer or really any phone business. Not sure what you are expecting at this point. Windows phone is dead until they find the next big thing.

Maybe explain to me why when my phone as 9 months old and need service, I got shipped over to some B2X half wot company that first off didnt even know the phones existed, secondly didn't know they were contracted to handle them, thirdly, didnt know what to do and had to contact me later, fourthly when they called me back, were reading trouble shooting off a flow chart for Windows Phone 8, and lastly, after having me finally send the device in, wanting to charge me $300 for what ever crap they decided was wrong....more than half the $500 they were charging for new phones even though it was still under warranty and somehow claimed the camera no longer working wasn't covered. Could he explain why he took our money then just ran and hid from any responsibility of standing behind HIS product?

Did you not learn from years of Microsoft abandoning products months after release? There are so many examples of Microsoft abandoning their mobile devices. Why would you buy one and then expect ongoing service? The reason they pawned off Lumia customer service is they did not sell enough to care. It was easier to sell it to this 3rd party and forget they exist. Will you make this mistake again?

They never abandoned tech and repair support before the first year is over. That is slime ball, dirt bag tsctics and falls right in line with Nutella's behavior.

Even with the Kin? I guess they usually just abandon manufacturing and development though.

I get that, but this was beyond just stopping production. They wiped their hands of responsibility before original warranties even ran out.

I can't comment on companies used in specific countries, but Nokia always outsourced their repairs and this continued when MS took over; They have been good the few times I had to use them but not all of these companies will be created equal :(

This isn't even repairs.This is even enquires about technical issues. And again, they cant really help because they dont know they are the support company for it now, and then dont even know the phone exits.

Who knows it may pull from other market also .

Not the first time they have left the larder empty. The difference is it might be quite some time before it gets refilled. Interestingly just got a 950xl from EE at a ridiculous price thought it was a mistake so ordered more 😉 as the drought is coming... 179 no vat bargain.

Been gone from the Danish MS online store for a few weeks now. Only Lumia-related merchandise left are accessories...

I don't think there is a bigger plan here. Natella probably put the most disliked intern in charge of windows mobile and he or she is now wondering how she / he can get away with making such a mess of things 😉

Look at it this way.
In 2024, the display dock will be sold in auction as a classic accessory unique to a bygone era.

Pretend there has never been any Lumia around; what should that be? A Lumia? I never heard of it. 😉

No phones at all at the West Farms Mall in West Hartford, CT -no phones, Lumia or otherwise. I was told they aren't selling them anymore.

The Lumia 950, Lumia 950 XL, and the ATT Lumia 950 are available on the USA Microsoft Store website.

Nope there gone att Lumia 950 also gone on att site and on Microsoft all models pulled from the site.

It's a great device, just bought the dock to complete the experience.

I'm very happy with Lumia 950, and as long as Microsoft keeps OS updated, there is no reason to go for anything else. Before this I had Lumia 920 that was so far ahead of it's time, I used it for 4 years. It's still better than many "high end" androids, and I'm sad that MS decided not to allow Windows 10 on it.

Have only ever used this OS but for the first time am having to consider IOS or Android alternative. Seriously don't want to do this and holding on to my 925, which still working fine. Calling time on current models not good for morale - need surface phones asap!

This is no surprise, I have been a long time windows fan. But even I have made the leap to LG G5, and have never looked back. The phone is so much faster at opening everything, and the app gap is bigger than I thought. I salute any of you who stick it out, but even my wife is leaving

Anyone interested, you can still get them from the German online store: grooves.land
Free world wide delivery. 😀

no apps? for Windows phone? I just pin the web site on start screen ,( news , bank, etc ) its a good turn around... 950 on insider fast , is the best phone around....

Baffles me why they don't pump out a new Lumia while we are all waiting for a surface branded product.

If MS is so in a hurry to get out of the consumer market and has no interest in it why not dump all of the remaining inventory for cheap? Say $150 for the 950 and maybe $250 for the XL.. I would like to get a 950XL to eventually replace my 1520 but not at $500..