Lumia 950 and 950 XL used by National Geographic photographer at the Great Barrier Reef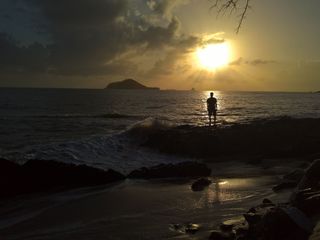 The Lumia 950 and Lumia 950 XL smartphones from Microsoft may have just gone on sale a couple of weeks ago, but National Geographic photographer Stephen Alvarez has already used the 20MP PureView cameras in those phones to take some impressive images and videos of the Great Barrier Reef off the shores of Australia..
Microsoft says:
Microsoft says more behind-the-scenes information on how Alvarez used the new Lumias will be revealed in a future blog post.
Source: Microsoft
I was hoping NG would do another photo shoot with the new Lumias.

A detailed blog post will be nice.

Check the source it's very detailed

Yeah........
....
Which is better? The 950/XL Camera, Or the 1020's Camera❓

Nokia 808 > Lumia 1020 > Lumia 950XL

LOL, no. Megapixel size is not the sole determining factor of picture quality. The underlying camera software is a lot better now than it was when the 808 and the 1020 came out.

https://blogs.windows.com/devices/2015/12/08/exploring-the-great-barrier... http://www.nationalgeographic.com/microsoft/greatbarrierreef/

Somebody needs to develop a commercially available version of that case, and then promptly SHUT UP AND TAKE MY MONEY!! Lol

A zip lock bag will do you.

You trust a zip lock bag with your phone under the ocean?

I did this last year with my Lumia 1020 in a zip lock bag and it worked a treat. Obviously this is only ok if you're just snorkling.

I experience about 1 in every 150 or so ziplock bags leaking when filled with liquids. There's no perfect manufacturing process, and before I'd trust it, I'd test that particular ziplock bag thoroughly. I'd trust a custom-built solution better.

Use 2 ziplock bags, problem solved ;)

Doesn't look much diffrent then what I got for my 640. http://www.amazon.com/gp/product/B00Y8217YE

I've been using a dandycase pouch with my lumia 920 for the last three years and it has performed amazingly well upto depths of 35 metres( took it scuba diving) You can check out some of the photos I've taken underwater in the Lumia 920 forums in windowscentral.

Or maybe ms themselves should start making waterproof devices like the sony z series..

Awesome. But nowhere in the actual video does it clearly state and emphsise that the video and pictures were taken with the phone camera! So the people that just come across it on YouTube or some other websites might not get that point and understand how impressive the camera is! Just another example of Microsoft not fully thinking through PR and advertising for the phone eco system shooting theirselfs in the foot!

5 seconds in, right in the center of the screen "Shot on Microsoft Lumia smartphones in 4k resolution"

Ok, true, it does clearly state it. My post was wrongl I meant to say, ti does not emphasise it very much, nor does it actually say the photos were taken with the camera as well, just the video filmed in 4K on it. I just feel it was not emphasised enough. But you guys are correct, my bad.

I didn't catch it either. I saw something about 4K but never read the entire sentence. I'll repost this on Twitter and FB. I guess it looks better on a 4k phone, than on my Galaxy Note 2.

Then Rupert Murdoch fired him.

Guys. Why is the 950 camera only capable up to 16MP? Where is the 20???

In your... never mind. DUH. Sensor size is 20 MP, actual pixel count depends on aspect ratio.

http://betanews.com/wp-content/uploads/2012/02/Nokia-808-PureView-sensor...

If you set it to 4:3 ratio you will have 19MP images. The 16:9 ratio actually just throws away data for you to give you the nice looking aspect ratio, as that is the ratio of the actual sensor. It should be advertised as a 19MP camera, but, 20 sounds better I guess. And maybe other technical reasons. I always shoot in 4:3 ratio, I can always crop to make it look 'widescreen', but you can not add data back!

I never thought of this. I guess I was thinking it was similar to 2.35 anamorphic ratios in movies where you actually get additional information on each side. Thanks.

So, what is "True 16:9"? I tought that it could have de 19MP on 16:9 with that information.... http://www.microsoft.com/en-gb/mobile/phone/lumia950/specifications/

It depends on the aspect ratio you choose. 16:9 aspectio has lower mp.

I like that not for sale stuff, lol

I would like to see that waterproof cover and how did he made it!

Even I am wondering what did he use to protect phone from water. I need it

Looks like a generic underwater pouch but am sure they've done a few adjustments. Ive been using this one for the last three years with my lumia 920 for scuba diving(made by dandycase). Taken it uptil 35 metres during my dives with each dive lasting around 45 mins( and this includes diving everyday with upto 3 dives a day) and i must say i was impressed. Not a sign of leakage.

NG did this with the 1020 when it came out.

Yeah, we know..... You're late.

So pumped for heading to the Barrier Reef in Jan, looknig forward to taking some sweet shots on the 950!

emails pics to Iphone to post on instagram. sorry, had to say it

Or even Instagram Beta. No need to email anything.

Wow underwater shoots. I'm hoping its a gopro like casing coming out soon

I posted this great video on Twitter and FB and then on the Daily Show Trevor Noah asked Hasan Minhaj how's it going with Donald Trump crossing the line over and over again. Minhaj said, "It's kind of like the Microsoft store during Christmas, there is no line." Great marketing from Microsoft and Satya Nadella.

It was funny because it's true. Apple stores are busy, Microsoft stores not so much. At least that's the case at my local mall.

Thats only because every 13 year old wants the fisher price iphone and leapad (opps I mean Ipad). Apples devices are so bland, and blatant rip offs of everyone elses technology. Apple is a joke as a real technology company....... with a great marketing team.

True the only thing crApple is good at is the mass marketing to 13 year olds and stupid people

Well, the marketing team sells phones and devices. I believe Nadella is holding WP back with bad corporate policies. MS needs to get a CEO who is dynamic and smart and knows what people want, without insulting them (as in women). The device designs are great, after that Nadella is a total failure. Does anyone at MS (besides the device designers) actually think about what people need and **what will make them switch**. How can a company, as big and as important as Microsoft, fail in every attempt to get major banks, that use millions of copies of their software, not be able to get a bank app for it's devices? How lame is that?

yes, Like me! I would only take 1 /10th of his salary, and I have super ideas about devices, software and how to market them.

The disclaimer about the custom waterproof housing should be more visible, because I can already see a lot of ruining their new Lumias trying to shoot video underwater.
Windows Central Newsletter
Thank you for signing up to Windows Central. You will receive a verification email shortly.
There was a problem. Please refresh the page and try again.