Hands-on: Lumia 950 & 950 XL Essentials Bundle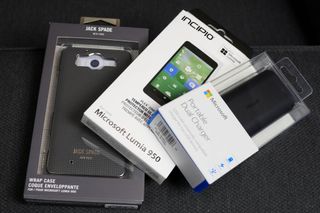 If you buy the Lumia 950 or the Lumia 950 XL from the Microsoft Store, they'll also try to sell the Essentials Bundle. The kit includes a portable charger, tempered glass screen protector, and a phone case for $69. The offer is valid at Microsoft retail and online store in the US and Canada until the end of 2015. Watch our hands-on video for more details.
Microsoft DC-32 Portable Dual Charger
The DC-32 portable charger has a 5200 mAh capacity and can charge two devices at the same time through the USB ports. One micro-USB cable is included to refuel the charger, but it can also be used to charge a device with a micro-USB port. Keep in mind that the Lumia 950 and 950 XL require a USB-C cable, which is included in the phone's retail packaging. The charger output current is 2.1A total. There's an LED power indicator on top, so you can check the charging capacity at any time. The Microsoft Store retail price is $35, but it's discounted to $24.74 with the bundle.
Incipio PLEX Tempered Glass Screen Protector
This glass screen protector provides impact and scratch protection for your Lumia 950 and 950 XL screen. It also includes a snap-on installation bumper for accurate application. The Microsoft Store retail price is $35, but it's discounted to $22 with the bundle.
Phone Case
You get a choice of Incipio cases branded with Kate Spade or Jack Spade. We went with the Jack Spade Varick Gray version. Keep in mind that these are not replacement back covers like the Mozo covers. It's made of faux leather and protects your phone against wear and tear. The Microsoft Store retail price is $45, but it's discounted to $23.25 with the bundle.
The Lumia 950 and 950 XL Essentials Bundle isn't cheap, but you save up to $50 compared to buying the three items separately. Will you be getting it with your new phone? Let us know in the comments!
News
Want all the latest news on these phones? Hit these topic pages for all that we got.
Microsoft Lumia 950 XL main page
Support and help forums
Need to chat about the Lumia 950 and Lumia 950 XL? Jump into our forums and ask others what they think or get help and advice on your new phone!
Windows Central Newsletter
Get the best of Windows Central in your inbox, every day!
I got the incipio tempered glass protector seperately last saturday at the store. They only had the screen protectors and not the cases. I ended up getting the amzer case for the 950. The one that is just like an otterbox. I have a 2 year old at home and the amzer case for my 1520 worked well.

My gosh! That phone is UGLY!

To each his own, no one is forcing you to buy one.

And no one is forcing you to acknowledge me this FANBOY.

That case or the phone ? Personally I don't think the phone is ugly and at least its not another boring iPhone etc

The 950 looks like an iPhone 5s at a quick glance.

I bet you knew folks will read and acknowledge your comment before you put it ALL OUT THERE. So, you are secondly aknowledged, No one is or will force you to buy it.

So you just felt like spewing out negativity because that make everyone feel better? I dont like it either so I went with the 950xl

Lucky I already ordered mine. Might've changed my mind reading your depth analysis /s

I think that phone looks more stylish than your avatar.

My gosh! That uour picture is UGLY!

This is really sad to see that this fanboyism has infected the whole Windows central .. People cant tolerate reality....guys love it or hate it...you all know I am right....and if I am not then I just put my views on the phone( I think that's why these kind of sites are made for) and have full right for this.....on the other hand you guys behave like offended ISIS people who want to destroy everything that question it.

WHAT phone? This article is not about a phone, it's about accessories.

Daniel, since you have phones galore, can you plz drop it on the floor and tell me if the case pops off. k thx

Mozo case review please :)

that case looks like garbage

They really should be paying people to use that case, not the other way round, truly hideous.

I won't. The battery is way too expensive for just 5200 mAh (my 6600 mAh one was $15). The case seems more of a visual offering than something for protection. Lastly, not having a screen protector hasn't really hurt my 920 over the past 3 years, so $20+ on some fancy one seems excessive for me as well. My 920 has survived well on that $15 battery and the $5 gel cover I got. I'll either get another cover like that for my 950/XL, where I get the desired grip and some screen protection.

I wonder what's taking Mozo so long to have the cases..... They knew about the phones long before us.

I received the Mozo black leather back cover for the Lumia 950 XL yesterday. I pre-ordered a few days after they were announced.

Send WC some pics, maybe they will post them up for others to see (since MOZO only shows the commercial images), which could helpus i decision making.

I am not much of a case person, but I do like the ones Jack Spade is putting out.

What about replacement batteries? Why is Microsoft not selling them? What's the point of a removable bettery if you can't buy a replacement?

I must be a fuddy duddy because I like the whole bundle. All of it. But I'm also someone with a 2+ year old RED 1520 that hasn't got a scratch on it. Looks and runs perfectly on 10586. Not because I am careful, but because it has spent it's life in an overprotective folio case. (When\If I take it out of the case, my coworkers, who have seen me carrying it forever, are stunned that it is so wickedly gorgeous) Of course, that is NOT why I bought the 1520, obvioulsy. I bought it because it WAS the best mobile phone in the world. Was. White 950XL confirmed to be waiting for me to pick up at the store. Just waiting for the POS system to recognize the SKU.

I've used glass screen protectors before but this is the first time I have seen a frame to align the protector. Nice.

You can get the screen protector direct from incipio.com for $25 right now, free shipping + no tax. http://www.incipio.com/tempered-glass-screen-protector-microsoft-lumia-9...

I think these might also be available at the insider events.

Great stuff, but they should've included a spare battery as well.

950xl screen protector is oos.