Microsoft Lumia 950 unboxing for AT&T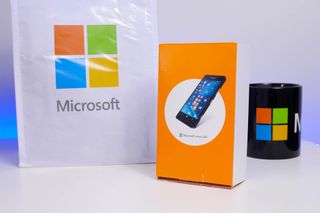 When we received our review unit for the Lumia 950, it came in a special packaging that isn't the same as the retail box that customers get. Check out our quick and simple unboxing video in case you were wondering what's included with the Lumia 950 when you actually go out and buy one.
Lumia 950 AT&T box content
Lumia 950
USB-C Sync cable
3000mAh
AC charger
Quick start guide
Contacts transfer guide
AT&T SIM
Make sure to read our Lumia 950 review, if you haven't yet. In a nutshell, the Lumia 950 has a gorgeous display, excellent camera, and very good battery life, but the lack of apps is holding it back. Microsoft fans will love it, but the rest of the world will likely look on with curiosity and nothing more.
The Lumia 950 from AT&T costs $149 with a 2-year contract, $598.99 without a contract, or starting at $19.97 per month on their Next plan. You can get it in matte white or matte black.
Are you getting the Lumia 950 or are you waiting a little longer for the Lumia 950 XL? Let us know in the comments!
Where to buy
Continuum Gear
You can now purchase the $99 Continuum Display Dock right from Microsoft or grab the Actiontec wireless Miracast dongle for around $70 from http://http://Amazon.com?tag=wpcentralb-20?tag=wpcentralb-20
Want to know which Type-C cable to get? How about a micro SD card? Read these guides for the best tips.
News
Want all the latest news on these phones? Hit these topic pages for all that we got.
Microsoft Lumia 950 XL main page
Support and help forums
Want to chat about the Lumia 950 and Lumia 950 XL? Jump into our forums and ask others what they think or get help and advice on your new phone!
Windows Central Newsletter
Get the best of Windows Central in in your inbox, every day!
nice slim body I like that

Waiting for 950XL, did my preorder at MSFT store few weeks back and hope to pick it up this week

Little longer for the 950xL! 3 more days right??

Payment for mine just cleared today...should see it tomorrow or Wednesday (I selected overnight shipping)

Mine cleared today as well, but I wasn't going to be around for the holiday, so I'll have to wait until next week :-(

Seems awful overpriced compared to the price in other markets. Also overpriced if you consider the incompleteness of the OS and base Apps...

Yep when prices in other countries are falling for these phones its time to happen in NA aswell

Microsoft is making it easier for Devs to port their apps over. Besides, the price is based on the hardware and not app software.

Considering the feature set, it's not at all overpriced. Not saying I wouldnt've wanted it to be cheaper but I guess at this point MS can't afford to undermine 3rd party OEMs

$699 for a phone that doubles as desktop is overpriced ?

It isn't a desktop anymore than my Android phone with an HDMI adapter and Bluetooth keyboard/mouse. Actually, Android is a better desktop as there actual apps available including plenty of remote desktop apps. Posted via the Windows Central App for Android

@bleached, that's just ridiculous. It's vastly more a desktop than any Android device because through Continuum, it runs Windows 10 and runs it full screen and provides the standard Windows experience (minus multitasking and Win32 apps, but those apparently are coming in some form). It runs all Universal Windows Apps, including the all important Microsoft Office, almost the same as if you were on a Windows 10 desktop or laptop computer. The phone becomes a touchpad for the system, so you don't need a separate mouse. You can still use the phone as a phone while it's running Windows 10 on the big screen. That doesn't mean you'll like it or it's for everyone, but to suggest that it "isn't a desktop anymore than my Android phone with an HDMI adapter and Bluetooth keyboard/mouse." is like saying that an F-22 isn't any more a plane then my kid's kite because both can fly. I understand that you may still prefer to go fly that kite.

I'm pretty sure it's more expensive in all non-US markets

I would wish the device would be as cheap as it is for you in the US... In Germany pricing starts at around 640 Dollars...

Waiting for lumia 950xl. Posted via the Windows Central App for Android

Same here. But the 950 is pretty nice.

At first I was looking at the 950XL and my worry was the hardware. Was it worth an upgrade from the 1520? After I decided that I should just take the plunge, I am now worries about the software after reading so much negativity about WP10. Why must Microsoft always break five things to add one new item? Everyone says this and has been saying it forever....why have they not picked up that this is a major issue after so long?

It's a good phone, don't worry about most of the so called 'reviews'. Make your own decision about the quality when you get to use it. Many people just love to bash anything MS is doing, without any first hand experience. I'm pretty sure you'll enjoy the device. I'm saving up for the 950 XL (hopefully with a free continuum dock!)

If you like windows phone I think you'll like the phones. The last two builds have been extremely solid and much nicer than 8.1 ever was IMO.

I disagree. There are a lot of annoying bugs, and I really dislike the Android-like UI built on pop-out menus, rather than the pivots of WP8/8.1. The new UI makes one-handed use harder and adds a step to many basic navigation tasks.

Couldn't agree with Keith Wallace more. I loved the gesture based os much more then this android menu

Bugs will be fixed, the UI not so much so you can adapt or not. Back on topic, i was surprised by the separate USB C data cable becuase far more common is one cord and a removable wall adapter. The 950 package allows me to keep the wall charger plugged in and use the extra cord for data transfer or as a charger in my car. Nice touch.

I was surprised as well. I'm not sure if I consider it a positive or a negative, though. It can't really be a negative to have the extra cable, though I kind of preferred the flexibility of a breakaway charger, in case something went awry with the cable.

Saw the XL at the Microsoft Store before they pulled them. I'm sticking with my 2 year old 1520. It has a better screen, but the 1520 is pretty good on it's own. Better camera, but I don't take pictures, so it came down to Continuum. Might be nice, but I couldn't really think of a reason I would ever use it. So, 1520 for me. Watching the stars right now in hopes of a 6" surface phone. I hope they align.

Yea I had been holding off on upgrading for the last couple months and was excited about the 950 and the xl but after seeing them I decided to try android. I now use 1520 as my work device "upgrading (lol) the iphone 6 I was given) luckily they dont care what device I use. I will wait to see whats in the pipeline for devices and continue insider builds on my 1520.

I saw the 950XL in the store before they pulled them also. I offered the manager $1000 cash if he would let me walk out of there with the demo phone in my pocket. Of course he didn't.

I was one of those that originally bashed the look of the phone based on the online photos. But after holding it and using it a bit in a Microsoft store a few weeks back, I changed my mind. They both feel like solid, quality phones, and even though the back is plastic/polycarbonate, it feels nice and not cheap, at least not to me. I pre-ordered the XL and am looking for to it.

1520 is great phone. I played with 950 in Microsoft store and I didn't see any worth in upgrading from my 1520. 1520 screen looks much better. 950 looks more like a 640... Just like me, many of the customers in store were not able reconize 950 until the store representative showed it. May be phone looks better if we replace back with 3rd party cases.

Are you having a laugh? A 950 screen is 565ppi vs 1520 is 368ppi! New tech vs old tech. Oh dear.

Yes, top lcd display tech vs poor slow oled only good for oem because it's cheap, I agree

Or more like poor contrast ratio with greyish blacks vs inky blacks.

Its not always pixel density. It depends on what technology they are using. may be oled looks good on TVs. But on this phone colors are littlebit washedout

The only thing that would remotely want me to replace my 1520 for the 950XL (and give up .3" of screen real estate) is wireless charging and the higher res display. 1520 still a great device..

dont worry half of those guys get paid to diss windows, Judge for your self,

Stick around for a while and you'll come to the conclusion that this site is home to some of the most negative people ever. On the 950 review, someone actually criticized AT&T/Microsoft for the box.

A lot are just mad that they can't afford it. The 950 series are a huge upgrade to any WP previously available - period.

A review product box at that, not retail. I LOLed at the replies of having a small box collection fetish

That was me, I think, and a few days ago, unless someone else criticized the box today. I am by no means negative on Windows phones, I just thought that compared to the standard Nokia and Microsoft boxes, the orange one from ATT is ugly. It is still definitely a great phone that I would be proud to own.

to be honest, I'm glad I'm in Belgium and not getting an AT&T one with that butt-ugly box ;) then again, I'm getting a 950 XL and couldn't care less about the box as it'll be in there for only 5 secs before I tear it apart ​I'm quite fond of what MSFT did with the 950 and 950 XL and can't wait to get my hands on mine (6th december should be the big day ;) ). You'll always have whiners looking for something to sod about... I don't read those anymore and you can pick out the real honest critics (no product is perfect) from the nitty pickers here.

Dont worry about the OS i am using the fast ring updates and i am satisfied pretty much. I have a 1520 with WP 8.1 and 925 with W10. I love it, 950 is a lovely device its different than the previous models but good specs. I have pre ordered one also from microsoft store.

I got my from atat love it especially since I had the Lumia icon it's display is beautiful camera works great next year I'll buy the 950 xl when I get taxes

950XL please. The only phone I've considered paying retail for. BRING IT

Why r we still waiting for the XL? Is there no way to purchase it in the US right now? O.o

Hope you guys hurry up with the 950xl review. I am up for the xl, but I need to get the word from you guys. Please do a video size comparison between both 950 devices and the 920 and iPhones. Nearly ordered it today, but then panic set in at checkout.

Lol at panic! Yeah it happens, I'm still saving up myself, looking at feb 2016 :-(, but the 950XL will be mine without a doubt!!

I'd prefer to get a hands on before I splash any cash. Unfortunately, the sales people in the stores CW, EE, appear to have no idea when they are coming. In fact, most said they may not have them. Never ceases to amaze me how poorly informed the people facing element are.

You had a premature case of "buyers remorse"- it could happen with any large value purchase. Take a couple of days to mull it over & sleep on it. I have ordered 950XL from MS UK store after nearly ordering twice. I'm glad I have though cause regardless of the "apparent" lack of build quality etc (that is caued by the lighter weight) I'm sure I'll be glad I purchased when using the camera and screen. I like the idea of having a flagship Samsung Galaxy S6 rival that people will be asking about as they wont know what it is. Time to educate people about the merits of W10M.

Mulling it for months.... Doesn't get any easier, lol. I know it is a little smaller than the 6p, so I keep picking that up. Damn, I even looked on eBay for a dummy replica. In terms of the build quality, I think MS did the right thing. Once I see those Mozo covers in real life, I will be very happy.

"... But the rest of the world will likely look on with curiosity and nothing more" come one Daniel, try to remember that the US is not the world, you know that in the UK and India, for example, the app gap is far less pronounced and 90% of customers would be satisfied.

Daniel didn't write this review

First, the US might as well be the entire world. We run this ish and everybody is on our nuts. Now flip out over that factual comment.
Second, everyone uses apps. The app gap is important everywhere, and if it's not, those people might as well be using feature phones.

Lol one day reality will hit you like train

You are correct...most people should be using feature phones. But have you ever walked into Verizon and asked for a phone? You will hear about Droid phone like no other phone exist. It's only after you ask many questions that you might be referred to one of the few feature phone in the back. Many seniors walk out with a Droid with no use beyond making a phone call.

serious q - when did Lumia phones stop shipping with headphones? even my 520 has it in there!

When Microsoft stopped caring about windows phone

That funny, my last two Nokias didn't have headphones either.
So tired of hearing from these Microsoft haters.

Didn't get any w my 1020. Can't remember if the Samsung Focus or HTC Titan came with them. I think Apple is one of the few that still ships headphones with their phones

My 640 didn't come with headphones, but 640xl came with them. I think it's market dependent.

It's the US carriers that are stripping the headphones out of the package. They save a ton of money in the long run, and they don't mind fucking their customers.

i wonder if the unlocked packaged phones will have them then?

I hate that were not getting the headphones anymore. Lumia headsets was always perfectly ok to use.

It occurred to me that if MS wants to make lemonade out of the drab appearance of the 950/950XL, they should just sell them WITHOUT the back cover, and let buyers pick out a FREE case of their own from a stock of them available in the Microsoft Store. That way, users can make them look like whatever they want (flip case, leather case, Hello Kitty, etc.).

That method is not going to work lol.

I don't know about selling a phone without a cover but certainly teaming up with a cover manufacturer to provide a free other colour or texture (e.g. leather) would've been a good idea. It would take some wind of the drab design criticism.

Agreed. I actually think the "cheap" back is a selling point.

I don't understand the festish you people have with the back. At least now, the life of your phone can exceed the life of your battery. You can actually replace the battery when your older battery dies so that the phone will last much longer. Longevity and functionality are much more important than just appearance.

Just got mine yesterday and love it!!

patiently waiting for the 950xl. Have 3 great years with my Samsung Ativ S but long over an upgrade. Just need an official UK release date now - Microsoft event on 2nd Dec is selling them, Carphone warehouse had the 3rd Dec but now says the 8th while msft store & clove had the 12th. Not a great launch if you dont have a countdown date

CoolBlue, one of the biggest retailers in the Netherlands is shipping it on Dec 2, with next day delivery as is customary here.

actually it is expected 6/12 from Coolblue as that's where I pre-ordered my 950 XL... now that I look at it, the NL store is set at 2/12 and the BE store (where I ordered) is set to 6/12 :( Darned that!

MS store UK still lists 3rd Dec

I have visited 4 CW stores, most say around 8th December. They also have no idea if they will get any units, or even dummy units.

I would have liked to have seen more of a media blitz for this phone. Microsoft needs help in the marketing department.

This! I have never seen any kind of Microsoft commercial for any product on Dutch television.

They have a marketing department?

These are enthusiast phones, no need to advertiser as they don't expect them to sell outside of us.

How are you even thinking about such bullshit man?

Well they have said they're not using these phones to gain tremendous amounts of market share. These are phones that are here to satisfy the enthusiasts who have been waiting very patiently for new flagship devices. But regardless, these phones should be advertised. You can't spend so much time and money on a product and not advertise it, it wouldn't make any sense to do that.

To be fair, I've seen reviews from other tech sites, and the only thing they seem to frown upon is the appearance for some reason. Me personally, think the phones look great...I mean sure, a little more metal wouldn't have killed anyone, but that's why they all seem to shun the appearance of the phone. Other than that, they all say it's a great device.

I bought a 950 the morning it came out, I may upgrade tho th XL but am waiting to see it in person.

Wish mozo also made rectangular back covers(no curved edges) just like the l730/735 is curved but its back cover is sharp edged (if that's the correct word for perfectly rectangular cover)

I still have not seen one in person yet, glad I got the XL though, MS just charged my card...

Waiting on the unlocked 950 in the USA. Soon...

Getting the xl eventually

Could you review the box? Worthy of adding to my collection?

I got my 950 last Wednesday and overall, I love it, but I do have a couple of concerns: It has spontaneously rebooted 4 or 5 times in the time I've had it. I have not yet determined the cause. Battery life does not seem to be that great. I've had the phone sitting on my desk for about three hours with light use, and the battery is already down to 59%.

This seems to be a problem with W10 and W10M and maybe even WP8. My 920 had battery problems since day 1. SP3 battery problem when I upgraded to W10. Haven't found a solution yet for 920. I just dumped the SP3 for XPS 15.

Yea that USB-C connector was not something i was expecting. So much for my 4 or 5 USB-micro cords around and about my house, office, and car! Well, I suppose that's progress for you :) I've been using it since late last week and I like it very much. Got the Hello Iris feature down pat now and can get it to recognize me every time and within a second or two. Haven't decided if I am going to get a case for it, but if not, I think I will opt for one of the third party back covers. The back cover included does indeed feel cheap and flimsy. I suppose it needs to be thin and of a more flexible plastic in order to be a snap cover. But they should probably have done it better. Made it from a higher grade plastic used a different connection technique. A $600 device deserves something more.

Glad I have a Qi charger at home and at work ;) Screw cabled charging! ;)

I got it last Friday, so far so good, no reboots that others have reported. Paired it with my wireless charger and was surprised to see no device hub in settings/extra but then I found the gadget app that allows my to update the settings. But what I find annoying is that everytime I upgrade I lose some functionality. Upgrading from windows 8.1 to windows 10 I lost glance background, lumia playto and lumia panorama although if they were installed when I upgraded they are still useable even though not available from the store. Now that I have upgraded my old 830 to the new 950 I lost double-tap on wake. I makes me hesitant to upgrade. What will I lose next that I have come to reply on?

Looks like the wall charger doesn't have a removable cable like typical USB wall chargers. Not a deal breaker at all just different. I like that there is a USB-C cable included.

Yea, I noticed that. Not a deal breaker but still annoying nonetheless. Would be nice if it was removable so you could use it in the car or with a power pack

Yeah how do we get secondary mains and/or car chargers?

This is getting annoying to read. How is "lack of apps" a point against the phone? It's like saying a 4K LED TV is bad because all the movies suck. It's not like there are no apps!

That has been my gripe with TVs. The better the tech gets, the worse the content.

Heh, it's a valid concern, though. Commercial movies tend to be visually amazing but a bit shallow and uninspired too. But things do look better technically.

Because you buy the phone to use it.

We're not the ones complaining about the "app gap"...it's the current Android/iOS users who are consindering the Windows Platform. I can't count how many times i've tried to "sell" someone on the idea of Windows Phones..and they all for the most part, say the same thing. Windows doesn't have the apps they need...and these aren't just the snapchatters...these are people who are accustomed to viewing their financial branches via a native app, and not just on a mobile web browser. It's things like that which hurt the Windows platform...it's just the reality of the situation. Everyone has their selling point, and unfortunately, in this "need-it-now" and "readily-available" world...people would rather just play the safe bet, and stick to where they know the support is. Windows would definitely be more competitive, if only the developers would just take the time to see that it's a platform worth investing in...and as much as i hate to say it, that's where the power is with these platforms. It isn't a hardware race...it's a software race.

I don't know, it's a problem but it's highly subjective. In any case, I don't think it's a relevant point in reviews for us fans. Again, I consider this to be a site for fans and I expect some positive bias towards the products, and basically not telling us things we already know. Plus we want the hardware reviewed, software changes and evolves.

I agree 100% that it is subjective, just like everything else out in the market. I also consider sites like these to be fan-based...and if someone has a personal opinion in regards to the hardware/software of Windows, then by all means, please leave it here...because this is the place where everyone, from die-hard Windows fans, to those dipping their toes in the water, comes to for advice. If someone has a negatvie opinion of the platform, then they should have a right to say so...but there's a difference people them (us), and the trolls who come on here just to get people heated. I make it a point to ignore them...because it's like giving a flame oxygen...sure, just like any other die-hard fan of the Windows platform, it upsets me to see that either they delivered an experience that someone else who isn't me can't appreciate...or people just choose not to give them a chance. Anyways, to cut a long story short...I, too agree that sites like these would be 10x better if the trolls would stay away.

I hope everyone remembers or maybe not, that Apple had the same problem and in some genres still has the dreaded "App Gap"!!! Has it stopped them from making the Macintosh and Mac OS X a pretty sought after brand? iOS had a hell of a time when it first came out and was a WEB APP only type of device. All these reveiwers need to either grow up or if they are not old enough to have been there do a little historical research and find out how the smartphone ecosystem has had growing pains since the iPhone in 2007. W10M will mature and with a non-mobile installed base of close to a billion I think the UWP apps will continue to florish and make the app gap imperceivable. Just my 1 cent opinion and 2 950XL's hopefully delivered by the 25th.

In my honest opinion, the reason why Apple struggled soo hard in the beginning...is because they were the beginning of the smartphone market. What they (and Android) did is what shaped the smartphone market for what it is today....Microsoft is jumping in to an already developed market share, and is trying to dig their feet in the sand. I love the idea of Continuum because to me, that's Microsoft's way of trying to mold the clay for a new generation of smarthphones. Sure, some people (even the fine people of Windows Central) might find it to be a niche utility...but who knows...maybe in the near future something like that will come in handy for daily use, and will re-shape the smartphone market. I have faith.

I wasn't going to buy the 950, but a high end Lumia in my preferred size and good hardware specs was too tempting so I flipped a coin. I like it and the casemate case feels nice too, which covers the chrome ring if that bothers you. 10 ran quite well on my M8 and I was content, but the 950 overall is a better experience. Windows Hello works well. Charges fast too. Not having double tap to wake isn't as bad as I thought because the power button is not at the top like the M8. The app update for touch not working properly was disappointing, but I see myself enjoying the 950 for the next 12 months with no regrets. I'm saving the Band 2 & Continuum for Xmas so my wife and daughter have something to get me. Also, the manger at the AT&T store in Exton, PA mentioned he has had alot of ppl interested in the 950. I went back today to purchase the tempered glass, but sold out just before I got there so there are WP fans here. Felt like I was the only one.

Wow, no headphones? I wonder if the unlocked XL's will come with them. For the $960CAN I'm spending on it they better...

I was also wondering about this... At first I thought this was only for the budget Lumia's, like 630. But L930 also didn't have it, which I cannot understand. They once sais it was because of the quality and people would buy other ones anyway. But come on... With a 700€ phone, a pair of headphones is nothing? And didn't they ow this headphone brand? I forgot the name... it's Coloud! And they even offer the Microsoft Comfort Headset for 15€... just a tiny little extra

According to smartphoneshop.be (where I pre-ordered my 950 XL) there should be a headset in the box... then again, the site also says so for the Lumia 950...

Great camera, etc., etc , but no apps. Missing in your comments is: WP is the only platform that consistently works flawlessly with Outlook and OneNote. In two years my 928 has never failed to sync Outlook perfectly with my work desktop.... Meanwhile the other workers in my office are constantly missing their meetings while using Android and iPhones.

Has Microsoft started selling batteries for these yet? I checked the store and didn't see anything.

When you say lack of apps how many apps does the windows store have ?0? Cz some of us would be buyers wanna know the hardware seems pretty solid the best actually and hardware on a phone is not dynamic everytime I wanna get a windows phone I hear lack of apps the most tech savvy guy I know has like 120 apps on his phone so unless the windows store has 119 apps cast in stone then ill rethink buying this amazing device otherwise im getting it

The hardware sucks, no hard feelings though

How does the hardware suck? You could argue design wise since that is subjective, but seriously, it has beefy hardware coupled with the SD808.

Lumia 950 series is the best lumias ever. They surpass all the Lumias in hardware and software . Camera with 5 gen is triple led flash sd card slot ...removable battery dual sim...wireless charging . My mozo cover already arrived red leather with gold rim...in the end looks don't matter that much to me... The phone functions hardware and software...iam hopefully going to insider party on Mumbai and will buy the Lumia 950 to replace my 3 year old 1020...ppl who say 950 duos is not worth the upgrade is making excuses.... The best windows 10 mobile is here...its yr choice...buy ot or no but it's the best now

AT&T's predictable, boring and cheap-looking packaging. Need I say more?

I own two older Lumia phones, the 920 and 925, running current build of WP 10...and love the OS!!..I can only imagine how much better it'll be running on latest 950 and 950XL phones!
Windows Central Newsletter
Thank you for signing up to Windows Central. You will receive a verification email shortly.
There was a problem. Please refresh the page and try again.