The Lumia 950 XL is back in stock in US and Canada Microsoft Store online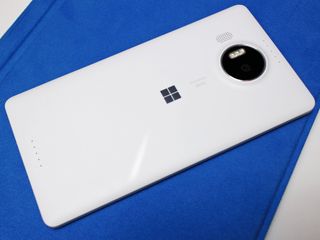 (Image credit: Daniel Rubino / Windows Central)
It looks like Microsoft has some more Lumia 950 XL smartphones to sell. Both the US and Canada Microsoft Store sites have begun taking orders again for the 5.7-inch smartphone with Windows 10 Mobile installed.
There's, of course, no telling how many units available on each store site, so if you want one you might want to try your luck now. The US site is selling the unlocked phone for $649 while the Canadian site has a price of $849. Microsoft is still offering a way to get a free Display Dock with each Lumia 950 XL order, via the Lumia Offers app, from now until January 31.
Thanks to everyone for the tips!
Windows Central Newsletter
Get the best of Windows Central in in your inbox, every day!
Dont do it. Get a cheap windows phone and wait, maybe by the time the Surface phone is released the OS might be ready. Not only that, the 950 series is way overpriced.

Always waiting for the next big thing means you always end up missing out on the current big thing.

Exactly. And then it becomes hard to find a new one after the fact.

Go with the 950 XL. Surface Phone may not even happen, and even if it does, you will be waiting until 2017 and by then something newer will be announced. Waiting is never a good thing when it comes to technology because there will always be something newer around the corner.

the 950 is not a flagship phone, its a developer phone which MS is using its "Fans" to test. Its overpriced, buggy and you dont need to spend your money on it. You will get a better experience with W10M using a 640. There is no compelling reason to spend $600 or more on a 950/xl, not one. Iris scanning? its a joke its not faster than fingerprint reading and you have to hold it too close to your face for it to work, its actually frustrating to use. The camera? Not even, even if picture quality was better, it is only by a hair, it takes forever, and i mean forever to "Develop" pictures. Its a joke really....and dont get me started on BT issues, Phone restarting and restating, some apps not working correctly and scaling issues which cause some onscreen buttons to not display correctly or the keyboard covering up forms and buttons that force you to bring up back arrow to display them! In the end, I would have just got a 640 and waited for the surface phone not because of the hardware, but because of the software, what an ironic twist.....A SOFTWARE COMPANY THAT CANNOT GET THIER SOFTWARE RIGHT!

These are Flagship phones based on their spec's. I do like how my 950 feels in my hand especially with the Mozo back. Stop selling the hardware short. MS just needs to get the OS fixed and we'll all be singing a new tune. I love the phone. just can't recommend it because of the buggy OS.

this what happens with android devices.... you bought the latest phone and is already outdated as they announce something better at the same time.... I think there should be some time period between two flagship high-end phones allowing you to enjoy and show off!

For the most part its not the hardware, its the software. Thats the issue. W10M isnt ready and from what I can see is a long way, Maybe 6 months or more from being ready.

The Surface Phone will release as a first-gen product (not tried and tested) and if it really is the amazing do-everything phone-PC hybrid fans are expecting, then it will not at all be cheap. It'll be wayyy more costly. It's also just a rumour, who knows what the next flagship will actually do? It could just be a 960 with a Surface-like design. And, as others have pointed out, with tech you could wait forever for the 'best version'; Hold off on the 950 for the 'Surface Phone', hold off on the Surface Phone until the Surface Phone 2 comes out and fixes the issues from the previous model... and so on. Four years later, you'll still be using a battered and near-death 'holdover' L640. The OS thing, yeah I can understand that - but it's reportedly been improving with recent fixes and I imagine in a month or two it'll be solid, so that fixes the bug issue.

Actually, hold off until Surface Phone 3, because MS will be working the kinks out with the first 2. So 2019? Hope my 1020 has the legs to go another 3-4 years. ;)

I love my 640!! Great phone and does everything I could need or want! Go 640!! lol

I agree with you on the price...but I think they've been priced so high because of the display dock...they say it's free but I think they just added it's price ($99) to the price of the phone ($549) and are giving it out as "free". They want people to use those docks or at least try them because of continuum...I maybe overthinking this but I see no other reason to price this phone so high...i'm actually thinking abt returning it now because of the number of issues this is having

Which current flagship phones have the spec's of the 950/950XL that costs the same or less?

Moto X, Nexus 5X/6P, G4 and a bunch more I cannot think of. There are quite a few available for less than the 950 and they are all last generation devices. SD820 will be out very shortly making them all outdated. The buggy software and soon to be outdated specs are not worth the asking price. They should have wait for the software to be ready and as such the SD820. Posted via the Windows Central App for Android

I don't understand people saying this phone is overpriced. Iphones and galaxy's are 800+

because most people care alot about build quality and the way it looks. they don't want people to see them and go, is your phone plastic? mine is metal and glass.. kinda like those people who say, no double tap to wake? omg dealbreaker right there

Metal and glass? Pah!! Who wants that... Mine is a electric orange... Haha.

Put a case on who cares the metal or glass. beside, in long term, i prefer it not metal. especially coated metal. look at my lumia 830 , the only parts that started to look weary is the metal frame now.

Err no! People care about looks, build quality with the cheapest metal on earth; aluminum... yeah right!

My 950 is Leather/Glass/Metal, (Mozo Back) I was OK with the plastic back, it still felt like a premium phone in my hand.

Well, the nexus 6P is $500

Iphones and galaxys work and have apps.

As buggy as my 950 is, I would still not change it. My wife has a Note4 and it's been nothing but a Nightmare. 2 Notes in, and she still has the same problems. "MY Phone is NOT WORKING", I hear that from her everyday. That's the main reason I switched to Windows in the first place, tired of having to root my phone and load the lastest ROM to fix problems. Windows 8/8.1 just worked and I could get on with my life and not spend it rebooting my phone to make a call. MS will get their problems fixed with WM10.

Umm both those lines of phones suffer random reboots, terrible battery loss and more. Just ask an iphone or galaxy owner. And when you have over a million apps, how many of those do you think are high quality? About a quarter of those apps have never been installed once ever by anyone, another quarter is just junk malware or knockoffs/copies of other apps (like flappy bird clones), about a quarter is useless fart apps or other apps that do much like a flashlight app. That leaves only a handful of quality apps. And good luck findning them when you gotta tread through that many bullshit apps...

Finding quality apps isn't hard at all on Android and I assume the same with iOS. All the big names are available and they come right up when you search. They are also frequently updated. Anything else you can read reviews and check scores. Posted via the Windows Central App for Android

there will be something bettter by then and will always be something better in the future, so life sometimes is now or never situation. considering other phone in the market especially android phone's price, lumia 950 is quite decent price. of course if you are canadian, then the pirce high only due to the current low currency rate.

When you can get a Moto X or Nexus 5X for hundreds less, then the 950 is massively overpriced. Both those phones destroy the 950. Posted via the Windows Central App for Android

as i always say, beauty is upon the eyes of beholder's. I personally can't stand how android os handles things any more. and in long term you can totally see what i mean. so to me, those two devices have no appearling to me. besides, moto x is now lenovo now, who is an chinese gov agent, which totally lost me any desire to buy from them, so is Nexus 6P (from Huawei). and i don't trust korean that much either, so no LG(nexus 5X). my previous android phone are either HTc or Sony(ericson) , though i love them, but for years later, the android just can't last long as the windows phones released the same time. now the HARD DATA, both phone you mentioned, has less advantage camera, less apealing display, fewer supporting network bands,smaller battery, less memory(ram), so i don't really understand how you say those phone destroying Lumia 950 beside, i am always like to be supporting the less popular party/player.

I'm not waiting for Surface Phone. I might wait and see if the mid-range devices coming out are good, but I really have no reason to wait on an Intel-based phone. I just don't have many Win32 programs I just have to run on a phone. There are a lot of people that waiting makes absolutely no sense for. All they need is a great smart phone, and that's what the 950 line is. And all phones are overpriced. Only reason I will wait is to save up the money to get it or until AT&T has it as well.

So if the plastic 950's are overpriced, do you really expect an all metal magnesium phone with even better specs to cost less??? You'll always be waiting for the next with that logic..

You wrote "available" twice. Also why dont you just write WXM instead of long Windows 10 Mobile (MS uses GWX.exe for Get Windows 10 on older OSes)

I think even W10M will do. I don't like Romans....

"Also why dont you just write WXM instead of long Windows 10 Mobile"

(1) It's not called WXM, so making up names is not what media do for companies (2) SEO as no one is going to search for terms like 'WXM', which you just made up (3) Again, that's not what it is called. This isn't some freewheeling site, where we just call things whatever we want it to

Alright then. I personally dont see issue using WXM when MS uses GWX. Anyway, your choice:)

You are assuming the X in GWX stands for 10.

It could be "Experience", "Executable"... I mean, it was kind of hinted that Windows 10 is the last major-number version of Windows, so 10 can stay out of the name.

So they want you to "Get Windows 10" but you're saying "GWX" could stand for "Get Windows Experience". hmmm.... I think I'm gonna stick with my original assumption.

I am saying that the name GWX for the application was designed in such a way that it wasn't tied to a specific Windows release, but to all future Windows releases.

.exe means executable, so it defintely doesnt mean that...

I agree. Daniel's making fair points about WC terminology but I like WXM and will likely use it in comments (well, already have since I noticed it a few days back)

Cold blooded! Posted via the Windows Central App for Android

Stop ruining a good thing with your damn logic Rubino! WXM has the added benefit of sounding funny when you pretend it's not an acronym. "Wuxum" You can't do that with W10M.

Since this is Windows Operating System 10, why don't you call it WOSX? Posted via the Windows Central App for Android

GWX is just an exe name, it's not a marketing term or brand. We don't call Word "WINWORD" either.

MS generally uses X for their graphics/games etc. but not for referring to number 10 Ex: DirectX, Xbox So, WXM is not a good idea w.r.t. MS

Better to get the 930 or even the 1520. Better value for your money and they're both flagships too.

They used to be flagships.

Name a place that is selling either of those brand new? Also those phones are from 2013 (2014 for the 930) Those Lithiums aren't going to be pristine anymore. I would stay clear of the 1520 too with the phantom touch and other LCD related issues. Not to mention that the 950s picture quality is far and beyond both of those. My point is, if you are a Windows Phone user and need/looking for a new phone. Then you can't go wrong with either 950. With the new firmware and new build, my 950 XL is now getting better battery life than my 1520 did back in 2013 with Windows Phone 8.0.

>With the new firmware and new build, my 950 XL is now getting better battery life than my 1520 did back in 2013 with Windows Phone 8.0. Is there anyone who can confirm this ? I'm really curious

I've never had any battery issues with my 950, It doesn't last as long as my 920 did, but I do get all day usage. Sometimes I forget to put it on the charger at night and when I check in the morning I still has between 30-46% charge

I disagree about the battery life (my 1520 went on for 2 days fairly easily whereas 950XL gives me a day of use (and yes, latest FW and WXM build)) and picture quality. Not saying 1520 picture was better but it was absolutely gorgeous to begin with. Also LCD had nothing to do with phantom touches, if you have proof to back up your claim, do share.

Its a very well documented problem on the 1520. I went through 4 different versions and they all had touch screen issues. Here is one thread from our forums here http://forums.windowscentral.com/nokia-lumia-1520/389385-my-beloved-gree... Then do a Bing search for lumia 1520 phantom touch and you will see. The magic combo for me was to flash down to what the phone came with using Windows Device Recovery tool. Then I updated the firmware, then i became an insider and update to the latest WIndows 10 build. Now i can make it easily to 2 days of light use and 1 day and a half of mid-heavy use. Best battery I've had yet on a WIndows Phone.

They are too outdated. Go with the 950 XL.

*WERE* flagships. That's like saying I should go back to my Nokia 1330. I'm sure it was a flagship at one point in time too.

Got the last one they had in stock at my local store last week. So far I think it's a great phone except for the iris scanner which I don't care for. It has been stable, the camera is great, and the thing is very snappy. I also like W10M.

What don't you like about the iris scanner? Doesn't work? Slow? Etc?

I've disabled my IS, by the time I pickup the phone to put to my face, I can punch my code in. The other reason is that I can't be forced to unlock my phone by big brother. With biometrics, the courts are still out opn the legality of my 4th Admendment rights.

They probably got the stock that Carwarehouse put a hold on selling for defects.

Stop spreading fud. You know that isn't true.

Factually you should be way off, but it was funny to read lol

Anyone still waiting for the latest 950 f/w? I exited Insider after the update and so far have caught nothing with my firmware rod.

Is your 950 AT&T branded? Then you should blast them on Twitter as it's on them. If you have one unlocked then you should get it via one of the methods described here

No, its on UK Vodafone. I thought the firmware was carrier agnostic.

Now hoping the 950 unlocked goes in stock

I always find it very interesting when I hear tech sites and journalists (I use that term very loosely) state that Windows mobile is dead and nobody is buying Microsoft's flagship phone offerings, but the phones are always out of stock. Don't you have to sell a product before you list it as out of stock? Soooooo..... ​

Depends on the number of items in the stock ;)

There is limited stock for this, probably less than even a ruggedized phone which has greater practical application than a flimsy overpriced smartphone. Add on top of that, the site only had pre-orders in Canada for the 950XL for four hours on Nov 17. So yeah, they can give you the illusion it's popular, in reality they didn't build enough for a global launch and are shifting what limited supply they have around.

As far as Lumia's go, I've had the 920, 1020, 1520, 635, 640XL, 830, and now have the 950XL. It's really good and a huge step up. Does it not have the amazing body of the 920/1020 sure, does it not have the Premium feel of the 830/930 sure. But it's still good feeling, packed with top of the line features, and the latest tech versions of what we have been using for years. It's a very capable phone, better than what u currently have so what's the problem, cause I see none.

We've had very similar WP pasts. While it doesn't feel like the 920/1020 like you saidm, it also isn't as thick nor as heavy as both of those. That's a tradeoff that I'm willing to live it. First time ever my iPhone Android friends don't pick my phone up and say "Man that's a heavy phone" lol

HA! I had the same happen to me with both 920 and 1020. I definitely don't get ragged on for those aspects anymore, but I still get asked why I buy a phone that isn't "mainstream enough" to support snapchat...way too often

I used to say to my friends with iPhones "Man, that's a tiny phone". Haha.

LOL this! Both my 920 and 1020 were roasted for being heavy

If you're running a preview build, I believe they are adding the ability to dl the firmware. But it was not possible before, running a preview build, without doing a factory reset, after disabling the Insider app, I believe. Good luck, though. The new firmware has stopped a lot of the random issues that were plaguing my 950 XL before. Bluetooth is still unstable as all hell, though (but ironically, much better than before, as well).

Just ordered mine (finally!) :D Used my $60 code from Black Friday Xbox One promotion :)

Quite tempted to get myself a Lumia 950XL in the next few months, to replace my brilliant but ageing 1020. The main thing making me pause is the camera; how does it compare to the 41MP beast of the 1020? Megapixels aren't everything, but if packaged with the correct processing and camera design (as in the 1020) it can certainly help.

I picked up the Lumia 950. Honestly its better.

I'll be honest with it, went from the 920 to the 1020 to the 950xl. Which each hardware/pricepoint jump, the camera quality took equally as big of a jump, if not bigger. That definitely holds true for the 1020 to 950xl camera question. It's WAY faster and sharper than the 1020 was. Plus, windows 10 default camera software algorithims seem to just execute more accurately on this latest hardware iteration. i don't regret the jump one bit.

I had a 1020 and my 950 is comparible, just faster.

Ended up ordering my 950 XL on Amazon for $80 cheaper, still sealed in box, about 3 weeks ago. Would have bought from Microsoft had it been available, just for ease of mind. Sucks that it took them so long to re-stock. I'm definitely loving my 950XL though, and my free display dock!

Did the same. Returned the 950XL I got from the microsoft store and order from Amazon. It is a single sim international version. So, visual voicemail works. I got an amazon credit card and store account and that dropped the price another $100. Then I used the store card to get their 6 month no interest promotion so that I didn't have to shell out $489 right away. I spread the payment over 6 months. Plus there was not tax and free shipping. Overall, I saved a bit over $200 doing this. Used the savings to buy a Mazo cover and the phone feels very premium now. It really is an awesome phone. Just hoping that universal app strategy will lead to getting a few of the missing apps on the platform.

i have been looking at the single sim 950xl on amazon, but what about the warranty? i hear amazon has 30 day return for refund but what else
?

As a 950XL owner: if you don't NEED a new Windows phone, then my recommendation is to wait. The 950XL is missing features that my 920 had, most notably visual voicemail. It is also incompatible with all of my Qi chargers. I DO really like the larger, clearer screen, though. For some reason, despite being a member of the Insider program, I have not received the last 2 OS updates, or the current firmware update :(

The international single sim version does have visual voicemail. I returned the US version for that reason and bought the international 950XL on amazon. Both versions worked with the Nokia QI charger that I got when I bought my 920.

Don't know what QI charger you have. I'm using the same QI charger that I got free when I purchased my 920 3 years ago, and it works without any problems. Sure you actually have a 950XL?

My 950 XL Unlocked Dual SIM has visual voice mail....

My pocketbook can't bear that for what may be a problematic SoC with a heat-pipe cooling system. My glasses prevent Iris scan from being effective. I'll wait for a Snapdragon 820 device that uses SenseID for Windows Hello over another sensor. Now here's hoping the global economy stabalizes and the Canadian dollar doesn't fall even further between now and then.

Bullshit! I wear glasses and have no issues what so ever with the iris scan it works mostly flawless. In light situations, dark situations with sunglasses, with normal glasses and with out glasses it works like a charm in all those situations ;-)

I'll be testing with an MS employee's device later this week.

Do you know how long you'll have to wait for a 920 windows phone...ppssh. And widnows hello works with in the pitch darkness, or when i have gradiented sunglasses on. It's even worked while streams of smoke were floating up past my eye balls.

My point of view was to buy the 950XL because it seemed like the last "Nokia" developed high end phone. I would rather have a device from an experienced team. I'm not sure who is on the surface phone team and how experienced they are.

Actually I would've preferred FHD IPS on 950XL since the one in 1520 is absolutely gorgeous. It probably would've translated to a little better battery life too (which was at least 50% better on 1520 running 8.1 btw) And the phantom touch had nothing to do with the LCD. If you have some proof to back up your claim, do share.

After comparing the IPS on my 830 with the OLED in the 950XL, I can far and away say that I like OLED better. Something about projecting 'black' light into my eyes is still something I haven't gotten used to, having started my WP journey with the Samsung Focus.

Hey if you want a new windows phone go for it. I finally found a 950 at the Microsoft store and then a 950xl from plemix. It is the 1085 version and was extremely buggy for a week or so. Terrible. After the latest two updates to .63 and firmware update the performance has been great. Battery lasting more than a day on both devices. Not hot anymore. Both work with my 920 wireless charging pads at work and at home. I don't like the buttons on the 950XL but since I gave it back to my wife I don't have to worry about that. Honestly if you like windows you will like the phone. Beautiful screen and fast. I sold my 1520.3 to purchase the xl for my wife. Updates will only make it better.

And I forgot to mention the iris scan is fine for me with glasses if I actually hold the phone to my face. Closer than I would if I were just reading from the phone. Unlike the surface pro 4. That recognizes me in a second from almost arms length. But is that facial versus iris recognition?

Facial recognition knows it's you by studying your face (how big your ears are, how far apart your eyes are, where your mouth is in relation to your eyes, etc.). Iris regognition studies the patterns in the iris I believe. There's a third implementation as well; Retina, but I forget exactly how that one works.

Update: Sold out again. /s haha

Way too big for me . And without any carrier subsidies here , way too expensive .

I have had the 950XL for a couple weeks, awesome phone. Much smoother than my 1520 and 1020 on WM10

I'm in Canada under TELUS mobility. So far fantastic device my Lumia 950 XL Dual SIM is! I upgraded from Samsung ATIV S. I highly recommend getting one! The Surface Phone will go up against the Samsung Note 6 in June! The battle of the pens.

There's no way the Surface Phone will be ready for July. It'd be end of the year if anything, but I'm placing my bets one Q1 2017

It's an ok phone...sandwiched in the middle of Nokia and the upcoming Surface Phone to be released at the end of this year...

I'm getting one from amazon

Nice switched mine out due to Bluetooth issues.

Don't get the 950/xl...not worth it in my opinion.... The design is crap..those power and volume buttons are annoying to use with one hand... The battery doesn't last as much as expected... Some apps are so buggy that is best just to ignore or find other similar ones...every time you have to open the case..it feels like its going snap in half... (to make it worse..my phone suddenly started to reboot on its own...going to send back for another and hope it was just manufactures' error...else switching os all together)

$650 is a little over priced. You can buy 950XL on Amazon for $588 with two-day shipping.
Windows Central Newsletter
Thank you for signing up to Windows Central. You will receive a verification email shortly.
There was a problem. Please refresh the page and try again.