Our Lumia 950 XL (Cityman) renders show what could be Microsoft's upcoming phone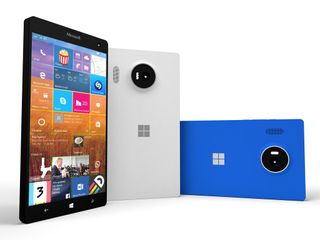 Yesterday, Windows Central revealed details regarding Microsoft's two upcoming flagship Windows Phones codenamed Talkman and Cityman. Since then, the story has resonated around the internet so we figured we would provide a more detailed look at one of the phones.
To be clear, these renders of Cityman aka the upcoming Lumia 950 XL are 100% created in-house by Windows Central. These are not official or leaked in any way, and we want to be very clear on that. However, we are basing them off of images, sketches, and first-hand reports from multiple sources.
Indeed, when we ran these new renders by one of our sources and this was their reply:
So we are quite confident in their accuracy. Having said that, please allow room for slight changes or minor details we might have missed. [Update: Although it is incorrectly represented here, we have it on good authority that these devices have on-screen keys and not capacitive. We will try to update the renders soon to reflect that difference.]
To recap on this phone's specs:
Cityman (Lumia 950 XL)
Matte white, cyan or black polycarbonate body
5.7 inch WQHD (1440x2560) OLED display
Snapdragon 810, 64-bit Octa core
Iris scanner (infrared) for Windows Hello
3GB of RAM
32GB of internal storage with a microSD card slot
20MP PureView rear camera with triple LED flash
1mm silver ring inside the circumference of the black camera pod
Aluminum side buttons
5MP Wide-angle front facing camera
3300 mAh removable battery
Qi wireless charging integrated
USB Type-C
As a bonus, we are tossing in a Cyan version. Evan Blass aka Evleaks this morning tweeted that the phone will have a blue color option, so we decided to represent that as well.
Special thanks to Mobile Nations Derek Kessler for the 3D render work!
Daniel Rubino is the Executive Editor of Windows Central, head reviewer, podcast co-host, and analyst. He has been covering Microsoft here since 2007, back when this site was called WMExperts (and later Windows Phone Central). His interests include Windows, Microsoft Surface, laptops, next-gen computing, and arguing with people on the internet.
Wow, just wow! Just came back to my senses. This really looks like the most beautiful peace of hardware I've seen in my whole life. The way they combined the white with the cyan and black one especially around the camera. Wow man!

I concur. I can't wait to see the actual phone.

Haha. Love that comment. Exactly the way lots of us feel!

Any downsides? Glance? (It is not clear) Square back edges: May not be as confortable to hold as L640XL. On-screen buttons: Could be an annoying issue for some. Position of Power button: It could be an issue to find the power button in the dark if no Glance feature. L950 Wireless Charger: No built-in wireless charging. Limited Carrier Support: No US carriers carry L950XL could spell trouble for the US market share. The absence of Verizon will hurt. The unlocked version should be made availabe more than just at MS Store. Best Buy, Walmart? We want to see more marketing aggressiveness from MS. A successor to L830 (SD808) is needed for business and those who demand affordable flagship phone. We are excited about L950/L950XL, but the concerns are lingering. We would like to see that MS would make L950/L950XL available to all carriers in US and the rest of world. Any one wants one can get one.

Your note reminded me of Murphy's laws. You have pretty much stated all that 'could' go wrong. There is nothing anywhere to suggest that there will be no glance screen, or wireless charging. The design says metal frame with polycarbonate back, so wireless charging should be there, though I am not sure if it really is a selling point or not, but still it should be there. About square edges instead of rounded ones, I am not too sure if it really makes a big impact, unless the enges are pretty sharp. No US carrier support, that is not going to be the case. Rather with just one variant across all cariers, I think most carriers will have it, and there will be no delays due to a carrier centric variant.

1. L730/830/930/ICON don't support Glance due to the type of AMOLED display used lack the screen memory. Unitl there is clear evidence the OLED screen used for L950 does have screen memory, we just don't know. I'm just concerned about it. 2. The reviews I read about L640XL have high praises for the rounded back edges design of L640XL for its comfortness. I have tried that personally at the local MS Store to verify the claim. That's why I rasised the question about the square edges. 3. L950 should have built-in wireless charger as in L950XL. I doubt people would disagree with that. 4. I failed to see the reasons behind the decision to move the postion of Power button. It could be an annoying problem especially if Glance is not available. You see, the Murphy's laws don't apply here. The questions I raised are based on the facts described in this article. Obviously there could be some misinformation in there. Hopefully, there will be pleasant answers for all my questions when the phones are released for real.

its going to be a tough decision ""IF"" SAMSUNG NOTE 5 Windows 10 rumors were going to come true. These phns are AWESOME, but SAMSUNG NOTE 5 with windows 10, is going to be freaking UNBELIEVABLE killer phn of all time. We just have to wait and see if the rumors are true. i really hope so. these phns will be a game changer for Windows phn market. i just hope we will see ALL manufacture flagship phns from SAMSUNG, LG, HTC, LENOVO, SONY, ASUS,..............on the market with Windows 10. We all need to help MS to get to #1 position and put the"One Trick Pony" CrApple and Android "We Spy On You All The Time"" in last place where they belong.

And where did you hear these rumors that no else has reported on?lol

There is thing called SEARCH ENGINE like BING,....... that you can search many things on, just incase you didn't know that. LOL Here are few links for the """"""SAMSUNG NOTE 5 with Windows 10""""" rumors for you to see. I hope this helps. Again its just some words on the street, and NOT 100% for sure. However, i really hope it will come true. that would be great, and AWESOME and a game changer as well. 1. http://autoomobile.com/news/samsung-galaxy-note-5-windows-10/10024321/ 2. http://autoomobile.com/news/samsung-galaxy-note-5-windows-phone-10-version-looks-set/10025637/ 3. http://motoringcrunch.com/green/samsung-galaxy-note-5-a-windows-phone-10-variant/10014696/

for u r kind info check in google Note S5 already surfing with android version unless they release 2 s5 models like htc one with android later another with windows but that aint going to happen bec we know google

Note 5 will make me switch from Lumia to Samsung, and I hate Samsung. Shit.

If the iPhone 6S with Windows 10 rumor is true.

that Overrated, piece of crap iJUNK 6/6+ is ONLY good for iSHEEP and NOT those High IQ people use Windows phn/devices. So NO i don't think so. That 4 years old behind technology garbage with 8 pix cam, and 720 screen res with 1800mAh pure poop battery,................ is perfect for Brainwashed people that believe ANYTHING CrApple tells them or feeds them. Lumia 520 is better than iJUNK 6, that bends in your freaking pockets with its aluminum foil crap body(#bendgate). So, even if ANY rumor regarding that was true(that I'm 100% sure its not), intelligent windows users NEVER EVER would bather to even think about it. I would just keep my 10000000000000000x more superior and way more advanced, Lumia 1520 AWESOME phn that walks all over those total trash Huped-Up iJUNK phns. So yeah......

Dude what have u been smoking? Samsung putting Win 10 on their flagship is saying pigs can fly... Stop dreaming and getting high

Dude, Microsoft and Xaiomi working on android phone in which we can install win 10 os ... So same as this... Why cant we bang that Note 5 with Windows phone 10

yes i always thought of this why they just cant work like cyanogen giving windows 10 to flash on popular old/new devices this increase os share atleast :)

One issue will be the endless proprietary barriers Samsung throws up all over their phones to prevent modding. It will take a very talented and dedicated effort. Not impossible though.

its not android .. if its running win10

Dude. You can't compare Lumia 520 with iPhone. Lol

IPhone-no sd slot, no removable battery, no fm, no file manager, no sharing files via Bluetooth, no camera button, no manual focus built in, no exchangeable shells, no wordflow keyboard built in, and finally, not an economical choice :)

B-b-but I heard iPhone was the best... because of reasons.

LOL!!!! Now that's a comment of July haha!

A WinDozer was triggered, nothing to see here... All the tinfoil in the universe wouldn't help me match your level of ignorance.

I find it funny that you call iPhone users isheep yet you are no different, you just have a different preference and are just as blindly entrenched. IPhone 6 may not be the best device on the market, but it's a solid device with a very strong camera (not everything is about megapixels), anyone with half a brain will tell you that.

So what's with those "shot with iPhone commercials" being 1080p but the actual footage appears to be 720p. The 1080p footage must not look very good I they felt they needed to show off the camera via a 720p video in a 1080p commericial

It's ironic that you are the one sounding like a brainwashed sheep. Lol. You make Windows fans look bad and immature.

Really???? How many windows fan do you see waits in-line in front of the stores for DAYS, WEEKS, MONTHS,.........in urine and feces just to get something they have NEVER seen before, or have ANY knowledge of a smart phn, or how to even use it for, pays a ridiculous price that ONLY cost CrApple $80 to $110 to make (depending on its storage size), goes to black market and pays 10x more than the MSRP($6000 to $7000+),..............just to get something that is 4 years behind other brands technology. yeah i don't think Windows users are that freaking dumb and stupid. If you don't believe me just watch some documentary videos on those brainwashed iSHEEP getting interviewed in front of the stores waiting to get something they never seen and/or ever tested before. just wait till iJUNK6S comes to the market. I can see iSHEEP already lining up,..........hahahaha, LOL FYI, the word "iSHEEP" is even in wikipedia as well.

You're not in a cult. Take a deep breath and relax. Maybe go outside and enjoy life a little. Getting entrenched over smartphone preferences is beyond silly, it's pathetic.

All you fanboys/girls are hilarioius. As if you are making money selling these things. I love all devices. I'd own every single one of them if I could. I'm very intrigued by the 950XL. Hopefully the rumors are true.

Umm... What? In one breath you call iPhone owners stupid, and then unleash a grammatical nightmare of a diatribe about Windows phone owners being more intelligent? No wonder so few people buy Windows phones. They don't want to be associated with spelling and punctuation like yours. :P

Windows users NEVER waits in-line in front of the stores for DAYS, WEEKS, MONTHS in urine and feces and pays 10x the MSRP price, just to get a phn that is 4 years """BEHIND""" other brands technology. So maybe you should spend your time walking to those iSHEEP and help their mindless brain, instead of being a grammar police here. iSHEEP need LOTS of help, you can be their savior, by actually correcting them, for making the same mistakes over and over, and over, and over.........again, and again...........

Your comment is just embarrassing for all of us. Posted via the Windows Central App for Android

Your mum will never happen

i always have a little doubth about oems adopting windows mobile.......in android environment oems can differentiate between them selfs using different UI/Skins so how they are going to differentiate on windows mobile..it would be same like desktop/laptops lot of models in market from makers only different is build quality,price,etc i mean only difference how they place available hardware and dedicated keys.

It's true that Android OEMs live to do that, in the end I think it's just an employment program for their programmers, and an excuse for their Marketing Depts.
Nobody buys their phone to get an overlay, most people who know how immediately get rid of them. Stock Android has been a better experience for several years and now all the overused do is slow things down and confuse people.

Great comment. I had not heard of a Sammy note with Windows.

It's not happening. Currently the Windows Mobile OS only supports Qualcomm chips with rumored Intel support. The Samsung Note 5 has largely been confirmed to work with a Exynos chipset. You really need to cut back on your anti-android/apple stupidity. We get it. You hate apple/android. So edgy, so cool. Such salt. wow

if you want stupidity, why don't you go to the freaking CrApple stores around the country and see those iSHEEP waiting in-line for DAYS, WEEKS, MONTHS, in urine and feces, paying 10X over the MSRP in black market, .............for iJUNK6S. Also, who died and made you an engineer for MS or Samsung,.......?????? i did NOT wrote those 3 links i posted about Win10 Note 5, just so you know. Also, with Samsung technology anything is possible. maybe their Win10 model will use a Qualcomm or XYZ chip. who knows. Oh wait YOU KNOW EVERYTHING. ""WE"" are all sorry to question you, your highness. from your ignorant post, "WE" can see, you are full of stupidity yourself.

Someone edited my comment...it said "give me that mother fucker"....

They better have red..
.....
Also, I would think they'd position the Windows logo a little higher... Just a tad.

This device is no doubt awesome, but something that we all feared would happen to lumia devices definitely seems like it's happening... A slight watering down of the essence of Lumia.. That main differentiator that set Lumia high end devices apart...
Hopefully, later they will have different variants build of this desing.. It's a great "starting point"
.....
They should at least offer red, and yellow, back plates... The removable battery is pretty cool, though. Especially if you can get a battery charging dock..

is it plastic ? when will they make aluminium body

It's coming now that Panos Panay is in charge of all premium devices at Microsoft. These are great looking devices and you can tell from the design, these appear to be the first devices designed purely by Microsoft instead of the Tran that came over from Nokia..... This is not to take anything away from them because they're great, but it's good to see Microsoft putting their spin on things.

Hopefully never. It's now become a selling point for ditching iPhones and moving to Lumias at my company precisely because they don't have metal back plates. Signal reception with extended range aerials has been found to be useless because of the metal.

I'm still a fan of the vivid solid polycarbonate chassis.. Since everyone is copying each other it's a given differentiator for MS to stay with the polycarbonate... Rich deep colors like no other OEM, and that might attract attention on store shelves..

Agree 100%, although a new spin on metal integrated into and with the polycarbonate could be someting to watch for.

Yes the funny thing was the 5C had the best reception for an Ip. not as good as some others. Just as an example: AU-telstra used to test phones for the best reception and only the best got blue-ticked (rural use). there was about 5 phones available then apple pushed them to blue-tick the 4S ( the best IP at the time) and so with the lowering of the standard 30 phones were now blue-ticked and apple at the bottom. I think this back fired on them as it was obvious. But as you say the casing can and does have a huge impact on its performance and I am glad Nok/ms stuck to their guns with mostly polycarbonate.

Lumia phones will be polycarbonate, Surface phones will be magnesium.

If they go aluminium the phones can't have inductive charging (the place it on this pad to charge). Since that's a differentiator from iPhones I don't see Microsoft switching soon.

When will they stop making them look like toys?

Red, blue, green and yellow. They better have all the colors in microsoft logo. And a white and black and gold and silver.

Yep, and I like the orange as well.

Yes, I definitely want the florescent orange!

If no Verizon support. Then no Red... :) -------------------- I was hoping this device had a look of the Lumia 925. That's an awesome design. IMO.

The 930 looks, and feels amazing... It's just a little thick... If they did a thinner, updated 930 design it would be perfect.

@rodneyj, I know you've been suggesting a 6.0 screen. But after taking a look at the 640XL that is one huge phone and that's a 5.7 screen.
---------------
I wouldn't be surprised if one of the other OEMs don't release a 6.0 or larger phone.

Yep, can easily happen, if I may believe this sentence: ''As you might know already, a lot of Chinese makers are shifting their focus to Windows OS from Android''

Well, I guess red is out then, you know how well Verizon supports WP; by caring that ugly liquid phone by acer..... So their customers can look at it and laugh leaving a bad taste about windows phone in their mouths.

It's an awesome design indeed!

Yes! Red would be very nice.

I'm not too sure how I feel about the AMOLED screen. I was just at an AT&T store today and spent some time with a few Adroid models. Every one of them with an AMOLED screen had horrible screen burn in -- to the point that it was difficult to see clearly in some portions of the screen. It's a bit disconcerting how easily they burn.

The only objection about the OLED screen on my 735 is the purple shade near the black when scrolling or swiping left-right. Given the display resolution they are new displays and the Lumias didn't go overboard with the saturation to amaze customers like Samsung does

You do realize they are constantly running demo videos end on end until they get pulled off the shelves? In a real world scenario that would not likely happen.

I want it! I want it nowwwww! I'm probably getting the White one but will be getting later a Cyan back cover for sure.

The black is classy and sexy. They should have gone with silver over white. White has a bit of a cheap look in general I think.

I actually like the orange they've been using lately.. And, the green... Hopefully these will be made optional.

Yeah, like a diamond White metallic...... That would be sweeet!

just spray chrome on your backplate. =)

There it is. There is almost a Surface Phone.

There are rumors of a surface phone to be launched aside of the surface pro 4

Wasn't there a rumor started at the partners conference about an Intel windows phone, at the beginning oof next year?

I believe were basically talking about the same rumor. I may hold onto my 830(backup phone as it is lol) till a surface phone drops.

A surface phone is definitely coming. Nadella subtly hinted at this recently. We'll probably hear about it Q1 '15. It maybe released Q2 but most likely Q3.

Was he hinting at it, or using Surface as an example❔

indeed... VERY nice renders... But I have on big question: How do you pry open the back to swap out the battery, expand the memory with an mSD card? The reason I ask this is that the render shows a nearly edge-to-edge display. This is usually not posible if you have a removeable shell to get at the phone innards. I suspect the aluminum buttons along the right spine would also make popping off the back shell difficult, unless it's just the back face (and not the whole colored box frame) that comes off (ala the Lumia 830).

My Lumia 810 is like this. The back comes off pretty easily by putting a fingernail in the USB socket and prying.

yup, and pics of the 810 show that it has a massive bevel on either side of the screen. The renders of the 950 above show a super thin bevel, hence my question.

Yes, it looks like the 810 and 928. I love the sharper squared off corner look of my 810 and no, its not uncomfortable unless your hand is made out of butter. It is also less likely to slip off of your hand but I'm ready to let it go for one of these Talkman/Citymans. And I hope MS drops the model number names and officially call them Talkman and Cityman. I had high hopes for Spartan to stick as the browser name but I think it would be a great value/budget phone name too!

Oh I hope they don't use those names. They're terrible.

"How do you pry open the back..." This render reminds me of the Lumia 810. And because of that you would open from the USB connection. And that's pretty easy.

If I remember, select earlier Lumia models used a pop-out SIM tray and MicroSD tray on the side, rather than access through the battery compartment, similar to the SIM tray in iPhones. Could be that.

Could be similar to the current 930 in the way the back cover opens

I don't like the speaker in the back. I like the m8 set up.

Then you realize aside from the speakers that is pretty much the only appealing thing of the m8

The only non appealing thing of the M8 is the camera, and even then it isn't that bad. The M8 is a solid device, an elegant weapon from a more civilized age :)

The camera, the speakers are ugly on the front and the ugly dot view case :P

I actually like the idea of a stero speaker'd phone. I'm honestly not too impressed with the rear firing solutions most of the industry has taken up. Overall I find the HTC One series to be quite a nice looking device.

The M8 design is way better then this thing, the only thing that screwed the M8 was the camera, and the absense of Lumia apps.

Agreed, the speaker looks terrible

Speakers indeed based on this render looks really bad unfortunately. :(

The look of the speakers doesn't bother me. The fact that they are on the back does. Front firing speakers are always better.

the hump mitigates the clearance for the speakers. but pretty much, a lot of phone users put their phone back first on a flat surface. for me, i put my phone screen first on a flat surface (just like the old rotary phone). though i have set a clothed space around the house and office just for this. so no volume problem and you get to use the call gestures. =)

Speakers on the front are awesome, but if it makes the phone 2 inches taller, no thanks.

The Nexus 6 managed to do it while keeping the same bezel size (or smaller) than past phones. HTC's bezels look big because of the design they chose for the speaker grill and the added black bar with the HTC logo. On the Nexus 6 it's just a horizontal speaker grill as in most phones except a bit wider.

Disappointed, looks fat, hope the real one will be thin

Well the alleged specs say its less than 8mm thick if I remember correctly. So not thick.

Guess you did not read the article from yesterday stating 7-8 mm thickness.