Our Lumia 950 XL (Cityman) renders show what could be Microsoft's upcoming phone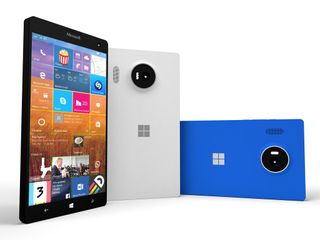 Yesterday, Windows Central revealed details regarding Microsoft's two upcoming flagship Windows Phones codenamed Talkman and Cityman. Since then, the story has resonated around the internet so we figured we would provide a more detailed look at one of the phones.
To be clear, these renders of Cityman aka the upcoming Lumia 950 XL are 100% created in-house by Windows Central. These are not official or leaked in any way, and we want to be very clear on that. However, we are basing them off of images, sketches, and first-hand reports from multiple sources.
Indeed, when we ran these new renders by one of our sources and this was their reply:
So we are quite confident in their accuracy. Having said that, please allow room for slight changes or minor details we might have missed. [Update: Although it is incorrectly represented here, we have it on good authority that these devices have on-screen keys and not capacitive. We will try to update the renders soon to reflect that difference.]
To recap on this phone's specs:
Cityman (Lumia 950 XL)
Matte white, cyan or black polycarbonate body
5.7 inch WQHD (1440x2560) OLED display
Snapdragon 810, 64-bit Octa core
Iris scanner (infrared) for Windows Hello
3GB of RAM
32GB of internal storage with a microSD card slot
20MP PureView rear camera with triple LED flash
1mm silver ring inside the circumference of the black camera pod
Aluminum side buttons
5MP Wide-angle front facing camera
3300 mAh removable battery
Qi wireless charging integrated
USB Type-C
As a bonus, we are tossing in a Cyan version. Evan Blass aka Evleaks this morning tweeted that the phone will have a blue color option, so we decided to represent that as well.
Special thanks to Mobile Nations Derek Kessler for the 3D render work!
Daniel Rubino is the Executive Editor of Windows Central, head reviewer, podcast co-host, and analyst. He has been covering Microsoft here since 2007, back when this site was called WMExperts (and later Windows Phone Central). His interests include Windows, Microsoft Surface, laptops, next-gen computing, and arguing with people on the internet.
Wow, just wow! Just came back to my senses. This really looks like the most beautiful peace of hardware I've seen in my whole life. The way they combined the white with the cyan and black one especially around the camera. Wow man!

I concur. I can't wait to see the actual phone.

Haha. Love that comment. Exactly the way lots of us feel!

Any downsides? Glance? (It is not clear) Square back edges: May not be as confortable to hold as L640XL. On-screen buttons: Could be an annoying issue for some. Position of Power button: It could be an issue to find the power button in the dark if no Glance feature. L950 Wireless Charger: No built-in wireless charging. Limited Carrier Support: No US carriers carry L950XL could spell trouble for the US market share. The absence of Verizon will hurt. The unlocked version should be made availabe more than just at MS Store. Best Buy, Walmart? We want to see more marketing aggressiveness from MS. A successor to L830 (SD808) is needed for business and those who demand affordable flagship phone. We are excited about L950/L950XL, but the concerns are lingering. We would like to see that MS would make L950/L950XL available to all carriers in US and the rest of world. Any one wants one can get one.

Your note reminded me of Murphy's laws. You have pretty much stated all that 'could' go wrong. There is nothing anywhere to suggest that there will be no glance screen, or wireless charging. The design says metal frame with polycarbonate back, so wireless charging should be there, though I am not sure if it really is a selling point or not, but still it should be there. About square edges instead of rounded ones, I am not too sure if it really makes a big impact, unless the enges are pretty sharp. No US carrier support, that is not going to be the case. Rather with just one variant across all cariers, I think most carriers will have it, and there will be no delays due to a carrier centric variant.

1. L730/830/930/ICON don't support Glance due to the type of AMOLED display used lack the screen memory. Unitl there is clear evidence the OLED screen used for L950 does have screen memory, we just don't know. I'm just concerned about it. 2. The reviews I read about L640XL have high praises for the rounded back edges design of L640XL for its comfortness. I have tried that personally at the local MS Store to verify the claim. That's why I rasised the question about the square edges. 3. L950 should have built-in wireless charger as in L950XL. I doubt people would disagree with that. 4. I failed to see the reasons behind the decision to move the postion of Power button. It could be an annoying problem especially if Glance is not available. You see, the Murphy's laws don't apply here. The questions I raised are based on the facts described in this article. Obviously there could be some misinformation in there. Hopefully, there will be pleasant answers for all my questions when the phones are released for real.

its going to be a tough decision ""IF"" SAMSUNG NOTE 5 Windows 10 rumors were going to come true. These phns are AWESOME, but SAMSUNG NOTE 5 with windows 10, is going to be freaking UNBELIEVABLE killer phn of all time. We just have to wait and see if the rumors are true. i really hope so. these phns will be a game changer for Windows phn market. i just hope we will see ALL manufacture flagship phns from SAMSUNG, LG, HTC, LENOVO, SONY, ASUS,..............on the market with Windows 10. We all need to help MS to get to #1 position and put the"One Trick Pony" CrApple and Android "We Spy On You All The Time"" in last place where they belong.

And where did you hear these rumors that no else has reported on?lol

There is thing called SEARCH ENGINE like BING,....... that you can search many things on, just incase you didn't know that. LOL Here are few links for the """"""SAMSUNG NOTE 5 with Windows 10""""" rumors for you to see. I hope this helps. Again its just some words on the street, and NOT 100% for sure. However, i really hope it will come true. that would be great, and AWESOME and a game changer as well. 1. http://autoomobile.com/news/samsung-galaxy-note-5-windows-10/10024321/ 2. http://autoomobile.com/news/samsung-galaxy-note-5-windows-phone-10-version-looks-set/10025637/ 3. http://motoringcrunch.com/green/samsung-galaxy-note-5-a-windows-phone-10-variant/10014696/

for u r kind info check in google Note S5 already surfing with android version unless they release 2 s5 models like htc one with android later another with windows but that aint going to happen bec we know google

Note 5 will make me switch from Lumia to Samsung, and I hate Samsung. Shit.

If the iPhone 6S with Windows 10 rumor is true.

that Overrated, piece of crap iJUNK 6/6+ is ONLY good for iSHEEP and NOT those High IQ people use Windows phn/devices. So NO i don't think so. That 4 years old behind technology garbage with 8 pix cam, and 720 screen res with 1800mAh pure poop battery,................ is perfect for Brainwashed people that believe ANYTHING CrApple tells them or feeds them. Lumia 520 is better than iJUNK 6, that bends in your freaking pockets with its aluminum foil crap body(#bendgate). So, even if ANY rumor regarding that was true(that I'm 100% sure its not), intelligent windows users NEVER EVER would bather to even think about it. I would just keep my 10000000000000000x more superior and way more advanced, Lumia 1520 AWESOME phn that walks all over those total trash Huped-Up iJUNK phns. So yeah......

Dude what have u been smoking? Samsung putting Win 10 on their flagship is saying pigs can fly... Stop dreaming and getting high

Dude, Microsoft and Xaiomi working on android phone in which we can install win 10 os ... So same as this... Why cant we bang that Note 5 with Windows phone 10

yes i always thought of this why they just cant work like cyanogen giving windows 10 to flash on popular old/new devices this increase os share atleast :)

One issue will be the endless proprietary barriers Samsung throws up all over their phones to prevent modding. It will take a very talented and dedicated effort. Not impossible though.

its not android .. if its running win10

Dude. You can't compare Lumia 520 with iPhone. Lol

IPhone-no sd slot, no removable battery, no fm, no file manager, no sharing files via Bluetooth, no camera button, no manual focus built in, no exchangeable shells, no wordflow keyboard built in, and finally, not an economical choice :)

B-b-but I heard iPhone was the best... because of reasons.

LOL!!!! Now that's a comment of July haha!

A WinDozer was triggered, nothing to see here... All the tinfoil in the universe wouldn't help me match your level of ignorance.

I find it funny that you call iPhone users isheep yet you are no different, you just have a different preference and are just as blindly entrenched. IPhone 6 may not be the best device on the market, but it's a solid device with a very strong camera (not everything is about megapixels), anyone with half a brain will tell you that.

So what's with those "shot with iPhone commercials" being 1080p but the actual footage appears to be 720p. The 1080p footage must not look very good I they felt they needed to show off the camera via a 720p video in a 1080p commericial

It's ironic that you are the one sounding like a brainwashed sheep. Lol. You make Windows fans look bad and immature.

Really???? How many windows fan do you see waits in-line in front of the stores for DAYS, WEEKS, MONTHS,.........in urine and feces just to get something they have NEVER seen before, or have ANY knowledge of a smart phn, or how to even use it for, pays a ridiculous price that ONLY cost CrApple $80 to $110 to make (depending on its storage size), goes to black market and pays 10x more than the MSRP($6000 to $7000+),..............just to get something that is 4 years behind other brands technology. yeah i don't think Windows users are that freaking dumb and stupid. If you don't believe me just watch some documentary videos on those brainwashed iSHEEP getting interviewed in front of the stores waiting to get something they never seen and/or ever tested before. just wait till iJUNK6S comes to the market. I can see iSHEEP already lining up,..........hahahaha, LOL FYI, the word "iSHEEP" is even in wikipedia as well.

You're not in a cult. Take a deep breath and relax. Maybe go outside and enjoy life a little. Getting entrenched over smartphone preferences is beyond silly, it's pathetic.

All you fanboys/girls are hilarioius. As if you are making money selling these things. I love all devices. I'd own every single one of them if I could. I'm very intrigued by the 950XL. Hopefully the rumors are true.

Umm... What? In one breath you call iPhone owners stupid, and then unleash a grammatical nightmare of a diatribe about Windows phone owners being more intelligent? No wonder so few people buy Windows phones. They don't want to be associated with spelling and punctuation like yours. :P

Windows users NEVER waits in-line in front of the stores for DAYS, WEEKS, MONTHS in urine and feces and pays 10x the MSRP price, just to get a phn that is 4 years """BEHIND""" other brands technology. So maybe you should spend your time walking to those iSHEEP and help their mindless brain, instead of being a grammar police here. iSHEEP need LOTS of help, you can be their savior, by actually correcting them, for making the same mistakes over and over, and over, and over.........again, and again...........

Your comment is just embarrassing for all of us. Posted via the Windows Central App for Android

Your mum will never happen

i always have a little doubth about oems adopting windows mobile.......in android environment oems can differentiate between them selfs using different UI/Skins so how they are going to differentiate on windows mobile..it would be same like desktop/laptops lot of models in market from makers only different is build quality,price,etc i mean only difference how they place available hardware and dedicated keys.

It's true that Android OEMs live to do that, in the end I think it's just an employment program for their programmers, and an excuse for their Marketing Depts.
Nobody buys their phone to get an overlay, most people who know how immediately get rid of them. Stock Android has been a better experience for several years and now all the overused do is slow things down and confuse people.

Great comment. I had not heard of a Sammy note with Windows.

It's not happening. Currently the Windows Mobile OS only supports Qualcomm chips with rumored Intel support. The Samsung Note 5 has largely been confirmed to work with a Exynos chipset. You really need to cut back on your anti-android/apple stupidity. We get it. You hate apple/android. So edgy, so cool. Such salt. wow

if you want stupidity, why don't you go to the freaking CrApple stores around the country and see those iSHEEP waiting in-line for DAYS, WEEKS, MONTHS, in urine and feces, paying 10X over the MSRP in black market, .............for iJUNK6S. Also, who died and made you an engineer for MS or Samsung,.......?????? i did NOT wrote those 3 links i posted about Win10 Note 5, just so you know. Also, with Samsung technology anything is possible. maybe their Win10 model will use a Qualcomm or XYZ chip. who knows. Oh wait YOU KNOW EVERYTHING. ""WE"" are all sorry to question you, your highness. from your ignorant post, "WE" can see, you are full of stupidity yourself.

Someone edited my comment...it said "give me that mother fucker"....

They better have red..
.....
Also, I would think they'd position the Windows logo a little higher... Just a tad.

This device is no doubt awesome, but something that we all feared would happen to lumia devices definitely seems like it's happening... A slight watering down of the essence of Lumia.. That main differentiator that set Lumia high end devices apart...
Hopefully, later they will have different variants build of this desing.. It's a great "starting point"
.....
They should at least offer red, and yellow, back plates... The removable battery is pretty cool, though. Especially if you can get a battery charging dock..

is it plastic ? when will they make aluminium body

It's coming now that Panos Panay is in charge of all premium devices at Microsoft. These are great looking devices and you can tell from the design, these appear to be the first devices designed purely by Microsoft instead of the Tran that came over from Nokia..... This is not to take anything away from them because they're great, but it's good to see Microsoft putting their spin on things.

Hopefully never. It's now become a selling point for ditching iPhones and moving to Lumias at my company precisely because they don't have metal back plates. Signal reception with extended range aerials has been found to be useless because of the metal.

I'm still a fan of the vivid solid polycarbonate chassis.. Since everyone is copying each other it's a given differentiator for MS to stay with the polycarbonate... Rich deep colors like no other OEM, and that might attract attention on store shelves..

Agree 100%, although a new spin on metal integrated into and with the polycarbonate could be someting to watch for.

Yes the funny thing was the 5C had the best reception for an Ip. not as good as some others. Just as an example: AU-telstra used to test phones for the best reception and only the best got blue-ticked (rural use). there was about 5 phones available then apple pushed them to blue-tick the 4S ( the best IP at the time) and so with the lowering of the standard 30 phones were now blue-ticked and apple at the bottom. I think this back fired on them as it was obvious. But as you say the casing can and does have a huge impact on its performance and I am glad Nok/ms stuck to their guns with mostly polycarbonate.

Lumia phones will be polycarbonate, Surface phones will be magnesium.

If they go aluminium the phones can't have inductive charging (the place it on this pad to charge). Since that's a differentiator from iPhones I don't see Microsoft switching soon.

When will they stop making them look like toys?

Red, blue, green and yellow. They better have all the colors in microsoft logo. And a white and black and gold and silver.

Yep, and I like the orange as well.

Yes, I definitely want the florescent orange!

If no Verizon support. Then no Red... :) -------------------- I was hoping this device had a look of the Lumia 925. That's an awesome design. IMO.

The 930 looks, and feels amazing... It's just a little thick... If they did a thinner, updated 930 design it would be perfect.

@rodneyj, I know you've been suggesting a 6.0 screen. But after taking a look at the 640XL that is one huge phone and that's a 5.7 screen.
---------------
I wouldn't be surprised if one of the other OEMs don't release a 6.0 or larger phone.

Yep, can easily happen, if I may believe this sentence: ''As you might know already, a lot of Chinese makers are shifting their focus to Windows OS from Android''

Well, I guess red is out then, you know how well Verizon supports WP; by caring that ugly liquid phone by acer..... So their customers can look at it and laugh leaving a bad taste about windows phone in their mouths.

It's an awesome design indeed!

Yes! Red would be very nice.

I'm not too sure how I feel about the AMOLED screen. I was just at an AT&T store today and spent some time with a few Adroid models. Every one of them with an AMOLED screen had horrible screen burn in -- to the point that it was difficult to see clearly in some portions of the screen. It's a bit disconcerting how easily they burn.

The only objection about the OLED screen on my 735 is the purple shade near the black when scrolling or swiping left-right. Given the display resolution they are new displays and the Lumias didn't go overboard with the saturation to amaze customers like Samsung does

You do realize they are constantly running demo videos end on end until they get pulled off the shelves? In a real world scenario that would not likely happen.

I want it! I want it nowwwww! I'm probably getting the White one but will be getting later a Cyan back cover for sure.

The black is classy and sexy. They should have gone with silver over white. White has a bit of a cheap look in general I think.

I actually like the orange they've been using lately.. And, the green... Hopefully these will be made optional.

Yeah, like a diamond White metallic...... That would be sweeet!

just spray chrome on your backplate. =)

There it is. There is almost a Surface Phone.

There are rumors of a surface phone to be launched aside of the surface pro 4

Wasn't there a rumor started at the partners conference about an Intel windows phone, at the beginning oof next year?

I believe were basically talking about the same rumor. I may hold onto my 830(backup phone as it is lol) till a surface phone drops.

A surface phone is definitely coming. Nadella subtly hinted at this recently. We'll probably hear about it Q1 '15. It maybe released Q2 but most likely Q3.

Was he hinting at it, or using Surface as an example❔

indeed... VERY nice renders... But I have on big question: How do you pry open the back to swap out the battery, expand the memory with an mSD card? The reason I ask this is that the render shows a nearly edge-to-edge display. This is usually not posible if you have a removeable shell to get at the phone innards. I suspect the aluminum buttons along the right spine would also make popping off the back shell difficult, unless it's just the back face (and not the whole colored box frame) that comes off (ala the Lumia 830).

My Lumia 810 is like this. The back comes off pretty easily by putting a fingernail in the USB socket and prying.

yup, and pics of the 810 show that it has a massive bevel on either side of the screen. The renders of the 950 above show a super thin bevel, hence my question.

Yes, it looks like the 810 and 928. I love the sharper squared off corner look of my 810 and no, its not uncomfortable unless your hand is made out of butter. It is also less likely to slip off of your hand but I'm ready to let it go for one of these Talkman/Citymans. And I hope MS drops the model number names and officially call them Talkman and Cityman. I had high hopes for Spartan to stick as the browser name but I think it would be a great value/budget phone name too!

Oh I hope they don't use those names. They're terrible.

"How do you pry open the back..." This render reminds me of the Lumia 810. And because of that you would open from the USB connection. And that's pretty easy.

If I remember, select earlier Lumia models used a pop-out SIM tray and MicroSD tray on the side, rather than access through the battery compartment, similar to the SIM tray in iPhones. Could be that.

Could be similar to the current 930 in the way the back cover opens

I don't like the speaker in the back. I like the m8 set up.

Then you realize aside from the speakers that is pretty much the only appealing thing of the m8

The only non appealing thing of the M8 is the camera, and even then it isn't that bad. The M8 is a solid device, an elegant weapon from a more civilized age :)

The camera, the speakers are ugly on the front and the ugly dot view case :P

I actually like the idea of a stero speaker'd phone. I'm honestly not too impressed with the rear firing solutions most of the industry has taken up. Overall I find the HTC One series to be quite a nice looking device.

The M8 design is way better then this thing, the only thing that screwed the M8 was the camera, and the absense of Lumia apps.

Agreed, the speaker looks terrible

Speakers indeed based on this render looks really bad unfortunately. :(

The look of the speakers doesn't bother me. The fact that they are on the back does. Front firing speakers are always better.

the hump mitigates the clearance for the speakers. but pretty much, a lot of phone users put their phone back first on a flat surface. for me, i put my phone screen first on a flat surface (just like the old rotary phone). though i have set a clothed space around the house and office just for this. so no volume problem and you get to use the call gestures. =)

Speakers on the front are awesome, but if it makes the phone 2 inches taller, no thanks.

The Nexus 6 managed to do it while keeping the same bezel size (or smaller) than past phones. HTC's bezels look big because of the design they chose for the speaker grill and the added black bar with the HTC logo. On the Nexus 6 it's just a horizontal speaker grill as in most phones except a bit wider.

Disappointed, looks fat, hope the real one will be thin

Well the alleged specs say its less than 8mm thick if I remember correctly. So not thick.

Guess you did not read the article from yesterday stating 7-8 mm thickness.

If it's not above 8mm, it's great since you want battery life to put the iPhones to shame

So you're willing to give up battery life for thinness? I'd like it the other way around actually, look at the droid turbo for an example.

This isn't giving up on battery life. It has a 3300 battery thats huge.

And if it were even larger then we could have it last even longer! The Lumia 830/930 were fine, we need to stop reducing size/thickness and instead improve heat dispersion, strength, and battery life. Thin phones are more likely to break/bend or bake your hand. They're also harder to hold, easier to drop, and they strip out useful things like QI, making you buy a shell if they offer a shell at all. Also most people who consider todays battery life fine are generally not counting any kind of 3D gaming or heavy GPS use. Those things still drain the battery fast. So bigger is always better when it comes to battery.

We all know how Apple took on the thiness of the iPhone 6 #bendgate

My Xperia Z3 is thin at 7something mm and has a 3000mah battery.

I said that about a bitch I saw at the bar....

To be clear, the back cover of the Cityman is removable to support swapping the removable battery?

Yes, and removable micro SD card.

I havent heard about any unremovable micro SD card

Looks beautiful! Hopefully this device comes to Verizon

Sorry dude not gonna happen. Yesterdays article suggested that MS and Verizon ended their co-You can buy it from MS directly - most likely. Though I have no idea if there will be a cdma version???

I appreciate your reply, though I wont take your word for it, no offence

Its not his word, it was stated in an article here on WC

Not much better, though...

It isn't anything confirmed yet, though, so we can still hope the new Lumias come to Verizon too. Everyone here should be hoping that it does, because the success of Windows 10 Mobile depends on it. They cannot gain mainstream success if their phones aren't on the largest carrier in the most profitable smartphone market in the world.

Exactly my point, no body knows anything for sure no matter how logical it is, just like we don't know these phones even exist or will be released.

But the bottom line is that Verizon is unwilling to take a risk on windows phones. They want to carry the bottom of the barrel ones and expect customers to buy it. The icon was a good phone, but they chose not to advertise it the kill it before it gain too much popularity and damage their precious iPhone and galaxy sales numbers!

In a previous video Daniel was talking about MSFT using universal radios on the new phones so they can be used even in networks where carriers do not support WP. That way people can buy them from Microsoft stores or online retailers. Here the sales of online retailers rival those of the carriers and maybe even sell more phones than the carriers.

It won't be coming to Verizon. Look at windows centrals articles from yesterday. I wish it was as I'm a Verizon subscriber. Hopefully the m9 for windows comes so we atleast get some highend windows phone.

MS are making the phones with Global GSM frequencies.. Verizon is CDMA, so not likely to happen unless Verizon sweet talk MS to making a unique variant that will only ever work on Verizon

Without Verizon, the US market share won't improve much. Even AT&T won't carry L950XL. The future is worrisome. W10 Mobile gives WP another opportunity to grow. Hopefully, MS won't screw it up again. When Steve Elop left, I thought the carrier exclusivity would be banished. Now it seems to be getting worse. It becomes AT&T exclusive. Sigh!

Not even a metal frame? That's quite disappointing.

It certainly doesn't lave a "sexy like hell" look. Metal frame would help.

Looks like a cross between the surface With Nokia. I like

Loving that Windows logo in back of phone! ^^

And yes! Totally love this chrome Microsoft logo flag at the back for branding.

That windows logo looks awesome on the back of the phone

Proof the Windows Phone flagship drought has been WAY TOOOO LONG! People are going ga-ga over what look like decent phones, but certainly not exceptional ones, simply because we haven't had any thing to look forward to for over a year. But if these float your boat, go for it on day 1. Don't get me wrong; the renders look nice and I think the specs are acceptable if they get them on sale soon. But there's too many things that are wrong to make me feel like "oh this is just the perfect Windows device; I have to have one!" Namely, the camera and flash are reason enough for me not to be interested, but the button arrangement and speaker-on-the-back are definite head-scratchers (though not deal-breakers). All that being said, I do think these would appeal to iphone users, especially those that doesn't like the new rounded-edge iphones but liked the old flat-edge ones. So, I do hope these are successful, and I would love to see them be in 2015/2016 what the Lumia 920 was 2 years ago; THE quintessential Windows phone of it's time. The 920 wasn't perfect either, but it still is a heck of phone and did a lot for the OS's reputation. How good was it? I don't feel the least bit of pull to get rid of my 920 for a 950 even with how much better the 950 is than my 920. But you know what? As much as all these "OMG, I can wait to get one" comments make me just roll my eyes, I am very happy to see that even these phones can generate so much excitement around the WP world! :-)

Definitely looking forward to what may result from this! If They release the new phone soon, I'll certainly end the contract on my 830 and get this!

Wish it had an aluminum strip though, just like the 830.

Agree, I miss metal frame

I wished its got a metal frame. Just like 930 and 830.

Remember these are the mid-grade phones, not premium so we're looking at these as if they're the high-end devices and per Satya's own statement these are mid-grade.

It definitely makes me sad that it doesn't have a curved metal rims or frame at its side. Was expecting an 830 like design. Would have make it look more flagshipy. But then, so many people acquire me about my matte white Lumia 730 maybe because it seems to have a unibody (removable) back cover.

Want one flagship designed just as the Lumia 925

I own 830 too. I don't think I'll change it so soon. But you might not like the reason why I am not changing.
Metal frame and looks, of course, but that's not it.
It's the position of the charging slot. In 830, it's on the top.
I use my 830, 80% of the time on my bed. XD. So I always keep it on charge and then place it on my chest and use it. (like I am doing now.) XD now that is only possible if the charging point is on the top. Had it been below, I couldn't have done it, and would have required to hold the phone... Which I am too lazy to do when on bed. :D
Hope someone understands me. :P

Bigger battery. Maybe it won't need to be plugged in.

You should be fuckin around with other things in bed besides your phone....

This thing will definitely have a metal frame , they just rendered it wrong ;)

That homescreen arrangetis that of Daniel Rubino's

That's like a thick bitch phone.

So long as it brings QI I'm ok with it. Now the glass needs to be superior and water resistant would be nice too.

Even if Verizon doesn't sell these - couldn't I buy one and stick a Verizon sim card in it?

If it has the appropriate CDMA bands then yes.

Nope. Verizon/Sprint/US cell - CDMA Rest of the Universe - GSM These Lumias will likely be pentaband GSM phones.

Ehm.. Verizon does LTE though, right?

you need GSM or CDMA to make calls

Unless all your friends are on VoLTE ;)

If you want a Verizon version, this uservoice was started yesterday after the sucky news. Go voice your opinion. https://windowsphone.uservoice.com/forums/101801-feature-suggestions/sug...

Voiced! Thanks for the link. Now what about a Verizon user voice?

And all eyes roll over to Verizon hehe.. I hope they carry it lol

Maybe the person who stirred up the rumor about Verizon not carrying the 950/950XL can provide more details? (Mr. Rubino) Is Verizon just not interested in the 950? No interested in Windows 10 Mobile? Do they want the 950 in red? Are they waiting for Lumia to offer them a special version? Do they plan on selling other Windows Phones from Samsung, HTC, LG or others? Heck of a thing to just lob out there: "The largest US smartphone carrier won't be selling Windows Phones."

My guess is that, like with the Lumia 929 (Icon) and HTC M8 WP, Verizon insisted on carrier exclusivity. Microsoft most likely wants to avoid that like the plague, as they want to ensure as many people as possible have the option of getting every phone Microsoft produces (moving forward). If you had to choose between 1 carrier, or every GSM carrier, which one would you choose? Based on what Wikipedia has listed, AT&T has 121.8 million subscribers, T-Mobile has 58.9 million subscribers, and Verizon has 133.5 million subscribers. S0 yes, Verizon is the biggest by ~12 million. BUT if it meant selling just to Verizon, they would be missing out on another potential ~45 million subscribers, which they could reach by offering it on AT&T and T-Mobile (180.7 million combined subscribers). That's before taking into account all the "little" guys.

False assumptions. What is the ratio WP users AT&T/Verizon?

My "assumptions" were not based on the ratios, as they honestly don't matter at this point. And the reason I say this is because many people are ignoring WP because of the lack of flagship devices. In fact, I have many friends and family members who were up for contract-renewal, either last year or earlier this year, on AT&T and would have switched to WP if a Lumia or Samsung flagship had been available (I honestly don't know anyone who uses HTC). Also, the last flagship WP device was sold on Verizon first, and to my understanding did quite poorly (the HTC M8). Whereas the Lumia 640 and 640xl are "supposedly" selling quite well, and neither are available on Verizon. My reasoning is 100% valid; if Microsoft wants Windows Phone to grow as much as possible, they need to push to as many carriers as possible, rather than limiting themselves to a single carrier. Current ratios mean nothing given how stagnant the flagship releases have been. Afterall, it's been what, 3 years since a flagship Lumia was released on T-Mobile, and almost 2 years since a flagship Lumia was released on AT&T. Many of the previous adopters (i.e. 920, 925, 1520) have left to other platforms which offer newer, high-end hardware. People on contracts (at least the people I know) often want the latest and greatest for 2 years, rather than a mid-range or budget phone that feels outdated from the get go. Honestly, I'd be surprised if the Lumia 928, Icon , and the HTC M8 sold more on Verizon, than the Lumia 520, 535, 630, 635, 640, 640xl, 720, 820, 920, 925, 1520, and HTC M8 sold on AT&T and T-Mobile (combined).

My reason to own a 3GS, & now a 5S was because there wasn't a windows phone I liked that was doing what these phones are doing. I chose to wait it out and see if MSFT would ever make a competing phone and OS. It's been a very long wait for me, and maybe the future finally looks bright.

Verizon usually wants a custom version of a phone that only they carry. Since Microsoft is trying to streamline how many phones they make, they don't want to make another phone just for verizon, like the icon, that Verizon won't promote or advertise.

If this phone becomes a hot seller, Verizon will relax their demands.

That's what happened with Samsung's Galaxy line. v1 & 2 had carrier exclusive versions in the US. But v3 + were all basically the same device, with some color exclusives (as well as CDMA support for Verizon and Sprint)

Yes, Samsung poured big money into advertising their Galaxy phones. Microsoft needs to do the same for their hero devices.

It was part advertising and part quality. The GS2 was an amazing phone at the time, so much better than anything that didn't have a fruit on it. It really showed that Android could go toe to toe with Apple on the high end. The Galaxy series would not have grown so big if it was all marketing. They also had the goods to back it up. Posted via the Windows Central App for Android

But they'll be denied it just like they're putting down demands that are unreasonable only to not advertise OR even keep the top tier. The only premium devices Verizon wants are iPhones and galaxies so they don't deserve a WP even if their popularity increases with a service like this...... They should have been early adopters and a true supporter!

They also carry the New Motorola flagship every year. And oh yeah, the new HTC flagship is also available annually. The new Sony flagship and the new LG flagship are also released on Verizon. It seems they have many more flagship devices than just Apple and Samsung. Posted via the Windows Central App for Android

The phone is being sold by Microsoft unlocked so you can use it on Verizon. I'm with you on the carrier and checked it out.

Not true. Phones don't work on Verizon unless they're made for Verizon. Verizon doesn't use the GSM standard.

The unlocked iphone can be activated on any carrier. They seem to have included all the basebands in their phones. So, it's possible. However, they also custom design their own SOC. Microsoft uses whatever qualcomm makes. Can qualcom or microsoft add the CDMA baseband to the phone?

Verizon will not activate any phone on their network unless the imei is already in their system.

Verizon uses CDMA, this requires a special version of the phone with a built in CDMA chip. Unlocked versions are always GSM only.

Folks, the Snapdragon 8xx chipsets have built-in multi-band modems including CDMA bands. I believe the band support is strictly an antenna and firmware affair. I.E. the phone needs to be designed to also use the CDMA bands with the correct firmware support. In either case, the Icon is a world phone using a Snapdragon 800. If MS simply makes the phone a world phone, then, in theory, you could. Due to the nature of CDMA networks, however, Verizon would still need to give permission for the phone to be on their network. Hopefully, MS could at least convince Verizon to allow the phone on their network, but do all the selling in their own stores so that Verizon doesn't have to take on the inventory. They should, nevertheless, make sure the phone can operate on Verizon's network so that, if VZW doesn't initially carry it, they could change their minds, and MS wouldn't have to make a new phone revision to do it, along with the FCC and other reg hurdles.

Thanks for the info falconrap, I was not aware the SD 8xx series supported CDMA and GSM interchangeably on the same chip. In that case, it would probably just need a seperate variation with CDMA enabled in the FW, plus the correct antena. If that's the case, than I would say they should sell one carrier-unlocked, for use on smaller CDMA carriers (like US Cellular), as well as Sprint, and try to convice Verizon to allow the phone to access the network. Who knows, maybe that would resolve the issue.

Huh. My unlocked Nexus 6 has no problem using the Verizon network or any other network in the US. There is no reason Microsoft cannot put in all the bands required. Verizon might not activate a device that isn't in their system, but you can throw an already activate sim into an unlocked phone if it compatible. Verizon cannot stop that. Posted via the Windows Central App for Android

People just don't get tech...

If Verizon doesn't carry this I'm hoping for a One M9 with Windows to land on Verizon.

I'm hoping it's like the Nexus 6, which can be activated on all the Big 4 carriers in the US when bought through the Google Play store.

But didn't Verizon refuse to activate the Nexus on their network? Or did that get worked out? Even though the phone supports the band, the carrier doesn't necessarily allow the phone. I hate Verizon.

They eventually released the phone. Posted via the Windows Central App for Android

@Joel H18:
If it actually were cyan...
At least the colour Windows Central chose is (sadly) way off cyan.

Good lord, they look so damn sexy!!

Yep, I thought that to when I was at the titty bar...

Those are beautiful....there is some serious surface design influence here I think...even the black looks amazing...hope the real one does too...

The guy making Surface is now building the phones too. Rumor is it may have intel thingy in it.

Yup, one man operation. :D

Please stop.. these are gross! #can'twaitfortherealthing

Hahaha, yes. Leave rendering to the professionals.

That's what makes these even better. The real thing will look better than these and these already look great. Posted via the Windows Central App for Android

Don't u think they are too thick?

They aren't, they are accurate. 7-8mm thick is very thin for phones.

For comparison, the iPhone 6 is 7mm thick.

The new Samsung's and some Chinese phones are 5mm thick! Posted via the Windows Central App for Android

Micromax Canvas Silver 5 is also 5 mm thick. It's an Indian company. http://www.micromaxinfo.com/mobiles/smartphones/canvas/canvas-Sliver5

i wish people would get away from thin phones, id rather have my phone the size of my luumia 930 with a biger battery so i get through 2 days of extensive use, much more usefull than a super slim phone that i have to put into a extra thick battery cover like my iphone frineds do lol.

Not sure I like the Volume buttons being split by the power button as a choice, but hey given the rest of the details... SHUT UP AND TAKE MY MONEY!!!

This is what I was looking for.

I would give them benefit of doubt here. When I switched from Samsung Focus to Lumia, buttons all on one side seemed weird at first but I got quickly used to it and now I find it weird going back to Focus.

Yeah, it just isn't logical. I don't like the speaker placement either.

I like the speaker placement as too low on the phone is often covered by my hand

thats m,y only negative on my 930, when playing games im always covering speaker:)

It's logical if the middle button can be used as "play/pause".

Yeah that button layout looks like it would be annoying.

I AM sure. I DON'T like the new layout. Why do they constantly have to fix what ain't broken?

yeh same I might press wrong button.

No no no god no. Just hideous.

Exactly.. They should keep the Surface guys FAR AWAY from phones. What works at tablet scale probably does not work on phone scale.

@920Walker:
Really?!
It doesn't look like cyan, so no real showstopper for me.

OMG, this is a render by Windows Central, so the Cyan color shown above is Windows Central's, not the actual color! People get weird at times I swear!

There's a blue and a cyan.

Smaller and thinner than 1520.

Beat me to it, that's what she said too....

Considering it is packing a 5.7" display, I think it looks very nice. Just wish the back didn't have the camera hump on it. The 930 looks much better with that flush back.

Being 5.7" means it's smaller than the 1520, especially if the bezel is smaller and the camera hump could mean either bigger focal distance since the phone is slimmer than 930, or bigger sensor which also good for the camera

That's what HE said (in America, anything is possible).

I like the look of the camera module, so futuristic.

I'm not sure if I like it. It looks rather uninspired and dull ... Let's see how the real thing is going to look like!

I'm definitely getting the Cityman (Lumia 950 XL). Like Nadella said, these will highlight the best of Windows 10 on mobile phones. I can't wait for the announcement.

Time to start saving my pennies.

I don't want no plastic phones this year pls!!

The high quality plastic is better than metal, beter overall reception and it handles day to day wear and tear better. Also thank MS for saving you money that you might have spent on an ugly case.....

If the phone was metal you'd be raving about how premium it is. I can't go back to plastic, sorry. I've had more than one Metal Phone (One M8, iPhone 5S, iPhone 6+) and never have I had an issue with reception. The phones are designed to completely mitigate the effect of metal on reception. That's why the Antennas are often beyond Plastic Insets (M7/8, iPhone 6)or Metal Windows (5S, iTouch). Day to Day wear and tear depends more on the user than on the materials the phone is made out of. If you are hard on your phone then it being plastic won't save it. Reception issues on past device that used metal were more the fault of design faults which were corrected in later revisions (even of the same device, like the iPhone 4), not the fact that it used metal instead of plastic.

I always hear the same thing (from iPhone users) "I never have any problems with reception", and the same people always have to go outside to take their call, while I can stay inside. Our experiences may differ though.

@Bloobed, no! no! The way your holding the phone, it's all wrong :P.

Does it really every matter. I have an iphone 6 and everyone that I know that has one has a case. If you drop an iphone 6 without a case, then "Crack!" Most metal phones crack without cases and most people cover them because of the cost. So, again...why does it matter?

I've not had a phone case in over 15 years. And most people i know don't either. So, in that regards i would like to see the report that most people use cases, what percentage of people is that?

Personal experience. I have met a lot of iPhone users and by a huge freaking long shot most have ugly cases on.... There goes the design.

To be fair he did mention iPhone so yea sorry, I wasn't talking about iPhone. People go on about how good they look, so surprised if people buy them also for looks but stick them in case. What's the point in being that nice if you pretty much have to stick them in a case. Oh well, that's people for ya. Case or not though, phone needs to look good lol

I'm sure it is the majority. First of all, the carriers always push their overpriced cases when they sell the phone. Second, walk around any crowded area and pay attention to the phone. Very few are not covered. Many have teh thick otterbox style cases and some have the transparent, thin cases. However, most have something on their phone. Iphones have a reputation for being fragile and people won't take a chance of breaking them.

The think that irks me about iPhone users is they all have cases with a completely superflous circular cutout on the back for the sole purpose of showing off the Apple logo. They are walking billboards, foolish pawns.

As oppossed to not having a case, and showing the off the Apple logo...

According to a survey of iPhone users by Business Insider, only 14% of the people surveyed don't use a case. Of the other 86% that use a case, 91% of them have used a case since purchasing their phone.

Probably why I never notice iPhones, see a case and my brain defends it's self from being scarred by the ugliness.

True, I don't cover my 830 because it looks too good.

One time I saw an iPhone without a case. I remember that because it was so unusual to see an actual iPhone in the wild without a case.

Lets start a thread..." Have you seen a iPhone without a case in the wild? " LOL

Most people use cases that is just a fact. You must live in the middle of nowhere.

Most people will cover their plastic phones with a case as well, because ugly scratched/dinged up phones are ugly and when it comes time to trade in or resell it, you're not going to get much for a beat up phone. Plastic breaks too. Ask Samsung, HTC, Motorola, LG, and the plethora of other device manufacturers using plastic for their devices.

Double negative!! Posted via the Windows Central App for Android

The full plastic body is awful. Hope they make like the 930 at least.

So who gets this phone? Only@ ms stores?

I don't know how to feel about the speakers at the back. They look better on the bottom of my 830, which makes it kinda symmetric.

Being near the camera bump will help not being so muffled when over a table

Why? at least there will be an air gap between the table and the speaker given the protruding bump. Aesthetically I also prefer it like the L830, and would like the MS logo to be below from where it's now.

Yeah,the speaker is definitely in an odd location. I would also like to move the MS logo to the bottom of the phone.

Yes, they need white, black, yellow, orange, red, blue, purple, and green. I'd buy the green one.

The only thing I would like is slightly chamfered edges like the Surface

not the same thing, he was right in saying chamfered

Chamfered is a distinct angular cut on an edge. Filleted edges are rounded. Surface is chamfered.

No I'm pretty sure it's chamfered. Take it from a carpenter who chamfers things for a living ;)

Picking up both the standard and XL. Want more colors though. Crimson red perhaps.

It would be easy to have new colors since the covers are swapable (removable battery).

Kill it before it breeds..... Looks cheap and nasty.

People! I think I found the joy-kill

That's, kill-joy... Moron

This is not the real thing, it is a representation conceived from words nit pictures so it is not 100% accurate

Looks like a plastic Low End device...

Love at first sight.. No finger print scanner?

Why? They have Windows Hello

@ landcaneras, Windows Hello also works with fingerprint scanners.

Well they have an Iris scanner which I think is cooler than a fingerprint scanner.

Has an iris scanner so you just have to look at it to authenticate.

This meane may have no eyes.

He should be using a feature phone then. What's the point of a smartphone if you can't see the screen?

Man oh man! I just need either one to come to T-Mobile. That is all. Loving these renders. Posted via the Windows Central App for Android

Not sure about squared edges for a phone that size, will make it tough hold on to. Or the volume rocker being split, will miss the fluidity of a rocker. But hey, enough of my nitpicking. I will learn it, live it and love it! Going to be a beast phone and the true successor for my 1520!

Ll so many popular phones in history have had squared edges. My iPhone 4&5 come to mind

Really hoping for more curved edges. It's the only issue I have with my 1520.

I agree... Especially the corners. If they would round them the 1520 wouldn't be so impossible to have in my pocket while sitting. At least these will be a bit smaller.

I think more angular phones are much better looking but the curves of my old 920 made it the easiest phone to pickup and use/hold.

Damn, that's bloody awesome.

Nay, fuckin awesome...be manly about it...

@It wasn't Me just opened a can of 'Man Up' in yo face.

Good but camera lenses circle should be small. Then it looks great

It has to have that large of a lens in encase how good of a camera it is. If you don't care about cameras just don't get this phone. You can stick with a basic smart phone or something.

I much prefer that windows logo then the Microsoft tramp stamp

That is the the MS logo. The Windows logo is slanted.

I think he means with the word Microsoft on it too.

While this looks nice - and I would buy - I hope they start sporting different designs.

This is a different design. Do you just mean a different back? There is only so much you can do on a back.

I would think it would have the thinner Windows 10 Mobile style Windows keys instead of the old Windows Phone 8.1 style.

Good but very thick. I would like to have something as slim as my 720.

It's said to be 7-8 mm. that's thin.

Yes, but the renders are not thin at all

You realize these aren't professional renders right? Posted via the Windows Central App for Android

That guy at mobile nations is a professional. They are professional renders. They don't look tho k and they aren't they are somewhere 7-8mm pretty simple. #peoplethesedays

The renders truly are thin you just don't realize. I don't know why you think they aren't, they are. They are 7-8mm like they should be.

720 is 9mm, 950 is rumored to be 7-8 mm so it's thinner :D

7mm is thin. As thin as an iPhone 6.

I think it's the ugly squared edges that make it look much ticket. When the edges are rounded it tricks the mind into thinking it's thinner.

I would love mini version of 950 with 4.5 screen and would be damn happy to use it.

I like the design of 1520 better

If they come in that blue color I'd be a happy camper!

According to the tweet Daniel referenced from Evan Blass, the 950/950XL will in fact be available in Cyan/Blue! OMG... my head is aboutta esspload!! I got the Lumia 920 in AT&T exclusive cyan nearly 3 years ago, and it's still my daily driver. Getting one of these new babies in the same/similar color would be sweeeeeeeet! *throws money at screen*

Yeah I saw the Cyan blue in the write up but the render is an even better Cobalt blue. So I probably shouldn't get my hopes up! :p

That is the color that is implied by the tweet. The tweet includes a picture of the color. Cyan is actually a more neutral color in terms of phones, so although you two like this color, if it truly is this blue color it won't be as big a hit as cyan would have.

I really wished they change the design a little bit. This is just a 640 XL with a 830 camera. I know this is just a fan concept, but knowing "it's like the real thing", I'm a little disappointed

928 with 830 camera on steroids!!! I like it. Do you expect Microsoft to completely throw all of that awesome Lumia style out the window? No. It's a Lumia signature design that they should continue to use.

It actually reminds me of the Lumia 810. Just bigger. Nothing real special. I wish it were a tad more rounded in the corners. Square phones tend not to be as comfortable. IMO.

Do you want a square phone, or a wide bezel? Choose wisely.

What? How does this even look anything like 640XL...the XL is anything but a square...

Overall form factor isn't bad, I think it's the camera that's throwing you off. Looks too much like the 1020/928 humps.

Come on make them in red, my Lumia 920 needs replacement...

I second this, but urge for yellow to replace my 920.

I probably won't buy it if the camera sticks out too much.

Same here. They went the right way with the 930, make it a tiny bit thicker but keep the back flush. Not too hot on the camera hump, especially when it is so gargantuan. What's worse is that it is still only rumored to be 20MP. I hope I see better optics than 1520 or I'll be pretty disappointed with the back.

Wouldn't it be flush with a case? I rather like the camera this way.

Don't like cases and that's not necessarily true. Even with a case on (depending on the thickness), the hump may stick out.
Plus cases ruin the look of the phone completely.

Please...dual SIM that bad boy.

There are rumours of dual-SIM for China, India and Russia.

Rumor has it that it works with the Surface Pens. It won't have a slot to hold the pen, but cases (other rumored stuff) have shown to have pen holders for the surface pen.

Cool. Hopefully it comes in a metal body, but that's just my preference. Either way I am looking forward to it. On a side note, I might be the minority here, but i really hope MS ditches the numbers in their phone names. Honestly I don't like the name "Lumia". Surface has built up a good following. Their "enterprise" phones could be called Surface Pro M and their flagship could be the Surface M One. Just a thought.

I don't think they would ever call it a Surface. I think MS wants to keep pushing the Lumia brand. They probably want it so in peoples heads a Surface is a tablet and a Lumia is a phone.

2 resons why they wont follow your suggested naming scheme. 1 - microsoft has spent the whole of the last 18 months changing every reference on social media and the web from windows phone to lumia 2 - "One" = HTC (I know its not rerally a trademark but certainly ingrained in peoples head one = htc)

Technically ONE is not really anything ingrained in someone's mind....it's different from Galaxy or Droid...there is the Oneplusone...not to mention before Apple's 6+ there was the HTC one X+ and there are other phones that have had plus in it.

Now these renders are awesome! Not like the fan render on wmpoweruser, which was terrible.

Is it just me who thinks this is ugly?

Nope. I imagine it's much better looking in real life. These renders are awful.

I bet the windows logos, on the back of the two differently colored phones, are actually the same color.

Dammit! Up until now the wait wasn't so bad. Now I have this mental image in my head and sure enough, I want to hold that baby in my hands like NOW. Damn you WC! :)

How much do u think its going to be

First borne male child should about cover it.

Ok, here is my money :) looks stunning!!!

Well im sad there is no orange but if they look like this, idc what color- take my money!!!

cyan and black diffenetly looks better than white one i would pick cyan my self

I want to grab it out the photo and do non family friendly things to it

I hope Talkman won't have that ugly camera bump at the back. By the way, does Talkman have LED at the back? Will there be a dual SIM option, too?

They make me hungry because they look like chocolate candy bars. I wanna eat them!

will the 950 be 8 tiles across or just 6? looking good though, these cannot come out quick enough. had my 1020 for nearly 2 years, and only kept alive running tp! loving it other than all the loading start screen issues.

It's configurable. I seem to recall that on the 1520, standard on W10m is 6, with the "more tiles" option giving 8

So this is what passes for news on this site now eh? Sorry guys, you are completely disappearing up your own asses. "we drew a picture of what we think it might look like! Exclusive!!!!"

Where'd anybody say exclusive?

You always have the option of closing your eyes. Or leaving.

You're an idiot. Posted via the Windows Central App for Android

Hell yes, I love these specs!

If they have a Cyan version, it will be an instant purchase for me!!! More so than the already 95% purchase it already was, lol.


Ugh. Let's hope not. Those look like toys next to the iPhone 6 and Galaxy Edge phones.

You're wrong all over the place. Does your iPhone 6 or Galaxy Edge support Pen? Does your iPhone 6 or Galaxy Edge support Retina scanner? Also, You're trying to compare apples with oranges, this is just comparable to the Galaxy Note with Pen but better since the Note does not have a retina scanner.

Apples with oranges...was that a pun?

Sorry, Note is better because it is available.

The reference was to comparitive looks. These do not look like a premium devices. Plastic cartoon colors are not helping. It's needs to have the Windows logo and in silver or chrome not the Microsoft logo. And needs to be primarily metal and glass not plastic.

I hope we'll get many color choices with those removable backs! Gotta keep the green trend up.

I really hope so too. I don't mind spending a little extra money as long as I can get the color I want...GREEN!

I would like them to sell the covers as addons so you can always keep switching them if you prefer. Orange one day, blue the next and then green. That would be awesome.

Indeed, I would like one with brushed alluminum, a similar color like Dell Inspiron 2015 laptops.

Looks great, but I'm not a fan of the power button being in between the volume buttons. It's a little weird.

And tell me about an unnecessary change. Have seen NO reports on that matter... It's like they're chasing new reasons to be criticized... :-/

It's already in between the volume and camera button now, so it's already a tweeter

what else can we ask for? front flash and a proper xenon on the back? yea but I think the benefits here outweigh my 928's xenon flash

Actually there is a fantastic triple led flash on the back which could be considered even better, and they said flash on the front in articles already. So both points don't work :P lol the only thing I can criticize is if it is a sucky front facing camera like all of their other highend phones to date. Then I will be upset.

Considering how big that hump is, I'm sure they'll have a nice flash arrangement. Just hope they improve on the optics of the 20MP 1520 camera.

It really does not matter if crappy Microsoft Camera replaces Lumia Camera.

Lumia camera is the new Microsoft Camera in Windows 10

No it is not. They did not rename Lumia Camera, they discontinued Lumia Camera. Just take a look at that crappy Microsoft Camera that Nadella claims has same features as Lumia Camera.

No, it's called called Windows Camera

Needs to be 6" to replace the 1520. (Just can't please some people can you?)

Will you really miss 0.3"? :)

You'd be surprised, compare a 1520 to an iphone 6+...big diff, made fuckers jealous...I was in MS glory for a bit...

.3" makes a surprising difference.

It's 0.3" diagonal on big phone, the screen surface area increases about 3.5" phone's worth.

That is a good looking device. Afraid to see the price tag though as I'll almost certainly be buying off contract because of Verizon.

Please the price, if there are any news, thanks

If these are like the real thing, congratulations to Derek for nailing it. To the designers though...Well, you should probably leave it to someone else next time. On the plus side, these are clearly NOT Nokia designs. Nokia would never design something so tasteless. Posted via the Windows Central App for Android

It is a pretty generic design. The Windows logo is square and not elongated like Windows 10, and it's plastic. Why plastic? Screams for a cover.

@NIST: yeah I do wish they had used the slanted logo...but that's what the surface uses too...no slant= MS company logo.

My first reaction: Meh! Hoping it's much better in person.

@DJCBS: This isn't the usual Nokia design...but it doesn't seem tasteless to me...plus its a render...even the 930/icon didn't look great when renders and leaks were released...and I love my 930...we will have to wait and see the minute details for ourselves...also, I know you have a thing against the Lumia line cause MS took over...it saddened me back then as well, big Nokia fan...but I think you should keep an open mind..they might actually have a great flagship coming...Nadella definitely isn't messing around..

I am not above praising a great design when there's a great design. I absolutely despise Samsung and I'm the first to admit that the S6Edge is currently one of the most beautiful phones on the market. I will still not buy one. Just as I will never buy a Microsoft phone. Of course these are just renders, but the design clues are all horrible. The continued use of humps - something that was NEVER praised - the complete squared design with sharp edges that makes it terrible to hold, the back placement of the speaker... I like Nadella's leadership so far. However, I don't think he's actually committed to phones. He will be for the time being until WP10 comes out. Once WP10 fails like all the other versions, I still think he'll do what investors want and cut WP out of Microsoft for good.

Instead of openly admitting you won't buy a Microsoft Phone, why the fuck are you here? Go read your English novels from your house in mainland Europe and suck on some mercury. Pedantic bitch.

I won't buy either of the new flagships either; they don't look good and are too big, but it's not like I can't appreciate and criticise the tech and design. I also use other MS products. From what he's said before, I guess it's the same for him.

Why do people like you get so personally offended by another's opinion that doesn't align with yours? It amazes me really... Then of course you mouth off and lash out like you're 5 years old... That's pretty common, for those that can't express themselves in a mature way. Y'all have a good day.

I'm afraid I agree with you on the WP10 analysis, much as I don't want it to happen.

Of course its not Nokia, this was designed by Surface engineers. Did you know how many profit Surface products generated in 1 year? just compare that to what Nokia engineers did with the Lumia's of last year, its a huge difference. BTW what's left of Nokia, launched the N1 tablet in December 2014 and it hasn't sold anything outside of China, I'm pretty sure these Microsoft devices will be much popular than that N1.

1 - No, it wasn't. Panay was just placed in charge of the hardware. This was fully designed by Microsoft Mobile. By the way, the Surfaces are making money on their 3rd generation. Do you remember the flop its first generation was? Besides, the Surface only has one tier: expensive. So, just like the iProducts, it's easier to profit when you don't sell cheap. 2 - "What's left" of Nokia designed and presented a tablet in 7 months. It sold out in China and it's selling pretty well in Taiwan. However, it was the only markets where it was released so far. You know why? Because it's a test device. Not meant to take the market by storm. Once Nokia returns to phones, we'll see. And I'm pretty sure Nokia Android phones will easily outsell any Microsoft Windows Phone.

You are right, it's not a Nokia design... It's better.

Feelin pretty good about holding onto my 820 and not wasting $$$ on the 930 or even worse the 830.... New phone at the end of this year... Yipee!!! Now all they got to do is get official apps for F1 and MotoGP.

There won't be an 830. Only 650, 950, and business line. That is it from now on. 3 different markets to focus on. No 820 replacement.

Welll, I would call 830 "business line"

Camera module should be as the Lumia Icon (930) with Dolby 5.1 ss! Amaze me

Cool, but not slim enough.

Rumored to be 7-8 mm. These are renders, they're not 100% accurate but they look really good.

It is slim enough. 7-8mm is the same size as the original droid razr that is super thin lol.

Simply a gorgeous phone! I love that the screen is the perfect size (not as big as the 1520 or 1320 but still big enough not to feel much difference when switching to this). A metal case would've been the final touch, though... I just wonder how much will this be costing :$ Due to the great specs I believe it's gonna be very expensive, but I think and hope that it'll be worth.

The logo on the back would look better if it were further down towards the bottom which I'm sure will be the case.

I'm Waiting for this GOLD!

Now for the 5.2" renders. Do they have plastic buttons? Sad that qi isn't included yet it was included 3 years prior on the 920.

stats say Qi and they also say metal buttons. May want to read the stats list again :)

I'm referring to the 5.2" phone, not the 5.7" model shown here. The stats posted on this site yesterday didn't mention "metal buttons" anywhere but "aluminum" for 5.7" and no mention of 5.2". Also, it mentioned qi with an additional charging cover on the 5.2".

5.2" for my daily driver and 5.7" for 2nd phone.

It is... Wtf r u talking about??

That's a big power button. Not too sure about the rectangle buttons, rounded maybe better

I'm hoping for a 6 inch screen.

Agreed, but there is but probably low possibility for 1520 successor since MS only release their high end flagship 2 years once.

My excitement will be at full tilt once I know T-Mobile is FULLY on board with this model. I've been played numerous times (and no I use way to much data to EVER leave my unlimited plan). However, if these will be available, as rumored, with full unlocked models at the MS Store, we are in business. Phone render looks great!

It's designed very similar like Surface tablets, but much thinner.

I really think that the renders are quite thick while it's supposed to be really thin...

Why is the Windows logo square?

Same logo on the back of the Surface 3, standard MS company logo. How would the logo look with the colors in it? I would like to see that.

You've never seen the back of a Surface 3? Take a look at this http://www.windowscentral.com/considering-price-point-microsoft-surface-3

That square logo looks really stupid

Only things it needs are some front facing speakers!

Damn, if this turns out to be the real thing... That is one sexy phone...

That edge to edge screen looks so fragile. 1 drop and it will break. Also the square design will feel like shit in your hands. .

The 930 and 1520 are nearly rectangular but they feel fine. This should be a good phone.

Do you see the four front corners? When those glass corners hit ground it breaks. Shit design. I hope the real thing has the glass slightly inwards.

Yeah, I somehow forgot the glass on the 1520 extends nearly to the corner. Well, we'll just have to wait and see.

Tempered glass saves the day every time...I keep two in back stock cause the 2d display still leaves the tempered glass exposed to damage and I have to change em every so often.

I haven't heard from Derek Kessler in some time. What has he been up to?

Awesome! Nice renders BTW.

How do you get two more normal tiles along with the double tile on one row?

I'm not sure if it's exclusive to the 1520/1320 but there's an option in the Start settings.

Go to settings > start+theme. Scroll to the bottom

Doesn't answer the question...

It's on W10M if that helps. In the Start settings.

I am very much looking forward to getting my hands on this (or it's smaller counterpart), but I do not like the lens sticking out from the back. It just annoys me.

I am saving up as we speak. I hope it won't be too far over 500 bones for one. Also, I'll be buying it from the Microsoft store. AT&T will cripple the Qi charger for some crap no one supports like they did on my 1520.

Hmm no front flash for FFC, already one step behind competition in that regards. Looks solid, definitely my next phone.

In the last picture, blue and white one seem a little too thick given the screen size. Black one looks about right.

And exclusive to at&t any wages bets on the table

What about the report of them having a metal body?

The 3D concept looks quite thick...i just wish Microsoft will make the phones thinner/Flatter...Then thats it,i will marrying that phone

Based on the reports, it looks like Cityman is expected to be about 7mm thick, which is pretty darn close to the iPhone 6 (6.8mm) and the Galaxy s6 (6.7mm). These are jsut renders, which are difficult to create "to scale" in a way that accurately showcases both the design and size.

Keeping an alloy chassis like 930 would of kept this inline with a surface type 'feel'. Hope 8 tile row comes to 930. Can't say I'm excited about this.

That actually looks great. That blue is nothing close to Cyan, which is good, because I hate Cyan and prefer a darker blue, like in the render. No metal band looks great as well. The only complaint is that the power button is in a terrible spot.

This blue simply looks amazing, I think it looks better than Cyan. It's a nice deep, rich blue.

So glad to see that they will keep the visual identity. I'm happier to know that it'll be slim (between 7 and 8mm) and light. Those are my main complaints about Lumias' flagships. They were too bulky and heavy, it didn't look like a flagship.

That camera hump is a real hype killer for me, sadly, so I really hope it doesn't make it to the final product or at least one of them managed to do away with it. I could fully understand it in a 1020 successor but as far as I know, brother the talkman or the cityman are meant to be that. Make the phone thicker (add more battery or something) or cut back on the megapixels if you must, but the hump is just annoying.
Oh, and the speaker placement is weird as well... I'm generally against putting it on the back of the device anyhow.

Im the only one here that things it's ugly as hell?. It's a brick. Sure it's powerful and it runs our beloved w10 but there's no attraction towards the design. And I think it's a huge key if they want to sell that. It reminds me Lumia 810 .

In fairness I think its nice

To be fair it's a render. A really shoddy one.

Hoping some real designers take inspiration and create a fantastic render.

I was sort of hoping for dual speakers

I like Lumia 920 930 but why the speaker but it near to camera it's coming ugly nooooo I'm waiting long time and that's coming like that?????

You guys forgot put any microphone holes. Oops.

"... please allow room for slight changes or minor details we might have missed."

I would marry the blue 950xl move to the country buy a house with a white picket fence and raise little 950s

My Daughter wants the Yellow Back.

The black one says "boss".

Yes! I can't tell which one I like more: Black or cobalt/cyan. But the design and the removable battery suggest we will be able to freely remove the covers and swap them at will, like the 640 and many other previous Lumias. If so: That's be great! A flagship whose color I can pick day-by-day, sweet.

Sadly, AT&T aren't handling the XL (per the rumor mill) and Verizon is out (also per rumors). So... this will, in USA, be Microsoft Stores only? :-(

At least it'll actually be available unlocked in Microsoft Stores, which is more than what can be said for any Lumia flagship predecessor (In the US, at least). Not saying I'm not disappointed about it not being native to AT&T (Very disapoonted), but at least we can actually buy it this time unlike the 930, and at least it won't be gimped like the AT&T 1520.

I hope Microsoft does well with this. Just a few questions : 1. Price
2. What carriers in the U.S.
3. Actual release date, not speculation.

Don't you think if they had those answers they would have published it by now??

I think the rumor for price is iPhone 6 price point or higher. Verizon is out and AT&T is still a major player but rumors say ATT is not carrying Cityman, only Talkman. Probably will be sold unlocked at MS stores so you could pick it up there. Actual release date: TBD.

Right on! Thank you for the reply and info!

Oh joy, another phone with the 810 that comes in two flavors (underclocked or overheated). I'm sure this will go well. :P

I love ❤ Lumia so much but why but the speaker near to camera it's coming ugly , why don't but it down like Lumia 920 or 930 it's better than this new design I'm waiting long time and coming like that whhhhy

I hope it doesn't have that mini Oreo. But I like how the Microsoft logo looks instead of the complete name.

Yes, I love the new logo. Reminds me of Apple: Just a nice clean company logo. No letters, no text... Just let the logo speak for itself.
Clean, refined and modern. Love it.

The phone is sooo slim the camera has no place.... Give it to meeee!! I am throwing money on the screen aiming at the Microsoft logo.... Nothing is happening..

That phone is f**king sexy. I think I got turned on just a bit...;)

I preferred the borders with aluminum

My one concern is the placement of the speaker. If you use a case (like the "smart cover" for Cityman, or the wireless charging cover for Talkman), this would almost certainly cover the speaker. That certainly wouldn't be ideal. Personally, I like the idea of placing the speaker on the bottom of the device, like on the Lumia 920.

It seems fairly safe to assume that the case would have a cut-out/grille through which the speaker would sound.

While I agree, placing it more along the lines of where it's found on the Lumia 900/920/1029 would be great (the bottom), or even the 1520 (Just around the bottom lip). Best of course would be the front like BoomSound, but I won't hold my breath. Regardless, the speaker placement is strange. I have no issues with it so long as it works well, but I'm concerned it's just in a terrible spot where it'll be easily block and hard to hear unless you turn the device around, not anywhere near ideal for YouTube or Netflix.

Valid point. Although shells, like for wireless charging (at least from what I've seen) never have a cut-out. So that could potentially be an issue with "Talkman" as it requires a case/shell in order to use wireless charging.

That's a great looking phone and I like what looks to me like a cobalt(y) blue

They were described as being surprisingly thin and light in the article yesterday. Many sources are apparently in shock at how thin they made the battery, and are very impressed. And it's removable too, which is nice.

oh, that's cool. Looking forward for the presentation)

Those are nice to hear but damn... those camera hump are ugly

I just wish it had 2 speakers and situated on the top and bottom sides of the device.

No verizon? I can't go to AT&T. I can't believe I'll have to go to Android. Ugh.

I'm torn between waiting ,loading 10 on my 1520, and getting a 640xl (maybe orange). No, I'm not a Vol or a Horn,or a Cowboy ir a Beaver. I'm a Hendrix College Warrior

I hope they drop those ridiculous 3 digit #s. No one has any clue about them, and they are especially meaningless to potential IOS and Android converts

950 928 999999999 those. Not appealing to consumers.

Like the iPhone 6,and galaxy s6 sound nice huh?

Might be okay now, with the smaller lineup. At least "nickname" the flagships imo.

I want the bad ass logo on my phone.

Many of us have waited..and waited, not given up the hope, and what ive seen while ive waited is MS listen and create. Am Sim only as is my GF, were both getting one each, XL for me for sure, blue with an orange cover :P

I dropped my phone face down yesterday, the screen broke. I've asked people here in Houston for a repair. Most of them dont have Lumia 920 parts. Its hectic. When the hell are rhe flagships coming out man!! :P i need one now haha.

Seems like spec-wise its a bumped 1520 w/ smaller screen. Give me the same specs but with 6-7" and I'm getting it day one!

YAAAY! I want the blue want, it's really sexy ♥

I love that it doesn't have angular edges.

Reminds me too much of Lumia 928 from Verizon. I'm not talking about the icon either.

Looks nice, kinda wish Microsoft stuck with the stylised windows icon like on the surface though.

Nice! It's they're a special program to make such renders? ​

Blender or 3Dmax would do the trick :)

Oh you used cinema 4d? That's cool!

Wow this would be freakin awesome

I WANT THE BLUE(CYAN) 950XL SO BAD!!! TAKE MY MONEY!!!

Love it! I think the cyan version is great! Also, any idea how thick the phones will be?

Not a very good design. Hope the final design is different, this is so 2012...

Wow they look really good! can't wait to get my hands on that white one.

Shut up and take my money.

@Dan may I have the link to the wallpaper on the render please? Thanks! :)

Haha "toss in the cyan version". If you do that, you might as well mention the cyan version will be impossible to get.

AT&T make it happen and take my money. The 810 chipset better not disappoint.

Still waiting for phone to 1up mu 1520....may this be ot?

What are those three buttons in the usual place of the volume and power?

Probably an engineering decision to cram more parts in. This way they can have 1 module for all three buttons.

Based on the article yesterday: Top button is Volume Up, middle is a (seemingly large) power button, with the Volume Down button at the bottom. Interesting design choice, to say the least. Not sure it's a good one, but still: Interesting. Just like the odd speaker placement (Have we learned nothing from BoomSound?).

With those placements of side buttons(volume/power) and the speaker I don't know if they are trying to be helpful and unique or just stupid

When are you going to render Talkman? Do you have less firm details on Talkman?

It's the same thing but smaller.

Edges look harsh and overall look is boxy. Loving the blue. Camera looks cool. Speaker placement is odd.

Lovely but I want a green version

Looks good.. I'm sold on the qi wireless 3300 mah removable battery.. Oh and that it can make great sounding phone calls hehe

Beautiful, but I'll wait for the next one, as my 1520 is not even one year old ^^

I want that Cyan/Bluish NOW!!

I hope they drop those ridiculous 3 digit #s. No one has any clue about them, and they are especially meaningless to potential IOS and Android converts

You are allowed to make renders of a phone you've seen? That's like leaking images of it practically lol. Seems like something they wouldn't like :P

Woohoo I love it. Now that's a phone.

Loving it, I'd lighten up the blue a tiny bit to make it more Cyan-y, but looks steller. Camera button appears slightly too small, however.

I love this and I want it but so long as Outlook doesn't support CalDAV calendars I'll be stuck with Android. Totally annoying.

I can't wait for the real thing!!! :D Though I wished I has a metal frame instead and polycarbonate back, just like 830 which is great design already. Also the speaker placement and design is weird and sorry looks ugly.
I love the bezels and the Microsoft logo at the back, looks more modern that way.

Nice job WindowsCentral, these renders show this could be called the Surface Pro Phone also since it supports Pen. The light gray one looks just like the same color than Surface 2.

Look great though I wonder how the edges will feel in the hand.

Only if I could use twitch icons here.......(stick the tip in face.....all day)

Looks great! Speaker placement looks a little odd to me... But otherwise, fantastic!!! I will go to the ends of the earth to rock a Lumia 950 XL on AT&T, I'm so ready!!!

Camera is the same as the 930 (which is awesome) but the 930 doesn't have the bulge at the back. So why does this?

Might be that the 950/950xl is a bit thinner but the camera tech didn't shrink. Hence the bump. Just a theory.

930 is 9.8mm thick, whereas these phones are a rumored ~7mm thick.

Ah okay, makes sense. Still buying one regardless.

Serious question, why is the silver ring within the camera housing considered a spec? What purpose does this serve besides looking awesome?

So basically a generic block (928) with an oversized camera hump. What's up with the side buttons?

I like the side buttons. Reminds me of my G3 with the power button in the middle except on the G3, it's on the back.

For shits, throw a Verizon logo on that! :'(

Ew, Trump ruins the package (START THE FLAME WARS!!!!!!!!)

These phones probably were built using the same material of Surface Pro 3, but we should also get painted metal back colors, I personally would like brushed alluminum, like Dell Inspiron 2015 laptops.

Its a shame that its a "flagship" phone but its not made out of metal.

I am saving money for Lumia 950xl and Band 2.... Please build upon the best you MS!

That's the ugliest WP I've seen. What's the reason for the Oreo if it's not going to have 40+ mega pixels?

Cause the camera tech is still awesome and the phone is mad thin.

These are the flagships Windows fans have been clamoring for!!! We can go back and forth all day about design but with this, Microsoft has brought the tech!! No more pussyfooting. They've thrown everything in here and I for one love it. I do like the design though, very strong.

AT&T better have the 950XL in stock. If they do, shut up and take my money!

Placement of Windows logo. Vertical alignment = bottom, horizontal alignment = center.

... And 3 TFLOP performance however the CPU should be a Quantum Processor what is in miniaturization process :)

That's really ugly seriously, what's the point of relocating power button, why MS change the design all the time. Stick to 800 and 920's style, iphone never change its design and it still looks awesome

Actually, I like the power button moved because my car holder holds the phone in the middle and I'm always switching the power on and off.

SHUT UP AND TAKE MY MONEY!!! AT&T, YOU BETTER HAVE THE L950XL!

Pitchforks ready if they do not, LOL

Give us Talkman with
32GB of storage for $700
64GB of storage for $800
128GB of storage for $900 Give us Cityman with
32GB of storage for $850 (without Pen)
64GB of storage for $950 (without Pen)
128GB of storage for $1050 (without Pen) The Pen costs $49 and is the same as used on the Surface Pro 3, so Surface Pro 3 don't need to purchase the Pen.

I like how you think though I would hope for about $50 less in each tier. Not for the fact that its not worth it, but for my wallet :-)

Yes, you're probably right, in the US the price could be $50 less, but chart above could be an average price overseas/globally

Me gustaría mucho el logo de Windows así sencillo de fondo :)

Whatever this guy just said, 2 thumbs up.

he says the background of Windows 10 should be using the minimal logo on the back of the phone. I think is a great idea to have this as a theme for WIndows 10 called Cityman theme.

If they were going for bland, they nailed it. Of the more recent Microsoft/Nokia phone designs the one I've liked best is the Nokia 735. It's a shame they didn't go with somthing like that.

Power button in between volume up/down is kind of odd. Very disappointed if Verizon won't carry these new devices.

That camera module is awful... It made sense on the 1020, this just looks like an eyesore.

Boxy.. idk Posted via the Windows Central App for Android

Please add a notification light, Microsoft!!

For some reason, I think they don't want to :(

My inner geek is having its own little nerdgasm right now, Seriously need that cyan!! Please please please have cyan as an option in Australia.

What if the silver ring in the camera module is designed as an attachment point for magnetic lens options? if so TAKE ALL MY MONEY!!

@RaRa85 no no. These look terrible. But I rest assured that the real things will be beautiful.

I hope they drop those ridiculous 3 digit #s. No one has any clue about them, and they are especially meaningless to potential IOS and Android converts

Can someone explain why Lumia is never emblazoned on any Lumia device? Because the Lumia lettering is the same font as the Microsoft lettering and it may as well not really be there anymore? Don't get me wrong, I life the name Lumia, but this phone could be a surface phone, but I want the two device lines to be differentiated

I am hoping for a red option to really be a replacement for my 920. Either way I'll be upgrading this fall/winter. Microsoft, make my wishes come true!

This has to come out on Verizon!!!! --Typed on my Brand NEW Surface 3

wow look stunny and sexy release it now

Hell yeah! Dan, honestly, what's the chance of this getting on AT&T?

Wow, just... Wow! I love the rendering of that Lumia 950 XL!

I want that phone just like the rendering in this picture in the blue that is shown RIGHT NOW!

I want the blue one so so bad!

Too big size for me , hope they come with a smaller version . Also all plastic no premium look unlike the 925 or 930 . Look is important . Hardware looks amazing however

Do you know if it will have optical image stabilization? Besides that...perfect. /drool

Umm.. To be honest doesn't look that great. Pretty much thermos generic looking boxy design one could possibly come up with. BUT, I trust the actual phone will look significantly better.

Hmm except for the back of these alledged 950/950XL mock ups Their design is simular to my Nokia Lumia verizon 928. I was hopng for a more distinctive smart phone case design than these. Come on Microsft do better

That refer is too blue, not Lumia Cyan

The blue one looks amazing, nice renders.

I want this phone so bad hope Microsoft will make this phone available for nov or December

I hope the logo is metalic

My only request would be no battery hump. I would much rather have a thicker phone with possibly even a bigger battery.

Love everything about it except one thing. I don't like the speaker grille placement, and I would prefer to have stereo speaker on the bottom of the phone. It looks out of place.

Wow! Looks amazing. I'd love it even more if it was just a little bit thinner, but this might be more realistic. Thanks for indulging is with this renders. Great work!

Very sad at the possibility that Verizon is leaving the Window phone platform.

Other people will argue that the sharp corners on the phone will make it uncomfortable to hold.

Black, Whiteand Microsoft Blue :D Looking good. not that fond of the speaker placement though. It should still be on the bottom of the phone I think.

Looks pretty ugly tbh. I wanted rounded corners. I hate the square phones like the 830 and 930.

Now that the race is over and most of the fans have left, they finally show us images of the what could have been the winning horse!

To me they just look like around lumia phone from last year.. nothing changed in design as such , it like ICON without aluminium strips.

wtf no doul wifi for better conection like on galaxy s6 o.O and no 64 bit version why can not they make it perfect 1 time

The screen to body percentage seems very high, which mean the phone will be pocket friendly for its size. I'm excited... I really hope w10 provides an aggressive advantage of this hardware

This is awesome!!! I just wish the speakers will be better positioned....

Daniel, I think you have single handedly set the windows community on fire this week with all this info the past two days. Well played sir!

just asking, what are the buttons on the right side (excluding the camera shutter on the bottom)? that one additional button made me confused after all.

What's the point of the "1mm silver ring"? Why call it out? Cam it be used for something? Will the device support, say, some kind of pro level camera housing or interchangeable lens system?

i'd honestly be dissapointed if this is a true image... what a bad design, i mean how come startups like xiaomi and oneplus can make good looking phones better than giant Microsoft?? i am so confused

Throws money at the screen... :) hopefully it drops just in time for the next group of phone replacements at work as if it does there could be a bunch of people ditching iPhones for this - as long as the back is still polycarbonate or plastic. They work in remote areas and the metal black plate on the iPhones screws with reception just enough to make them useless.

If came in a silver/grey surface colour it would be better.

Give me the $399 version of this. kthx.

Holy Shit! Hope this is true. Cyan 950 XL here I come!

Can't believe I'm going to say this, but... sign me up for white.

I'm digging the cyan myself. :-)

Hope they come with bandaids......or gloves. Ouch to dem edges yo!

Back facing speakers? Ever since I experienced dual front facing speakers on my HTC One M8 for Windows, i was sold and no going "BACK" LOL.

Hey! I owe you a huge apology! I was trying to scroll past your comment when it registered a vote down. I tried to vote up to bring it to level when it registered "report". So I accidentally reported you. :-) Hopefully the moderators will see this comment and know that it was someone having a problem with their phone, rather than a problem with you. For all the trouble, I left you with an upvote. :-)

Looks like a 930 from the front.

This Cityman is one sexy beast! It's gonna be soooo badass! I'm pretty excited! I know it's an unofficial render, but it sounds like you "guessed the nail" pretty much right on the head from what your source said. I'm REALLY hoping my next phone is a Windows Phone (otherwise it'll be an iPhone6s+, or whatever next July's closest equivalent is to the Nexus 6 - the Nexus the least likely, the iPhone the least desired). But IF my next phone is a Windows Phone, then there's no if about it....it's gonna be this bad boy! Posted via the Windows Phone Central App for Android

Don't like the blocky edges, or the camera hump, but I could see Microsoft designing a phone like this. They need to reconsider their design approach, coming from someone holding a Lumia icon, which is probably the heaviest clumsiest phone I've ever had, right after my 920. My next phone will be a sleek light weight iPhone or android.

Personal preference, but I use a Galaxy 5S for work and much prefer my Nokia 920.

Ugly Fugly...I really hope this isn't the look or color choices or I am done hoping and rooting for Microsoft. This ain't no Lumia....there's no place like Nokia, there's no place like Nokia!

This is awesome!the addition of the windows. Logo is perfect!

Great work with the renders but I don't think it will steal away iPhone users. Some of the 940 renders were really nice. MS should stick with those or something similar. They need to kill the bezel. That's what sticks out most. I'd link but I was told I can't.

Yikes, not so a fan of blue, cyan to be exact. Sure there will be other colours eh?

It just looks like a Lumia 830, it's not that great looking

This looks very un-lumia. True lumia design aligns the camera at the center of the device. Even if housed in a round faux camera element.

N add a led notifier in the logo!! Or let it glow !!!!

"Camera bump/hump too big"... Haha some of you can't be satisfied.

Cyan for me, the wife wants one in white.

The Blue One is everything !!!!

Daniel has seen the phones, he's pretending he hasn't

Nice take on what the next gen Windows Phones will look like. My only negative comment is the weird combo of volume buttons above and below the lock screen button? That would horrible IMO. Beyond that it is a great looking piece of kit that I would gladly replace my 930 for. I just hope that when these get released they get picked up by TMO so I can use Wifi calling.

Not a fan of the boxy look...

Looks a little thicker than the render I saw yesterday, but still looks nice.

I'll be saving my pennies for this one...but...since I'm on Sprint, probably pointless...

i like the windows logo at the back ... These two must be called surface phone. :)

Renders look nice but hoping some a bit more skilled takes a shot. No offense.

I thought all W10 phones were going to finally be all soft key on the front after they failed to do that with W8.1

Love the flat edges and the phone can stand upright on its own. I remember my old Nokia could do that, even dances about with the vibrating ringtones !!

So the difference between this device and the Lumia 1520 is only one extra GB ram and extra led flash not even xenon flash !! .. And why 5.7 screen why not 6 ?
Microsoft is really killing windows phone

I'm going to jump from Lumia 920 to Lumia 950. This one is just amazing.

Sexeh. I need a replacement for my Icon that does Continuum.

Would love it in the 930's Gold Edition color and metal band style. Especially black and gold since I'm a Saints fan!

Too sexyy...love the design..but still the camera housing is protruded outwards ?? And does it have notification LED??

This is my next phone. At last!!!!

Camera lump, not buying (its like looking at people with a bad postiure). Its such a turn off honestly, wears my trousers in that spot and dont use the camera enough to justify it always tilting when putting it down (you know what i mean). Also, why the removable battery, better with a non squeaky (they ALWAYS END UP being squeaky) body that makes it feel more premium.
Guess im not getting a big phone this year either, unless some other oem decides to be reasonable.

I'm ready with money in hand to get Microsoft premium Windows 10 mobile device , the real version that is.

This certainly shows inspiration from htc 8s and 8x design.

They need to lose the camera bump straight away What's with the additional button on the side, three of which seem to close together.

power button that big between the volume buttons will result in lots of accidental presses.

Please please Microsoft, don't name them Lumia XXX. Some unique name will be really beneficial to the sales. It will distinguish the flagships from the rest of the lineup.

Hooo god its amazing .. With a colour mix it will be more awesome

Is the iris scanner on the front or the back

Is the iris scanner in the front or the back???

Hey Daniel, I think they should name the next Lumias Lumi