Clash of the titans: Lumia 950 XL versus Nexus 6P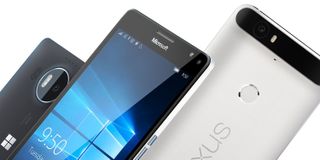 If you're looking for a phone to go spec-for-spec with the Lumia 950 XL, you could do worse than Google's Huawei Nexus 6P. They're both at the top of their class, physically and internally, so much so you might be seeing déjà vu for a bit when you run down the spec sheets.
Swipe to scroll horizontally
| Category | Lumia 950 XL | Nexus 6P |
| --- | --- | --- |
| OS | Windows 10 Mobile | Android 6.0 Marshmallow |
| Screen Size | 5.7 inches | 5.7 inches |
| Screen Resolution | 1440x2560 (564ppi) | 1440x2560 (564ppi) |
| Screen Type | OLED | AMOLED |
| Processor | Snapdragon 810 64-bit octa-core | Snapdragon 810 64-bit octa-core |
| RAM | 3GB | 3GB |
| Internal Storage | 32GB | 32GB/64GB/128GB |
| External Storage | microSD | — |
| Security | Windows Hello iris scanner | Nexus Imprint fingerprint scanner |
| Rear Camera | 20MP ƒ/1.9 PureView camera, triple-LED flash | 12.3MP ƒ/2.0 camera, dual-LED flash |
| Front Camera | 5MP, wide-angle lens | 8MP ƒ/2.4 |
| Battery | 3340mAh removable | 3450mAh non-removable |
| Charging | Qi wireless, USB Type-C port, Quick Charge | USB Type-C port, Quick Charge |
| Height | 151.9mm | 159.3mm |
| Width | 78.4mm | 77.8mm |
| Thickness | 8.3mm | 7.3mm |
| Weight | 165g | 178g |
While the comparisons with the iPhone 6s Plus might seem unfair (though that could be framed as a question of raw power versus efficiency), the Lumia 950 XL pitted against the Nexus 6P seems like as fair of a fight as there has ever been. They come to the table with screens of the same size, resolution, and type, the same processor and amount of RAM driving things behind the scenes. Heck, they even have the same base storage space, though if you want more on the Nexus you'll have to buy the higher-capacity version instead of just throwing in a microSD card.
That's where the comparisons start to diverge. Where the Nexus line has always been Google's definition of what an Android device ought be like, Microsoft's top-end Lumias are about more than just setting an example for their manufacturing partners and impressing the fanboys. Lumias have always had incredible cameras, and while we have little reason to doubt that the 20MP shooter on the 950 XL will impress, Nexus phones have consistently been a let down in the imagery department. Google says things will be different this time, but they said that last time and the time before that too.
On the software front there are obvious differences — Android 6.0 Marshmallow and Windows 10 Mobile are both the clearest visions yet of the future of mobile computing from their developers. On could argue that Microsoft's ahead of the curve here with features like support for Continuum docking. It's a thing that Android manufacturers have toyed with in the past, but it looks like hardware and software have finally caught up to the dream and it's up to Microsoft to execute on it all.
Nexus phones have never been huge sellers, at least in comparison to the rest of the expansive Android universe. But they typically help to set the trend for what to expect from Android for the coming year, as well as offering a look at the future of Android software. And in that we can look at the Nexus 6P as a bellweather for what Android competition the Lumia 950 XL will face in the months ahead, and things have never been as evenly-matched as they are now.
Lumia 950
Surface Pro 4
Surface Book
Microsoft Band 2
Derek Kessler is Special Projects Manager for Mobile Nations. He's been writing about tech since 2009, has far more phones than is considered humane, still carries a torch for Palm, and got a Tesla because it was the biggest gadget he could find. You can follow him on Twitter at @derekakessler.
Is the Nexus liquid cooled??? Ya that ARM is gonna over heat a lot then. That's why Samsung didn't put it in their new galaxy phones.

Well we have to see how the liquid cool tames the 810 in real world usage. Also we don't know if it's throttled back either. Posted via the Windows Central App for Android

There have been a few reports of the iPhone 6s overheating also.

OnePlus 2 seems to be faring well

Android isn't as intensive as continuum, doesnt need the cooling. Will skate along with performance throttling

How do you determine the Lumia the winner???
.....
Are you cheering for it because it wins on paper?... Just saying,, this isn't a full device review.

From what I've seen, neither does the new nexus. Posted via the Windows Central App for Android

Does it freeze or reboot everyday?

I doubt it would, as a flagship designed by a massive company. My tab 4 certainly doesn't.

Aw neither does the Nexus.
Sounds a bit ignorant Posted via the Windows Central App for Android

Lumia 950 XL is awesome. But I would have liked sharp edges.

Me not sorry, i own a 1520...

Lumia has continuum and windows hello, those are cool small reasons to think Lumia seems better. I also like 950XL design, looks nice. especially on the back which nexus just looks like another cheap phone.

I disagree with the design comment. The 6p looks quite nice. 950 has continuum and hello. 6p has lightning fast fingerprint and Android pay. I have several desktop computers, so continuum is less a needed feature for me than a reliable tap to pay.

I rather use credit card and not drop my phone or in rainy/windy condition.

The nexus looks cheap? Really...and you're saying its better because it has continuum? Wow... Posted via the Windows Central App for Android

The 6P does look cheap, like something you'd find at Big Lots.

While I personally won't say the Nexus looks cheap, I will say that it does not appeal to my sense of asthetics. Better because of continuum? You bet. Miles better because of that one feature. Unless you can truly see the difference a full-blown app designed for desktop makes compared to the "display this phone app on the TV" garbage that Android has, you'll just never fully understand how huge Continuum is. Mocking it is like the "merging of a refrigerator and a toaster" comment made by Apple a few years ago, which they are now attempting to copy (though copy poorly.)

Not to mention how the Lumia is built for productivity. Being able to power up a second display and be desktop like. Nexus allows mirroring of the display though and they work with a Bluetooth mouse and keyboard. I just hope Windows 10 catches up quick on the software front, a few API's still need to be made available for developers to allow more smartwatch support, app quality seems average for me some don't run as smooth or look nice and not optimised for phablets. Spotify app for example, so clunky Posted via the Windows Central App for Android

Windows 10 mobile already supports Bluetooth mouse and keyboard. Typed this while my band, keyboard and mouse are all paired to my 1520

Thank you for putting together a non fanboy style comment. I like windows phone but some people here make no sense. Posted via the Windows Central App for Android

Can someone explain to me why people are bragging about liquid cooling in a phone? Everywhere else I'm reading people are questioning why a phone needs to be liquid cooled.

This processor is known to run very hot when being pushed. Its a reason many manufacturers have stayed away from it even with what is said to be some blistering speed for a mobile device.

Because the 810 can warm your room on those brisk winter morning. Posted via the Windows Central App for Android

I was all in for the 950XL but the earlier hands on write up has me second guessing. Hmmm.

Both phones look horrendous BUT the 950 has overall the better hardware. Unfortunatly, not the better OS which, at the end of the day, is what matters more to users.

Your statement about the OS is completely subjective though. So what matters is the users opinion and not yours.

That is true. And I think, at 2.5% marketshare after 5 years, the users have already clearly spoken regarding Windows Phone (or whatever you want to call it going forward)

People already spoken. McDonald's has best burgers.

Again with subjective reasoning. Market share numbers do not equal quality of the OS, or of anything for that matter. Just because everyone uses something doesn't make it the best, and just because barely anyone uses something doesn't make it the worst.

Market share does have relevence though. Feel free to argue that point all you like. The fact is that previous incarnations of the windows phones did not sell well. Granted individual opinions may vary, but the market as a whole has largely condemned the windows mobile platform(2.5% market share). Given the primary difference between all of the mobile phones being their OS, it is easy to make that jump to the conclusion that it's the OS at fault. Who knows maybe that will change with Windows 10. I doubt it, but it could happen.

No it really isn't easy to make that jump, you're making it on your own and assuming everyone else does. There are many factors that come into play when seeing why Windows Mobile OS hasn't sold well, just like any product. Low market share can never be the determining factor in judging a product, it just isn't logical. It may be a result of a poor product it is not necessarily the determining factor of it's quality. Look at a Ferrarri, not a large market share there, amazing quality. Dodge, huge market share, not that great quality. Your average consumer can't even properly judge the quality of an OS, they just want to be able to pick up the phone and have it work, which Windows Phone does.

When I think of OS that work out of the box, I think IOS. Sorry, but iPhone nailed it. It just works. Fully developed ecosystem. Solid support structure. You can pick an iPhone up and don't have to think about it, tons of folks do so every day without a thought involved. When I think of flexibility and variety in product offerings, I think of Android. With WP... I don't really think about them to be honest, not since my Tilt 2 ages upon ages ago. Haven't seen anything compelling enough to even make me consider using one again, although the iris feature... really cool. A Ferrari for comparison? Amazing quality, but outlandish price. It's a luxury item. That is the reason for it's low share. The windows mobile handset market has always been comparably priced on comparable hardware. As for Dodge, brand loyalty maybe combined with price and warranty offering? Dunno. I'd have to look into it further, your statement was so vague without any kind of support around what Dodge product or how high their share is that I have no idea. I'd amend your statement, "Low market share can bever be the determing factor in judging a product", to "sole factor". Please do elaborate though. If not the price or the OS then what is the reason for the low market share? Perhaps it's just performance and lack of app availability and not a poor performing OS that has doomed it to it's low market share? Some combination thereof? I'd love to hear what your thoughts are. Maybe it's Android and Apple user's dedication to their respective marketplace purchases? Microsoft could sway those users with a offset credit to their Microsoft Store, I think they tried at some point in the past on some handset, on an older version of the OS maybe? I seem to recall that happening. This new hardware though is pretty stout/compelling and it is on a new version of the windows mobile. Maybe they can try again with more luck. If we're really lucky, maybe Windows 10 mobile can turn it around though. Maybe it will perform better on the new hardware. Maybe the app market will explode in support. Maybe a lot of things can happen. We can hope!

It's not on me to determine why WP has a low market share. The discussion is that WP has a low market share, therefore it must have a poor quality OS. You're making points that don't argue either one to be honest since you don't really qualify what a quality OS is.

You're not helping the case for the OS either to be honest. The original statement wasn't about the quality of the OS but a more general, vague, description of the 'better' OS. Which is entirely subjective, that is true. But market majority have chosen other operating systems. What conclusions can you draw from that when you start eliminating possible reasons for the low market share? That's why I asked if you had any compelling reason for that low market share. That's cool though, I'll just continue to assume it's OS based on evidence and you'll say it's not. Meh. In the meantime though, Android/iPhone seem to have the more desirable mobile OS if you look at sales. Desirable for what reasons, it varies? Again, maybe Microsoft can turn it around though. Maybe competition will drive prices down more if they become a bigger player and everyone wins.

Apparently you're not familiar with the process of logic or debate. Just because I cannot provide a reason with empirical evidence of the low market share, doesn't mean my rebuttle about low market share being only tied to low quality is false. There are still many possible reasons why the market share could be so low, and no one has proven any of them to be the reason, or not the reason, for Windows Phone to have the market share it has. I pointed out that the OP's comments are subjective in nature, and you have now agreed with me. You have also pointed out, by rewording what I said, that low quality is not the sole reason why something can have low market share. So there it is, without providing proof that Windows Phone OS is lower quality than Android or iOS in an objective manner, with emperical and logical evidence, the argument is over.

I was trying to eliminate possible reasons for low market share based on what we do know and asking if you had any additoinal information. You don't. So we can agree it's subjective and that windows may have a quality OS, but we don't know for sure. What we do know is that it's enjoyed a low market share and that, by voting with their dollars, most people seem to think that Android or IOS is the better platform. You're right, the discussion is over.

well i honestly never even heard of a microsoft phone till i heard about the lumia 950/950xl. years of TV watching and i cant remember seeing 1 add for a microsoft phone. iphone and all the android phones i see all the time. so i guess that contributed to the problem too. but i am waiting for my 950xl now

I think both phones look very nice. Too bad you don't think the same.

The OS statement us absurd. Android is a Hodge podge mess that everytime I see running on a phone that hasn't been reset in at least a month, is laggy as hell and running like a turtle.

Funny you say that, we reset our phones monthly at work for androids.

My cheap Moto E runs Lollipop like a champ. The comparable Lumia 635 runs the latest W10M preview slow as molasses. Maybe you're used to seeing old Android but Lollipop is a great OS when it comes to speed and features. People on this very site reset their Lumias quite a bit too just to speed things up. I love WP and think W10M is quite good but let's not pretend the "Resuming..." and "Loading..." screens don't exist...

My 635 runs WM10 like a champ...but I have no bone to pick with Android. in fact, I am debating right now whether to switch, and today did nothing to convince me to stay

W10 prerelease software -_-

I'm using a g4 now. I totally agree with you. If its not a Nexus, Motorola, HTC device or a stable custom ROM your phone will be a nightmare. Posted via the Windows Central App for Android

I agree 100%. Shame that OEM's & carriers waste money and sacrifice maximum performance on skins and pre-installed junk. Oh to be able to load the factory Android 6.0 image on my G4 and keep that camera quality. Via the Windows Central app

DJCBS LOL you are a real comic

Besides the camera, they have 1:1 identical hardware.

Hold on there. Why is windows phone not as viable as Android or something else. Please explain. I'm primarily an Android user but I'd like for you to at least say why this is so. Posted via the Windows Central App for Android

Glad to explain why *I* think it's not (mind you, I've used WP during the Nokia years and have since jumped to Android so it will be an opinion actually based on the experience between the two OSs): - It offers nothing that Android doesn't offer. It doesn't offer easier or better personalization, it doesn't offer services that Android doesn't offer and it doesn't offer hardware that Android doesn't offer (Continuum is a cool concept but it's still unproven). - The OS doesn't offer tools for easy communication between apps; - Apps which, more often than not, are either absent or very very subpar experiences. Microsoft has made a lot of fuss about Windows Universal apps but, just like Continuum, it's still unproven. In fact, Windows 10 has been available for months now and we still haven't seen any major movement from developers to either bring or make their apps universal. The app situation is particularly sensitive for an OS to succeed. For example, today they said Facebook would offer new universal apps for Facebook, Instagram and Messenger. They didn't say when. They didn't actually placed ANY emphasis on apps at all. If Microsoft had managed to get big developers on board the Universal App bandwagon, they would make a fuss out of it. Instead they focused mainly on productivity and their own Office apps. That alone should send red flags. - You can have the full Microsoft experience on Android already. I don't use Google services on my Android. I use Microsoft ones. And they work flawlessly. Actually, they work better than they do on Windows Phone (both 8.1 and 10). My Android device was seemlessly integrated into an otherwise full-Microsoft ecosystem (console-tablet-PC) without any problem. So WHY would I want to go (back) to an OS - Windows Phone - that doesn't offer me anything that Android doens't and that the only thing it gives me is less? That's why I believe Windows Phone (or Windows 10 Mobile or whatever) is not a viable option going forward. Maybe the "Surface Phone" (ie, a mobile device running full blown Windows 10 and not a mobile version of it) has a chance as it can be specifically geared towards enterprise and productivity only. But as a mass adoption platform, I don't think Windows Phone has any future. They had their best chance a few years ago when Nokia was on board but they were far from committed to it back then. And now it's too late.

Why are you posting cogent comments based on reason and logic? This thread is ruled by a sense of hopeless hopefulness and an aversion to objective, statistical data.

518ppi 6p, with amoled (so no visible distinction between digitizer and display). Move along.

Lumia 950 XL won the battle :D

My life is the Truman show. This is the two phones I'm split between and an article pops up! What are the chances (jokes btw). Unless windows 10 gets some mainstream apps pretty quick then I'm sadly gonna have to switch. Been here since wp7. I'll jump back when things get better

You can always sideloading Android apps. Posted via the Windows Central App for Android

No, I don't think it can solve all your problems such as connecting to an Android Wear device. Posted via the Windows Central App for Android

What a great movie the truman show! One of my favs!

WM10 is still missing apps people want so they will still choose iPhone or Android

Instagram will finally make a universal app, so maybe other big and ignorant devs will follow.

That's not fair. Why should they make an app for a platform with such paltry market share? Microsoft operates the same way. For instance, Office for Linux has never existed. Posted via the Windows Central App for Android

Well if devs want to access the 110+ million Windows 10 devices out now, universal apps would be a nice place to reach other users who may also happen to still use Windows Phone. Lot of users, and possible money, being left on the table by devs choosing to ignore the platform. Via the Windows Central app

And which sane person can ignore the 1.5 billion people on all versions of Windows on desktop (even Android has only 1.4 billion as Google recently announced) to target the paltry 110+ million Windows 10 devices of which only a third are not already included in 1.5 billion figure? In reality, it is at most around 40 million phones versus 1.5 billion PCs. The figure 1.5 billion was taken from a recent Paul Thurrott article where he claimed Microsoft advertises the number on site I don't remember.

Banks yes, games yes, apps yes, however I game on my Xbox and pc. To bad others use their phone as their sole gaming end. But good I suppose.

EXACTLY!!! apps that people talk about that are missing or subpar on the windows 10 mobile are Mostly Games. Also a comparison of the windows 10 mobile ecosystem that is on "Preview" vs released full working mobile ecosystems on other phones is stupid. its like comparing a plated dish to a dish thats about to be cooked. i will reserve judgement for the OS until the final release but so far i find it better.

Why is there even comparison ,Lumia 950 & 950XL beat all competition

Devs only makes app if they make money on platform so far WM hasn't been money maker

Ironically the only platform when a dev who doesn't have very big and famous apps can make money is windows phone

Windows 10 (pc+mobile+Xbox+iot) Drop mic! haha

Lumia battery is 3340, it shows 3300 all over the site.. I know its minor but yeah... thought I'd say something

whats liquid cooled? like the bike engine? :P

yup exactly. You need to pour 2.5ml pure distilled water into the hole meant for it. if the water is low you will get notified. it actually helps GPU performance. Cooler the device faster it runs.

Dude! Don't spread false information! It's very important that you use milk, not water.

will any brand milk work? or is there a specific brand? full cream? dairy? or skim? thanks for the info :D

No fat, gotta be. Use anything with fat in it and you might clog the cogs and/or rotor. There's a filter built in that can an accidental dose of non-fat milk, but it's mostly meant for filtering debris.

But here's the thing. The Nexus 6P starts at $499. Can you really say the 950XL wins (at least the spec war) when it costs $150 more for marginally better specs? I think the day-one excitement is clouding people's brains a bit...

I was going to say the same thing. If a neutral buyer looks at these phones and then the price... How on earth will he/she be convinced to pay $150 more (30% more!) for the 950XL? Hypothetically that is, since neither will be in stores. ;)
I guess the SD card might sway someone. That is a big advantage.

That SD card slot is precisely why I'm going with a 950 XL instead if the competition.

Because the buyer might have already used android, enough said

Well, I've had wp, iPhone, and currently Android....while I love wp for functionality and camera...I'm really enjoying lollipop and marshmallow looks really nice.

wireless charging is a pretty big deal for me. But ultimately, people will choose based on OS preference, meaning more people will buy Android

Yes, but after carrier discounts these phones will likely be within $50 of each other and cost about the same as the iPhone. The average consumer wouldn't be buying unlocked phones.

Lumia beats Nexus! Simple, the competitor runs on LAG-droid.

Lol, spoken like a true fanboy that has completely stale and jaded views. Posted via the Windows Central App for Android

Is not that bad really, actually is quite good also on the other side Posted via the Windows Central App for Android

No just no Posted via the Windows Central App for Android

These two may look close on paper, but I need that microSD card and removable battery, so the Lumia 950 XL wins for me!

What clash?
Price is too high, only appeal is to die hard fans, unfortunately Posted via the Windows Central App for Android

Nexus wins hands down
Better app ecosystem and just superiority in apps in general.
Both are powerfully speced and the Nexus is cheaper as well so it wins there. We will just see what Windows 10 brings towards app but that is where Android and ios win. Posted via the Windows Central App for Android

They're both great phones but the 6p wins based on the app store. I would go for the 950xl if Microsoft can get the app store sorted. Posted via the Windows Central App for Android

There's only two things to let people to understand why WP is better.
1) u not need of am antivirus on the phone.
2) WP use a sandbox for run app.
That's the way...
..

Glance + Continuum + wireless charging + most likely better camera + SD slot + swappable battery I'll take the Lumia

Snapdragon 810 v2.1 check
Liquid cooling check
Lumia Quality check

is this new or did android fanboys start lurking into wcentral??? so much indirect hate to windows 10 and hiding it using technical details.. well played . we are tingling some android fanboys finaly XD

Maybe is people who once had WP , changed their phones but still like to follow news here.
Im one of then, had the 920 1520 , icon, but gave up for many reason and factors, but continue to follow here Posted via the Windows Central App for Android

With features like continum, iris scanner and extraordinary camera, out seems like Microsoft Lumia devices have taken an early lead that Nexus or iPhone will find really hard to beat.

Nexus 6p has an extraordinary camera. Actual sample pictures, videos, and tests already exist highlighting how well it's done. Check out DXOMark's scoring. Who knows, maybe the 950 XL will do as well. Too early to tell if Continuum will be much more than a novelty. I'll concede the iris scanning feature is pretty cool though. Not enough to make me want to switch though. Been a long time since I've used a WP(Tilt 2). To be honest, I haven't really missed it and haven't seen any compelling reason to look at them again.

Oh Microsoft, do you hearing? From your fanboys to haters to devs . All we want you to fill the app gap. Yeah, you give quality hardware(it's the trust built by Nokia), but the Lycurgus cup(!) is just bland if I couldn't pour some beer.
@DJCBS is not your hater. He wants(actually everyone here) you to do some necessary stuff out there. For the sake of you, we believe the third party apps are better than the original. You loose a large number of users already.
It's paining... I (personally) buy Lumia because it still holds Nokia's footprints. Nokia did a great mistake and you came to change the game. But it may or may not Nokia's fate follows you, you do the same mistake.
For just using your office and productivity apps, why we buy your phone(a phone is a phone for a long time before). Using continuum to add big screen, keyboard, mouse and by the help of edge access the desktop versions of many apps we are missing here is at most stupidity(true or false?!)
Still I love to have a Lumia 950 because "if I don't then who does". But wake up Microsoft, this is our last hope..!

Look at Height of all smartphone 5.7 inch or 5.5 inch of iPhone 6S Plus. The same 5.7 inch but height of Lumia is shorter. I love form of Lumia from Nokia to Microsoft

One thing iv learned by buying an android few years ago is that u cant never trust it...doesnt matter how advanced its specs are! WP forever!

For me as an android & windows user, 950 wins because its OS is a bit easy to operate. Sometimes sea of apps annoy me on home screen but after a few days of use , I hope i can manage it on 950. Thanks for the comp.

On paper the Lumia 950 wins but right now Android wins with a much more mature ecosystem and as it's a Nexus device it will run buttery smooth as it's stock Android but Windows 10 Has shown a lot of promise. Posted via the Windows Central App for Android

Most of the comments have been about the OS difference but look at damn SOC! By the definition of some based on the SOC these Nexus phones are also DOA.

ok, i currently own a lumia 930 and i am due an upgrade in a couple of weeks. with very little out there apart from the 950 and 950 xl on the windows side i am thinking about going to android and must say the nexus has caught my eye. not really fussed about continum but the app gap is starting to get to me. think theres a good chance i could jump ship to android.
Windows Central Newsletter
<