Why Microsoft is positioned beyond the mobile curve, leaving behind Apple and Google
Microsoft's ahead of the curve in mobile! That sounds crazy, I know.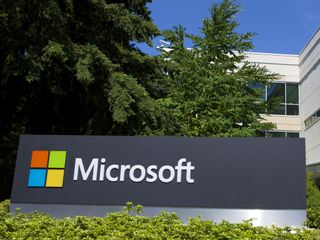 (Image credit: Windows Central)
It's especially crazy considering that Microsoft has only 2.7% share of the smartphone space. Apple has over six times that with about 17%. And market leader Android has nearly 30 times Microsoft's share with about 80% of the market.
Still, Microsoft is ahead of the curve in mobile, and I'm going to tell you why.
Apple bites
On September 9th, 2015, onlookers were shocked into silence as the presenter at Apple's "Hey Siri" event called Microsoft onstage to demonstrate Office on Apple's new Surface competitor, the iPad Pro. The presenter affirmed Microsoft's dominant position in productivity by preceding Kirk Koenigbauer's appearance onstage with the line "Who knows better about productivity than Microsoft?"
The fact that a touch-friendly version of Office was demonstrated on Apple's new mobile device instead of Apples own productivity suite makes the very clear statement that Microsoft knows mobile productivity.
Microsoft, the soul of the machine
A clergyman would ask, "What is a body without a soul?" A techy would ask, "What is hardware without software?" Each would answer that both are empty shells with no internal force to direct the external form. What's on the outside indeed matters.
It is telling that on September 9th, the most valuable company on earth, known for its exquisitely designed and sought after hardware, brought Microsoft onstage to imbue life into its newest tablet. Redmond demonstrated how mobile productivity would work on Apple's new productivity positioned iPad. A device strikingly similar in form factor and accessory design to Microsoft's Surface mind you.
Yes, a device made in Microsoft's Surface's image, also had life breathed into it by Microsoft's productivity software. This demonstration was a humble concession by Cupertino.
Microsoft's move to be the mobile ecosystem with which users interact, regardless of the platform a user's device was designed for doesn't end with Office. The following are just some of the cross-platform Microsoft apps serving millions of users.
Accompli (Outlook)
Bing
Cortana
Datazen
Groove Music
Lync
MS Health
MSN Apps
Office Lens
Office Sway
OneDrive
Remote Desktop
Skype
Sunrise
Wunderlist
Around the bend
If we consider our computing habits one thing is clear. The future of mobile computing is "device-less." Not in the sense that we won't continue using devices. But in that there is a paradigm shift underway where personal computing is no longer dependent on the devices we carry or use at home and work. As we begin tasks on one device and complete them on another, we are beginning to embrace the reality that much of our personal computing is happening beyond the bounds of any device we possess.
This shift is occurring naturally. The company that has a pervasive presence across all platforms including its own, and supports hardware and software that seamlessly transitions with a user's cloud-based computing needs, will be positioned ahead of the curve. Microsoft's that company.
Microsoft is forging a foundation for tomorrow's computing experience. They were behind the curve when the smartphone became the primary computing device. Their pioneering of a path to computing beyond the phone proves that there has been a lesson learned.
Windows everywhere
Microsoft is serious about the cloud.
Of the three major players in the cloud (Amazon, Google) Microsoft's is the fastest growing. 80% of Fortune 500 companies are on Azure and 40% of the division's revenue is derived from smaller startups and software vendors. And just as natural clouds are an indiscriminate covering, Microsoft Cloud supports all platforms.
Windows 10 is the only platform that uses the same OS core across all form factors. This provision enables a universal app platform where an app can be written once and with minor tweaking fit all devices.
The introduction of the Windows 10 Companion App to tie iOS and Android users closer to the Windows ecosystem further extends Microsoft's mobile reach.
Look who's talking
Cortana, Microsoft's Bing-backed AI is now available on Windows 10. "She's" the only digital assistant available on PC. "Her" transition to Android, including deep integration with Cyanogen, and coming move to iOS will make "her" the only digital assistant available on virtually all major platforms.
"Her" integration in Microsoft's Edge browser along with her deep integration in Windows naturally gives those all in with Microsoft a fuller "Cortana" experience.
Take note. Cortana, for Microsoft, is much bigger than reminding you to get toilet paper when you leave work. Cortana Analytics is big business. Using machine learning, perceptual intelligence, and the cloud, Cortana is crunching data to help businesses and healthcare make data-driven personalized decisions.
We'll manage
Microsoft's goal is to go beyond an app presence on all mobile devices. Redmond wants to be the force managing those devices. Via Microsoft Intune Microsoft is equipped to manage any device on any platform in the enterprise environment. Thus, Microsoft becomes the mobile device management platform while also powering productivity on those devices. That's a comprehensive mobile power play.
Out of the box
An exciting Windows 10 feature is the ability to stream games from the Xbox to other Windows devices. With Windows 10, gaming takes a front seat across the entire Windows ecosystem. From PC to Hololens, gaming is out of the box.
Mobile devices like laptops, tablets and 2-in-1's will certainly benefit from Microsoft's renewed focus on gaming. Just imagine how future high-powered Windows 10 "phones" will fit within this gaming paradigm.
On the Surface
The Surface was designed to inspire OEMs to create hybrid devices that take advantage of Microsoft's Continuum empowered OS. Microsoft's innovation was so revolutionary that it was mocked initially. Ironically rivals like Apple and Google now recognize the industries shift toward a single device paradigm.
Apple's iPad Pro and Google's Pixel C reflect these firms acknowledgment of the value of hardware that shifts to fit a user's need. Though these devices are clearly mimicking the Surface's successful hardware design, there's a problem.
While rivals were mocking Microsoft's Surface and their single OS ambitions, Redmond was steadily perfecting that universal platform that would power the form shifting hardware.
So though both Apple and Google now provide Surface-like hardware, neither iOS or Android are part of a universal platform. Apple and Google cannot provide the seamless transition of a user's computing experience as comprehensively (work and personal) as Windows does.
Hololens and Microsoft Band
Like everything else Microsoft, both Hololens and Microsoft Band will run Windows 10. Both also use Microsoft technology that is available to OEM partners. Partner OEMs can license the Band's sensor technology, for instance, thus extending Microsoft's presence in the wearable's sector. Additionally, Windows Holographic is part of Windows 10. It is Nadella's expectation that OEMs will be inspired to build Hololens-type wearable computers in the future.
Of course, the band and Hololens fit seamlessly into Microsoft's Windows environment.
Beyond the smartphone
Nadella recognizes that what we currently identify as a smartphone, that 5"-7" personal computer, may not be our primary computing device in the future. As mobile devices replaced the PC it would be naïve to think smartphones will persist as our primary "computer" indefinitely. As I shared in the opening, that shift is already happening.
It is becoming clearer that the primary computing "device" is the cloud. Where a user's experiences exist in a formless, device-less state.
This transition is where Microsoft has made its play. Through cross-platform apps, a single OS, a universal app and gaming platform, a ubiquitous cloud, a device management platform and Continuum Microsoft is positioned for the "device-less" future.
Microsoft will provide its own first-party, context sensitive hardware. These devices will be in the premiere position (more than Apple and Google) to take full advantage of the company's investment in the cloud as a platform.
Nadella has promised that Microsoft experiences will be best on Microsoft devices. If Redmond delivers on a Surface and OneNote type experience more broadly across its family of devices, its Continuum enabled "phones" will certainly be positioned beyond the curve.
Finally, the word "phone" no longer adequately defines the devices we carry. As such, I believe Microsoft will begin (and may have begun) abandoning the word "smartphone" when referring to its devices. Windows "phones" will transcend the current idea of a smartphone due to their position to optimally benefit from the universal Windows platform, the Microsoft Cloud platform, and Continuum.
Yes, it is clear that Apple and Google, with their "Surface-like" devices, recognize now what Microsoft recognized years ago. Users computing needs are transient and exist beyond the device. But form-shifting hardware without the universal, device management and cloud platforms to support it do not position those companies for the "device-less" future. This time, Microsoft is positioned beyond the curve. And the competition, rather than mocking is mimicking, is no longer laughing.
Get the Windows Central Newsletter
All the latest news, reviews, and guides for Windows and Xbox diehards.
Jason L Ward is a columnist at Windows Central. He provides unique big picture analysis of the complex world of Microsoft. Jason takes the small clues and gives you an insightful big picture perspective through storytelling that you won't find *anywhere* else. Seriously, this dude thinks outside the box. Follow him on Twitter at @JLTechWord. He's doing the "write" thing!