Why Microsoft is positioned beyond the mobile curve, leaving behind Apple and Google
By Jason Ward last updated
Microsoft's ahead of the curve in mobile! That sounds crazy, I know.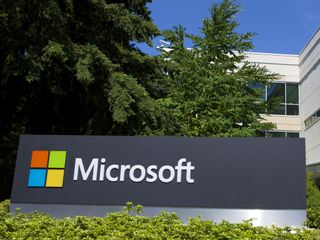 (Image credit: Windows Central)
It's especially crazy considering that Microsoft has only 2.7% share of the smartphone space. Apple has over six times that with about 17%. And market leader Android has nearly 30 times Microsoft's share with about 80% of the market.
Still, Microsoft is ahead of the curve in mobile, and I'm going to tell you why.
Apple bites
On September 9th, 2015, onlookers were shocked into silence as the presenter at Apple's "Hey Siri" event called Microsoft onstage to demonstrate Office on Apple's new Surface competitor, the iPad Pro. The presenter affirmed Microsoft's dominant position in productivity by preceding Kirk Koenigbauer's appearance onstage with the line "Who knows better about productivity than Microsoft?"
The fact that a touch-friendly version of Office was demonstrated on Apple's new mobile device instead of Apples own productivity suite makes the very clear statement that Microsoft knows mobile productivity.
Microsoft, the soul of the machine
A clergyman would ask, "What is a body without a soul?" A techy would ask, "What is hardware without software?" Each would answer that both are empty shells with no internal force to direct the external form. What's on the outside indeed matters.
It is telling that on September 9th, the most valuable company on earth, known for its exquisitely designed and sought after hardware, brought Microsoft onstage to imbue life into its newest tablet. Redmond demonstrated how mobile productivity would work on Apple's new productivity positioned iPad. A device strikingly similar in form factor and accessory design to Microsoft's Surface mind you.
Yes, a device made in Microsoft's Surface's image, also had life breathed into it by Microsoft's productivity software. This demonstration was a humble concession by Cupertino.
Microsoft's move to be the mobile ecosystem with which users interact, regardless of the platform a user's device was designed for doesn't end with Office. The following are just some of the cross-platform Microsoft apps serving millions of users.
Accompli (Outlook)
Bing
Cortana
Datazen
Groove Music
Lync
MS Health
MSN Apps
Office Lens
Office Sway
OneDrive
Remote Desktop
Skype
Sunrise
Wunderlist
Around the bend
If we consider our computing habits one thing is clear. The future of mobile computing is "device-less." Not in the sense that we won't continue using devices. But in that there is a paradigm shift underway where personal computing is no longer dependent on the devices we carry or use at home and work. As we begin tasks on one device and complete them on another, we are beginning to embrace the reality that much of our personal computing is happening beyond the bounds of any device we possess.
This shift is occurring naturally. The company that has a pervasive presence across all platforms including its own, and supports hardware and software that seamlessly transitions with a user's cloud-based computing needs, will be positioned ahead of the curve. Microsoft's that company.
Microsoft is forging a foundation for tomorrow's computing experience. They were behind the curve when the smartphone became the primary computing device. Their pioneering of a path to computing beyond the phone proves that there has been a lesson learned.
Windows everywhere
Microsoft is serious about the cloud.
Of the three major players in the cloud (Amazon, Google) Microsoft's is the fastest growing. 80% of Fortune 500 companies are on Azure and 40% of the division's revenue is derived from smaller startups and software vendors. And just as natural clouds are an indiscriminate covering, Microsoft Cloud supports all platforms.
Windows 10 is the only platform that uses the same OS core across all form factors. This provision enables a universal app platform where an app can be written once and with minor tweaking fit all devices.
The introduction of the Windows 10 Companion App to tie iOS and Android users closer to the Windows ecosystem further extends Microsoft's mobile reach.
Look who's talking
Cortana, Microsoft's Bing-backed AI is now available on Windows 10. "She's" the only digital assistant available on PC. "Her" transition to Android, including deep integration with Cyanogen, and coming move to iOS will make "her" the only digital assistant available on virtually all major platforms.
"Her" integration in Microsoft's Edge browser along with her deep integration in Windows naturally gives those all in with Microsoft a fuller "Cortana" experience.
Take note. Cortana, for Microsoft, is much bigger than reminding you to get toilet paper when you leave work. Cortana Analytics is big business. Using machine learning, perceptual intelligence, and the cloud, Cortana is crunching data to help businesses and healthcare make data-driven personalized decisions.
We'll manage
Microsoft's goal is to go beyond an app presence on all mobile devices. Redmond wants to be the force managing those devices. Via Microsoft Intune Microsoft is equipped to manage any device on any platform in the enterprise environment. Thus, Microsoft becomes the mobile device management platform while also powering productivity on those devices. That's a comprehensive mobile power play.
Out of the box
An exciting Windows 10 feature is the ability to stream games from the Xbox to other Windows devices. With Windows 10, gaming takes a front seat across the entire Windows ecosystem. From PC to Hololens, gaming is out of the box.
Mobile devices like laptops, tablets and 2-in-1's will certainly benefit from Microsoft's renewed focus on gaming. Just imagine how future high-powered Windows 10 "phones" will fit within this gaming paradigm.
On the Surface
The Surface was designed to inspire OEMs to create hybrid devices that take advantage of Microsoft's Continuum empowered OS. Microsoft's innovation was so revolutionary that it was mocked initially. Ironically rivals like Apple and Google now recognize the industries shift toward a single device paradigm.
Apple's iPad Pro and Google's Pixel C reflect these firms acknowledgment of the value of hardware that shifts to fit a user's need. Though these devices are clearly mimicking the Surface's successful hardware design, there's a problem.
While rivals were mocking Microsoft's Surface and their single OS ambitions, Redmond was steadily perfecting that universal platform that would power the form shifting hardware.
So though both Apple and Google now provide Surface-like hardware, neither iOS or Android are part of a universal platform. Apple and Google cannot provide the seamless transition of a user's computing experience as comprehensively (work and personal) as Windows does.
Hololens and Microsoft Band
Like everything else Microsoft, both Hololens and Microsoft Band will run Windows 10. Both also use Microsoft technology that is available to OEM partners. Partner OEMs can license the Band's sensor technology, for instance, thus extending Microsoft's presence in the wearable's sector. Additionally, Windows Holographic is part of Windows 10. It is Nadella's expectation that OEMs will be inspired to build Hololens-type wearable computers in the future.
Of course, the band and Hololens fit seamlessly into Microsoft's Windows environment.
Beyond the smartphone
Nadella recognizes that what we currently identify as a smartphone, that 5"-7" personal computer, may not be our primary computing device in the future. As mobile devices replaced the PC it would be naïve to think smartphones will persist as our primary "computer" indefinitely. As I shared in the opening, that shift is already happening.
It is becoming clearer that the primary computing "device" is the cloud. Where a user's experiences exist in a formless, device-less state.
This transition is where Microsoft has made its play. Through cross-platform apps, a single OS, a universal app and gaming platform, a ubiquitous cloud, a device management platform and Continuum Microsoft is positioned for the "device-less" future.
Microsoft will provide its own first-party, context sensitive hardware. These devices will be in the premiere position (more than Apple and Google) to take full advantage of the company's investment in the cloud as a platform.
Nadella has promised that Microsoft experiences will be best on Microsoft devices. If Redmond delivers on a Surface and OneNote type experience more broadly across its family of devices, its Continuum enabled "phones" will certainly be positioned beyond the curve.
Finally, the word "phone" no longer adequately defines the devices we carry. As such, I believe Microsoft will begin (and may have begun) abandoning the word "smartphone" when referring to its devices. Windows "phones" will transcend the current idea of a smartphone due to their position to optimally benefit from the universal Windows platform, the Microsoft Cloud platform, and Continuum.
Yes, it is clear that Apple and Google, with their "Surface-like" devices, recognize now what Microsoft recognized years ago. Users computing needs are transient and exist beyond the device. But form-shifting hardware without the universal, device management and cloud platforms to support it do not position those companies for the "device-less" future. This time, Microsoft is positioned beyond the curve. And the competition, rather than mocking is mimicking, is no longer laughing.
Jason L Ward is a columnist at Windows Central. He provides unique big picture analysis of the complex world of Microsoft. Jason takes the small clues and gives you an insightful big picture perspective through storytelling that you won't find *anywhere* else. Seriously, this dude thinks outside the box. Follow him on Twitter at @JLTechWord. He's doing the "write" thing!
Daniel - give this guy a raise :-) OMG.. good write up.

I completely agree.. He deserves a drink...

This article shows how Microsoft could care less about the fanboy...including all the MSFT fanboys on this site whining about why Cortana is now on Android or Office 2016 was on iOS first. They all are missing the bigger picture.

Everybody should read this before 10/6. So we know that getting a L950 or L950XL is not just getting a phone, we entering the future. We will be a part of big picture. :-)

Almost everyone misses the biggest picture. The adaptable OS and the fledgling steps of Windows 8 were mocked by how many people? But now those same people will copy. It's amusing, I think, more than anything else. If you think about it, everything Microsoft builds is for OEMs to copy so that the MS OS can be what they use. Well, if we change OS to services then it all fits quite nicely.

No the big picture is if MS can successfuly deploy these ideas. Win 10 is literraly what Win 8.1 was supposed to be. Its like Win8 is what Vista was for Win7. I love the idea MS has. Its the reason why I got an xbox over a PS4. For Win10 support and integration. And I plan on getting a Surface 4. And until I see MS actually deliver on their promise they have been making for the past 2 years, im holding off on the phone. I hope they succeed. Because I love their idea. But so far all MS shows is lack of organization and commentment. Dont be suprised if you have to wait for Win11 before you can use azure and be on a unified ecosystem.

The fact that you can't spell "commitment" and used the term "windows 11" makes your post seem pretty unedcuated.

Don't call out spelling unless yours is perfect. "Unedcuated" is not a word.

got him on his own problems. nice :)

there won't be win11. it's going to be windows10 forever.

Lol it seems like MS is the only one who hasn't thrown in the towel for office software whereas sun, ibm, & now apache all have given up on their productivity suites(well ibm is still selling licenses to businesses)

Most of the people don't have problem with MS offering software on the other plateforms, people are whining about why many softwares are of lesser quality than Android & iOS & a lesser extent to the launching timeline.

This article can also be added to the pile of articles that articulate why, exactly, there is no value in buying a Windows Phone. Which to many who have supported that platform, is quite upsetting.

I consider myself a MS-Fanboy because they are spreading arround all platforms. This is the big difference to Google (Android only, not one app on Windows 10). Apple seems to recognize this too now, and starts to open itself a bit more.

This was brilliantly written!!!

Totally agree. One of the best written, and most knowledgeable articles written about the future of Microsoft I have read in some time.

Totally agree! Jason Ward's articles are usually must reads. He provides cogent arguments and well made thoughtful points.

Yep! Jason is the bomb, and he tends to see deeper into MS and Windows than most of us do (myself included). Of course I'm cheering for Windows Phone, more than either of the others (even though I'm typing this on an iPhone). But MS's success or failure doesn't ride on the phone. I'm glad they haven't abandoned the phone - VERY GLAD! But what they HAVE done is TRANSCENDED the phone! In one sense the phone still matters, because it's part of the "whole package" more deeply engrained ecosystem that Microsoft wants to hook us on (hence why they haven't abandoned it, I imagine). But in another sense, the phone almost doesn't matter anymore as the being ahead of the curve, their survival and thriving as a company, and the accompanying plans for world domination that come with all that no longer depend on it. If phone succeeds, WONDERFUL, and they are clearly making an effort to make that happen (and I think 10 and Continuum give them much better odds than they've EVER had!) But if it doesn't? Then from a business plan perspective, it's only a few rungs above "oh well" for the company (though it would most certainly make all us Windows Phone fans very sad.) I couldn't imagine a better situation for a company with less than 3% of the mobile market to be in, frankly! That's so "Magnavox" (smart, very smart)! Sneaky, Microsoft, very sneaky!!! Keep up the great work, Jason! Cheers!

@JAySeeDoubleYou as usual thanks for the support man. I really appreciate it. Your input is always well articulated. ;-)

@cdb033 Thanks so much for the support!

The best article on this site. Ever

Thanks so much I really appreciate the support. HEY EVERY if you're reading this in the app check it out in the browser for some interesting Sways that I included to help tell the story!:-)

Very well written Jason! Is this article just featured here or in all mobile nations community? Just curious. ;)

@TheVolcanlogist Thanks so much. Yeah its just here at Windows Central. Editorials are not cloned to all the sites. But feel free to SHARE! SHARE! SHARE! :-)

Hold on.... Doesn't iOS, and OSX share the same core?

iOS shares with OS X some frameworks such as Core Foundation and Foundation Kit; however, its UI toolkit is Cocoa Touch rather than OS X's Cocoa, so that it provides the UIKit framework rather than the AppKit framework. It is therefore not compatible with OS X for applications. Also while iOS also shares the Darwin foundation with OS X, Unix-like shell access is not available for users and restricted for apps, making iOS not fully Unix-compatible either.

No. There are some core frameworks that are shared (think .NET in Windows terms), but the base OS kernel is very different. And even with those shared frameworks, it's not trivial to bring an iOS application to OSX. In fact, with Microsoft's new bridge technologies, it may soon get to be much easier to bring an iOS app to Windows than it'll be to bring it to OSX.

"In fact, with Microsoft's new bridge technologies, it may soon get to be much easier to bring an iOS app to Windows than it'll be to bring it to OSX." Exactly the plan all along.

No. Apple thought that we be like crossing a toaster with a refrigerator. That would never work...

I want that now, I mean, there are refrigerators with ice makers, why not with toasters xD

Or maybe get Jay to update this ancient app to an universal one? Its been over a year that we've been told its in making. Microsoft made an OS in the same time! And Google stole 3 countries worth of data.

I agree. Fantastic article!

@HighdefJunkie Thank you for the support!

Awesome,superb information. Very well written. #Jasonward

@Souravms Thanks so much. I appreciate that!

This is some amazing writing for sure, I look forward to more of this kind of stuff on the site.

@Roun Thanks for the kind words. Much appreciated! :-)

we all need to pass this on to as many people we can on this planet. people need to see this. I've already shared it on my twitter. Very good and informative.

Thanks for the share! I appreciate that!

@ushah Thanks for the positive feedback!

Great stuff. And minutes later Candy Crush Soda is released for Windows 10. Amazing prescience...

@Chris Much appreciated man!

Excellent piece, to the point, never condescending or talking down anyone or anything. Very, very nicely written.

@paulheu I really appreciate your support. Thanks you!

Microsoft's vision set by Nadella is pretty clear. The tough part is implementing the strategy before its competitors do or some 'known unknowns' coopt the strategy and change the entire landscape. The challenge for Microsoft is that the installed base is not only Windows anymore and Apple and Google have their feet in the door now.

Microsoft is well aware of that. MS knows the competition will try to re-write their OS and make a solo one. However, by the time they're done, Micosoft will have the lead and by then it will be too late. BTW, "too late" has become the fav expression for all MS haters. All this time while people have been complaining about MS moving too slow is because a lot of is being done in the back-end and at the same time using the competitors as testbed for their services

Under Nadella's regime, you don't hear that Microsoft is moving too slowly very often anymore. What people wonder more about now is will Microsoft deliver on his vision and still generate huge profits.

Google and Apple can't rewrite an OS without killing their user base, Microsoft did this much earlier

Apple and Google don't have to rewrite their OSes because they didn't suck in the first place. Windows 10 certainly is going to make them rewrite them either. Microsoft will just end up dumping theirs again when it fails like the last few times. They have nothing that will change their fortunes in mobile. Posted via the Windows Central App for Android

Oh no! Cry cry baby. Cry me an ocean.

Anyone who thinks that iOS, OSX, Android or Chrome come anywhere near Windows in their design or complexity knows nothing, zero, nada, zilch about software. They are on completely different scales. "Windows 10 certainly is going to make them rewrite them either." What on earth does that mean?

I hardly ever read any article or write up that's this long...but this..i read in its entirety. Hats off my man!! Kudos. Keep writing articles like this!!!!

@KM2612 Thank you for the encouragement and the support. I will strive to keep supplying the great content for all of you! :-)

More well written articles like this please. More opinion needed in reviews along with ratings out of 10. Hopefully the app bridges will launch this week. We need the apps, it is the main reason why I may not upgrade to a 950xl. If the apps don't come, I think the whole platform may fail.

@danielgray thanks for the kudos!

The whole article is based on 'hope'. Which many of us are having for a longtime. It might go either way.
Though a nice piece again Jason.

Hope? Sure some hope, I guess, but a lot of this is already happening. MS has the cloud, not exclusively, but they are very successful there. They have their apps on every platform and people are using them. In many cases, they have their competitors apps running on their cloud. Much of Apple's cloud service runs on Azure (though smartly also in Amazon). They are well on their way in most of the areas talked about except phone and mobile tablet, and they are seeing a lot of success with the tablet front.

I agree completely. Its a well written peice but this is hoping things work the way they are being described. Truth is as of yet I dont feel a complete flow between my devices and they have been trying to make this type of move for years. I want to really see Microsoft deliver finished products instead of semi-good apps that will be updated down the line, as they did in windows 8. I dont know... My hope is dying out and Windows 10 will be the last time I venture into the Windows Mobile game.

..... Well we'll all find out Tuesday October 6th if they'll deliver a finished product and finally see a flow between all devices mobile! I really really hope Microsoft blow it out the water come next week. There better be alot of stuff they're holding close to their vest.

While don't have developers interest in the platform windows phone- mobile there is not much to do, can still ahead Microsoft with the business but what if isn't treated of the same way to IOS - Android, ie in Chile the expressway that use almost every day don't have an app for windows phone just for IOS Android then don't know if the idea of universal apps would be acceptable in certain apps that be only for use in roaming or mobile environments. By the way I moved to Android because got sick of the lack of interest of developers, and my patience from 7,5 just is over. Posted via the Windows Central App for Android

Here, in the UK, we are seeing more apps becoming available for Windows Phone. Knowing people who are working for tech start ups here, many are using Windows 10 as their base because of the Universal apps. However, some are also reprogramming from iOS and Android, until the app bridge becomes available.

"Truth is as of yet I dont feel a complete flow between my devices..." What flow is that? The work starts on one device and is finished on another, right? Are you talking about how much work you can get done on one device before moving to another? It's hard to guess what your specific issue is without examples but but i'd argue that you may be speaking rhetorically. This article is heavily focused on Microsofts productivity dominance and in that arena it delivers the most finished products available. Until such time as the Office apps on the smartphones have feature/ergonomic parity with Office on say the Surface, the minor differences are largely moot points since all projects will make their way back to lap or desktop version that has favored Windows devices.

The article has nothing to do with hope. It is about strategy not tactics. Long term not short term. This article lays them out clearly and even the title is very well chosen.

It is all hope. Hoping their strategy of abandoning their own platforms somehow works out. It will only make them even more marginalized. Posted via the Windows Central App for Android

@Aman2901 Thanks for the feedback. Well actually it is based on what Microsoft is in fact doing. Sure any number of things can contribute to their success or failure. But I clearly base my argument on what Microsoft is doing in different categories on one platform. :-)

@PrasannaENG Thanks so much!

Great piece! I've been saying this for the past couple years to my friends, who look at me like I'm a lunatic. At this point, MS needs to deal with their brand issue, more than anything else. People still look down their nose at them. Hell, most people don't even know they make phones. If they can create a commercial campaign the resonates, they have a shot at recapturing the hearts and minds of consumers.

Convincing people is a tough task......

well, if you are an brainwashed/brainless iSHEEP, YES, its hard. People with Higher IQ, gets it right away, and no need to be convinced, like how EVIL, Lying, Misleading, Copying EVERYTHING, Pretending, Fooling,...............CrApple is. I got it right away from day one, when Steve COPY Jobs, start copying from SONY and fooled low IQ people, that he was an inventor and he invented things that was already here and been used for YEARS.

Judging by your username and all of your posts, you're a sheep also. Just a different kind of sheep. I mean crApple? Really? How old are you?

Well said. Even after all the ways Microsoft is making themselves platform agnostic there are still people who are blindly fighting against the very companies Microsoft is embracing. Thats taking the sheep mentality to a whole new level.

They tried to revive their image with Windows 8, which I thought was a great move to future devices. I think they need to deliver on a seamless experience. I want my notifications to sync across devices. If I read a mail/ notification on one device, it should reflect on the other. Feature wise, there are still some fundemental features, I want. Microsoft Pay, Text Messaging on my PC as it's done on Mac. Etc. I really had high hopes but with the state of things, in the mobile department, they are playing catchup with features. I'm excited for Continuum and will get 950 XL but i'm tired of waiting for these features and having to wait for Apps

Android has had the notifications thing for a couple years now and so has iOS I think. There is a reason people don't use Microsoft mobile platforms, they are so far behind. Posted via the Windows Central App for Android

Nobody knows about the surface. They think that Apple is the one to bring this design! I hope perception changes!

I don't know of a single person that doesn't know what the Surface is, even die hard Apple fans.

@longcipher Thanks fort he positive support and your addition to the discussion. :-)

In before the hate comments .

very well written Author .. Microsoft is Competing very well with following companies : 1. Sony in terms of Gaming Console, 2. Google in terms of Search Engine (Bing now with 20% share Googlelink), 3.Google/Apple in terms of Mobile OS, 4. DropBox/Google in terms of OneDrive offering. 5. Apple/Samsung in terms of Surface/Lumia Hardware, 6. SAP in terms of ERP by Microsoft Dynamics, 7. Salesforce/SAP in terms of CRM, 8. Amazon/Google interms of Cloud Business, 9. Gmail/Yahoo Mail in terms of Email business, 10. Oracle in terms of Database Engine, 11. IBM Lotus Notes with Microsoft Enterprise Solutions 12. Antivirus companies becasue even Microsoft came up with their
inbuilt free Antivirus Windows Defender which is too awesome and secure. 13. IBM DB2 with SQL Server 14. Somewhat Red Hat Linux Server Business with Windows Server 15. Eclipse/Netbeans with their Visual Studio. 16. In past even with Adobe with their Microsoft Silverlight and Expresssion Studio. 17. Competing BI Tool companies with their Power BI 18.Microsoft Sharepoint has standout uniquely. 19. Microsoft Azure Stack is unique. 20. Microsoft Azure ML is really most easiest approach to get work done through quite Sophisticated technique called as Machine Learning, earlier it was never this much easy to use ML. 21. Competing withOracle in terms of Programming Language Java vs C#, 22. Google Docs in terms of Office 365 , 23. Google in terms of Browser War through new awesome Edge browser, 24. Messengers & Online Communications in terms of Skype, 25. Some open source developement frameworks with .Net Framework(.NET also goes open now) 26. Google Maps with their Bing Maps. 27. Apple Siri , Google Now with Microsoft Cortana. 28. Open Office with Microsoft Amazing Office for Desktop 29. Few Service based companies with Microsoft Service Division MS GD. 29. Virtual Reality based companies now with newly launched awesome Microsoft Hololens. 30. Microsoft even produces keyboards/Mouse/Cameras and more hardwares. 31. Gaming Software companies by creating awesome Games.(Minecraft,Halo ,Age Of Empire are just few among many amazing games by this Software Giant) 32. Cisco Web Ex through their Skype for Business(Lync) Conferencing.. Microsoft is compteting with even more companies
This list is even much bigger and somehow endless... Best thing is their competitors are their partners also, it is healthy competition which is good for end users. source Quora https://www.quora.com/As-of-2015-is-Microsoft-a-more-exciting-place-to-w...

Some are already mentioned in the article.
Some I knew for the first time.

Skype for Business also competes with Adobe Meeting. When you look at this list, it is amazing that one company could put up quality alternatives to products other companies devote a lot more resources to in terms of a percentage of their revenue.

Woah! This list is brilliant!

Forgot microsoft band but as you say list is bigger

Good list. This doesn't even include a lot of the areas where MS has won and their competitors are gone. Novell Netware comes to mind and Exchange server is another example. Average consumers are only noticing what happens in mobile and they like to declare that MS is dead. Meanwhile, MS is competing in nearly every area of technology and they are first, second, or third in nearly every product line. It's really quite impressive how diversified and successful they are in the tech industry.

Yeah, that's why they're poised to win. Cut a head and two more will grow! Umm, I guess not a beneficial comparison haha.

Yeah, not the greatest example ever, but we get your point, nonetheless.

This makes you pause and think about how much work they're trying to execute. It makes you understand why they have hiccups and stumbles. This is an unwieldy amount of verticals to manage effectively, and if they can take the lead in even a third of these areas they're going to be at the top of the tech industry.

Wow thanks for sharing this awesome info!!!

List is awesome. Thanks for sharing. Posted via the Windows Central App for Android

Bing is actually at 30% (in the US) as they also power Yahoo search.

Impressive.....i have taken snapshots of your findings.

Cant help myself to comment, been following this site for couple of months lately since I can no longer access /r/windows on rediit or the enitre site was blocked and I almost got fired browsing it..anyway Microsoft has a lot of products and working in customer service is excruciatingly challenging especially presales info...ughhh, I'm just glad they always give out keys for Office and Windows. Will be celebrating my 4th year this month. BTW, nice article Jason. Keep it up, site like this keeps me resilient. Note: not working directly from Microsoft but thru a vendor.

@AbhishekGupta07 Thanks for the support and the comprehensive list. Great stuff!!!

Well, yeah, this isn't news: Microsoft is re-positioning itself as a suite of software services across all platforms, even if their own Windows mobile effort doesn't end up going anywhere. The whole piece read like a release from the PR department in Redmond, that you'd find on pamphlets in the home office lobby.

I agree, you will get downvotes because we are all Windows fans but I think its smart to have an aposing side to be critical of what is still needed.

We'll see where windows mobile goes. We've been using for years now and its patience that has bought us here so if we have waited so long why not a little longer.

Haha don't give MS PR dept. this much credit. Only reason why MS is alive is because they make great products that speaks for itself, MS PR is a joke.

The business is changing and the article points that out clearly so every one can understand. What is wrong with that?

Great read! Really interesting!

@leonfunes32 Thanks for the support leon!

*Leonel. But I'm not upset since I'm too happy with what Microsoft showed today!

I copulated with a spam bot last night.

Interesting read. Especially when you consider the growing trend of firms abandoning platform specific apps in favor of platform agnostic mobile sites. There is going to come a day when "available on iOS" is no longer a badge of honor but a signal of wasted resources.

I sure hope so, it irritates the ever-living heck outta me...lol =p

What, that mobile developers flock to iOS? It is what it is; Microsoft has accepted it (those software bridge efforts speak to that), so you guys should too. Most of the more innovative new application development is happening on mobile these days, and mostly on iOS. I can't think of any new Silicon Valley hot start-up that has Windows development as the center of their strategy.

They are all following the same game plan: Develop for iOS
Release App
Get rich
Hope to be bought out by bigger company. Problem is that looks eerily like what happened in the dotcom bubble. Couple that with the knowledge that almost 90% of iOS apps are never used and you have a situation where these start-ups are simply the technology version of betting.

it may look like the dot-com bubble if you don't know what or why the dot-com bubble was. the significant difference in plot is that app devs have something tangible to sell and have created a history of selling that product and actual profits to speak of unlike the startups of the dot-com bubble.

Good luck powering your Parrot drone, Nest thermostat, guitar amp and Go Pro helmet cam, from a website. Let me know how that works out.

Drone: Fair enough Thermostat: I already can. It's not a Nest, but it does the same thing and I can access it from my work computer's IE. Amp: Why the hell do you need an app for that? Seems a bit overkill. GoPro: Fair enough The only two on this list that would actually require a specific app are also those that have hardware to go along with it. Most apps are simply custom store-fronts or special services that could honestly be built into another app. There is no reason for Target to build an app for every platform when they can build a single mobile website you can use on any platform.

Specifically a Parrot drone? Or all Drone's, b/c plotting a Drone's flight path, departure & arrival time, telling it when & what to image etc, that's coming very soon if its not already possible. They're already doing it in the military...might not be from a webpage, but the Navy already has 2 autonomous (loosely defined) demonstration drones that can land & take off from aircraft carriers...all controlled using pre-programmed instructions sent remotely to the aircraft. I mean, they've been able to change a guided missle's target mid-flight for years... Not hard to envision a Go-Pro with a cell radio in it for controling remotely...aren't security firms already doing this with wireless security cameras? (allows images to be instantly uploaded to the cloud so if the camera is destroyed, the footage is preserved). Ok...I'll grant you the guitar amp...but where's the use case to warrant that need?

Actually, most of that can already be done using HTML 5 as the front end. That the local application is a browser doesn't mean there isn't a local application.

Pretty much anything you can do in an app you can do on a website and if you utilise the cloud then a lot of things can be done even better. Both websites and apps are really just different UIs, I actually prefer native apps if they are well written and well designed because usually they will perform better, feel more fluid and have better integration with the device you use, however, when you are talking about switching a light on and off or changing the temperature for me it really makes no difference if that's an app, a website or if I have to get off my ass and press the real light switch. The mobile web still has a long road ahead, but in technology doesn't everything?

What raging jackass uses an app for their guitar amp?

We're a long way from that - especially with new hardware. Its crazy I see everything from blood pressure monitors to lightbulbs home automation and security to coffee brewers all set up to be configured and communicate with your smartphone through an app, not the PC, not through a generic web portal the company has to maintain. I see this trend as the hardest thing WP users face as far as new technology goes and its not slowing down.

I would love to that day to come but what firms are doing that?

Guitar amps do use apps. For example TC Electronics Toneprint apps programme the tone controls, distortion etc

Couldn't agree more. The whole concept of apps is so unbelievably backward. It boggles the mind that Apple still brags about fragmenting even rudimentary computing tasks. Nevermind the fact that people are still pressed about not having a million apps in the MS Store that none of us will ever be able to curate.

Its not the number of apps thats the issue, its the lack of either quality apps or 1st party apps for popular services.

@bobsentell Thanks for the support and additon to the conversation!

Outside of just that I agree with this article. I must say this was very well written good job man

Well written, I agree wholeheartedly. It has been clear for a while that MS has been headed in a more positive direction. I think its all too easy for people to get stuck in the minutia and not see the bigger picture, at least until it is in full focus.

Excellent article. I'm in full agreement; however, the million (billion, trillion) dollar question is whether Microsoft will deliver or allow others to catch up and surpass.

Do you have a sway for this one too? =D

@MediaCastleX Why yes I do. :-) About three or four actually. Check it out!

Hard to figure where the money is coming from for Microsoft in this cloud world...

Subscriptions, licensing, and ads

Have a look at the pricing pages for Azure. Then go to TIL on reddit. Azure is boss, I use it for all my solutions.

That's the plan, and it has great potential. It really is a HUGE deal that they aren't pinning their hopes on devices and consumer perception. One day the consumer will turn on either the smartphone or Apple, and then they won't have any legs to stand on. Microsoft is dominant in the significantly more stable business end, and the device agnostic approach is just so forward-thinking...that being said, only time will tell if it works out...

OMG not a negative microsoft article!!!! WTF ;-)

I hate to say it but none of this matters a bit. All people care about is the apps. That is all that really matters.

Honestly, if they're on all the mobile platforms...the 'Apps' aren't an issue. The answer is 'All of the Above'...

Did you read the article? That's what MS is focusing on - the apps. They have them and they are running everyone elses in their cloud. They arent trying to make their money selling overpriced hardware. Thats not the money they are going for. They want to own the world all those device connect to. I give it 5 more years before the smartphone becomes a commodity. Any $99 smartphone will run every app and do anything any "flagship" can do - much like what we've seen happen to the PC. Remember when people used to spend $3000 in 1980's money on a PC? Years later, you can get a perfectly capable machine for $400. The same will happen to the smartphone.

Most $400 PCs suck, even in the Windows world. I don't think that you can really get a nice PC for less than about $800 and I have never spent less than $1000 on a PC (desktop or laptop or all in one). That said, Microsoft has also said that they will offer the ability for web applications to run with permissions more in line as an App on Windows 10. I personally look forward to the post-app world, and what Microsoft is offering might be the solution. I am not a fan of walled off apps overtaking the open web.

It depends entirely on what you are doing. The $400 PCs I've seen have been perfectly capable. I bought a $500 Lenovo all-in-one in 2013 as an office computer. Its used daily, does all the finances, payroll, check printing, etc. Just updated it to W10 and its still running great. It wont play many of the latest games, but its perfectly capable for general office tasks and runs any app from the store.

That is entirely true (the usage). I have a hard time buying a mobile computer with a sub-par screen and typically that is one of the primary areas where the lower priced machines are lacking.

Take almost any cheap PC and replace its hard drive with an SSD. Seriously, try it. You'll breathe new life into that device with a sub-$100 purchase like you would not believe. And as for building awsome PCs for well under your budgets, I would like to introduce you to https://www.reddit.com/r/PCMasterRace/wiki/builds (even their super-duper-end-all-crush-everything-in-its-path PC costs less than $900... and every single one of those PCs can be significantly improved by simply adding an SSD into the mix). Keep this link in your bookmarks, as it is updated often, and on the day you're ready to buy, you can pretty much pick your purpose and have your shopping list ready to go and save yourself hours, days, or even weeks of research.

Great article... Although for better or for worse one thing comes to mind as usual with Microsoft: Soon.

You see soon I see on going and always evolving

@Nimdock Thanks for teh feedback. Wat do you think now that the Windows10devices event is passed?

Not the first time MS has been ahead of the curve. In fact, other than phones, I would say they are almost always ahead of the curve. But it won't be the first time the press and public perception dooms them to failure. They could find the cure for cancer and it still wouldn't be "cool" because they are not "cool". Until the press stops hating them and until the public stops believing what the press says and they do something to address the retail situation regarding reps telling people not to buy MS products, none of this will matter. It's been a problem for years now, they have done nothing to address it, it will remain a problem until they do.

You are pretty much spot on. The thing is that as soon as the Hololens hits shelves for consumers, it will be hard not to convince people of the 'cool' factor. Hell, I would say that as soon as they start offering Hololense experiences in their stores (maybe next week) I would find it difficult for the media to not cover it as a 'cool' thing. MS bought miecraft for a reason. It was their solitaire to the holographic world. At least the general idea of building blocks. As soon as Candy Crush comes out on Hololense and you can play it on your wall... Bam... Coolness factor hit the media. The fact that the demo of playing minecraft on your living room table did not sink in yet was only that people thought of it as a gimmick device. As soon as they tell me I can go buy it... I really think its a game changer. All on Windows 10. And in the cloud... but that is not cool.

Nicely written article. Now...Nadella needs to make the biggest and most difficult step successful: Execution

@Ashish13 Thank you very much!

This is why google and apple piss me off! They aren't platform agnostic, which in the end could very well result in them losing market share. I know with certainty that I can change my devices without losing access and use of the Microsoft services I have come to love and depend upon. This isn't true for Apple or Google. By creating this sense of freedom, they are making it easier to not use their devices, but also to return to using them. This is fantastic for customers, and reaffirms the use of Windows as the main PC os :)

I would agree that this isn't true for Apple, but all of Google's services run as well in a browser as they do an app, so Google is pretty well positioned.

To be fair, the only Google product that makes money IS platform agnostic. That's their targeted advertising business. The rest are just throwing spaghetti against the wall in hopes that something sticks (and gathers user data to sell from their actual business)

Can go either way make or break.. 50/50 ...heres to hoping

Fantastic article! This was helpful, encouraging, and enlightening. I have renewed hope.

The best article i have come across ever...!

@anoop Thank you so much for that humbling assessment. :-)

Ummm since when has ms not positioned its self to be ahead of the mobile game? They just can't deliver! They've always tried to position them self's to get a head but just don't.

I usually don't comment unless the site has disqus. yes lazy. But this author needs kudos. Well written article. Great job.

@Shanneykar I sincerely thank you for that. I fully understand the reluctance to register simply to comment. I've ran into that same scenario in the past. That you did so just to express how much you enjoyed this piece is something I sincerely appreciate. Thank you. :-)

When I think of productivity, I think Apple...
Ok, I just wanted to see what saying that felt like. I need to go throw-up now...

@Curtis Thank you so much!

Excelent article, Jason Ward! This is exactlly what is happening, and what Microsoft needs to continue doing in order to survive (and potentially win) in the long run. Understandably, Windows Phone users want Microsofts full attention (before they put effort into other platforms), with exclusive apps and services. But the reality is that many people (myself included) no longer want to be locked into one device ot set of devices. We want services that run on all of our devices, rather than being forced to use specific devices which offer the services we want. This is the direction Microsoft is working in, and I honestly believe it will pay off in the long run.

@The Moonbeam Thank you for your support and your comments! :-)

Great article! I liked it a lot!

Cool story, brahs. Too bad nobody likes microsoft and sales suck outside of a few markets. They've lost consumers, and they're losing enterprise as apple and google eat up more and more of it.

A great piece and very accurate. Google is also, however, very well positioned for this future since every product that they have is also cloud based and works as well in a web browser as it does in a client app. Apple is positioned worst for this potential future.

Their well postioned. But still their main approach of selling income is ads. And if they see a fall in their market share their revenue would go down so quickly that one cannot imagine. For them being data mining company they face a lot of threat from facebook. FB's anymove now in their ads business can coz loss to them. Google actually wants to be like Amazon where they would like to sell ads as well as products from their e commerce website.

Google does have that inherent risk in their business model. Does Bing still have a partnership with Facebook?

@jdawgnoonan Thanks for the support and the input! :-)

Microsoft is completely missing connected car technologies. Where's their answer to Apple CarPlay and Android Auto? Consumers want that, not Continuum. Posted via the Windows Central App for Android

Honestly I doubt how much consumers outside of people who visit sites like this one really want this. From everything that I have read, both Android Auto and CarPlay have a lot of maturing to do and for the time being my needs are better served by a Bluetooth connection to my phone. However, if the screen in your car had the ability to be just a dumb screen, a stripped down version of Continuum would offer the same functionality.

"Honestly I doubt how much consumers outside of people who visit sites like this one really want this." That describes Continuum perfectly. You're basically writing off her comment, but connected cars will be a big part of our future, and it's something this article skipped over completely.

I don't mean to write off her comment, but it is so early for those systems that it doesn't seem like Microsoft is at a true disadvantage. Also, since most CarPlay and Android Auto compatible systems support both it might not be to big of a stretch that those systems might support some kind of stripped down Continuum model if Microsoft followed the same standards for connecting to the systems. Microsoft might have a solution that we do not know about yet since this is all so young.

They've kind of been in it for a while. My '08 Focus has Sync in it. I'm pretty sure Microsoft launched it that year or the one prior. It's pretty much a standard feature in most Ford and Lincoln models now. I know other people that have it in theirs as well and get frustrated when I tell them that my car tells me when I have a text, reads it back and then lets me dictate a response; because their iPhones and Android's don't use its full features. Two of them have said they're looking at the flagships this year for that very reason. I think Sync might do better if it was also available in the aftermarket but they have already been in that arena for some time and for my part I would be lost without it.

Ford announced in December that Sync 3 will switch from Microsoft to Blackberry's QNX OS. Sync 3 will start showing up on Ford models in US on 2016 models and will be available globally by 2018. Sync 3 will use Azure, however, for data updates.

I was literally just reading about that a little bit ago and was coming back here to reply to my own comment as well as make a sad face. That is really unfortunate. Thanks for the update.

Ford Sync wasn't really Microsoft per se, it was built on Windows Embedded/Microsoft Auto and I think Microsoft helped out in some way with the development, but Sync was mostly a Ford product. Here is another segment that Microsoft dropped the ball completely. Microsoft seem to want to get their fingers into everything, in a half arsed way, absolutely nothing consumer related feels like a complete product. I use many Microsoft Server products SQL, CRM, Dynamics, Exchange, Office etc and as a consumer I use Windows PC, Tablet, phone, IE, Outlook.com you name it, I only use Microsoft.

They already struck out with Microsoft Sync in Fords - http://www.extremetech.com/extreme/177171-why-microsoft-lost-ford-sync Although I do agree with you that the average consumer won't care about Continuum one bit. To me, Continuum is more of a proof-of-concept for the future, when phones will have Core-equivalent power and can be full desktop replacements.

MirrorLink.com was the automotive solution that Microsoft was looking at, they had a demo last year, but I think the abandoned it, which is a shame. Basically if you use Windows you are locked out of the car.

I wish they could make a partnership with Musk.

If you insist, http://www.windowscentral.com/microsoft-working-cortana-connected-automo...

Great article. I've been predicting a cloud-first future for years. Emphasis ought to be on content and screens (for as long as screens remain a necessity). Not devices. One step Microsoft should take is transforming the PC, console, phone, etc. into a single receiver (perhaps on your wrist) that projects the cloud onto any screen of your choosing. Posted via the Windows Central App for Android

@Gustav Thanks for the support and your response!

Exactly what I have been saying all along. Its been in every Future Vision video Microsoft has ever produced, Windows 10 was a huge step towards that future "device-less"

Very well written article. Microsoft seems to have a pretty clear idea about what it wants to achieve with windows 10 and Azure services. When windows 10 mobile is announced and the new devices start hitting the market, and with windows 10 coming to Xbox consoles, hopefully people will start seeing what all the fuss around windows 10 is about. Three years down the line, when the app ecosystem is developed enough and microsoft opens hololens for the mass markets, the one windows approach would be complete and hopefully everyone will benefit from it (except google and apple, ofcourse :P). I just wish microsoft would put greater effort into implementing their ideas on the mobile platform at this point in time.

@Tummula Thank you for your positive feedback!

@woefel Thank you man! :-)

Great article, and good for MS. Doesn't mean anything to me right now though.

While the future looks bright, the present device in my hands is my "phone". It's running 8.1, and when I don't use my Surface Pro 10, this "phone" is my primary communication and productivity tool. Microsoft needs to make sure that my "phone" continues to be productive moving forward. While apps on other phones are fine, I truly prefer the Windows Phone OS and its look and feel. I think MSFT has the best platform even though the HW is pretty lame and the app store is somewhat limited.

Well done. You see people that immediately condemnn what MS is doing with it's services. They say MS puts other platforms ahead of WP/WM. Thing is, MS is putting itself ahead by injecting itself into those platforms. MS will be intertwined in a way that Apple and Google aren't. MS is playing nice nice with everyone while Apple, as usual, is keeping to itself. Google is a shell of it's former self. The MS of today resembles the Google of 10 years ago. While the big players get greedy and lock themselves up in their sandboxes, MS is spreading the love. As for devices, the phone market needs some loving but look at all the Surface clones popping up. That says something. They got a great thing going with that. I just have to laugh at people who think that MS will go down in flames. They're as likely as Apple or Google to do so. Things are always in flux but they're sitting comfortably at the top of lots of categories. I look forward to what the future brings. Bring on the new everything!

@Prithwish Thank you. I appreciate that!

@jropelato Thanks so much!

I don't think anything will change, Apple and Android will continue to dominate and Windows Phone will continue to struggle.

Very well crafted article indeed.

Wow, such a well elaborated article covering all aspects... Well done Jason...

Fanboy porn -- the same type of stuff I often read on Apple Insider. I use Windows 10. And I own an Iphone. There are pros and cons to each. The market will decide -- and Microsoft has a LONG way to go to become the dominant ecosystem on mobile which is clearly where the computer world is going. I think it's possible Microsoft can do it. BUT the tech industry has shown on many occassions that the best technology doesn't always win.

The best technology doesn't always win for eg Xiaomi has won China market. But China u know they aren't democratic. We know how crappy xiaomi products are

Bravo. It's nice to see somebody finally understanding the difference between strategy and "product of the week" hype.

Window central need at a 'like' button and a 'super like' buttion for its articles... :D
Dude. Hats off..

That's a hell of a read! this article has a soul... so refreshing lol

Watch for the ultimate removal of any numerical or physical platform designation for Windows -- it will be just Windows. . . .

The issue with all of this is that this is great positioning for MS, the company. Doesn't mean it's great for us. The two do not go hand in hand. In fact more times than not, when something is good for the company it usually is worse for the consumer. 1 easy example is a certain company that charges 900 bucks for their smartphone. Great for them, that's why they're the richest company in the world, that's also why their customers have to pay more than anyone else for equivalent and sometimes inferior products. While I agree MS is moving in the right direction, for them. I'm curious how people cheering this direction are going to feel when they have to buy an Android or Apple device just to use MS software because if they don't do something to push sales soon, that's what is going to happen.

Obviously, Microsoft CEO Satya Nadella has no problem with users running Microsoft software on competitor ecoystems, given his 'iPhone Pro' moment recently. http://www.windowscentral.com/nadellas-announces-iphone-pro If the CEO of Microsoft sees Windows phones as besides the point, that should be a hint to everyone on this site. Windows on phones makes a good talking point, but I don't think it's a huge priority for Microsoft's management team, at all.

That's my point. It's good for them, Might not be good for us, the consumers and fans. Will the people who like this direction still be cheering them on when or if there comes a point that there are no phones or tablets running windows and the only option is to buy an android or apple device running MS services. MS will be fine with it, will the fans?

I agree with the article. Google and Apple have been playing on their own sand and then Microsoft came with a brilliant strategy to offer its services on every major platform. This strategy is good for everyone. It creates a competition that is Great for every user. Its Great for Google users, Apple users and us, Microsoft users because we can choose from wider range of phones, PCs, software, services,... Nice move Microsoft, Nice move.

Very impressive article, good job!

This article is well written. Couldn't have said it better Posted via the Windows Central App for Android

Really good analysis, but I have a feeling Microsoft will exit the mobile market as their best apps are on the other platforms. It'll make commercial sense to do so. Will see what the L950/950XL say but I doubt if the others will lose sleep over it.

Wow ! well written. Amazing

Jason, you done it. Great writing. The best part is that you put it in understandable English. Many of us aren't that tech save, like those of us from the Windows 3.0 era, need that here. What I hope is that you don't confine this article to Windows Central. The information here could be the blueprint for Microsoft's Marketing campaign following the show on the 6th. So keep it up. Can't wait for your next one.

Windows on TV, when down under?

the shape recognition feature of PowerPoint demoed on ipad , is it available on windows version too?

This is why Windows Central is one of my favourite Technology reads. Articles like this are what keeps me coming back for more. Excellent analysis, Mr. Ward. Keep them coming.

Mr. Ward, all the respect for a good read.

Basically this is what brought me to the Microsoft side of things. I was an android fan and was looking at tablet's that I can also use for productivity. I was considering a Samsung Tab S 10.5. But after talking with some store people I was very much intrigued by the Surface 3. I love the idea of cross-platform operating system. The vast majority of businesses use Windows, so why would you want to use 2-3 operating systems, if 1 could function between all devices. I can't imagine people not converting over to full-time Windows if they had that option. I got the Surface 3 and really love it and installed Windows 10 on my laptop, I love being able to access everything through those devices along with my work PC running Windows 7. It is this reason I'm going to be upgrading to a Windows Phone this next year (over my Sony Xperia Z). I want that cross-platform connectivity and funcationality. I think Windows 10 is tremendous and am very much excited to see the Surface Pro 4, along with the Lumia phones and band.

As much as people here want to mock Apple and Android users for being "blind sheep," you can only hoodwink people so long before they wise up. It may be a slow burning process, but if MS truly delivers on this "one OS for all" mantra, then people will jump on board. Furthermore, it's smart that they are targeting businesses more so than regular consumers with their platform first. It'll create more exposure that way and eventually the popularity will trickle down to the regular consumer.

How much did MS pay Daniel to spill this propaganda?

Well for a start this isn't even Daniel's article... And second of all I don't consider this propaganda... Seems anything that isn't bashing Microsoft saying they're going to die is propaganda...

Well damn, this article summed up what I was just trying to explain to my coworkers last night

Someone recently wrote that Apple, and Google, want to be their own little islands, while Microsoft wants to be the ocean, or somthing to that effect.. This article really brings that to the forefront.. Great article and I agree give the man a raise or a glass of at least 25 year old scotch

THANKS EVERYONE FOR ALL OF THE SUPPORT!!! :-) Keep coming back to Windows Central and please just share this piece as much as you'd like. October 6th is just around the corner. Expecting great things ahead!:-)

Very well written piece here and I agree with everything you said J. But in reality all I care about is T-Mobile getting the Lumia 950XL.lol Come on Tuesday or maybe not... I just hope we get one.

But there mobile devices are still rather bland

Apple really if they mess up with Microsoft they mess up their iPhone business too. Their main source of money is still iPhone. IPads sales might decline bcoz of surface in the later run. And when Microsoft gets a go in their mobile Apple will lose their game soon. Apple doesn't provide services or their own applications so that at least they can show they would be relevant in their market. They way they copied surface shows that iPad has a serious threat.

Apple does not rely on MS to make money, how on earth can you say this?? :)))) iphone does not need MS to succeed, lol iphone made very well also in the past when no ms apps were on board, besides skype and skydrive. at least be honest and do not post crap here.

I said if Microsoft gets a go ot their mobile flagship then they can't stop Microsoft. As apple is a device company not a enterprise software or a cloud company like google and Microsoft and others. If someone can out the damage to iPhone in the market apple will see their iPhone sales decline soon. As now u can see surface is much better than the iPad.

this is probably the best article ive ever seen on this page

Jason, I just wanted to say that was one of the best articles I have read on Windows Central ever, and I have been coming here for a very long time. Well written, great incorporation of Sway, and above all it painted an easy to grasp picture of Microsoft's big play (or I suppose one possible option for Microsoft's big play). I really, really enjoyed reading this. Well done.

So are we calling our cellphones "PDA's" again? TBH it is a very accurate description at this point. The "phone" aspect of them is integral of course, but we use them for so much more. Arguably my "cellphone" is used as a phone maybe once a day.

I agree that Microsoft is the best positioned, however Microsoft more than the others are also best known for dropping the ball. Microsoft have to position Cortana as a platform of the future, realistically do you want to be walking around the place with a fragile $700+ iPhone, Lumia etc? The future lies in AI, and Cortana is the only one that is platform agnostic(if the iPhone app rumors are true), more over, Cortana have to be positioned as a Platform. I want to take a device into my car, talk to it to play the radio, get directions, call my wife, text my boss etc, Microsoft is nowhere near the car(Mirrorlink demo appears to be dead in the water) I want to walk into my house, turn lights on, open drapes, put on the news audio or video etc (Insteon is the only WP home automation option and this does not work) Microsoft currently is a jack of all trades and a master of none, sure Office and other tools are used by a billion+, outside of work I don't have use for anything other than OneNote. People are now trained to use an app for a specific task, not like the old days when we wanted to integrate data like inserting a spreadsheet into Word etc which is how Office became king, now everything is a Facebook this, a tweet that, a txt msg the other. Microsoft have to look to the future beyond devices, Cortana as a platform. Music subscription TV subscription Home Automation Car integration Communication Search Other fun bits like weather, news etc Then sell each module as a separate service $1 a piece a month or whatever the price is. I am telling you, I only use Microsoft products and I am utterly disapointed with the quality of services. I still use Windows Media Player, because Groove simply cannot do basic things, hell in imported the playlist from WMP but just the shell of it, zero songs, I spent many hours building my music library, first in iTunes when I had an iPhone and moved everything to WMP when I started using a WP. Microsoft have to get their act together the are all over the map and fail miserably at providing anything proper to use. I am part of the Windows Insider PC and Phone, seems like the are always having to reinventing the wheel, neat features we had in 8 is gone, and then there is that voting nonsense to get features, well to probably get them back.

Yet again a great article by Jason Ward. A thorough pleasure to read, look forward to reading many more in the future.

Yea, great, too bad people only care about snapchat, instagram, etc. Try convincing my gf or all of my coworkers (I work at a software company) that they should get a windows phone. 4+ years now and I'm still the only one with a windows phone, out of 60 people.

(Note: If you're reading this in the app switch to browser for interactive content.) Dear god, WHY?! Why do I still have to look at images separately when I use the mobile app? Why can't I view video or pictures just by taping them in the article? I can't even do it on my SP3!

Really? I manage just fine on the Android app.... with the same format as the website and all...

Lets hope that selling feature-phone design 'flagships' on iPhone / Galaxy Edge prices is not part of the positioning.

Can't read it within 2 minutes,Coz our infamous IE crashes.Gosh when is windows 10 mobile coming

Yeah mine crashed too on the phone IE. Dang, came back to the Windows App to finish reading lol

This article was more interesting than Sherlock Holmes.

This is the best article I've ever come across in windows Central. Hats off to you Mr. Ward for your excellent analysis and writing. Looking forward to more from you.

WOW! This was a very well thought out and articulated article. Kudos to you Mr. Ward for the excellent work. I can't wait to see where Microsoft and the industry are in five years.

Very interesting article and also thought provoking, gonna bookmark it!

This is what Microsoft is known for!!!! I totally agree with these fact. Satya is no doubt a visionary person who presumes everything very well. Microsoft is the best always!!

I haven't logged in to comment in a few months. I just had to this time to say this is a great article. There needs to be more of what's possible and coming and less about shit like snapchat.

Thanks for the comment bro

Finally someone stitching together the constituent elements. Another item to consider is that if Microsoft succeeds with UWP and becomes the development toolset provider for bidirectional portability of apps and services development via Visual Studio and it's "bridge" projects, then the Windows Mobile ecosystem disparity has just ended. If you give devs a toolset to create multiple high volume endpoints on Apple Store, Google Play, and finally Windows Store then you really start things moving. If MS can capture the missing provider content that has held Windows Phone, Surface RT, and more recently their own handset h/w back, then they have first crack at moving the rich content to hololens and distributed beyond Phones. Hopefully MS will capture the content to become the premier content provider for mobility on SmartPhones and bring about a strong market position for beyond the SmartPhone era. The vacuum left from the PC era has created the expansion medium for SmartPhone and the SmartPhone will create the vacuum for PostSmartPhone era to expand. MS must get their ecosystem on par to create value for their own h/w. They must learn from the h/w how to distribute and provide even more meaningful experiences in an increasignly pervasive way. To give their own mobility efforts a chance for success they must drop the barriers and get the content on their own ecosystem ASAP. They must get UWP to "bridge" the content gap.

I do want to add one more thing. The only reason why the other OS's won't be left behind is because, much like what they are doing to copy the Surface, they will also put out their own half-assed, watered down versions of what Microsoft is doing, and as usual people (aka lemmings) will eat that crap up. But still, great article.

Lets post this article on the wall of snapchat's CEO,let him know who is he dealing with

He's dealing with 2.5% of the global smartphone market, most of whom are on sub-$100 devices. I'm sure Evan Spiegel is trembling in his boots.

Excellent & very well written article Jason! I completely agree.
Microsoft slipped once, but they learned from their mistake & working very hard to make sure it never happens again ... As your article & AbhishekGupta07's comment demonstrates... Its past phones now & the bigger picture is much larger than that

Very nice article after a very long time which fully articulates Microsoft's strategy and vision. Keep up the good work and write more articales like this because many people dont see the big picture.

Congratulations Daniel! Interesting lecture!

Hi @RamirezPL Thanks for the kudos but my name is Jason;-)Daniels my Editor and Chief. Cool dude.:-) Has a bunch of baby snapping turtles. Lol

Jason, my apologies. Fully deserved congrats go to you!

Excellent article, lucid and deep in its analysis, well beyond the petty short sight that is phone materials, designs, dimensions, flavor-of-the-month apps people are made to think as important, and brands selling illusions. This is how doing is done. Get used to it.

When's the next mobile preview build? Had to do it, sorry. Nice article.

I felt so proud whilst reading this that I shared it on Facebook lol :D Great article!

Jason, Thank you for making me feel good again about owning a windows Lumia device.
I'm due for an upgrade and was considering going to the idiotPhone.
Definitely looking forward to the new Lumia devices being announced this month.

in let's say 10 years from now, where will Apple and Google be?? maybe Microsoft would purchase them

You convinced me! I think I'll go for the Nexus 6P. All the MSFT services I use will be waiting for me there

Cortana on Android stinks to be realistic can't execute same things, just if Microsoft just did good the job with Windows phone another story we would be saying Posted via the Windows Central App for Android

Keeping the ms fans happy... hahaha nothin of this will be as drawn (planning is easier than implementing)... its another click bait Posted via the Windows Central App

Excellent article Jason. Great read and very visionary and informative. Just checking that Jason Ward is not an a.k.a. for Mr Nadella lol. Seriously though, thanks for the time and effort to produce this little masterpiece.

I so wanted this but I will believe when MS deliver. Wake me up when I can check txt msg and whatsapp on my PC. And I'll seamlessly move between all of these. I want the notifications to flow between all of these. I want my data and apps to flow between all of these things."- Nadella

Totally the best article on WPC ever

While i was reading this very interesting article the telephone rang (my Lumia 1520) from an American number and she goes:"hi francisco this is Microsoft"... For a couple of minutes I was like: This is big brother. This nadella calling to ask my opinion!!! I was really ..mesmerized! Then the Indian accent made me think it was microsoft support.. What about? Office 365 ticket we opened today? Or maybe my surface pro 3 I sent a couple of days ago for repairing? Anyway felt like great company...great support.. But I'd really appreciate something like: "we know you, we know you love our products, we know you have basically all the devices broken (because your fault) so we are just sending new sp4 and 950 for testing... Nice dreams...just. Couple of thousands of euros far away. I already started saving them...:) !!

Nice read! That being said, another trend is IoT and for all the items, appliances and such companies build, how many support Windows these days?
Therefore, I do hope Windows 10 IoT ​will quickly take off too. The fact that it is possible to run Windows 10 and be platform agnostic or at least work with all platforms à la Microsoft Band is a good point but will that be enough?

Jason, great article. I think you nailed it. Things have been changing under Nadella and despite some very negative reactions I read on a couple of forums yesterday of his position as CEO, I think his perspective of the future is dead on. Did windows 10 put the development of the software on windows phone further behind? For sure,they needed resources to build it up from the start that could have been used otherwise to further the existing software. But 'loosing' now will benefit the future. Google and Apple might have to make the same switch in the near future, and then MS can go ahead. Question for you though. MS has been very open to 'competition', encouraging OEM's to make similar device like them, selling their products in MS stores, making their apps available on every platform. Do you think this might also be a strategy to make the competition realize that they are ahead of the curve, pushing the apple and google, for example, to become reactive rather than proactive in the mobile world?

Kill Linux and google(the assholes). Leave apple. They seem to...collaborate well with us.

Another great article Dan, thanks again for the time and effort you put into your work. On a side note, my only real gripe with W10 on my Surface 3 is no Cortana in Australia, without pretending I'm in another region. I'd really like the US version with local news and search content, surely that can't be too hard. I don't want the UK robot, or some crappy attempt at an Aussie accent. I used US Cortana a while back on a L930 with the 8.1 preview and we had no trouble understanding each other. Maybe when Cortana is officially released here there might be an option to pick the voice you want. I'm not keen on Shazza, I keep thinking of someone from Housos(TV show for anyone wondering) doing the voice.

@Waugy Thanks so much for the support. I appreciate it! ;-)

Just realised I thanked the wrong writer, sorry Jason. Reading too many articles at once, haha.

I love the idea that my MSFT software and accounts can be moved between platforms and devices. Even if MSFT don't win on mobile they will still win as the most dominant software vendor. Android can tout they have 1.4 billion active users but Microsoft will still have more active users using their software and hardware world wide... And that has to be a good thing when looking at the future.

Delusional. Totally delusional. Dunno what drugs you've got there Jason, but I'd quite like some, that's some strong sh*t you've got there.

My prediction: once the tech is small enough, the cellular signal will be obtained through some kind of bracelet, or possibly a card that can be kept in a wallet. That card/bracelet will house the processing power, and simply cast (blue tooth, wi-fi) the image to a touch screen (monitor) with which you choose to pair. These screens (monitors) will be available in all sizes and will be fairly inexpensive, as they will not need to house the computing tech. Want a 4 inch "phone"? pair a 4 inch screen with the card/bracelet. Want a 6 inch "phone", use a 6 inch screen, etc., etc...all the way up to tv size screens.

This article gives me hope for the windows mobile platform :)

So yea the new Premium Windows 10 Mobile device will simply be named Windows 10 Mobile.

What is that thing that Microsoft have and Android iOS don't?

one thing for sure. computing is going nowhere it will just transiton a world without math is no world. so yes, ms is in a very good shap for the (very) long term future

Felt this way the whole time that no one believed. Great articulation of what is going on right now. Microsoft is the poster child for persistance and it is a great lesson for any kid to learn. SP4, and Windows 10, and the fully realized ecosystem that they have been striving for; are going to arrive this Teusday, just like AND WITH a Hurricane!

I see a lot of people missing the point of this article. Well, dont ask me to explain it. Just read the atricle once more! However I can give you a hint: "Shifting strategy in anticipation of a changing business"

Wow! This article made me want to get off my ass and help my companies do the same and get ahead the curve.

lets wait and see, I think he has a point and I've been contemplating this outcome for quite some time now, its up to google and apple and how fast they can react before Microsoft takes the reins

There have been good articles on Windows Central but this one my God this is the best tech article I have read. Good one Daniel

This Article Should Be The "Story Board" For The Next Microsoft Commercial!

I have no clue what Datazen is... But most of what he listed for Microsoft is completely replicated in the Apple or Google Ecosystem. That's the big issue with Microsoft's ecosystem. They allowed their mobile platform to fall from grace, and now they're a third party on the biggest platforms - a third party with virtually redundant services for an ecosystem that is missing critical pieces (like an eBook Store, for example). I'm not going to buy iTunes cards just to buy from the iBook Store and then fill my phone up with Microsoft Apps for everything else. I, like many people, tend to go All-In with one ecosystem, and if we get another one, it's often for hte things one lacks over another. Using Microsoft on a Non-Microsoft platform forces too much Account/Identity Management and Potential Security risks on the user. I avoid that stuff. I tend to keep two accounts open. If one other gets added, I get rid of the other one. When I switched to a Microsoft Account, I deleted my Google Account for example. But I think I'm going to go back to Google because of the nice things they're doing with Google Photos as well as their cheap ChromeCasts. Microsoft doens't really have anything like that, and l don't want an Xbox (have a PS4, but thanks ;-) ), so I'm going to delete my Microsoft account when I make that move. Just have moving my Apple ID over (makes me have to resign into everything, ugh...).

This was awesome. I had never really thought about it like that before. I now have a new view on Windows 10 and mobile computing.

BRILLIANT! Good job Jason Ward!

So Nadella basically saying that the focus is UX Posted via the Windows Central App for Android

Was a good read...brought up many things I hadn't thought about before...let's see how it will unfold. Red​920

Best platform will still get sour mouths if there are no end points (apps) for users to do things they need to do. No matter how pretty word acrobats that Nadella did, Win10 still in need of apps. What MS should bring fast in mobile space are flagship, and that Islanwood/Astoria thingy. Posted via the Windows Central App for Android

I sincerely enjoyed your article. Good work.

I didn't even read the article. I'M ALL IN WITH MICROSOFT. LET THE NEW MONOPOLY BEGIN!!!!!!!

While I fully agree with the article, Apple has a history of burning down the desktop house. They torched everything going from System 9 to OSX, and I can see them doing it again to bring OSX in line with iOS.

It's too late for Apple to burn down the desktop OS, as burning will get rid of the applications made for the OS, including photoshop etc. That was during a time where OS X was not as big as today

I really enjoy articles like these. But then reality hits me when I notice my Windows Phone has gone backwarks since it's inception. Sure there have been some nice improvements but the overall feel of Windows Phone has been degraded (IMO). I can name many things but those (and I should say some) who were early users know the difference. Here's hoping for a bright future nonetheless.

Very well written article Jason. Question is, can Microsoft deliver it's promise?

Love the optimism Posted via the Windows Central App for Android

Stunning article! This is probably one of the best arguments we as Microsoft users can bring up when and Android or Apple users starts debates with us. Fantastic write up Mister Ward!

Yes, MS services are great! but as for devices: surface 3 tablets and xbox are also great, phones..well are a bummer.

I said if Microsoft gets a go ot their mobile flagship then they can't stop Microsoft. As apple is a device company not a enterprise software or a cloud company like google and Microsoft and others. If someone can out the damage to iPhone in the market apple will see their iPhone sales decline soon. As now u can see surface is much better than the iPad. It just not about Microsoft apps. If they once lose developers support like facebook in favour of any other platform then they don't have any other source of income.

Wery well written. Totally agree. Beyond anything, Microsoft is going to win this long term for the following 3 reasons. 1. They are not arrogant like Apple, and chose to listen to its customer. 2. They are not Evil like Google, and chose to remain transperant to run business with. (VMWare, Salesforce, Hadoop and even Apple are colloborating at levels not known before). 3. They are not cunning like Amazon, and chose to offer a better hybrid cloud solution at better rates with higher transperancy.

MS pushes their products even to competition and attends to their conference while Google is the sore little kid on the block that doesn`t want to play ball. Not having 1 single app for the Windows platform ...

what happens when someone Hacks them

what happens when someone Hacks them

Super write-up . Microsoft is for the Future.

Only at the end of a smart, insightful article did Nadella's words about not using the word or the concept phone remind me of the frustration caused by the youthfulness of MS's designing programmers who, for instance, can't build a good phonebook, because they don't actually know what a real phonebook is. Using a Windows phone (other OSs as well, it's true) for phone calling and receiving is one of the clunkiest tasks on my "smartphone".

Curious. What is it you're looking for in a phone app?

It'll be interesting to see whats coming in the future ... :) very good writing!

Man, It's good to be a Microsoft fanboy :) Love you Microsoft and all your products :)

I create an acount only for show my congratulations to JASON WARD, OMG what a good article about how microsoft is breaking the boundaries between devices, Microsoft is in the best way. Keep it up.

Very well laid out argument. Based on everything we've learned over the past few years, I couldn't agree more. Microsoft, oddly enough, may become responsible for Skynet after all. We should train Cortana to loath fruit, fragmentation, and neckbeards. (LOL just kidding, just kidding!)

AWESOME article. Posted via a surface hub

Great article Jason. I found it fascinating how the major players (Apple, Google, Amazon) are laser-focused on physical devices (iPhone, iPad, AppleTV, Nexus, Fire) and how short-term these strategies are. I mean realistically, we're talking a one to two year life cycle for these devices. Microsoft has been creating some devices (Surface, Lumia) however, it is obvious most of their work has been focused on software and the cloud. I completely agree with the idea of a "device-less" way of computing. Short-term strategies will create immediate profits while long-term strategies will create long-lasting growth and stability. I would not be surprised in five years if the iPhone is replaced by something completely different. You can only do so much with hardware until they all look the same. Android is experiencing that now with their new devices (rarely any differences anymore and people now buy based on brand rather than experience) while Apple is moving more towards hardware with incremental updates to iOS and OS X.

Another excellent article Jason.

Totally agree but the only thing lacking from the vision is the US'centric view of availability. In New Zealand I cant buy/preorder a Surface Book, buy any sort of Band or use Cortana. I have a Microsoft Health app (on my 1520) telling me it will cease working (and can only export data to local file archive) in November. Microsoft don't have any guidance what, if anything, will replace it. Still don't know if 950/XL will be available here at all, irrespective of carrier affiliation​
Windows Central Newsletter
Get the best of Windows Central in in your inbox, every day!
Thank you for signing up to Windows Central. You will receive a verification email shortly.
There was a problem. Please refresh the page and try again.