Microsoft Lumia 950: A year later and a world apart
It's been a year since the Lumia 950 launched, meaning it's time to revisit Microsoft's latest flagship and see what's improved... and what hasn't.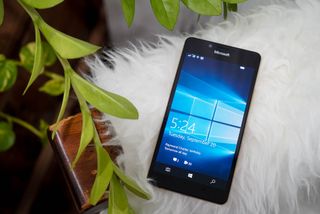 The Microsoft Lumia 950 is a year old this week, which is pretty unbelievable considering it feels like just yesterday many of us were blown away by the Lumia 950 XL's "liquid cooled" Snapdragon 810 and Windows Hello integration. As a Windows phone fan myself, the Lumia 950 series was exactly what I was hoping for from Microsoft at the time of announcement.
But it didn't take long to realize that the Lumia 950 and Lumia 950 XL were plagued with a number of launch issues and general software bugs that Microsoft had missed with Windows 10 Mobile, so much so the Lumia 950 was basically unrecommendable for several months after launch.
It's been an entire year since then, however, and I thought it would be a good idea to take a second look at the Lumia 950, a year later, to see how things have improved or gotten worse.
Hardware
When launched a year ago, both Lumia models were rocking the latest from Snapdragon. The 950 features a hexa-core Snapdragon 808 processor, with the 950 XL packing a "liquid cooled" octa-core Snapdragon 810, both rocking 3GBs of RAM and 32GB of storage with QHD screens.
Although no longer the latest from Snapdragon, both the 808 and 810 hold up pretty well with Windows 10 Mobile. In fact, thanks to a number of software optimizations done with the Windows 10 Mobile Anniversary Update, the Lumia 950 and Lumia 950 XL actually run better than ever. But when compared to the competition, the Lumia 950/XL is no longer "up there" compared to devices launching with the Snapdragon 820, which is to be expected.
Battery life has also improved thanks to the Anniversary Update. Using the Lumia 950 with a 3000mAh battery, I can get through an entire workday very comfortably with medium usage. The 950 XL lasts longer, due to its 3400mAh battery, meaning you can get through an entire workday and then some pretty easily. I have no complaints regarding battery life.
Lumia cameras have always been a point of pride for Windows phone fans, but the competition has worked hard and indeed caught up — the Lumia 950 no longer sports "the best" camera on the market. Apple and Samsung and others have stepped up their camera game, so much so our recent blind test comparing the Lumia 950 with a number of rivals confirmed that the Lumia 950 failed to keep up with the latest flagship devices released from this year.
That's not to say the Lumia 950's camera is atrocious, because it most certainly isn't. It's still one of the most approachable, easy and configurable cameras you can get on a smartphone, it's just no longer the very best. That was always going to happen eventually, so this shouldn't be a surprise to anyone. I'd still recommend the Lumia 950 for its camera, even with rival smartphones offering better alternatives, because the camera on the Lumia 950 is still excellent.
Check out sample shots in our Lumia 950 review
Design
But hardware isn't all about specs, there's a design element that's important to many as well. When the Lumia 950/XL launched, it was immediately criticized for its design, and rightly so. It was a boring, industrial plastic design that was turning no heads in a busy crowd. To some, that's perfectly fine, but to others, this was simply unacceptable considering the Lumia line of devices used to be known for their outlandish designs and crazy colour configurations.
Although Microsoft still sells the boringly designed Lumia 950/XL, third-party manufacturers like Mozo have stepped up and created a number of unique, classy and crazy shells that many Lumia fans have come to love. One of the most popular options from Mozo is the leather shell with silver rim, making the 950 series look and feel much more premium.
But those that have stuck with the back that came in the box, well, those haven't held up well over time. Many Lumia 950 users have complained about creaking at the corners, and an odd issue with my 950 XL caused the vibrate motor to stop working when using the Microsoft-made shells. Not everyone has suffered from these hardware issues however, so your mileage may vary. The Mozo shells don't creak nearly as much, if at all.
Other smartphones released this year are also simply more appealing when it comes to design. The iPhone 7, Samsung Galaxy S7, Google Pixel among many others are simply more attractive smartphones. Microsoft's design for the Lumia 950 isn't winning any awards in this department.
If you're looking to buy a Lumia 950 today, I wouldn't suggest so based on design alone. I'd definitely recommend you buy a Mozo shell, as they really do wonders spicing up and making the Lumia 950 look and feel much more premium. If design isn't something you care about however, you should be good to go on this remark, however keep in mind the standard shells from Microsoft might not hold up well in the long run.
Software
When the Lumia 950 first launched, it was plagued with a bucketful of software bugs that made the entire 950/XL experience dreadful to many. Windows 10 Mobile wasn't ready for primetime back then, with the 950 launching with the Windows 10 November Update. Some issues included random and frequent reboots, the camera being slow, leggy and constantly crashing with save errors, Store app failing to download, apps duplicating themselves on the Apps List with no way to remove, and a whole lot more.
You'll be glad to hear that the Lumia 950/XL has improved the most in this space, so much so I can actually recommend the Lumia 950 series now. At launch the software was so bad I couldn't recommend the 950 to anyone, but those issues have been rectified up through to the Anniversary Update released earlier this year. Windows 10 Mobile performs a lot faster, with a number of much-needed changes and improvements making the Lumia 950 a much more usable and enjoyable Windows phone.
Features such as Glance screen, which were peculiarly missing from the Lumia 950 when it first launched, are now here and working much like you would expect. Pretty much all of the software issues have been rectified, and this experience should only get better as time goes on thanks to Microsoft supporting Windows 10. Microsoft is working on the next software update — the Creators Update — that will feature even more changes and improvements to Windows 10 Mobile, and that update will be available on the Lumia 950 on day one.
It's encouraging to see Microsoft working to fix all of the original launch issues, making the Lumia 950 experience basically pleasurable to use, assuming you're okay with Windows 10 Mobile of course.
Microsoft has also introduced tap-to-pay on the Lumia 950 since launch, which is a big deal to many. Unfortunately, it only works in the United States right now, but it works very well and has Windows Hello authentication built right in. This is just another example of improvements that have shown up on the Lumia 950 since it launched.
Some issues that aren't directly related to the Lumia 950, such as the app-gap, are still apparent and haven't really improved much. On the bright side, Twitter and Facebook have introduced new Windows 10 specific apps which work great on the 950, whilst other developers, like banks, have been pulling their apps. It's not terrible, but it's not great either. If you're an avid app user, it's still hard to wouldn't recommend the Lumia 950, or any Windows 10 Mobile device for that matter.
Final Thoughts
The Lumia 950 has improved so much over the last year, it's actually pretty amazing. Buying a Lumia 950 today is like buying a whole different phone from the one that hit shelves a year ago. Back then I couldn't recommend the Lumia 950 to anyone based on a sea of software issues and lackluster hardware design, but Microsoft has done well tackling and fixing all the software issues, and third-party manufacturers such as Mozo have stepped in and improved upon the 950 design.
If you're a Windows phone fan and are on the fence about buying a Lumia 950 or Lumia 950 XL, I wouldn't hesitate to endorse that decision. If you're still using an older Lumia, then this upgrade will be worth your while. If you're coming from other platforms however, it's a different story.
If you're all-in on the Microsoft ecosystem and apps aren't a huge deal to you, absolutely check out the Lumia 950. It's the best Windows 10 Mobile experience on the market right now. Sure, there are newer high-end devices like the HP Elite x3 and Alcatel Idol 4s with Windows 10, but if you want a full, all-round Windows 10 Mobile experience, the Lumia 950 is exactly what you should get.
That's if you can find one to buy, as Microsoft no longer manufacture the Lumia 950 series. They're also dirt cheap these days, with many deals offering the 950 for under $300. That's a stellar deal if you're looking to make the move from an older Lumia, and one you should definitely snap up before they're all gone.
Get the Windows Central Newsletter
All the latest news, reviews, and guides for Windows and Xbox diehards.