Microsoft Lumia 950: A year later and a world apart
It's been a year since the Lumia 950 launched, meaning it's time to revisit Microsoft's latest flagship and see what's improved... and what hasn't.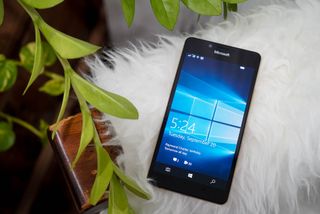 The Microsoft Lumia 950 is a year old this week, which is pretty unbelievable considering it feels like just yesterday many of us were blown away by the Lumia 950 XL's "liquid cooled" Snapdragon 810 and Windows Hello integration. As a Windows phone fan myself, the Lumia 950 series was exactly what I was hoping for from Microsoft at the time of announcement.
But it didn't take long to realize that the Lumia 950 and Lumia 950 XL were plagued with a number of launch issues and general software bugs that Microsoft had missed with Windows 10 Mobile, so much so the Lumia 950 was basically unrecommendable for several months after launch.
It's been an entire year since then, however, and I thought it would be a good idea to take a second look at the Lumia 950, a year later, to see how things have improved or gotten worse.
Hardware
When launched a year ago, both Lumia models were rocking the latest from Snapdragon. The 950 features a hexa-core Snapdragon 808 processor, with the 950 XL packing a "liquid cooled" octa-core Snapdragon 810, both rocking 3GBs of RAM and 32GB of storage with QHD screens.
Although no longer the latest from Snapdragon, both the 808 and 810 hold up pretty well with Windows 10 Mobile. In fact, thanks to a number of software optimizations done with the Windows 10 Mobile Anniversary Update, the Lumia 950 and Lumia 950 XL actually run better than ever. But when compared to the competition, the Lumia 950/XL is no longer "up there" compared to devices launching with the Snapdragon 820, which is to be expected.
Battery life has also improved thanks to the Anniversary Update. Using the Lumia 950 with a 3000mAh battery, I can get through an entire workday very comfortably with medium usage. The 950 XL lasts longer, due to its 3400mAh battery, meaning you can get through an entire workday and then some pretty easily. I have no complaints regarding battery life.
Lumia cameras have always been a point of pride for Windows phone fans, but the competition has worked hard and indeed caught up — the Lumia 950 no longer sports "the best" camera on the market. Apple and Samsung and others have stepped up their camera game, so much so our recent blind test comparing the Lumia 950 with a number of rivals confirmed that the Lumia 950 failed to keep up with the latest flagship devices released from this year.
That's not to say the Lumia 950's camera is atrocious, because it most certainly isn't. It's still one of the most approachable, easy and configurable cameras you can get on a smartphone, it's just no longer the very best. That was always going to happen eventually, so this shouldn't be a surprise to anyone. I'd still recommend the Lumia 950 for its camera, even with rival smartphones offering better alternatives, because the camera on the Lumia 950 is still excellent.
Check out sample shots in our Lumia 950 review
Design
But hardware isn't all about specs, there's a design element that's important to many as well. When the Lumia 950/XL launched, it was immediately criticized for its design, and rightly so. It was a boring, industrial plastic design that was turning no heads in a busy crowd. To some, that's perfectly fine, but to others, this was simply unacceptable considering the Lumia line of devices used to be known for their outlandish designs and crazy colour configurations.
Although Microsoft still sells the boringly designed Lumia 950/XL, third-party manufacturers like Mozo have stepped up and created a number of unique, classy and crazy shells that many Lumia fans have come to love. One of the most popular options from Mozo is the leather shell with silver rim, making the 950 series look and feel much more premium.
But those that have stuck with the back that came in the box, well, those haven't held up well over time. Many Lumia 950 users have complained about creaking at the corners, and an odd issue with my 950 XL caused the vibrate motor to stop working when using the Microsoft-made shells. Not everyone has suffered from these hardware issues however, so your mileage may vary. The Mozo shells don't creak nearly as much, if at all.
Other smartphones released this year are also simply more appealing when it comes to design. The iPhone 7, Samsung Galaxy S7, Google Pixel among many others are simply more attractive smartphones. Microsoft's design for the Lumia 950 isn't winning any awards in this department.
If you're looking to buy a Lumia 950 today, I wouldn't suggest so based on design alone. I'd definitely recommend you buy a Mozo shell, as they really do wonders spicing up and making the Lumia 950 look and feel much more premium. If design isn't something you care about however, you should be good to go on this remark, however keep in mind the standard shells from Microsoft might not hold up well in the long run.
Software
When the Lumia 950 first launched, it was plagued with a bucketful of software bugs that made the entire 950/XL experience dreadful to many. Windows 10 Mobile wasn't ready for primetime back then, with the 950 launching with the Windows 10 November Update. Some issues included random and frequent reboots, the camera being slow, leggy and constantly crashing with save errors, Store app failing to download, apps duplicating themselves on the Apps List with no way to remove, and a whole lot more.
You'll be glad to hear that the Lumia 950/XL has improved the most in this space, so much so I can actually recommend the Lumia 950 series now. At launch the software was so bad I couldn't recommend the 950 to anyone, but those issues have been rectified up through to the Anniversary Update released earlier this year. Windows 10 Mobile performs a lot faster, with a number of much-needed changes and improvements making the Lumia 950 a much more usable and enjoyable Windows phone.
Features such as Glance screen, which were peculiarly missing from the Lumia 950 when it first launched, are now here and working much like you would expect. Pretty much all of the software issues have been rectified, and this experience should only get better as time goes on thanks to Microsoft supporting Windows 10. Microsoft is working on the next software update — the Creators Update — that will feature even more changes and improvements to Windows 10 Mobile, and that update will be available on the Lumia 950 on day one.
It's encouraging to see Microsoft working to fix all of the original launch issues, making the Lumia 950 experience basically pleasurable to use, assuming you're okay with Windows 10 Mobile of course.
Microsoft has also introduced tap-to-pay on the Lumia 950 since launch, which is a big deal to many. Unfortunately, it only works in the United States right now, but it works very well and has Windows Hello authentication built right in. This is just another example of improvements that have shown up on the Lumia 950 since it launched.
Some issues that aren't directly related to the Lumia 950, such as the app-gap, are still apparent and haven't really improved much. On the bright side, Twitter and Facebook have introduced new Windows 10 specific apps which work great on the 950, whilst other developers, like banks, have been pulling their apps. It's not terrible, but it's not great either. If you're an avid app user, it's still hard to wouldn't recommend the Lumia 950, or any Windows 10 Mobile device for that matter.
Final Thoughts
The Lumia 950 has improved so much over the last year, it's actually pretty amazing. Buying a Lumia 950 today is like buying a whole different phone from the one that hit shelves a year ago. Back then I couldn't recommend the Lumia 950 to anyone based on a sea of software issues and lackluster hardware design, but Microsoft has done well tackling and fixing all the software issues, and third-party manufacturers such as Mozo have stepped in and improved upon the 950 design.
If you're a Windows phone fan and are on the fence about buying a Lumia 950 or Lumia 950 XL, I wouldn't hesitate to endorse that decision. If you're still using an older Lumia, then this upgrade will be worth your while. If you're coming from other platforms however, it's a different story.
If you're all-in on the Microsoft ecosystem and apps aren't a huge deal to you, absolutely check out the Lumia 950. It's the best Windows 10 Mobile experience on the market right now. Sure, there are newer high-end devices like the HP Elite x3 and Alcatel Idol 4s with Windows 10, but if you want a full, all-round Windows 10 Mobile experience, the Lumia 950 is exactly what you should get.
That's if you can find one to buy, as Microsoft no longer manufacture the Lumia 950 series. They're also dirt cheap these days, with many deals offering the 950 for under $300. That's a stellar deal if you're looking to make the move from an older Lumia, and one you should definitely snap up before they're all gone.
Zac Bowden is a Senior Editor at Windows Central. Bringing you exclusive coverage into the world of Windows 10 on PCs, tablets, phones, and more. Also an avid collector of rare Microsoft prototype devices! Keep in touch on Twitter: @zacbowden.
I think it's fair to say Microsoft has done very well in fixing a lot of the launch issues the 950/XL suffered from. I honestly believe the 950 is the best all-round Windows phone you can buy right now, and one you can buy knowing you'll be supported for the next couple of years. If you're still rocking an older Lumia, like the 930, 1520 or even older, the 950 is an excellent upgrade for you.

Need to replace my AT&T 950 with a broken screen, but haven't seen it for less than $300. Where are they selling for less?

I've seen a few deals pop up here and there. Can't pinpoint a specific one though.

I had the same issue,bought one at Amazon for $90 and got it within 4 days

@nick popplewell

I had the same issue, bought one at Amazon for $90 and got it within 4 days

What, a brand new 950XL?!?

1) they never mentioned a 950XL, just a 950. And 2) that is the price for a 950 replacement screen / digitizer on Amazon.

...that is the price for a 950 replacement screen / digitizer on Amazon.

1) OP never asked where can he get a replacement screen/digitiser either, he just said he had an AT&T 950 with a broken screen, & asked where can he get a

whole

950 for less than 300. So when the respondant said "...bought one...", I was thinking, huh, bought what, a whole 950(XL)?!? Thanks for the clarification.

Just have a look on eBay. Lots of choices there and you can get the unlocked version.

I had the screens shatter on both of my phones and bought the OEM screens they have on Amazon. They are about $100.00 and fairly simple to swap out as long as you have the right tools. Keep in mind that these replacement screens may or may not come with replacement speaker, vib motor, and audio flex cable. However, these can be removed from your old screen and applied to the new one with little work. I just recommend watching the complete teardown video on youtube to learn how to do it.

Haven't dropped by 950 yet knock on wood! But this is what I loved about Nokia & Microsoft phones. Before we upgraded our kids from 520's to 640's, I could replace digitizers for $2.00 or less including shipping and could complete the job back to logon within 4 minutes.
Now it's a bit more pricier and a bit more complicated with the newer phones but just swapping out the whole LCD and digitizer isn't so bad.

Check B&H photo. Sometimes they also have open box items for even better deals. I have bought "9" rated used items (phones, tablets) from them on multiple occasions, and I couldn't even tell the items had been used.

take it to a repair shop. There's a couple in my city that repair Windows phones for less than $100 each and competitively priced to fixing Android and Blackberry phones.

The AT&T 950 is 246$ on Amazon.com right now.

If you are ok with a used one, I just switched over to a new android phone for work reasons. I have one in good condition I would be willing to sell (AT&T 950 with Tech 21 Case).

I agree entirely these phones are great.

A better all rounder than the HP X3?

The Elite x3 is very much orientated towards business. It's big and heavy, camera isn't amazing, plus other small things that the 950 just does better.

Yeah just look at the price. When the Lumia 950 dropped to £250 w/ Display Dock in the UK (At times it's had a £40 cashback offer too, making it more like £210) I think it became the best value W10M device for sure. HP Elite X3 is great and all, even if it's business focussed but there are things the 950 does better than may be more important to consumers.

The HP Elite x3 was a much better phone at launch. It's the big reason I bought one because my 950XL was constantly restarting. I would recommend the HP over the 950s if taking pictures is not a priority. The HP is a big phone. Thin but larger like the 1520. That said after reading this article I'm going to get out my 950XL. And update the software. You are also right about the Mozo cases. I have the leather backing and it really made the 950 a premium looking phone. That's something that HP always lacked for their phone. There are very few accessories for the x3.

of course it is, it's best windows phone to get no questions asked, for the price an what you get, indeed, if you looking for bigger, just get XL version.

As long as you have $2000+ and are wanting to use HP Workspace for x86 virtualization :)

$900 phone + $500 lapdock + $300 accessories + $349 desk dock + .... It all adds up!

While the X3 is a really nice phone, it may be too large for many. Myself included.

Thanks for the article. I've had the 950 since it was launched and use it as my daily driver. My experience on the phone has improved over the least year. But, to say that all the software issues have been resolved seems like a bit of a reach to me. W10M is still maturing and it feels that way to me. If you can find this phone for $300 though, that is a great deal and I would recommend it to someone already committed to W10M.

Question for ya. How has the battery lasted? I just had to ship my 950xl as the battery crapped out after 8months.

My 950's battery started swelling a couple of months ago to where my Mozo back cover no longer was flush on the side. I wasn't very happy that I could not get a replacement battery via OEM channels, but ended up getting what is most likely an authentic OEM battery via AliExpress. I did do a lot of wireless charging and let is sit on the charger overnight. I'm changing that behavior now....

Could you please provide a link to the battery you found? I might buy 2, just in case we need a fresh one, should be getting close to needing a new one now, almost been a full year!

100% Original Battery BV-T5E For Microsoft Lumia 950 RM-1106 RM-1104 RM-110 McLa 3000mAh Should work as a search term on AliExpress. You would need to wait till tomorrow night for a link.

The battery for my 950 is still going strong. However, I just took my wife's 950XL into a Microsoft Store a few weeks ago because of constant reboots and a mess of other issues. The tech blamed it on a bulging battery and replaced it for us. So far her phone has been working much, much better with the new battery.

I need to take a look at my battery, anybody got a picture of what this "bulging" looks like? I've got a second battery on the way anyway for being able to swap it out if I run out of juice when out and about, that's happened to me on a few nights out recently and my only portable charger right now is a 21,000 capacity to a little bulky, easy enough to swap out to a 100% battery

To be fair, I don't think he said that all issues were fixed. He stated that the software was improved the most and all "launch issues" were fixed. Which I agree with having also purchased a 950 as soon as they became available.

Hi Zac! I'm rocking a 950 since February and love it more and more with each software update. Definitively recommended to WP lovers still using older Lumias. You mentioned in your article about MS improving MS mobile a lot with Creators Update but so far Fast Ring builds have been pretty meh to say the least. Do you know if really cool and useful features are to be expected with regards to mobile in Creators Update? I know you probably can't talk about that for NDA reasons and such, but a simple confirmation would do fine. :)

Well desktop hasn't seen any new features either yet...

You can hide "All Apps" in the start menu, and on mobile you can lock the phone screen and keep Continuum running, they are pretty much the two features that come to mind but not many others really. I think in terms of PC the biggest updates are actually the apps and support for new hardware more so than the core OS getting new features, and for mobile the biggest things are Continuum windowed apps which we haven't seen a peep of yet since the early demo - Feel like we need to be seeing that in builds before New Year if it's going to be ready for public release in late Feb

I'm surprised at some of the core issues still in the Fast Ring (Which has me worried for some of the more complex updates coming such as the Windowed apps in Continuum making it into RS2 as expected, we need to be seeing this soon really). In the past the core changes seem to have been sorted a couple of months before release, with the Xmas/New Year break they may lose a couple weeks of productivity too.

I never had creaking on my stock 950 back cover but my mugenpower extended battery back cover definitely creaks

This is such typical Windows Mobile news. Just when MS gets the 950 series to something maybe worth buying, they basically stop selling it.

do we have actual proof they won't be selling it? i heard rumors but is it true? they still selling through their website

They have stopped making them. They will continue to sell them as long as they have them in stock.

I think they have a hard time selling them, in Canada for cyber Monday, there was a sale where if you bought a 950 xl, they'd give you a 950 along with it, so two phones for the price of one.

They usually do those promotions,they did in January ,Easter ,now Black Friday

I think they actually ran this promotion earlier this year as well.

it's third time they are running it to my knowledge, first time i missed out, I got in on the 2nd one in April, my neighbour and myself went in on the BOGO deal, i got the 950 then,he took the XL, Black Friday deal I went ahead and got BOGO deal again, this time, give my girl my 950, i'm gonna get 950 XL this time and my assistant at work will get a new 950,i then gonna sell my neighbour who got 950 XL previously the dock for 50 bucks, win win situation for everyone

Well luckily for us fans not many people want them so the stock should last :-)

It's double tap to wake that was added later with a firmware update. Glance was there from day 1 and working fine, until Microsoft screwed it up with Anniversary Update.

What happened to glance? Mine is still working.

In my case the double tap broke completely the stability or whatever they put in that firmware apart from that. After double tapping the probability to have a random restart is almost 25%. But it is something related with the restart from sleeping screen, because even without double tapping I still have chances of have a random restart waking up the phone.

Did you perform a complete reset (Factory reset) after Anniversary update, which was the suggestion by MS?
If not try that. I haven't had any problems since. Actually as I am also participating Insider program, I have seen the improvements in many areas since Anniversary update, so keep waiting, there are more stability coming.

I've never seen the suggestion to Factory Reset when a new public build comes out....Also never had to do it either but in some cases it can help and is worth doing if there are specific issues. I wouldn't default to doing it though

It's funny I was at a meal after a meeting the other day and a few others had Samsung phones, they all had the Glance Screen feature and I had a little chuckle thinking about how long that's been a core feature in Nokia/MS phones. REALLY hope they keep Glance in any future phones.

Poor back cover but a great phone. But what about warranty?

I'm on the 939, and don't see a reason to switch.

Hey Zac. Really enjoyed this article. I'm still interested in getting 950XL for some sort of office on the go. Are Lumias still overheating after those recent updates where you could keep the screen off?
Also have you laid your hands on 950xl in terms of using continuum? I wonder if there is much difference.

Continuum experience is great. I only had issues with lagginess if I used Groove while trying to work in Office, but other than that, even the novelty is worth the price of admission in late 2016.

In deed, it is. Pity though MS is not doing as much to support Android, Ios etc that it is to assisting them to run MS programmes

Definitely agree with this comment. Only thing I'd say about the camera is that "failed to keep up with the latest flagship devices" can sound a bit worse than it is, I have the same argument about it that I do with the HP Elite Camera that just because something isn't the best/the winner in a head-to-head doesn't mean it isn't "good enough". I know you weren't criticising the camera or anything and the statement is valid that it's not as good as newer flagships from others, but phone cameras are kind of getting boring now IMO as they reached the point of any non-budget phone being fine for non-pro photos. Same can be said of phones getting "boring" in general, I always keep an eye on Non Windows phones and don't see anything there to pull me away from W10M, I will be keeping my eye on what Apple do with the iPhone 8 (10 year anniversary after all, so maybe they'll surprise with something awesome) and if MS come out with anything in late 2017-2018 I think it will be when they have something a bit unique to show off.

Having bought the 950 XL at launch and having such a horrid experience, as much as I want to upgrade my 1520, I almost feel like I shouldn't get one again out of principle as much as I'd like to.

Believe it or not, and like it or not, the Lumia 950xl design is stunning right now and it has aged very very well. Why you ask? Because everyone is going after glass backs and metal. Almost all look the same. And when I remove my 950xl from my pocket, STILL, the faces turn and I see eyes on my phone. Yes, the back is plastic and creaks, but they don't know it creaks. And the camera bump just screams that it means serious business. And also, best camera or not, one thing you CANNOT ignore is the megapixels! 20 megapixel. The amount of zoom I get, even s8 owners marvel at it. So, I would say, lumia 950/XL are the rare phones that actually "aged well." Really well.

I really wish that dev's embraced 10. Too bad, left the mobile platform for dead. The 950xl is an amazing phone. I love it. But lack of most every app that is on my iPhone keeps me from moving to it.

When microsoft said these were released for the Windows fans, they weren't kidding. It seems they didn't advertise them one bit. Market share went down and we lost some good apps like amazon, ebay, delta, etc. Not good. They really need to work on increasing market share or allow android apps to run on it again.

Yeah, and they didn't mean for the "fair weather" type of fans either.

I hope they never go down the route of Android apps. It didn't help Blackberry and it won't help W10M - Sure, have tools to port them but not any form of Emulation IMO. The Facebook owned apps ported with OS Meta are getting better (Especially Instagram) and I think it shows that porting can work. Even the feel of scrolling has improved in the Instagram app

Why would dev's embrace 10 when there's almost no new hardware being released? And that was is being released is targeted to very small markets: Elite X3 = enterprise, Alcatel Idol = a single carier in a single country, and then some phones that were Japan only. I think that's about it. As a result market share has crashed. And no market share means no devs.

very much a vicous cycle that Windows phone has been stuck in for years, but I do agree with your analysis and I think it was a bad mistake on the part of Microsoft to stop manufaring their own phones, announce this retrenchement to everyone, and leave us all in a lurch until some unspecified time in the future for the mold breaking phone of the future.....

and by "mold breaking phone of the future", please read sarcasm.....