Lumia Camera 5.0 gets a small update for some Lumia Denim users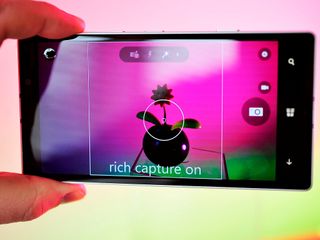 Microsoft just updated the Lumia Camera 5.0 app for specific Windows Phone devices that have Lumia Denim installed. Those phones are the Lumia 830, Lumia 930, and Lumia 1520.
The app now has the version number of 5.0.2.47 compare to the last update, which had the number 5.0.2.42. As you might have guessed, this means the update is a minor one with no change log listed. If you do notice any improvements, please let us know in the comments.
Thanks to everyone for the tips!
Windows Central Newsletter
Get the best of Windows Central in your inbox, every day!
Well still not there for Lumia 730 :(

Why not just use Microsoft Camera on the Lumia 730.....its amazingly fast and i don's see the need of manual shutter speed etc. on the Lumia 730.

Key words: Some Lumia denim users... Ok, ill share once more: 30 second video of 10, MS, and the 1520.
...
http://www.youtube.com/watch?v=z3nXHAQa-gQ&sns=em

Ye are welcome. It is funny.

Super, thanks for sharing :P ... but video brightness control is great for Lumia 1520 and Denim's screen inteference disappered, so not bad, if you have Denim :) ...

My 1520 is eagerly awaiting for ATT to "release the" denim (kraken).

Denim update on my Icon - in a nutshell, it feels like i went out and got a new faster phone, except i didnt, its still the same phone i got a year ago on launch day. Couldnt be happier with this phone - we all dogged Verizon so bad on their lack of support, and not marketing the phone, or anything, but I have to give some credit, this update is phenominal. The speed of opening the camera from a dead sleep is amazing, and this is on the Snapdragon 800 chip - just think how badazz its gonna be on the 810 flagship....cough, cough....I really hope its available on Verizon, cause my unlimited data plan is still alive and kicking, and ill ride it till the end.

All of the things you are praising are from Microsoft... Verizon is the one who has been keeping them from you. Don't give praise to Verizon for what Microsoft has done... especially since they are the ones who were actively keeping it from you.

He didn't praise Verizon, only the update.

"Couldnt be happier with this phone - we all dogged Verizon so bad on their lack of support, and not marketing the phone, or anything, but I have to give some credit, this update is phenominal." This sentence gives credit to Verizon. It may have been unintentional... not sure, but the sentence structure is giving them credit.

I can't wait myself. It's been so quite on the AT&T front.

Your praise is misplaced, as rightly pointed out by Poddie.

No, his praise is not misplaced; he never praised Verizon, only the update.

I think you need to learn how to grammar, because whether he meant to or not and whether you understand how to dissect sentence structure or not, he was giving praise to Verizon.

Not sure what you mean. The camera still opens slowly for me.

It's already super fast :D

Do any of you guys have any clue about Denim for at&t 1520?

It's an OS and firmware update made by Microsoft due sometime in the near future?

Well thanks for clarifying this finally. I was wondering why everyone seemed to be so interested in it

I'm astonished by the cleverness of this response. Astonished.

Supposedly all Lumia devices will have denim by end of February. +1520

And the tooth fairy is real....

Well, that's a given and majority of us know his name :P. If others are curious it's Dwayne Johnson aka the Rock lol lol - https://mumofthreedevils.files.wordpress.com/2013/08/dwayne-johnson-toot...

That's just for WP users in India...New Zealand just got Denim the other day...MS says they can expect all of their devices to have it ready for download by the end of March. While we here in the States wait and wait and wait. :P

I'm in NZ but no Denim yet for my 1520.

End of March to be 100% sure.

I talked to AT&T yesterday and all they could say is that it will be coming soon and they will post when it's available. So honestly no one that's not affiliated with AT&T like that wouldn't know. :)

When for older S4 phones?? At least some features!

At least faster startup time

Forget it, not gonna happen T.T

I'm waiting for Windows 10 with my Lumia 920 to test it. And I hope that the quick reply feature will be available for third-part apps (FB messenger) :)

It is much smother and saves files faster.

Seems to have fixed the picture rotation problem as well.

Sorry man I now don't have that problem anymore on my Lumia 1520. Too bad for you. ​

this update did not fix anything, i still have this damn rotation problem too, i need to reboot my 1520 each time i use camera 5.0 !!

Lumia Denim? Wat's that? My AT&T 1520 has no idea what that is.

No denim yet for my 830... WHEN IN INDIA!!!!

Lumia 830 comes with denim firmware

It comes with denim but not the new camera update.

Just installed on my 830 att

Yeah, but you don't get the HQ video nor Rich Capture (HDR, dynamic flash, dynamic exposure). You need build 14226 of the OS, an update that has not gone out yet for AT&T, in order to truly use this app. Otherwise, you're using 1/4 of it and it's lame as hell.

strange as I have build 14219 and rich capture is available on the Lumia camera. Are you suggesting it's a placebo ? Which begs another question, apparently the OS is at build 14226 yet despite having enabled preview for developers, I am not offered the update, is that program retired ?

Sorry to belabor...If Build 14226 is part of the OS, you'd think those of us on the Developer Preview with ATT L830s would have that? Or is Build 14226 a firmware build (that the Dev Preview program wouldn't update)?

yep my point exactly. in any case my Lumia 830 NL CV has a fully functional Lumia camera 5.0.2.47 with all of the features working and no message about a missing firmware. Rich capture is definitely working, as I just tested it. in fact, about three weeks ago, this device received an updated denim firmware that actually replaced the stock camera with Lumia camera. so apart from the fact that despite being enrolled in dev preview, I am still on 14219, it is clear to me the mentioned build cannot be a prerequisite to a fully functioning Lumia Camera, as it quite clealy functions normally on 14219. The question about not receiving 14226, despite being enrolled into dev preview still stands, although it isn't a prereq for the Lumia Camera on my 830.

Thanks for clarifying...while certainly not simplying.

U should read the article again...which states that Lumia 830 also getting the update

Denim? Thought that was just a myth.

It is..... Like Santa Claus coming through a chimney on chimneyless dwelling! September 4, 2014 thats when the lie was circulated & the rest is history.

Camera what? I didn't hear about that :D

After updating, cant even open in the half cooked denim unlike previous version! Aaaarghhh..... When denim in India!!

You should wait till Feb ends...didn't you saw the tweet by MS India???

I think u are unaware about the tweet which is misleading u!!!

This has fixed the slow screen rotations in other apps for me.

Not here. My 1020 rotates the screen in a flow, even my sons 630 does well. The 1520 takes ages for that. :'(

Really? My 1520 has gone from 2-3 seconds to rotate before the update to about half a second. Seems to be back to normal.

Been using this with cyan, just don't get 4k video lol

You also don't get Rich Capture (dynmaic flash, HDR, dynamic exposure), which is actually one of the biggest things to happen to this app. In other words, you're not really using this app. You're using about 1/4 of it (it launches faster).

I have a lumia 830 in Canada on the Rogers network. I installed the app, but keep getting an update your phone message saying that i require Lumia Denim, but I already have Denim installed. Is there a work around for this issue? Thanks, Paul

Press the back button and quit the app. Rerun the app and it should work.

This is NOT the solution. This gives you a neuteured version of the app: no HQ video, no Rich Capture. The "workaround" is to wait for the proper Lumia 830 update, build 14226, which enables Lumia Camera 5.0. You're kidding yourself if you think you have Camera 5.0 by doing this back button trick, it's a joke.

Back button trick no longer working with this update!!!

Can confirm. Completely un-usuable on my Telus 830. :/

So, to clarify, it is in fact not available for the Lumia 830. The title on this article should be clarified so as to not include the 830 as it obviously is not available in working fashion.....kind of like having money in an account, but with to access to it.....just sitting there with no use at all!! very frustrating!!

Why would a company that is so far behind in the mobile market compared to the competition release software in such a fashion? You think they would first concentrate on having all applicable platforms updated to the proper OS before releasing software that requires the latest OS. Generally something you would never see from the big fruit company or even the goog.

So basically one needs build 14226 to run Lumia camera 5.... My l620 in India got 14219 which is the half baked denim.... So no Lumia camera 5 for me

That's true..that trick is not working after the update! I wish i didn't update.. L830 :(

Thx MS now the app is totally kaked after this update, worked before but not no more, ridiculous... Telus Lumia 830

That doesn't work correctly

You need a newer update of the OS.

If only there were one available.........in Canada for Rogers anyway.

Also showing an update for my Icon, fwiw.

Still nada for AT&T Lumia 830's.... Sadness.

no denim for 1520 ... At&t. Seems slower

And MS seams to keep ignoring us here in the Latin America. Almost no one got the Denim update yet!!! The Brazilian list do not update for weeks!!

I Have Denim in my 930 TIM BR :)

Almost no one? All 520, All 620, All 625, All 720, 530 TIM, 535 TIM ... 635 CLARO, 930 CLARO, 930 TIM, 1320 VIVO are you still counting? It's a pretty long list here. Most of countries doesn't have this long list.

Cara, olha a lista dos outros países da América Latina, pra vc que pouquíssimas pessoas receberam!! Desses citados, apenas 520, 620, 625 e 720 são CVs e receberam! Isso pq esses 4 modelos receberam o Denim no dia que a atualização foi liberada, dia 22 de dezembro. Depois disso, quase dois meses atrás, a incompetente da MS Brasil não liberou o update para nenhum outro modelo!! Enquanto isso na Europa apenas o 820 e 920 não receberam a atualização ainda!!

Não pense que a MS Brasil tem poder para testar a firwmare e liberar quando quiser. Eles são subsidiários da MS Mobile e não acho que podem liberar nada sem verificação externa.

I record conference speeches on my Lumia sometimes but it is having only 55 min limit how can I remove this limit in Lumia camera

There is no limit, only if your phone have a small flash drive or no sd card !!! I have record a whole show of 4 hours with my 1520 (RM-938) in 1080p 30fps on my sd card !!!

Seems faster ? Ikd I have a 625

Still not working with my Canadian 830 :(

I wish you would STOP saying that the 830 has Denim "pre-loaded". It doesn't... it has Cyan 1.1 with folders. If it HAD DENIM, I could INSTALL Lumia Camera 5.0 BUT I CAN'T - because it doesn't have Denim. I AM STILL WAITING FOR DENIM ON A PHONE MICROSOFT TOLD ME HAD IT PRELOADED!

Microsoft announces a phone in SEPTEMBER - touting the amazing camera improvements of Lumia Camera 5.0 which will come as "part of Denim" on my 830. I buy the 830 only to find .. "SURPRISE" it doesn't have the 'real' Denim. It has 'half-baked' Denim. No Lumia Camera 5.0 for you! 5 months later, I still can't use features that were touted during the announcement of the device. No one seems to acknowledge anywhere at MS that the 830 is gimped and doesn't have 'true Denim'. Talk about away to friggin confuse and alienate people. Insanity...

"I wish you would STOP saying that the 830 has Denim "pre-loaded".

Some 830's do have this pre-loaded. Build 14226 has gone out to many 830's already, including those in Europe. You need to chill. This is Microsoft's issue, not ours. Our readership can barely handle this discussion at a superficial level, let alone breaking it down for them.

Sad that its rollout is fractured enough that you need to do that. Thanks for being patient with us. I would have shut off comments by now if I was the admin.

Hey Daniel - I get the situation and I am sure it's annoying to have to report on it and explain. I'm equally annoyed as a consumer and even a religous zealot of Microsoft. I'm not necessarily blaming you guys - I'm blaming MS for saying 830 includes Denim when it truly doesn't. I think anyone would agree with me though that this is extremely confusing for a consumer to buy something that is touted as "including Denim and all its amazing new camera features - only to find out they have Denim, but not the "real" Denim and they're missing features. When asking MS we get nothing official about this situation. Love you guys :-)

@Daniel Rubino, Not every windows central member is a zombie you know lol lol :P. Still can understand why you would say that, being hounded by inane requests and enquiries 24/7. Combined with the ridiculous things some often spew out whether it is misguided or not.

Daniel, with the connections some of you have to MS and knowing that there are MS folks in some of the forums I was hoping to see some updates or explanation for this delay (US) by MS. I agree with runamuck83's comment and find it frustrating and blatantly ignorant by MS to advertise the L830 with LC capabilities and leave us in the dark for months. Yes, it is MS' issue and I've posted my frustration to their blog, but I was hoping MS would notice some of this concern here at WC. The more noise we make the better the chances they listen, no? Please do not take this personal or WC related. You are often the community's mouthpiece to express our opinion and I sure hope that the companies take note of that. Cheers.

You aren't missing out on much with Denim on the 830. I have been so utterly dissapointed by the reduction in quality in LC5. The images are more compressed, over-sharpened to the max, and the colour correction for skin tones is completely off. Low light images are also worse, because the over-sharpening sharpens the noise, which makes everything extemely grainy in comparison to shots taken Lumia Camera Classic. It's a good job they kept the old version for those of us who prefer quality over speed. Even the Microsoft Camera app has better quality photos than those taken by LC5. I have also tested the new software on the Lumia 930, it certainly creates different looking images compared to Lumia Camera Classic, but it's not necessarily worse. LC5 on the 830 is a complete mess by comparison. 'All About Windows Phone' did an article on the changes with LC5 on the 830 which pretty much mirrors my experience.

In your opinion maybe. My 830 images are sharp and brilliant on LC5. I recently did some night shots with 1 second exposure and they came out sharp and clear. I see no over sharpening at all and I'm into photography and quite fussy

Technically Denim is there. It's the main OS which is not on the latest build.

Forget about an update to the app....i don't have Denim for my 1520 (HK variant) yet!!!!

WTH, take it too long time

If you are in preview for dev you will not get the denim for your RM-937, you need to get out en uninstall the app and restart then look for update !!!

Nope that is incorrect. Denim is a firmware and is not affected by PFD. As far as I know, Denim is only available for the Fins and UK only at the moment. HK is still on cyan.

My bad i saw UK instead of HK !! Btw yeah some phone are affected by de PFD and some not like the Icon you need the PFD to get denim !!

Really? I think Verizon has already pushed out Denim to all Icon LOL (Icon is just a rebranded L930 locked to Verizon)

yup denim is out for the Icon but you need the PFD because they put the update on their server, its stupid i know.... there is a tread for this on WC

Whereas for some models / updates people got it after they (un-enrolled) disabled the pfd app. I can imagine how confusing that must be...

Anyone have issues with the focus point disappearing sometimes? I wonder if this will fix it.

Still asking for Denim on Lumai 830

Probably fixed that screen rotation fault where it would show down the rotation to almost 6 seconds after taking a snap

I've got it :) (Lumia 830, T-Mobile, Hungary)

The phone arrived with Denim update from the T-mobile webshop 1 week ago.

Just updated on the Icon which for some reason never gets mentioned

The 930 is basically the Icon or vice versa.

When will they start making the changelog mandatory

Sometimes changelogs are actually not useful to consumers if they are very programmer-orientated. They are not always about features, in fact, they rarely are.

Then how hard it is to put "Bug fixes" and/or "Improvements" on the changelog?

Why windows central news can't tell what's the update from Microsoft

What is Denim? Are these new Diet biscuits launched ?

Sometimes lumia camera wont launch when long pressing the camera button while the phone is locked with password. Now it launches every single time.

the opposite with me, the old nokia camera launch every single time, with the new Lumia camera the phone have to be in glance mode to start the camera by pressing the camera button

I'm unable to update to denim on my Lumia 720 in India, please guide me

It's ask explained here: http://windowscentral.com/commenting-guidelines

Back button trick no longer working after this update on half baked denim. Don't update if you don't have full denim!

Lumia 1020 is a device with good camera but lousy hardware, Lumia 1520 is a updated hardware specs with a not so good camera. Not bias here but look at some other OEM camera photos output, shall Microsoft do something to improve the photo quality.
I am a Lumia 1520 user and nokia supporter.

What are you on about?? The Lumia 1520 has one of the best cameras

I knew, but try take a detail look into the photo, instead of comparing the reinvented technology from Nokia. When the time others 16 mp camera able to fast capturing the photos but Lumia camera still slower than others even though in camera 5.02, the quality of camera doesn't seem 85 points over 100.

I feel the frustration. However, the 1020 is not lousy, it's just a mid-range device by today's standards. Although, the camera is fantastic. Remember the old classic Toyota slogan? Let's paraphrase that: "My Lumia 1020 is fantastic". I expect a 1030 to be announced at Microsoft Build in April, personally. Just a hunch I have, never seen any rumor about that. It will probably have a 64-bit S810 CPU, latest GPU, 2 GB of RAM (probably no need for 3), 32 GB storage (plus a Micro-SD slot, capacity up to 128 GB). The camera then... 41 megapixel, Xenon dual flash (some kind of trickery to support an advanced Lumia Camera software capture thing, 4k video recording with simultaneous still picture capture and more stuff. Lol, just my imagination of course!

Got it got for the Icon too

i didn't get demim for my 720 here in India. have checked for updates many times.

This article isn't about Denim...

This is the second small update in the past 3-4 days for Lumia Camera. After today's update, its taking a bit longer to transition to the photo library..

I changed my mind, I don't want denim.

Just downloaded on my gold 930!

Doesn't matter. Nobody has Denim...

Just updated mine I'll report back if I've noticed anything. I recently sent feedback about the new camera app to Microsoft

I got the update to!. On an Icon

Nothing to see here if you're an AT&T customer. Just keep moving along.

The update is for the Lumia Icon as well

I am using Lumia 1520 but still waiting for Lumia Denim for the said variant in India and this update is only for Lumia Denim,

I have Lumia denim on my Lumia 1020, yet I can't install Lumia camera 5.0 .! I can't see why

1020 doesn't qualify for the update, as stated in the article.

Still no denim here in the philippines.

This article is about Lumia Camera...

Such update is not working in India for said variant such as Lumia 1520, because Lumia Denim is not released in India for Lumia 1520.

It doesn't work anymore at all on my Lumia 830.

When will released Lumia Denim for Lumia 1520 in India????

Hello gerro may I know ASL plz

Wrong website and dispensation of time.

Not Available for my l620 with denim...

What's Denim? My at&t L1520 asks.

Nooooooooo. It fixed the workaround I had to use it. I had Lumia denim 830 I got from Rogers. Lumia camera complained I had no denim. I got around it by hitting back and pressing the camera button again. Now this stopped working. I don't get it. It worked and gave great pictures why do they care so much. Ugh ridiculous. Wish you could turn auto update off for certain apps. Microsoft needs to take charge of updates to everything. This camera app was awesome.

man, your lumia 830 need another denim update for that lumia camera to have it full functionality. That press the back button trick is a joke because it didn't enable the true awesomeness of lumia camera (i.e : Rich Capture)

It's true but the camera software itself was nice. Better face tracking and other features. I was happy just to have a decent piece of software while I wait for full denim.

Lumia 1620 is not any variant, I think 1520 is your sense

http://wmpoweruser.com/windows-10-mobile-tp-on-the-nokia-lumia-925-vs-wi...

http://windowscentral.com/commenting-guidelines

My Icons' Lumia camera 5 app got updated on the 17th

lumia 830, have updated denim since 3 weeks ago, and today update for lumia camera. That rich capture alone is awesome! I don't care much about 4k video recording.

How did you get this update for your 830. I can't get it in att

I'm Lumia malaysian CV :D

You dont need Denim firmware to get this update. I got it for my L1520 and i dont have Denim firmware.

i bet your "lumia camera" don't have rich capture capabilities

So I have 1020 in Canada with Rogers. Can I get Denim or not? So confusing these updates

wow!!ultra rich capture on my 1020!!

Shame I haven't got denim on my 830 or my 1520 yet

Well this update was not good for me ..atleast now! I have L830 (without full denim) now they fixed that bug/trick that we non-denim user used for using app ..(i.e pressing back button & opening app again let us allows to use app) but they fixed that :(
Does anybody feel th same?

Sorry but I don't think Denim has been released yet (ironic & frustrated comment)

Just installed TP 10 last night on my icon but seems I can't get this update.

The screen rotation bug was fixed

No it wasn't, back to Microsoft camera for me!

No advantage after denim update in my Lumia 720 india:(

I have a 830 and this will not work on my phone. Says I need a update. What's up with that. My phone is up to date it tells me

I believe there was a workaround to run Lumia camera 5 on a Lumia 830 without Actual denim. The trick was to open the app and press the home button and relaunch the app. That doesn't seem to work after the update.

Based on few minutes testing on one of the Lumia 930 handsets we have here it appears to have resolve one particular issue noticed recently which was when in Lumia Camera on Denim the focusing was at times causing the device/lense to get very confused and make strange noises much like an digital camera when it zooms, now with this update that's not happening any more. Was due to report and send the handset for repair with Microsoft however if this has fixed it then perfect. Anyone else experience this?

Not exactly the same experience, but the focus on my 1520 would sometimes not work at all. Touching the screen would not trigger the focusing.

Hope this resolves that issue also.

Okay the Nokia Lumia 930 lense noises still there therefore this was not a fix for that!

I don't find any changes, 1520 with denim in Finland

The Lumia Camera update came to my 830 cv here in UK last night, (the full Demim update was about 10 days ago). I don't see any camera function differences, but the startup from cold - when the phone is off and you wake up the camera with the camera button - is now lightning fast. I really don't rememember what it was like before, but perhaps that is where the update has improved things. It is very impressive,

Hoped that it will fix screen rotate issue but nothing... Posted via the Windows Central App for Android

Can't even download it on my Lumia 830.

By the way 5% of the comments is about the article rest 95% about complaining not having denim. Lol

It also updated and installed on my Lumia Icon.. Just FYI

Hope it fix my blurry photos with 1520

Well I hope they bring the shortcut back to the last taken picture, it is just lame that you have to sign back in to show people the last taken picture when taken with the phone locked.

You just tap the circle in the top left of the frame, works for me even with phone off,

For some Lumia denim users? Yikes, they are looking to close the gap with android for the most fragmented mobile OS.

Lol hardly. Its a firmware update meaning it's specific for the hardware the phone has. If the phone doesn't have the hardware it can't use the feature. The only way to avoid this is to have all phones spec'd exactly the same. Your fragmenting comment is nonsense

No kidding. Fragmented? Do you even know what you mean? Doubt it.

Colors seem off when using the front facing camera now..things look de-saturated..on Lumia Icon

I updated the app now for my att 830, and now I can't hit back to use the camera any more it just closes the app.

will lumia 920 get this... as it has a pureview camera?

How do you even use rich capture. I see it in the picture but I cant activate it on my denim 1520.

Letmegooglethatforyou.com

the update of lumia camera 5.0. This is one of the reasons I wish microsoft would speed up their denim update even more. Still waiting for my denim update in the Netherlands. I already wanted to use the new camera features 2 weeks ago on a holiday trip. Yes, I'm still in the waiting game, while 95% of other lumia phones have the update. Do I now have the right to complain?

Is the percentage that high for those that got it, highly doubting, either way I'm in the same boat so complain away lol. My guess today's update for those who did have a semi-functional app but now have something rendered useless is MS way of saying "NOT FOR YOU!".

Aaaaaargh! I still haven't got the denim update on my Lumia 830

Still no Denim for my Nokia Lumia 820 PfD :(

This update seems to bring updated post-processing alghorythms. Now taking portraits with flash from close distance yealds much better results. They seemed to have turned down a notch the level of contrast.

Buy another phone. Android or Apple. MS doesn't give a shit about it's customers and scammed us since September with Denim and it's camera. Stop supporting them and giving them money. I have been a WP fan for several years, but got fed up now. They want to be a third big OS in the industry but lies and can't keep their promises. I wrote many comments like this, but it can't be more clear. WindowsCentral should also stop giving people false hopes. It's very sad, because i feel the OS is maybe the best you can get. Very simple but most important super fluid and doesn't eat up ressources. But sadly the people behind them are liars and incompetent people, and it all became worse when they bought Nokia. I would have told everyone i know to buy a WP and say good things about the OS, but now i will only advise people to avoid it like the plague

Windows Central.....please refrain from posting Denim features that are not yet released on all phones.....thankyou

Awesome!
Oh wait, my AT&T Lumia 830 has the 'fake' Denim.

It is quicker to start but still slow to rotate once open and affects other apps. Hopefully there's a patch soon. L930

So the Lumia camera app was supposed to come installed on the Icon after Denim was pushed. My OS says I have Denim but the camera app was not installed. EDIT: It appears I have the obligatory Denim version, not the real one. The camera app wouldn't let me open it. So yeah, Verizon is still a bunch of assholes who have yet to release Denim to Icon while all the other phones on Verizon got it. Way to support your high end phones, Verizon. Way to let Verizon screw us over, Microsoft.

I just got my Lumia Camera update for my Lumia 830 in the UK! :)

Not impressed. Flash portraits have a weird processed look. Lumia Classic takes better night shots. The new app needs work. Right now flash shots are shit.
Also seems very buggy with long press. Sometimes works but not always on my 930

When will it appear on Lumia 730
At first you Lumia 730 was launched with Lumia camera 5 and now they told it was not for 730.....

Lumia Camera is horribly screwed up. Big time. Icon. Yes, I have Denim

Lounching Lumia camera from locked screeen by the physical camera button, loses the option to switch to front camera.

When denim update will be made available for 1520 CV in Africa?

Still left Lumia 730 behind .. Why?

why lumia camera is not awilable for 1020

I just update to lumia denim and I can´t download this app still appers the notice that I have to update to Denim. Why this happend?

Few observations. Lumia Camera app, Files App does not close after pressing back button, they remain open in he background. Long press on the back button shows them open you need to swipe down to close them. Before Denim only calendar had this bug, now these two apps have also started behaving the same.

I recently updated my L1520 to Denim and was excited to use the new Lumia Camera v5 app.
Though it has new features and launches very quickly, I'm still not impressed with the time it take to focus on subjects. One tends to lose the moment at times.
The other thing I noticed is that pictures taken outdoors have vivid colours which doesn't look natural and then there is a red tint in pictures taken indoors with the new app
These are my observations and hope these issues are known and Microsoft is working on improving the camera app which is already become better by leaps and bounds...

the update fixes camera hang up that obligate to remove battery and put it back ,i have a lumia 830 country variant bought in Hong Kong and this week got update to denim but camera freeze up suddenly . greetings from Chile.