Lumia 625 on Telcel in Mexico receiving Lumia Cyan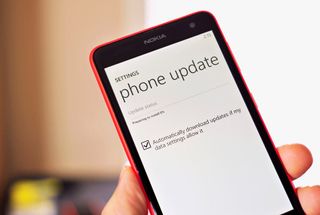 Good news for those of you rocking a Lumia 625 on Telcel in Mexico. Today you're getting Windows Phone 8.1 and Lumia Cyan! And from we can tell, you're the only new phone getting it today.
Tips are coming in that those of you with the Lumia 625 on Telcel in Mexico are getting the latest and greatest version of Windows Phone. Plus, you get the Lumia Cyan firmware update to make your Lumia even better.
We're not seeing any other new handsets grabbing the update today, but do let us know if you receive Lumia Cyan!
What's your favorite feature in Windows Phone 8.1 / Lumia Cyan? Sound off below!
Windows Phone 8.1 Tracker
Source: Lumia Cyan update availability (opens in new tab)
Thanks for the tip Stephen J!
Hopefully the cyan developer preview embargo will be lifted soon

It isn't that big of a deal. You want it but can't get it because of the preview just restore and after updating to cyan reset the phone and load from backup. The reason you would care is for a game save that won't cloud backup.

Very easy steps to do for everyone and works smoothly

Cant wait for my Nokia Lumia 1320 to get the Cyan Update & Firmware :(

I am sorry to be so stupid. I do read as much as I can of even posted from other websites but what extra will I actually see in cyan when I already have developer preview? I get all the updates for music, video, storyteller etc. I just cannot work it out

If you don't have a 1520, 930 or an icon practically nothing, judging from the reports from 925 users.

Icon and 1520 are the two that mainly get new features, maybe the 1020, but for the most part, it's under the hood improvements.

Sorry, I forgot to say that I have a 1020. All that I read seems to have come with the 8.1 update that I already have. Cannot work out how to use the geofence thing. Would like to make WiFi switch on when I get near my house

You're the only new phone getting it

625 and 925 have sure found some new love from MS !

Sam, that means that Microsoft starts to roll out again the update?, it was supposed that it was paused, right?

This is a carrier, and they are clueless, they probably received the update before the lift.

This is for regular people with the Lumia 625 on Telcel in Mexico. Not anyone messing around with the Preview for Developers. That's still on pause as far we know.

This particular update process is going to be remembered... What a pain!

Wake me up when it's available for my 920, 1020, 1320 & 1520. Until then...

Well. I'm in Mexico right now for work. My 1020 isn't telcel though. What a shame !

Same problem with my 625 from Movistar.

Everytime is see "Cyan" I think of dragon ball Z. :D

Omg bring the cyan update first to ppl that payd alot for theere phone like the 1520 and stop slacking Bring the update asap in the Netherlands

Gather around, Lumia 810 users. I propose the No Windows Phone Left Behind act.

+810 lol you got my vote.

625 in the Philippines got their updates yesterday already.

After the Lumia cyan update some things are missing like USB setting, brightness profile, quiet hour......... Etc i am using Nokia Lumia 625

Okay, now let the cyan update come up north of the border.

Damn!! Lumia 920 Telcel.. that was close =( BTW Am not sure what surprise me more... The fact that Telcel delivers an update this quickly or to see news from México in here... hehehe

Both indeed, but mostly the first

Te sorprende eso? TELCEL ESTA VENDIENDO LOS PRIMERO 20'S (5,6&7) EN $999! Y el 920 en $2539

Dime dónde para comprar 5.

O_o donde... Hace unos dias vi el 920 en telcel en mas de 9000

Si o.o di en donde los estan vendiendo a esos precios de regalo para ir a comprar unos cuantos

Wake me up when Cyan rollout ends.

Weird, considering that here in Mexico we never received Lumia Black :/

I'm in Mexico and I did get the black update, I'm with movistar though. L820

Me too. I'm with Iusacell and I got Lumia Black since April.

L920/Telcel with Black firmware.

GFs 625 and my 920 got black a while ago.

Weird, I also get the Black Update back in April, I have a Lumia 625 in Telcel and got the Black Update a week before I update to 8.1 with Preview for Developers

Bought L625 movistar with black intergrated.

U.u I'm waiting for Black to my L920 here in Peru...

Got a question i saw something about bitlocker problems on this link http://m.wpcentral.com/microsoft-users-windows-phone-81-preview-develope... so i dont have bitlocker on my phone but i want to restore my phone can i use the recovery tool on that link

Yes, but it isn't necessary.

Hehehehe México? 625? telcel? Already downloading!! I'm so excited!!! :D

What? What do you say? That my Cyan Update is ready for download? Thank you very much! Never a headline sounds to much like a personal message for me jajajaja

Oh... It happens that I can't download it, I'm with the Preview for Developers, that can mean something?

The Lumia 925 on Telcel in Mexico are getting it too.

Cyan update is available in India for NOKIA Lumia 925

Waiting for availability for Lumia 720

I have a Lumia 625 in Mexico with Telcel carrier and I'm still not getting Lumia Cyan. I downloaded 8.1 from the Preview for Developers... could that be the problem?

Mexico Movistar L625 downloading wp 8.1! Yay!
Windows Central Newsletter
Thank you for signing up to Windows Central. You will receive a verification email shortly.
There was a problem. Please refresh the page and try again.