Lumia Cyan comes to the Lumia 925 on O2 in the U.K. and to the Lumia 625 on Ireland's Meteor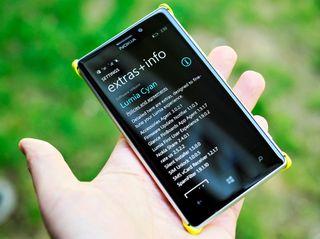 Looks like it won't just be the Lumia 625 on Telcel in Mexico getting the Lumia Cyan update today. We've got the Lumia 925 on O2 in the U.K. and the Lumia 625 on Meteor in Ireland joining in on the update fun.
The addition of Lumia Cyan on the O2 Lumia 925 in the U.K. and the Meteor Lumia 925 in Ireland will make a handful of you happy. Today's update doesn't just bring the Lumia Cyan firmware, but will also bring you Windows Phone 8.1.
We're also hearing reports that the Lumia 625 in Germany on T-Mobile is getting the update. But Nokia's tracking page hasn't been updated yet to reflect the changes.
Do let us know if your handset is receiving the Lumia Cyan update!
Don't forget to check our your Windows Phone 8.1 / Lumia Cyan tracker page to see if the update is available for you!
Windows Phone 8.1 Tracker
Thanks for the tip Les B. and Anand!
It should be "comes to.." Otherwise, glad to see our brethren across the pond get Cyan! :D

I have a sim free uk variant of lumia 925(CV GBIE),and i still haven't got the update

Same here, still waiting!. I mean more than 90% of CV 925s already got it (even in countries where wp has less than 2% market share), why we are still waiting here in the UK ?!.

How do you find out what firmware your phone is running, like what region its from??

I have recieved the update Unlocked Nokia Lumia 925 - CV GB :)

And I went to the moon !. TWICE !.

Were you running the dp before? I'm still waiting for the update on an unlocked UK 925 running the do no bitlocker but no update yet....

They have announced on the O2 forums that's only WP's running the 02 firmware and using a 02 pay monthly sim will receive the O2 update. I can't post the link via my phone but look for the 8.1 all you need to know thread and its in the comments.

is that a dual sim 925? Didn't know there was such a creature...

Good spot, it's a 630 screenshot as the WPC team don't own a UK 925...

Still no word for other model. Hopefully its not far behind.

I thought T-Mobile in Germany was named Telekom?

T-mobile is the mobile part of telekom

to hell with the 925 how about the 920

Hidden Gems? When will we know the winners?

Never heard about Lumia 926.

I went to a store recently and noticed the cyan features like brightness control on the 630, but why isn't any of it available on my 925? First I had updated over the developer preview but after reading your article about the apparent issues I restored my phone through the Nokia Recovery Tool and then updated it normally, but still I can't see any of the cyan features on my phone.
This update is so messed up!

Lol you weren't suppose to use the NRST unless you had bitlocker encryption on your phone :P only users with bitlocker reported problems afaik

I know about that, but since I couldn't see even a single cyan feature on my phone (except the extras + info message), I knew something wasn't right. That's why I did what I did, but to no success.

So if u dont have bitlocker on it and use nrst its not good ? U dont get the update anymoore ???

I got the update, but not the features.
Extras + Info shows Lumia Cyan but none of the settings/features visible to distinguish it from the developer preview.

Weird but if u dont have bitlocker and u use the tool that they provided to go back to 8 Will i get problems doing that or was that tool only for ppl with bitlocker ??? I am confiused

That tool is for anybody who wants to recover/restore their device if it's not working the way it should.

O2 have said that you must or you wont get the O2 update with the extras.

Hurry up cyan for Lumia 1520!! unlocked! So what's taking you so dang long!!? Lol

Still waiting on 8.1 thru att for 920 lol

The 1520 (I have 2 of them) along with the icon will get the most out of this update. Yet, we wait, and wait.

Last year high end phone get update so late. How come 625 925 get 1st. Grrrrrrrr.......

@myoujin
Because whoever decides on who gets the update first love to piss people off. This time it's your turn.

Why the hell is the US almost last when it comes out with updates?

Big brother needs to put all the listening thingies! Seriously there is nothing in Cyan for L625

Dont you get notification centre??? Toggels ???

Urgh. I though it's 920 .-. Anyway happy to see Cyan Rolling out

Awww. When the notification came up it ended before the five in 925 so I thought just maybe it was 920

:( the reaction for the Lumia 1320 users

Received update for 925 in the UK for the EE network today too!! I'm a happy bunny

Common Three... Where's the hold up? First Vodafone, now O2 and even EE... Just release it :)

You know that... I was thinkin in opening my phone to any network and just put a voda sim to see I I can get the update..:D

Changing SIM card or Network is got nothing to do with firware updates. Specifically depends on - Manufactures Name & Mobile Operator ( you can check that in extras+info - more info )

Surely you mean to say "Come on" as opposed to "Common".

I'm with meteor and ive a 625 and there's nothing ?!

I got it this morning on meteor.

Your phone carrier has to be meteor Go to settings, about, and check to see what your carrier is. You will receive the update when it is released for that carrier

I'm having the same problem as well.

In my very own opinion, Lumia 520 should get this Cyan ahead of other low to mid-range devices. Its the best selling Lumia and should get special considerations.
+520

I don't know what thought process goes behind the model choosing. If it's random then it's fine, but if there's any reason behind it then yours is a good one and should have been followed.

Because that might screw with the 630/635 sales ;)

Waiting on the O2 1020 UK update

whats the difference between 925 and 920, why dont we get the update too? :S

You'll get it too, eventually.
If you have the developer preview then there's nothing to crave about actually. Its all the same on the outside. No clue about the inside. Must have done something otherwise it's just depressing.

I have 2 1520's and i am just waiting for the extra features to be unlocked /installed so the phones can operate at their full capacity. I miss living image or whatever it was called.They were so cool. And I want that brightness slider. Half the stuff they promised probably won't be there. MS has been doing lots of lying lately. Doing 180's about Nokia X series (did you see the comments from Elop right here on WPC), the necessary inclusion of Kinect, then MS separates the system anyway...

Eagerly waiting for cyan with my 620 from Bahrain....MS has made the update process inefficient :(

You see, MS likes to test its users' patience, a lot.

Anybody knows how many MB the cyan update is? I have my update pending, but I have my cellular data on as I don't have access to a WiFi connection at the moment. I'm tempted to download the update right now, Just asking, so that I don't exhaust my mobile data.

I WILL RECEIVE IT LAST, SIMPLY EE ARE COMPLETE BELLENDS AND HAVE NO WP8 LOVE.... MEEEHH WHISKEY!!

Mannn this is bollocks.. I reset the firmware and re do the preview upgrade to 8.1 but I still didn't get cortana and I had change the region and language to US... although my time and date was still London... Facking bollock...guess I'm just gonna have to wait 2 week to get cortana in the UK..

Shouldn't have reset firmware, unless you're employer uses bitlocker.

I know.. But I was trying it.. Coz I have done the 8.1 preview twice and I didn't get cortana. :-S

Do you have to downgrade first if you have the dev preview because its not showing up for me on l625 with meteor ?

I guess mayb u have to downgrade if ur using dev preview....i hve a 620 with DP but don't wanna downgrade and all :(:(

No, only if you use bitlocker encryption

Pls improve the keyboard for all languages.

I am getting really impatient waiting for this update, I mean seriously how long does is it gonna take?!

625 in indonesia is having the update too :) Posted via Windows Phone Central App

Nokia Lumia 625 has been updated to Cyan with Vodafone, my girlfriends phone had 8.1 via developers for windows and everything upgraded smoothly... Waiting for O2 Ireland to do the same for the 820 but now that they have been taken over by 3 I'm not holding my breath on the update

Im on Vodaphone in the uk and I got the update on my 925

You did? Were you running the DP?

I still have not got Cyan Update on my Lumia 925 [Vodafone UK] But I am running WP8.1 Developer Preview, so I guess I am screwed, until,a nd if, Microsoft can fix their DP issue some time 'soon'.

But did they did they fix the bit locker bug for WP 8.1 dev preview?

It seems like Nokia forgot the 520 & 920 :'(

When the hell for the L1520 ? Isnt it supposed to be the nokia's flagship ? Appart from the Icon.

Where's update for my Lumia 1520?

Which will be the next line after 625 and 925 I wonder... +720

I am on O2 and I have 925. Says my phone is up to date :(

Wife's 925 O2 UK just being updated just now. Pretty stoked as i only have another hour to wait before i can go pick up my new 930 from O2 as well.

Waiting for cyan for Vodafone Lumia 520 still under test

Just got the lumia cyan update and 8.1. Well worth the wait on my 925. O2 England.

My work phone a Lumia 625 on vodaphone received the cyan and windows 8.1 update on Thursday night

I would have thought an carrier free Lumia 925 would have had the update first.

Awwww man! Where is my 920 EE update ??? Are they creating promoters or detractors?

O2 do understand smartphones better - will probably switch over to them with 930 in Oct

Seriously? Their choice is piss poor. They blew all their handset budget getting the iPhone exclusive a few years back.

Bro,,I Have lumia 720 from Indonesian with firmware indonesian, but I'm instaling firmware Vietnam,,So can i update this phone to Cyan???

It's available for Vodafone according to Nokia's website but doesn't appear for me when I check for updates. I just got a DP update.

Not for my 925 yet. Saying that I'm in Donegal at the minute but connected via Wi-Fi...

All this while I'm waiting for them to fix the update for phones on dev-prev. Looks like we'll be the last ones getting cyan now.

Probably the only person who hopes it doesn't come to the 1020 yet. My phone memory is down to 250mb, and haven't got time to prat about having to connect it to the PC to sort out the photos.

For any O2 customers. They have said that if you are running Dev Pre 8.1 you wont get the O2 specific update with extra features. You need to downgrade and wait. Sorry. http://community.o2.co.uk/t5/Other-Devices-Nokia-Blackberry/Windows-Phon...

Waiting on the MTS 625 Russia update

Still waiting here in Nigeria

guys who ever recieved the update please reset your phone after making necessary backup really helps and battery life improves too well happened in my L625

Patience is wearing paper thin, please release for 1020 already :((

Waiting with my L520 in India...!!! Please release asap...

According to the Nokia website cyan is available for 625 on o2 now but when I search for the update it says my phone is up to date. I have turned dev preview app off but it still doesn't work. Im assuming that if you want cyan now and don't want to wait you will need to downgrade the os first...... Or be patient. Im planning on being patient lol

Yes O2 said to get this upgrade you must be running their version of 8.0

Cyan update is available in India for NOKIA Lumia 925

925 on vodafone ireland got update on thurs,,, still not showing up on my 925with dev preview..may have to revert back to get it

Its 8.1.. Just loving it..

Just read this article & checked our 925's, both on o2. They have now just updated to 8.1. Very nice!

When update windows phone cyan (8.1) for Lumia 520 in Indonesia ? Please,..

No updates for my my 925 in the us yet

Nokia 1520, in the UK and I got the cyan update with 8.1 this morning.
Windows Central Newsletter