Lumia Cyan reportedly coming to Spain for the Lumia 925 late next week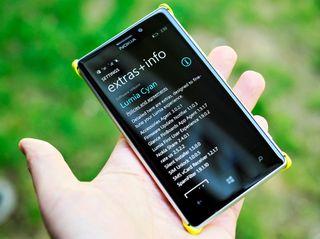 Microsoft and their new Nokia employees are in the midst of finalizing regional builds for their Lumia Cyan update, as such, more reports of rollout start dates are becoming known. The latest country on the list is Spain, which is reportedly getting Lumia Cyan on the Nokia Lumia 925 at the end of next week (week ending July 12).
The news was revealed at a Nokia event for the Lumia 635 and X2 when the company was pressed on the issue. In addition, Cortana is said to be coming to the area sometime in 2015.
We'll of course keep you posted when that update goes live, as we are expecting a wave of regions to start at around the same time. To catch up on all the Lumia Cyan news, including to see if we covered your phone or region, check out our main landing page:
Lumia Cyan – All you need to know
Source: Windows Phone Apps.es
Windows Central Newsletter
Get the best of Windows Central in your inbox, every day!
Daniel Rubino is the Editor-in-chief of Windows Central, head reviewer, podcast co-host, and analyst. He has been covering Microsoft since 2007 when this site was called WMExperts (and later Windows Phone Central). His interests include Windows, laptops, next-gen computing, and for some reason, watches. Before all this tech stuff, he worked on a Ph.D. in linguistics, watched people sleep (for medical purposes!), and ran the projectors at movie theaters because it was fun.
Please search our site before asking questions and/or follow the Lumia Cyan link we have provided. Thank you.

Is that a dial-SIM Lumia 925 in the picture? o.O

Out of curiosity I see a lot about Lumia, any update status on HTC? Last time, HTC was quite on track, being the first ones to offer the update, but now, no news..

In India, first 2 weeks of July according to Microsoft India's twitter account

And about 2 months later still woudnt have reached L620 users.

Hey daniel no offense,but the search engine in your website is Terrible

in india, it will realesed 2nd week of july

FirstTwo weeks of July for India

That's for wp8.1 not Lumia cyan

Wrong. Cyan, along with new firmware brings WP8.1 to the masses (ie those not running the preview).

May I know what is cyan update and 8.1 update. I am confused yaar........

What's in the Cyan Update? Anything major?

click the last link in the article

It also comes with WP 8.1!

Next lumia 920 please! :-)

So you can just drive and get the update..

925 first to get cuz having battery and heating issues ! :D

So true! Mines heats up all day.

Mine heats up when I play some games.

Absolutely, I'm very confused about that!

Facing battery drain and heating issues on my 920 as well :(

For me, it always appear when I go to sleep :-\.

And the most important, the 520. We'll see it on early 2016

No dude i don't think so... 520 is quite a popular device and is the highest contributor to WP growth.... So it will get on time with other devices...

Excited... So its mostly confirmed that Cyan is arriving in the next few days.... Also since i have a Lumia 1020 so expecting to get it faster unlike they did last time with LumiaBlack on 620...
Lets see .... Microsoft India....roll out Cyan fast.....

I totally agree... my CV-UK 620 didn't get it until late March, and a couple of weeks later, 8.1 Preview hit.

Yeah. Next stop: 925's in Romania.

Yes that is truth cuz we (925) having heating and battery issues since we bought the phone ! So this make sense to give us the update first than any other model! So we can have a bug free phone :)

920 had it just as bad If not worse where my update :(

Other sources say update will be starting from next week ...but daniel u r saying it will be late next week...which is true...?May I know?

both of these sources are true

Daniel is just more accurate.

You May not know...June May Know !!

Just need it on the rogers 920

WHAT IS CYAN? WHEN? INDIA INDIA? READ THE NEWS FFS! Lazy people everywhere, stupid world...

I am sorry we failed to live upto your expectations.. Sincerely, The world.

When on Pluto. We don't have carrier problems coz we don't have carriers.

Well, to be honest I feel too that the "when it comes in India?" questions are getting spammed all over the site(and in forums) in these days... And the reason why it getting annoying because no one knows when will it come in (almost) any country, but they just keep asking about India... It just starting to feel a little annoying to read these questions everywhere. It starts to feel like spam.

Agree. Indians are annoying me these days.

This shows how excited and eager we are to receive the update.may be annoying

Well, I hope it arrives to the 920 as well (*fingers crossed*)

And yet...no news about US carriers :( I hope they surprise us (in a good way) this time

You got middlemen in that one...give it at least a few weeks to a few months after release. Yay carriers!

Waiting for cyan update in INDIA... :)

This site is not India central. It's wpcentral

I have two 925s and none of than have any issues at all, battery life increased in both of them.

Did you got the cyan? of just dp?

Cortana coming "sometime" in 2015?? Wow, Microsoft sure love to keep us hanging on to the US region setting don't they?

Also will be available at France on July 08. http://www.nokiatividade.com/wp-content/uploads/2014/06/Lumia-925-fran%C... And, of course, Cortana for 2015.

Why always 925? I mean, 1020 and 1520 are the higher ends. *mine is 620. Always the latest to get. Don't worry:')*

+1320.
1320 is simply ironed version of 620. I have both phones

Hey Daniel or anybody know if we're getting that interactive home screen for cyan they showed off at the beginning of all the new 8.1 news it's the only feature we're still missing from 8.1

Now if we can only get a US release schedule particularly for VZW's Icon :D

Somebody has the cyan update and is not talking about it.

will you ever stop whining? you can see people talking about cyan in wpcentral forums.

How about T-mobile 925 US❔:-o

and cyan update for lumia 1520 is ready, will be available globally in couples of decades

Why there is no schedule from Microsoft or Nokia?

925 users in Australia on vodafone can look forward to receiving 8.1 in 2 weeks. All other lumias still awaiting software for testing.

Hopefully Cortana can makes its way down to Australia before the end of the year. We speak English too.

It's not about language, it's about regionalization and accent.

It would be really nice to see news about the update coming to the US. Especially if, some how, Microsoft managed to bypass all the carriers. AT&T enjoys dragging their feet...

I wonder when the UK will receive the update? I'm guessing they will update the older and low end handsets first. Kind of a kick in the teeth to people who have stayed loyal to the brand and gone for a high end Lumia. Meanwhile they teased Cortana is coming to the UK soon. Still waiting and have a strong feeling we will be for a while. First world problems eh.

Maybe they're tying it into the Cortana release for the UK and China. That's the positive theory anyway lol.

To be honest, I don't think it should take very long. The US Cortana understands me perfectly well. I mean like I've said in previous posts, if you're from deepest darkest Wales or from Dundee you may have issues, but I think any voice recognition would do!

When is the update comming for 1520 at Netherlands This is taking to long anyone know wich week ???? And do i need to go back to wp 8 or will de update come To wp 8.1 preview to

Why swipe keyboard does not support all languages? Norwegian ??

No don't . I have a lumia 1520 and it's works with English, French... But not Norwegian,not Swedish...

well... well... well... I can smell cyan now :D

Actually where can we find the update list? The schedule for the update coming to which country

Its on the Nokia site, however, the site has not been updated for cyan - black is still showing as the most recent update.

Daniel, I live in India. But I've set region in WP8.1 to USA. Will I get the update? Coz India's gonna get update before US.

Firmware updates are delivered by Firmware versions not by phone's region.

When will lumia 920 get the cyan update...eagerly waiting..!!

Please tell me when I get cyan update for Nokia Lumia 925.
Manufacture name: RM-892_eu_euro1-253.
Mobile operator:HUT-GB. But now I am in developer preview.