Lumia Denim rolling out to Lumia 820, 920 and 925 in India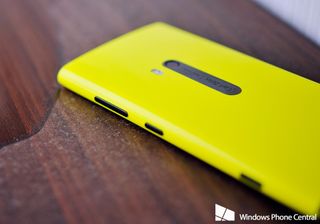 Microsoft has pulled the trigger on more Lumia Denim updates in India and it is currently rolling out to the older Lumia 820, Lumia 920 and Lumia 925 devices in that country.
This is an expansion of Microsoft's Denim rollout in India. The company started with the Lumia 520. Earlier this month, it expanded to the Lumia 525, 535, 620 and 720 and Monday the Lumia 1020 got Denim in India.
Microsoft has pledged to update all Windows Phone 8.1 devices to Denim by the end of February.
Thanks to everyone who sent in tips!
I second that ! With red one in my hand :)

I loved seeing my phone on an article :') +920

Yes, I always loved the yellow. I ended up with the black one as I couldn't wait the first week. Now it's my backup.

Now I have a problem. My phone still shows win10 TP as update, because I did the trick but did not update cause of size. Will it give priority to denim?? How can I get rid of win10 update alert?? 920

now this might sound tedious, but i'd suggest you backup your data and reset your phone.
better still, flash it clean using Windows Phone Recovery Tool.

I accidently enrolled my main phone for TP and had the update pending. I tweeted Gabriel for help. He replied: "Once a update is pending there is no way to stop it. You need to use the recovery tool" (to get Denim now).

Or wait for the next working w10 update right?

Well for that you'll need to keep on delaying the pending update. I'm using TP on my daily driver, Lumia 730 and I don't really face any problems.
Since you've used the hack, I'd recommend you change your phone's model number back to original and then wait for the TP update. If you wait right now, you'll get the TP for the mobile you've changed your model number to and you never know when these unofficial tricks go wrong.

It's available now. I just upgraded my Lumia 925.

Stuck with a black one :(

I miss the joy of posting comments like 'eagerly waiting...when for my lumia...' now that I have got win10 TP XD

And ATT....wtf, my 1520 needs this so I can be fully hands free

Seriously...this made me,happy but then I realised my 920 is CV-GREAT BRITAIN :(

920 in the UK is also receiving Denim.

I'm waiting for the UK Orange/EE variant 920 to update so I can have a trinity of 920, 930 and 1520 on Denim even though I know it brings nothing but name to the 920!

its out now, just received the update on the EE Lumia 920 :)

The updated quick, checked it around two hours ago and it was still showing Cyan. My 820 is going to get some offical loving!

Still waiting for denim 920 Puerto Rico CV

When in America, better yet when for the Windows 10 for the 920...I have 2 unlocked 920?!

My CV sim free unlocked 820 got it last night here in the UK!

switch off developer preview and it will be there. im in the uk running 820 and after turning off this software it cam through

The 920 CV-NL also received the Denim update tonight. I guess the newest build thus far. 8.10.14234.375 dated 9-2-2015.

T-Mobile bedoel je? Ik heb nog,geen denim binnen..

CV is Country Variant, not T-Mobile

Well I had to disable preview for developers, then checked for updates again and it came! T-Mobile Netherlands Lumia 920!

Vodafone netherlands nl920 too, disabled pfd and it's downloading.

When in fucking United States ?

Beetje jammer dat de 1520 cv nl t nog niet heeft..magoe kan nog komen :B

And greece too for my 820 !! :D Posted via the Windows Phone Central App for Android

While having Windowsphone still posted via WC app for Android ..! Grrrr

I love u r loyalty brah :D

Let him enjoy his gadgets. :-)

My phone is wp but my tablet is android :P Posted via the Windows Phone Central App for Android

Probably posted while updating...

An even newer OS than just reported on T-Mobile? Why don't they just push these via PFD??

I have pfd 8.1 with cyan!!! N it is showing up to date.. What to do??? L925 India

Disable PFD..Reboot..Check For Updates..Download..Install..Enjoy..!!

Hey anyone I own a lumia 525 ... Tuning in dev preview ... And I didn't get any denim update ... Would I have to go back to software recovery to get It .. Or is there any other possible way to get it ...??? Plz help

Did what is written in the above comment..? Try again.

Who agrees that this beautiful yellow banana remains to be the best looking phone to date? Still loving my 920

Me! I would love if they released a new flagship high end with this same look but thinner and lighter!!

That would be a nice 940!

Me too. Mine is white I wanted cyan but was not available. Regardless of color a great phone.

I would be a first day buyer and I never do that.

Was just thinking the same thing.

Looking at my depressing start screen, seems MSFT has abolished yellow. Spend a hundred hours now to tell people, that even Outlook turned blue.

I call it the Yellow Stone!

Still no update for Lumia 830. Had preferred it over 730 just for the Lumia Camera seen at the launch event. Thanks Microsoft :)

Now that X2X devices are done with .... next in line are the X3X devices.

Yeah! Finally downloading Denim update on my L925

L925 india update is showing up to date pls help

Also for the 920 in Germany

Try turning off Preview for Developers. :)

Newer OS number than my 930 denim mark 2

No update for 930 in India

Me too still waiting for it!!

Same for 830. I wanna use Lumia Camera :/

No more "when in india" jaaja now "when in México"?

For me.... when in Australia! Grr. lol

I love the Mexican Accent.

It is "wen in India" not "when..." ;-) please follow forum rules before posting :-P

And AT&T is still laying around... *sigh*

At&t still trying to figure out how to make softcard work.

Lumia 625 denim update in India?

Pledge to update all Win 8.1 devices by the end of February? They better hurry up. We only have three days left.

Purely based on the rate at which they add models, there is no way they'll make it, at least worldwide. They are not even close to being done: http://forums.windowscentral.com/windows-phone-8-1/340792-denim-rollout-...

Maybe it technically means devices that were released loaded with 8.1?

He is mentioning about the tweet by Microsoft India that all Lumia in India will be updated by the end of February....

Any word on a possible Lumia camera 5.0 update for the 920? Surely we could at least have the faster shooting speed

It'll come with Windows 10.

no u will not be able to get the realy lumia camera expeirnce due to hardware support ,, only high end phones support

Still betting on windows 10 for my 920 before Rogers releases denim.

Wtf where is my update for Lumia 1520

In two days April starts, Microsoft told you all receive Feb end, it's month end no Denim for Lumia 1520 in India....

Really .. I have been waiting like hell for it...

Probably will get 10 for my 1520 before att releases denim... I hate the wait...

me to waiting for my l1520 pls microsoft release it fast

Finger crossed for my Lumia 625 hope to get it soon

I got denim update for my L520 about 4 months ago..! (;

UK 920's are also receiving Denim tonight :)

Yup, once my phone finishes charging and have everything backed up on my laptop, I will be flashing denim onto it via the LSRT.

https://www.windowscentral.com/e?link=https%3A%2F%2Fclick.linksynergy.co... and the UK CV 920s as well and it looks like there has been an slight os and firmware bump up from 8.10.14219.341 (PfD) to 8.10.14234.375 / 3051.50009.1424.008 to 3051.50009.1451.1008

India is in the the priority list on Microsoft's notebook!!

The 28th is very near... Where is Denim for the rest of the 1520's ? I'm starting to wonder if M/S has issues with the firmware for this device and don't want to comment on it for fear of a back lash

What does Denim add to the 920 if it is just in name?

Yes. But good to have the latest software.

Waiting to have it in my L930

Own 1020 on pfd and still no denim update

PFD will have to wait, if you want Denim use the recovery tool to flash the OS.

That is not necessary, all you have to is uncheck the tick box in the pfd app. I'm only reflashing because I want to.

DON'T re-flash your phone, just uncheck dev prev program and try again.

T-Mobile Netherlands too. L920
I had to disable preview for developers.

The last paragraph "Microsoft has pledged to update..." Does that apply worldwide or just in India?

My 1520 is still waiting when as per Microsoft it was supposed to be one of the FIRST devices to get Denim :(

920 on pfd, shows phone up to date. Any help?

Anxious to get Denim on 820, CV from Brazil. ;D

Waiting for denim update for 1520 Hong Kong

You and me both. 12 out of 19 Asia Pacific 1520 models have been updated, so at least there's some movement. And only 3 out of all 15 Lumia models in Hong Kong have not been updated, so it looks like HK is at least working hard on the updates. The other missing two are the 820 and the 920.

I have Lumia 720!!! N still not showing up the update.. Pfd

Uncheck the tick box in the pfd app and try again.

But I've already uninstalled pfd...

Reinstall pfd app. Uncheck the tick box. Search for updates. Achieve enlightenment.

I love how they said high-ends would be first. Yet my 1520.3 is still on Cyan..

Checking for updates.. Since ages lumia 920 and 925

I think that Microsoft will rollout denim update hmm till middle march or to the end of march.

820 and 920 is now updating in Finland. Remember to deactivate DP if used before update check.

Wen for 1520 i am waiting

Just installed the update on my Nokia Lumia 920. UK Tesco mobile

Because it's 26s February and it's only 2 days left

WTF are they gonna skip 1520 and 930? I mean they said these devices will receive it first! So far no devices with new camera features has received the update in India I think!

AT&T...z...zz...z...zz...z...z

z.....zzzzz..zzzzzzz.zzzz.zzz....zzzz

820 cv and Vodafone italy got the update 3 days ago

Hey when in Pakistan,..??

Lumia has phablets tooo ...did u guys forget that MS ... 1520 ,1320...will denim they see light before 28feb or should we wait till march...abd soo on...

Where is denim update for 1320

When will the 920 in the US get this

What the hell? What about 1520? Stupid Microsoft, they cant update their few millions of phone in a 3 months. Horrible

Lumia Denim rolling out to Lumia 925 country variant in Finland, finally! I have been waiting for this update for so long and now WP8.1 is much better - the start screen took a big step forward with the folders and made organizing of apps much easier.

Italian CV 920 as well.;)

Lumia 920 cv Denmark now finally available :)

still waiting for 1320 :(

India is releasing the Denim update to every windows phones,while some windows phones are stuck on Cyan update.

Also in some European countries. My 920 is Italy CV and received an update

What about U.S I'm still waiting

Wow, the first 820 in the world is being updated to Denim. Finally!

Lumia 920: The Best Lumia Design Ever!

Lumia 925 too best one. Diet version of 920 :)

Damn cant believe those old one got the full denim while my 830 still sittin.

"When on AT&T (1520)?" is the new "Wen in India???".

I have 820 from India. I used to use it in USA. Can i still grab the update or do i need to be in India to get it?

Maybe, for best results take a trip to the north pole and try there :p.
Seriously though, once the update is available in the region where you bought the device you will get it. No need to physically relocate for an update lol.

Will someone please help me here:
I have Nokia Lumia 720 India
I already updated to wp8.1.2 via preview for developers and now as official denim gas rolled out I don't understand this: Is Lumia denim an extras+info update for preview of dev or a phone update and as a preview for developers phone what should I do to make my phone actually denim. I am really super confused.

Go to the preview for developers app, uncheck the box to opt out of the preview, then go to settings to check for updates. That's it. You'll get denim if it's available.

Oh my seems MS kinda forgot they have phones in Africa??

Also just received the update here in Holland John! Lumia 920 EUR unlocked.

UK 920 and 925 both CV both now on denim :)

Shop it will be soon released for my 920 I'm Indonesia

When will we get Denim on 820, on the Uk 02 Network

Only O2 can answer that question!

Already out, took ages to install this evening!!

Waiting for denim update in my L930 India..

See the battery bug still exists. Went from 100% to 68% on restart (Lumia 920 gb-cv).
Also notice about page says Sim ID.
And messenging+ in extras
And puttng dp back on shows cyan in extras. Lol

Is the pldged for India users only?

Add Sweden to the L920 list.
Downloading right now..

Lumia 820 still have cyan CV

Will L920 get any câmera advantage with this Update? Once it has PureView technology...

Received in Spain 920 Country Variant

FWIW, I've not seen ANY 'resuming..' screens since disabling pfd and updating to Denim on my UK EE 920. Phone genuinely feels snappier. It was really starting to get to me but this is a real improvement.

I have Nokia logo on power up for 20 seconds, and camera still takes 7 seconds. So no difference in my case.

Lumia Denim lands in the Netherlands as well. Just got it on my 920

L820 O2 in UK already out :-)

Just got my 920 update in the UK

L920 Denim update in Serbia Telenor updated aswell.

When on 1020 for my coworker and 1320 for my wife in Australia? MOAR!!!! :P oh and my old 925 could use the love but I have it on my 930 so I don't really care

What about Lumia 1520????

Still waiting for 920 CV in Brazil.

Denim update for Lumia 920 not getting update -India

Opt out of pfd and recheck for update... U ll get it

my 720 cant be updated to denim in india.

Even I'M unable to get that..:(

If u are on developer preview you won't get denim via OTA update.
U will have to use software recovery tool. All your data will be erased make sure u backup

Hey no need just go to pfd app ND untick the option.I got lumia denim using that technique.my lumia 820 has got a good lease of life.

Hey, I had already tried the
un ticking option but its not working in my 720

Waiting here Cambodia, for my old 920

I still not get denim update

+1520 still waiting in india

Update for my Lumia 920 from Slovenia is available, unchecked the PFD and it worked. Thanks for the info guys. I think it runs much smoother now.

When will be available in Philippines for 920&925?

Any body knows how much mb do we need to download this update?

Not if you are already up-to-date via PfD

Hey my Lumia 925 doesn't show any update. Please help.

No update for my L920.i unchecked dp...:(

Don't see it yet on NL920 :|

My phone is from India but currently I'm in US with T-Mobile, & I cannot see an update. How to get one?

When will released Lumia Denim for Lumia 1520 in India??

I hope to night Lumia 1520 & 1320 will released Lumia denim in India.

My phone is wearing denim today :)

Cortana still not available in India

It seems Microsoft wants to kill 1520 in order to promote its own new models!! So sad

I had untik the pfd, but still it is not showing denim update. Plz guide me guys.

Updated after unchecked PFD. Thanks for a tip friends

L625 was one of the first devices to get Cyan.. Looks like they ve forgotten .

After an update extra+info shows "Lumia Denim".... After that again Recheck your PFD then ........ Extra+Info shows "Lumia Cyan"....... It's a bug?

what about the L625.. MS have you forgotten this??

When did Lumia 625 get denim in india

what a F**k,where is update for 1520, major update in denim comes in this device only form of 4k video

I still not get Danim in my Lumia 820 in India

What all it includes for Lumia 920. Also I tried to do phone update but couldn't find one as it says your phone is up to date...

When for Lumia 1320 in India, waiting for so long???

When are they gonna release the update for Lumia 1520 in India???....... After the cyan update my device is plagued with problems.

When I will get Lumia denim for 625 you guys are very slow plz rolling out update for 625

Downloaded......cortana, again is not as per local language and region. Under mobile +sim, ' Highest connection speed' reduced to 3g.

Chandan, switch off developer's preview and try.

Plz bring it for Bangladesh! :(

My Lumai 925 show error while updating to Denim ( 80072ee2 ).

My Lumai 925 show error while updating to Denim ( 80072ee2 ) . Anybody have any Idea how to resolve it ?

Lumia 920 Netherlands CV here in Romania finally gettin' it too...

Got Lumia Denim on CV Lumia 820 last night in the UK to.

When the denim for my Lumia 520 WP8.1 DP?

I got the update alert on my 820. The update size is around 800MB, but don't have free space. 4GB is used by system, not able to move few apps like whatsapp, truecaller to SD Card. Deleted email accounts but it still showing that 2.25GB is used by email+messaging.What to do ?

When I will get denim update for my Lumia 630 dual sim in India??????

I was really hoping that Denim update will enable 4G on my 820 in India but it didn't.

Ya good update.gave life to my old Lumia 820.

820 EU variant is also rolling; those folders are damn nice, btw

Thank you Ms for updating my oldest phone lumia 820.update is great on my lumia 820 .

I'm downloading now... (India) I Love My Lumia 925!!!!!

The previous update of Lumia denim on 720 is not updated and if I check it shows up to date only... If I check on my settings it shows Lumia Cyan... So just check it out and fix it Microsoft....

Akhilesh what is denim size ?

I got it on my Lumia 820. CV DENMARK!

What is the size of Lumia denim update?

It showing around 750 MB for me

I still dont have Denim on my 820 in austria. It's a non branded phone.

Anyone getting it on their 720 in India?

When denim update available for Lumia 1520 in India..??
I m still waiting for update..!!
Plz tell me.....??

Installed fine without any issues. Already was enrolled in PfD so the download size was very much small. For those not seeing the update, see if you have PfD enabled, untick the check box and check again. The update also contains a slight bump in the firmware. Nothing to rave about. Just likely a few bug fixes. Hate to say this, but it does feel faster ;) Will have to see if it improves the battery life any better. Of late I'm getting very bad battery life out of my 920. Will check out for a few days before I decide to go in for a hard reset.

Microsoft can you say Lumia denim update.rolling out of L625
L1320 L1520 tonight in India,

I am from India. My phone is Lumia 820. But, Still I didn't get any update..? Why..? My device has Developers Preview OS and had enough space too.

@chandan I m facing the same problem

I still didn receive update in India Lumia 820... Pls help

Why Fricken india ? what about America!

How bout in preview for developers?

After we update 920 checking again the pfd it shows Lumia cyan

Still my 720 shows ur phone is upto date.. Currently running dev preview.. :(

Can anyone tell what are the changes in new 14234 firmware...as previously I was on 14219 via pfd...on my Lumia 920

Thanks guys for the tip nw able to download denim update for Lumia 920

I would like to know that how many MB or GB of data required to update Denim.

Now LUMIA 1520 also ... in India....

After Updating to Denim microphone on my Lumia 925 (India) is not working. It only works when I use it to make a call. When in a call I switch to speakerphone then microphone stops working. Speech recognition is not working, unable to record voice clips in OneNote or Whatsapp. However, when using a headset everything works. Can anyone help?

Great work...! But in middle east not rolling....?

I'm getting the 8018830f error when I tried to update :( Lumia 820
India

waiting for Lumia 820 INDIA havemt found as if now

in this update my 920 not showinf usb in settings is there any problem or something else?

When I recieve denim update in my Lumia 625 in India..?

After the denim update on Lumia 920 in India, 4G option is missing. Now only 2G and 3G are visible

Its end of the month nw!!when ????

Lumia denim update for my lumia 925 is not showing in Phone update... Pls help how to update?

Who all are from India and still don't have the denim update???

I have updated my Lumia 820 to Denim and still its showing my device is running on Cyan. why is it so?

Still waiting for it in Australia. Was sooooo happy when I got cyan becasue I thought that I would get Cortana. I was mistaken. Now im waiting for this update. Hopefully its worth it.

Denim available for Lumia 920 in Malaysia...!!!

Guys need help ASAP,. No option for Connection Speed change last night My Lumia 925 got Denim update, after update there is no option for Network Connection Speed change, its stuck with "Highest Conn Speed 2G". iam unable to choose 3G network. Tried almost everything but NULL,. plz help. You can check image out here https://scontent-cdg.xx.fbcdn.net/hphotos-xpt1/v/t1.0-9/10906065_1255295...

Hi... I have a Lumia 820 and it still has the Cyan update.... Im based in Bangalore, India and have a Vodafone connection... When will I get Denim????

Att forgot to release denim for 920 :(
Windows Central Newsletter
Get the best of Windows Central in in your inbox, every day!
Thank you for signing up to Windows Central. You will receive a verification email shortly.
There was a problem. Please refresh the page and try again.