The Lumia Denim update is finally rolling out for AT&T's Lumia 1020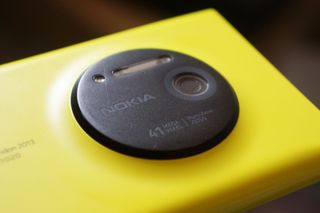 (Image credit: Windows Central)
Owners of AT&T's Lumia 1020 smartphone have been waiting very patiently for the carrier to start rolling out the Lumia Denim over-the-air update. That day has arrived as we have received tips that the update is now available, combined with Microsoft's own support page showing Denim is now live for that smartphone.
The release comes a month after Denim became available for the Lumia 1020 country variant in the US, along with the Rogers and Telus carriers in Canada. However, a number of Lumia Windows Phones have still not received the Denim update in the US, including the popular Lumia 521 from T-Mobile.
Do you need some assistance in getting your Windows Phone OS updated? If so, we got you covered with our how-to article on that very subject.
Source: Microsoft (opens in new tab); Thanks to Couirey and Sam for the tip
Good for 1020 owners, bad for 830 owners

Just another 6 months for the 830 on AT&T. Actually, in real news I have a major customer expecting it in July. So look for that timeframe.

The update is being held up by ATT Microsoft has it ready with GDR 2 already

I heard that ATT was deciding on their next Denim release between the rotary phone and the telegraph. Upper level management wanted to get Denim going for smoke signals until one of their admins said that ATT doesn't hold any patents on smoke signals. ATT management studied it for 2 months and then decided that they would go "smoke signal patent hunting". So up next on ATT's Denim roll out will be either the rotary phone or telegraph!

Seriously? This is completely irrelevant to 830 owners. This is completely irrelevant to anyone who doesn't have a 1020.

Just annoyed by @Heavens_Angel26. This isn't "bad for 830 owners." It's bad that AT&T hasn't released Denim for 830 yet, but releasing it for 1020 doesn't make it any worse.

Gives me a chance to say there are still SIX other AT&T Windows Phones that have not been updated. The last one was the 1520 on Feb 26th. At this rate they will have them all done by October 2016.

Whoa! I thought Verizon is bad...

Oh, has Verizon already released it for their 1020? Booya ;)

Does this apply to those of us using an AT&T 1020 on T-mobile?

Yes I received it today. I did however just wipe from Windows 10 Preview so pretty sure that helped kickstart everything.

Calm down... it's still 'gimped' Denim... the one without Lumia Camera 5. I was excited to finally get my wife using the same Lumia Camera 5 that I'm using on my 930... 'specially since her 1020's camera blows my 930 camera specs out of the water... it definitely says Denim on it, but all the cool stuff is omitted.

The Lumia Camera 5 is currently for newer phones only.

How could you have missed the 300 articles that explicitly stated 1020 would not get camera 5.0? Wow...

What's with all this shit about the 830? 1020 rulez!!!

Phone not finding the update? Sign out of Preview for Developers first then check again. Your phone will find and download the update.

I'm getting an error - unable to check for updates. Internet search says its a time zone mismatch, but I checked that and its correct.

Thank you. But I had to restart.

Wow...i can really shake my head on this. Soon 830 will be forgotten and still no denim for US.

That's funny. I just got the girlfriend an 830, thought it launched with Denim. Guess I'll check later.

In name only not features.

Try to find the toggle for Data Conection ;)

I'm not even going to ask you to define what you have written...

Yeah, what the hell?! Stupid AT&T!

920 please. Also release the 640

Wow that suck guy! I must have been luck got it on my 925 the same day it came out

Yea, can't live with 'em, can't live without 'em.

What? And not the 830??? MASSIVE FAIL AT&T!!!!!!!!!!!!!!!!!!!

F**k u at&t lol, like wtf

Not. Showing on either of mine....PFD installed on both.

Now it just says it can't download. Will try again later.

If I have the preview, should I even bother with denim?

Remember that Denim is the firmware that also has the accompanying OS update that we got with the DP/Insider. While the Denim firmware isn't really adding much TO the 1020, you still may want it. I had loaded and executed the Insider on my 1020 but ignored the notification that Windows 10 was available. So, I'm still stock 8.1. Sadly, I can't tell the Insider to NOT show me that stupid Windows 10 update, so I'm hard-resetting so I can load Denim.

Wow, I had no idea that the 1020 still hadn't been updated! I was thinking of switching away from Verizon after the whole fiasco with the Icon and Cyan/Denim, and I was leaning towards AT&T, but this doesn't inspire much confidence...

Eh, not much of an update anyway as it does not get the camera improvements or Hey Cortana. I am actually surprised it even got it..

There could (and probably is) under the hood improvements and optimizations.

Lol the icon among others still doesn't have a denim compatible display module(system app)

Farstrider: What is this display module?

No update on my Lumia 1020 on AT&T.

I have windows 10 installed :/

Same here, so no Denim for Insiders?

Insider gave me Denim and then the 8.1 Update 2 before 10 came down After playing with 10 for a bit, I reflashed and got them again and then quit before 10 came again.

Nope. If you are on 10 you have to flash back to get Denim. Why on earth would you ruin your 1020 with Windows 10?

I wish I didn't upgrade. But my broken USB port means I can never downgrade. =(

It is a joke right? you can replace your usb port for less than 10 bucks XD. http://www.etradesupply.com/nokia-lumia-1020-charging-port-flex-cable-ribbon.html

Lol, that's funny right there...suck on the devil's teet and ye might get sour milk...that's a TP for ye

Mine kept checking for ever. Finally, got it.

My NL1020 on Dev Preview, does not show any updates either when checked...still with Lumia CYAN..Is it really came or my device is missing it since i unlocked it from AT&T some time back ?!! Could some one tell me...?

Get a cup of salt water....insert phone...wait a full 10 minutes...then try to download....*walks away chuckling to oneself*

un check the box in the dev app and try again

Does this even matter? Isn't this useless for my 1020?

I believe It introduces live folders and 3g/lte toggle on action center.

That's exactly what I was thinking

So is the camera even ffaster at all? Or is the camera exactly the same as before?

AT&T the worst carrier to release updates! Incredible!!!

Actually they were much better with Cyan last year and Denim for the 1520 back in February.

On my 8X I got very quick updates with WP8 as well

Compared to a couple of years ago when they were atrocious ATT has been good on updates and I haven't had a reason to complain. Wasn't even worried about my 1020 getting Denim because I don't think it will do much for it but it has been quite a while coming.

That may be true but AT&T is all we Windows Phone fans in the US have regarding a carrier that seems to support WP phones besides T-Mobile. Unfortunately being an OS with 3% of the US market leads to low priority and a "we'll update it when we feel like it" mentality with US carriers. Signed frustrated and nearly hopeless US Windows Phone owner.

Get an unlocked phone. I have a 930 no more carrier interference for me.

Damo579, which network are you using the 930 on?

AT&T. No lte but hspa+ is fine for most tasks. I love it and my phone will get updated much quicker. I have the UK country variant.

Yep,Blu Win Jr LTE for me:)Have a 635 as a backup.I'm guessing theirs going to be alot of disappointed people that won't receive WP10.Still sitting on WP8.1 on my AT&T 635 with no update one or two coming anytime soon.

I have an 830 sitting in a draw waiting to be updated........ No more carrier phones for me.

Lumia 1020 is my daily driver. I bought a Lumia 635 for one reason only: testing Windows 10. It's a cheap, useless smartphone, but it was the first one out of the gate that Windows 10 could go on. If I'm going to trash Windows 10 I had to have a device to speak from experience. The same is true of the PC version.

Still,I'm buying AT&T phones and paying for their services.I'm getting sick of being treated like a second class citizen for not using IOS or Android.

Android users have the same problems when it comes to updates. Only the iPhone bypasses the carriers to update their iPhone

Apple get's what they want or you don't carrier the iphone.That's already a known fact. Sure see alot of article's about AT&T pushing Android 5.0 to their phones.Maybe not all of them,but more effort is being shown for Android than WP.

Only flagships get updates fairly quick on Android. The 1020 is almost 2 years old and got an update.

Umm. Or maybe the best carrier. The others are vastly worse.

Is there a better US carrier for WP updates?

Not anymore.All the US carriers have dropped the ball on WP,but a customer is a customer and choosing to use WP over more popular OS's should not matter,but it's all about profits with these companies.

Wonder what the issue(s) **really** are WRT getting this stuff pushed out to the customer base? Big Company itis? Anyone from ATT reading this willing to provide an answer?

Yes! I hope this fixes the lockup issue from the last update so I can use my 1020 again. My 920 is barely hanging on...

It might be a crappy app. I have no problems with my 1020.

I was under the impression that the Denim update offered very little for the 920/925/928/1020 devices. Word of warning, the GDR is not to be craved. I have found issues with notification sounds and ringtones. Also, the internet over WiFi and mobile internet seem less consistent. Oh, meant to say, that is on my 920.

The wifi issues are related to nokia cutting corners eg. Sharing the cellular antenna for wifi

You sure? GDR 1 was better. 2 has become progressively worse. I loved it when it first hit, it really did seem much snappier.

Is there a way to un-register from the Windows Insider program without a hard reset? I've been sitting here with my 1020 telling me the Windows 10 update is available -- there's no way in Hades I'm going to ruin my 1020 with it -- so I'm sure I have to remove it from the program in order to see the Denim update and load it.

Open the Preview for Developers app and uncheck the box.

He is talking about windows insider.

No, you have to wipe it to clear the "Update Available". I have that on my 1520, hoped for GDR2, but it went right to 10. I didn't do the update and now I get the Update Available every freaking time I wake my phone... Lol

GDR 2 has not been the godsend that I'd hoped for. My 920 was great when it first installed, and over 2 weeks I loved it. Now, it has got more sluggish, and the notification sounds stopped working yesterday. The WiFi and mobile data are also worse.

Great~~ I got a job for the evening!!

Un poco tardado, vale la pena esperar...

This is HORSECRAP!!! I just ripped @ATT and @ATTCares a new one on Twitter and provided a link to this article!

Good for you! I'm sure that will get them in gear! /s

Stand back, we got a live one here.

Horses don't crap, they shit.

I have been checking my updates for the last 20 minutes. Still nothing for my 1020?

What about the update 2 for Lumia 730,830?? (which includes new settings, all apps, change,your phone name) I think,they promised to roll out before windows 10?

Annnnd that's why I never brought a single phone from Carriers.

In the US we don't generally have much of a choice, especially if on Verizon ir Sorint.

That's nice, but even the unlocked 830 in the US still doesn't have Denim. So, while that advice is normally good, it seems as if the advice now is if you want updates, don't buy Windows phone in the US.

Its because its still using a branded rom right similar to how dell sold the remaining dvp(aws/pcs) stock

I wonder will it be the same for windows 10??they said it'll be for everyone,but will it be on the same time?

Microsoft said so. Carriers might have a different opinion. At least in the USA.

Canada. I really doubt sgh-t899m users will get it either(why did bell have to create a special variant that takes longer to test)

it doesnt change anything on 1020

It does for people that are not on PFD and still on stock Cyan.

Why do you get off on repeating this false mantra? It fixes the WP8.1 freezing error that some users have had, for example. They're were other enhancements that I don't recall. A firmware upgrade has benefits beyond camera features.

My 1020 has been freezing on an almost daily basis, so I'm anxiously hoping that the firmware portion of this update addresses those issues. If nothing else, I'll be delighted to wake up in the morning and not have to do a soft reset of my phone.

Yesss!!!!!!!!!!!!!!!!!!!!!

Mines updating as we speak.

No more laggy dp preview!!!!

Having your OS updated doesn't always have to be about new features long as the device works better. I'm waiting on Denim as well but why I want it more so for my 920 is due to the live folders and improved battery life hopefully and just knowing the device is being prepared for WP10.

Indeed. Shame, for it's a very nice pic.

Denim doesn't do anything good for Lumia 1020 anyway. It's only IE that's ruined with webkit...

I was expecting it be about the 830 when I saw the toast notification, Looks like the 830 is the new ICON ... Ouch! Hang in there guys

Icon done good for denim update. Just saying. Even if Verizon does not carry it anymore Microsoft store still does and its a top notch Lumia for Verizon. Only thing Icon is waiting for is WP 10 preview and the 930 still waiting for that as well.

I was referring to the 8.1/Cyan update for the Icon

Cyan did suck for icon no doubt. But I am happy Verizon had its ducks in a row for the quick denim update and that it worked well..

This has probably been mentioned before, but does Insider/10 have any impact on this update being visible? In other words, does my AT&T 1020 need to be regressed to 8.1 or 10 ok?

I doubt you'll see older "updates". You'll probably have to wipe if you want Denim. Im just guessing though... Im going to wipe mine, anyways, 10 is running bad for me. Terrible standby battery life & apparent memory leaks. Maybe having Denim will help...

Yeah. 10 has been a nightmare so far. Rolling back is such a pain though. If I don't see Denim by tonight maybe I will though.

That's what I was afraid of. No update for me on my 1020 with Insider. And unfortunately my USB port doesn't work anymore, so there is no way whatsoever to revert back to Windows Phone 8.1. This thing is rather worthless at this point. Wish there were new phones to buy on AT&T.

Hmm, i actually just downloaded an update with WP10... Charging my battery so it can install though.

Got excited when I saw the update message. Hopefully this will fix the freeze-up issues I've been having.

Jus checked with my AT&T Lumia 1020 running Cyan. Got the "Your phone is up to date" message. So not sure if this article is accurate or they are staggering the release

Out of curiosity what OS version does it show, with the official AT&T Denim update?
Nevermind got it...lol!
OS: 8.10.14234.375
Firmware: 3051.5008.1451.1001

About damn time, I wonder what the hell ATT was doing for it to take this long. I really hope for a quick update to Windows 10 on the ATT 1020, or just allow us to flash different international ROM.

Be grateful you got anything. This phone is EOL.

It's not EOL since Microsoft promised updates for an extended period including updating to Windows 10. If you have low expectations of the carriers thats exactly what you get, nothing.

Can I cry now? :/
My 1020 developed a memory issue. Microsoft replaced it with a Lumia 830 since they are all out of 1020 inventory. I miss my 1020.

Just get one locally. I picked one up (always missed it) for like $140 w/a Qi back. Love this phone! The camera and video (mic performance) is still king of the hill. Full stop.

Just installed it...waiting for WP 10..

VOLTE? Also, no update here on my AT&T 1020. Is it because I'm on the PFD? Not the 10 preview, but PFD.

Where is Daniel R. when you need him.

As the article doesn't mention what's in the update, here's a listing:
https://www.windowscentral.com/e?link=https2F%2Fclick.linksynergy.co... ◦Cortana, the most personal digital assistant, is now available also in the UK and China. New features for Cortana include improved natural language, car kit integration for contacts using Bluetooth, snooze reminders, and calendar improvements. Cortana even does character impersonations upon request.
◦Organise and further personalise your start screen easily. Group apps into a folder on the start screen, rename the folder, and rearrange tiles inside the folder for greater personalisation.
◦Improved Glance screen with Bing Weather or Bing Health & Fitness data, in addition to time and date, notifications, and app data
◦Updates to the Lumia Storyteller and Lumia Selfie apps. Available from Store.
◦Connect and browse even faster with improved download speeds on mobile websites.
◦Install phone updates more easily by scheduling them for a time that works best for you.
◦Additional improvements to stability, battery performance, push notifications, WiFi connectivity, consumer VPN support, Apps Corner, merging and forwarding text messages, custom snooze times in the Alarms app, Store Live Tile (available in the US only), and more

Thanks! I'll take the custom snooze times!

I've had folders for a really long time.

I got the update today on my AT&T Lumia 1020!

My Lumia 830 came with Denim out the box.

Not in the U.S. it didn't. That was fake Denim. This 830 issue has been reported about several times already.

I have the ATT version of the 1020, but I'm running it Cricket Wireless. I wonder if I would get it.

The current carrier does not matter, if its att phone you should get it from att.

I just downloaded Denim to my 1020. I stopped waiting for it months ago. That hype is still gone. I'm not even excited that I have it now. Looking forward to W10.

Good luck with carriers pushing W10 out to older phones in a timely fashion. Really hope that changes!

People are better off just buying a Windows 10 phone rather than waiting for 10 to be released anyway.

Agreed. I'm not buying another phone unless it's confirmed to have the latest updates out the box. And that's if I'm happy with the W10 mobile release.

Recap what it do for 1020

Do I have to unclick PFD to install the update?

Pulled my 1020 out of a cabinet to update it and I really don't like they way it feels while holding it. Definitely going back into the cabinet when it's done updating.

Why leave it in a cabinet? Ebay that shit! I just updated mine and slammed it into a brand new chassis with new USB port (discovered, thanks to the god-awful Windows Phone 10 preview, that I had a bad USB port, when I couldn't downgrade), got AT&T to unlock it an hour ago, and it's going straight up on eBay. Sell it before it becomes worthless!

I like keeping all my phones and collecting them. Once the high-end Windows 10 phone is available I'll be putting my M8 in there also.

Umm, why? Old tech isn't worth the space it occupies after awhile. I'd much rather get my money back out of it :).

Can I update it on tmobile?

Wow that was a useless update for me. Already had Cortana, dont use folders, and don't have 4k recording anyway

920 would be nice, close to upgrading, but I want to wait till WP10 which is quite some time away :(

Why is Cortana still in Beta with Denim?

I have an ATT 1020 without a SIM card and I am not getting the update.

Can someone verify Netflix still works after they update? It doesn't work on my 1520 with Denim or my 830. Works well on my 1020 now and don't want to break it.

Just checked and its working on my 1020

Haven't been able to update my 1020 yet because it's on WP10, but it may be a total crapshoot as to whether or not netflix will work - my ATT 1520 w/ denim runs Netflix fine (now... it didn't when I first updated; a "simple" uninstall, reboot, install, reboot, launch fixed it for me)

It works on my 1520 with Denim update

Ya, actually it does work on my 1520 after uninstalling and reinstall. 830 still broken, and prob will be until it gets official Denim (if that ever happens)

Finally! I'll take the latest firmware even though I've been running pfd.