Lumia Denim update for France due in December and January for various Lumias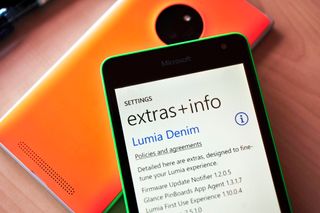 It is no secret that Lumia Denim and Windows Phone 8.1.1 (or GDR1) is officially due for Lumia Windows Phones this month, overlapping into 2015. Still, for those in France who are also on SFR, there now appears to be an official schedule for said updates.
The SFR Denim program reveals which Lumias get the update first in December and which will carry over into January. In that sense, it is interesting to see which Lumias get first dibs on Denim. As it turns out, it looks like Microsoft is going for market share, as those Lumias that are newest and most popular appear to be the first to get the update.
December Denim update: Lumia 520, Lumia 625, Lumia 930, Lumia 1520
January Denim update: Lumia 530, Lumia 635, Lumia 920, Lumia 925, Lumia 1020
As in the past, such a schedule is likely to apply to other carriers and regions, giving consumers a good idea of what to expect.
Microsoft has been relatively quiet on Lumia Denim, although just this week they did reaffirm that December and January were still on track for the current release cycle.
Source: Smartphones.sfr.fr
Daniel Rubino is the Editor-in-chief of Windows Central, head reviewer, podcast co-host, and analyst. He has been here covering Microsoft since 2007 when this site was called WMExperts (and later Windows Phone Central). His interests include Windows, Microsoft Surface, laptops, next-gen computing, and for some reason, watches. Before all this tech stuff, he worked on a Ph.D. in linguistics and ran the projectors at movie theaters, which has done absolutely nothing for his career.
It's a secret, so don't even think about searching this site for Denim!...

Well m more interested for windows 10 for my Lumia.!! *_* details for which probably coming in January .!

So 8.1.1 is the last wp8 update? Or is there is going to be any wp8.5 or something like that?

There will be 10.xx update but still not known when it will be released

I heard in January will be first preview

January first preview would be Windows 10 for desktop consumer preview. Not phone

the day after BUILD press. conference

Probably not, we've always expected 2 updates for Windows Phone 8.1 before the year ended, with the possibility of a third one begin 2015. Microsoft today announced the roll-out of Cortana to Germany, France, Spain and Italy, however, that requires a software update, which is due for later today in the Developer Preview Program. As it includes expansions for Cortana, this might be that second update, making it Windows Phone 8.1.2.

Hurrah. Does that apply to India?

Come on guys ours isn't carrier variant .. So wer will get as soon as they start rolling out for each devices

Hopefully this is the schedule for all markets (just because my model is in the first batch).

Ditto and this better not be lies

Coming to Verizon Wireless July 2017 </sarc>

Cue "when will it be available in . . ." comments ad nauseam ;)

Pas de 620! Pourquoiiii !

Ils ne le vendent pas, tout simplement.

Where is The others like 620 720 820

Looks like the others will have to wait for a second tranche. Possibly spring?

What about the other Lumia's. In other country...

Why is it that US carriers are the least transparent compared to any other WP carrier? They struggle to even acknowledge an update exists, let alone announce a rollout schedule. Amazingly pathetic situation with US carriers and WP, carry it, even get exclusives but do their best not to sell or update it.

They are bastards and hated by all.

They are paid from Google for this ignorance to WP

The Google hate is strong in this one.

Google hates WP so I strongly hates Google.
Also this may be a reason.

Their not the only ones canadian carrier's are just as worse. I'm still waiting for them to update my ativ s(sgh-t899m)

How does Denim update benefit developers? It's just a Nokia Lumia update.

-______- its denim ! I want it for my 1520 to capture 4K and all new features ! WTF!

"Does the camera even go up to 4K?" Is the question I think every time I see this type of comment.

Uh...well most Lumia cameras have a pretty high megapixel count. It's just a matter of capturing those photos at a high enough frame rate, that's where the firmware update comes in.

Yes I know! But it has nothing to do with developers...

Really expected 8.1 Update 2 to be packaged with Denim. Are we still scheduled for an Update 2?

I think there is no 8.1 update 2,next is windows 10

Does this apply for devs?

I think you are confused with with cyan pfd delay right???

There were some issues that's why they delayed this time lets see

Yes I'm , the delay of cyan made me think that it'll be delayed

Quite on Denim.Working on Windows 10. MSFT

First good comment of the article.

525 along with other many models are missing

Truth bro older devices are always left out for the last.

Vodafone New Zealand released Windows Phone 8.1.1 (or GDR1) for its exclusive Lumia 930 about 6 weeks ago. Only Denim is still awaited.

This is Bullshit. Absurd. Idiotic. Microsoft really knows how burn bridges with the old customers.
F*€kin' shit. I am switching. I have waited 3 months already. Not gonna waste any more of my time waiting.

@Daniel_Rubino. For those in the preview for developers program. Will we get the update with Cortana for selected European markets today?. And will this be the GDR2 update with the other new features. Thanks in advance.

Will there be the rumoured 8.1 update 2 that would bring in an organized settings menu and a few other stuff? Or will it be like 8.1 update 1 and then windows 10?

Tired of hearing about/waiting on Denim. Seriously tired with all of it.

Excellent news. While I'm not a Lumia owner, Denim will be the deciding factor for me when its time for a new phone.

I like the way Daniel referenced as WP8.1.1 as WP8.1 GDR 1. MS should have some sort of naming convention. Better still WP8.1.1.D (i.e. for Denim Firmware; maybe X for non-Lumias). Don't you think? Just my penny. Also, I hope MS be a tad quicker rollout for updates.

That's the carrier unlocked versions right? I have a Chinese 1520. Last time it took a while for roll-out. Hope by the time Jan rolls around I can get my fingers on Denim (bottom corner of my phone just developed a crack, I need a win)

Hey people, please stop asking when the 620, 720, etc. will be getting the update as SFR doesn't sell these models.
Thanks! :)

Something is updating on my 930 now!!

When to come in India ???

-929 I think Lumia Icon will receive the update in 2020

Just roll out the fckin 8.1 GDR1 update Microsoft . ! It's December already! -.-"

SFR is a French operator...

Downloading an update. Will have more in a few minutes. ATT 1520

It says its a preview for developers update (8.10.14219.341)

Where's lumia 720 Posted via the Windows Phone Central App for Android

My Lumia 920 is downloading an update now ​

May be a pfd minor updates

Well,I highly doub that all lumia devices will get windows 10 according that only some models will get update to Denim.

For your kind information this French career does not sell every lumias so only they didn't mention others

Thank you sir for that information...

After cyan update on my Lumia 720 live tiles lag a lot ...
I want to know from others 720 owners

Since my 930 was bought in France but I use it Portugal with a portuguese SIM, should I expect Denim on the french or on the portuguese release date?

France date !! Unlocked device???

Is it for everybody around the globe

Nah... Only for France and for a specific career it seems

Guys I am getting some update.....what can be that ?

My 920 gets the update after the new year:( sad..

Its 8.10.149219.341. i m from India and have 920.

It's a pfd update I guess