Lumia Storyteller 4.0 gets massive UI overhaul, spinning globe and online sharing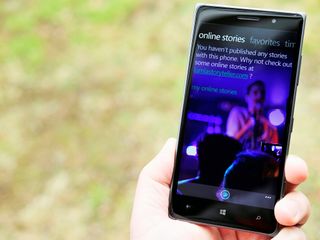 Microsoft today has pushed out a significant update to their Lumia Storyteller app. Version 4.0 is now live on the Store for those with Lumia Windows Phone, and it is quite the update indeed.
Although no changelog is included, we have been comparing two versions for the last few minutes and the alterations are substantial.
Lumia Storyteller 4.0.2.16
New Timeline UI that looks more like the native Photos Hub
New black background (instead of white)
Smaller pivot categories so you can see more
Places now has a 3D spinning globe
Online stories category to publish stories at lumiastoryteller.com
Video stories are now merged into timeline
Lumia Storyteller has always been one of those apps that we enjoyed, but put to the side. However, today's update has us rethinking our usage of the app as the improvements are jaw-droppingly gorgeous if you ask us.
The creation of the online site lumiastoryteller.com is a fantastic way to save and share your creations and the new UI, layout and color scheme make us want to show this app off to others. Maybe it is just us though, so let us know in comments what you think!
Thanks, Joenar A., Doss N., Daniel L, and others for the tips!
Windows Central Newsletter
Get the best of Windows Central in your inbox, every day!
Daniel Rubino is the Editor-in-chief of Windows Central, head reviewer, podcast co-host, and analyst. He has been covering Microsoft since 2007 when this site was called WMExperts (and later Windows Phone Central). His interests include Windows, laptops, next-gen computing, and for some reason, watches. Before all this tech stuff, he worked on a Ph.D. in linguistics, watched people sleep (for medical purposes!), and ran the projectors at movie theaters because it was fun.
It looks more "Microsoft" now, if that's a thing

It is a thing.. Just make sure you know what your talking about. If you know what I mean...

Yes, but it looks good for me Top letters still could be a little bigger

I only installed it the first time to see if any nearby people have a Lumia and shared their photos,I was wrong,I hope it is like this now!!!

Thanks Daniel for this.....

I don't think Daniel made this update.

Looks much better and more decent. :)

So many updates. Very good MSFT.

Perks of having everything under one roof is starting to pay off.

I prefer the old design with the pink, the grey, much better. The mapmond/card is disgusting

+Icon
Now I'm gonna have to go to more countries so I can actually spin my globe thingy XD

Oh my God! The old design looks SO MUCH better!

I like this old new comparison.

The goodies are still coming....

WTH is that photo in the bottom right: woman with huge fro and no top. LMAO!!

Obviously you have never seen 'The Shinning'...

LMFAO Daniel..!! Can't stop laughing..!!

Makes me hope I like the 1520 that is coming today to replace my 1020...and it does work on the 1020...

I've been playing with 1520 for about a week to replace my 1020 (Because I was getting bored on the old hardware), and I must say I love this thing! The screen is a bit if adjustment, but the benefits are so worth it! I'll be very sad when it comes time to return this thing. :(

Thanks! Frankly, I am frightened of the size. It's probably too big to put into a bike jersey pocket and go for a ride. It is certainly too big to use OneNote to direct my grocery shopping while "driving" a cart and, I figure, one-handed Words with Friends? Forget about it! But, I am anxious to try it out.

Yes, one handed use does indeed suffer tremendously (especially since you no longer have a camera lanyard to use as a safety strap), but I personally find the web browsing alone to be such a huge improvement (pun not intended) that it's worth it. Likewise, text message and email both benefit from a bigger screen, as you can see more content at once.

Yeah. I have spent some time looking for a back cover with a lanyard and, alternately, stick-on lanyard anchors. The lanyard on the 1020 has been a lifesaver - I cannot begin to estimate its worth on a bigger unit.

It would be so much more useful if you could simply share it with other people. Unfortunately, the quality of photos and video is sooo much higher than ATT network supports. Everytime I send someone videos I shoot it gets compressed to a barely watchable mess.

my way around that was to setup a family room group for people (family) I send pics to

I love the new design, aside from the globe. The glove looks less modern than the flat map. But otherwise, good!

Not loading after update on my 720...trying to transfer my stories to new phone

Working on my 720. Try uninstalling & reinstalling

I really think they need to integrate OneDrive into Lumia Storyteller because to be honest I don't store my photos on my phone for very long.

I love lumia storyteller, but due to an xbox music bug where it deleted all my playlists unless I reset the phone... the storyteller app lost all my groupings and renamings when it was reinstalled. I hate re-doing things. Waste of time. So I havent been using it. Does anybody know if this has been fixed?

It lookslike they used the Office Sway tool.

Too many updates this week...

Love it, love it, love it.

Why lumiastoryteller.com ? These should be stored (and preferablly viewable) on OneDrive. If they can't be viewed on OneDrive then Xbox and Windows need corresponding Storyteller apps as well.

My all pics belongs to my local area so no use of globe for me :P

If you don't need the globe, don't look at it. But if you don't mind, I find the globe very useful for me.

It keeps crashing as soon as I open the app on Lumia 1020...

same here. Tried restart, uninstall, reinstall - but no change

I'm opening a pic clicked by Refocus ...but it look for a app in the store to open the file...(though I had refocus) n then in the store 'thr aren't any apps available' o.O

The UI overhaul is nice, but I wish they added new music or the ability to add your own.

Png support also added... ​

Yes but I can't watch pictures saved from internet...

Much improved but wish when you looked at a photo it showed you the location rather than just allowing comments.. IOS 8 does this really well with "moments" and its just integrated into the main photo apps. Too many different apps on lumia.... Camera is the same...panoramic... Different app

Sorry for stating the obvious, but you can see the location by zooming out of the photo (pinching two fingers in)

What I meant was if you scroll through photos, it would be good to see the location (and more accuracy) at the top (without having to fo back to main or map view) see how apple do it with ios... I hate apple but they do somethings really well..like photos and music.

Still no support for OneDrive? This is really something I miss, without it, the app is kinda useless since I can't keep everything on my 930.

I love the new update. It allows me to filter saved pictures out, which was the only reason I didn't use it before.

Plays Lumia music when you view a story video. Kinda cool but it's still missing that "Oomph"

So many updates. Keep them going.
But please please please, let Instagram be one of this wave!

Nice! Good to see an update.

Are they going to add my skydrive like my 2520, even though it makes a ton of files that are 0 in size.....

The app looks great now, I think. Love the way it uses living images in the video. Unfortunately it crashes everytime I preview said video... Teething problems?!

excellent app!! pulling images from OneDrive image backup folder would make it more easy to manage as everyone would not be having all the images on phone/device

now it crashes for lumia 520 more often great microsoft keep it up...

Put these people in charge of the OneDrive app.

It's a great app, but....
It needs more music options, after 10 stories, the music gets somehow boring.
We needs a longer movie time, now it's just 33".
Hope to see this features in future releases

Less editing though. You can rename the story and add captions or be taken out of the app to edit the photo Can you change the tune? Can you get rid of the date as a title card? Can you change the order of the photos? It doesn't need to be Movie Creator Beta, but these seem like basic things to me.

Yeah, I wish the app had the sense to know a screen shot is not part of vacation photos, or hell a shot from the camera for that matter. I also dislike how it incorporates album covers that were downloaded. Really? Such a time editing.

Actually, if you go to settings from the timeline page, you can choose the folders included in the view. For example the screenshots are in a different folder, so excluding that will help.

Cool! Replace the photo hub with this! The smaller font may be a change that will be in Windows 10 too?

Really nice I just hope Microsoft doesn't kill the app later on

No! Story video is faster now and without charm. Living images are rushed and videos doesn't look so nice as before. We need settings preferences for this.

Have you tried just selecting less images for a story? That gives more time for each (living) image to go through its animation.

It doesn't work. They changed the timing of video from living images. It's on fast forward.

There are a couple of things I need, OneDrive storage since I get rid of the majority of my photos from my phone and also (this is simply aesthetic) I'd like it if when you click on a location instead of giving a flat list like the camera roll if the location "exploded" and all the images popped out from the map. Obviously tricky when there are hundreds. Or at the very least just user that as a transition to the list, would make the system that little bit more special and fun to use.

This is so nicely done that i kinda wish this was the default Photo's Hub. Certainly aspects of this should be in there. As others have mentioned, if this was then integrated with OneDrive, all the better. Somewhat like Kin Studio used to be, that was great. Only design aspect i think is a backwards step is the Globe instead of the Map, just looks a little out of place.

Previous UI was more stylish and easier on the eyes. This is just a less elegant copy of the already bland photo hub. Not a good thing.

After update,I can't launch it. Whenever I launch it, it keep saying"please wait a moment while we make Lumia storyteller even better." What's wrong, guys? Anyone share the same problem with me?

It says "please wait", did you wait for it to complete?

I like the old one. That was Nokia, and this is Microsoft.

Great looking App but the biggist drawback is IT IS STILL MIXING ALL MY PODCAST VIDEOs IN THERE sorry for the all caps. it's been there since the beginning and i am sure there is a way to distinguish and filter out personal / podcast video here. right now it's still a MESS! beautiful mess I have lots of podcasts there and it's just one thing preventing me from using daily. a bit frustrated Please Windows Phone team take notice!!!!!!

just found in the setting you can switch podcast folder off. THANK YOU THANK YOU! ignore my previous rants please.