Lumia Storyteller picks up an update for Windows Phone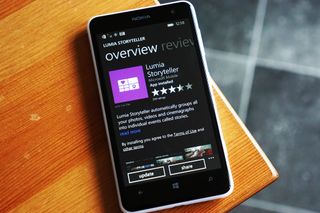 Lumia Storyteller for Windows Phones will help you manage your catalogue of stored media by automatically sorting through and adding your photos, videos and even Cinemagraphs to events (or stories). The app has been updated to version 4.0.3.8, and there's even a changelog!
According to the list of improvements on the Windows Phone Store, the latest release adds the following:
Expand stories in your timeline
Change the order of content when uploading online stories
Unfortunately, I'm not a frequent user of Lumia Storyteller so I couldn't tell you if the above is new or not. If you happen to notice anything else, be sure to shout out in the comments. Do note that Microsoft plans to kill off services and apps (including Storyteller) come October 30.
Download Lumia Storyteller for Windows Phone
A big thanks to everyone who tipped us!
Rich Edmonds is Senior Editor of PC hardware at Windows Central, covering everything related to PC components and NAS. He's been involved in technology for more than a decade and knows a thing or two about the magic inside a PC chassis. You can follow him over on Twitter at @RichEdmonds.
Might be this its last update

Properly just an update to put in a notifcation in a few days to say the service shuts down

And that's actually what the new version does... Shows that the app will continue to work, but the sharing part of the service will be discontinued at the end of October.

Hasn't it been discontinued?

On windows phone 10, yes. Not on 8.1. Not yet.

i donno wi they are updating if they are going to stop it in near future.. hehehe

I don't understand. Aren't they discontinuing this in like a months time?

Maybe, juussst maybe, they plan on introducing it as MS story something or another. Creating their own service for similar features. Better yet, allowing native features that can be shared via social media. Never used it, so this is just me grasping at thoughts.

MS already came out with their own app a cpl weeks ago. Called Photo Story.

It's nowhere near storyteller.

The update is just a welcome note saying that Storyteller online services will discontinued on Oct 30 so save your files. No new features.

Seems like Storyteller told his last story...

It adds a transparent live tile and a notification of the the app's shutdown next month
That changelog is old

Also an invisible tile which is non selectable

From my log:

New in this version: Sharing of new stories online is no more available.Uploaded stories will vanished from octomber, 30 2015

And version is 4.3.0.8, not 4.0.3.8

Microsoft is so weird. They announce to halt services yet they continue offering updates. Makes no sense. Waste of effort and time on the part of the developers. Not only that, they even have a changelog.

The update's only purpose is to inform users that the application is being discontinued.

Damn. They're killing Storyteller? It's one of my favorite apps. Slide shows that use the active photos (or whatever the brief videos are called) was truly a differentiator from other hardware builders.
When Microsoft's Photo Story showed up, I wondered why very similar apps and feared the worst. Darn it. Give me a reason to hang in their with Microsoft!!!!

For Photo Story to truly replace Storyteller it needs to automatically included video snippets with the photos from a given day or location and I think it's limited to photos at this time. Posted via the Windows Central App for Android

Captain, I'll leave the Microsoft ship with you. They can't even keep the better services running.. What does exactly Microsoft has to offer that can keep me with them for any future upgrade?
I'll jump back to Nokia as soon as they come back (2016, probably)

I bought a Jolla and man am I happy! Even the windows central app is better on android... Posted via the Windows Central App for Android

Lol, as usual apps that's are going to be killed getting updates. Shame really, this app is quite great and this what Photos app supposed to be at least. Now we're left from the mercy of Photos app to catch-up from Storyteller on smartphones and Windows Live Photo Gallery on desktops. Photos app in current state is seriously a joke.

I hope the tech is integrated to the main Photos app. I had to stop using it because I had lots of pictures and I became too slow.

They have already replaced storyteller with photo story....photo story is way better than storyteller.

and how exactly it is away better??????

Does Photo Story include video snippets along with photos from a day or location of shooting? Also the actual layout of Storyteller is superior in that you can see all of your photos and video from a particular location on the map or from that day. Photo Story is not there yet. Posted via the Windows Central App for Android

Still cant make timelapse

The Storyteller is faster know and the tile is in the accent color.

Huh??? Say what... and now back to 4.0.3.8?! Lumia Storyteller bumped to version 4.1 with latest update By Rich Edmonds Tuesday, Feb 3, 2015 at 12:58 pm CET

Yes, download and checked version. this 4.3.08 not the other way.

That's right Microsoft, replace a perfectly good app like storyteller that works with a buggy piece of shit called photo story that constantly crashes on my 1020. Can't even get past choosing a cover picture.

So without Storyteller, how will we view living images? Scrolling through taken photos in Lumia Camera one by one does not cut it. So they are essentially killing living images too? I've been a staunch supporter and defender of Windows Phone for years, but they seem to be killing its advantages over iOS one by one. Frustrating. :-(

You can still take living images with the Lumia camera, and they show up in the photos app. Hopefully they keep the Lumia camera in W10M since for many reasons including living images, the MS one isn't a great replacement...

I am on Insider builds and the app called Lumia Living Images works awesome for viewing and editing the living images. Can turn them in to a usable video, actually, and more.

cool but would be nice if they give us a heads up before shutting it down! I have a lot of living images backed up, need a app to read those ones and organzie them properly, OFF my phone :D

Considering that Microsoft is killing this app soon, what's the point? :-/

This update just tells the user that the app will stop working soon.

Why would they update this app if it will be obsoleted in just 50 days?

What is the point of updating Storyteller when its going to be removed from the Windows Store in less than 2 months?

Loved storyteller. Yet another example of something that works great being killed off. Was a massive fan of win 8 both pc and phone but starting to feel very disappointed with the way win 10 is going.

Microsoft should include everything all in one in it app.

Great! An update just before they ax it. Well done, Microsoft!

Anything Microsoft that isn't on Android and iPhone seems in peril.

Why the hell are they discontinuing this app.. As a frequent user of this app, I use it to view pictures sorted by places. Awesome app to view pictures by selecting the places in a map. Well, it's better if MS integrates this feature in the default picture viewer.

is there a W10 equivalent to this app? please let me know
Windows Central Newsletter
Thank you for signing up to Windows Central. You will receive a verification email shortly.
There was a problem. Please refresh the page and try again.