Lumia update support portal is now available on Microsoft's website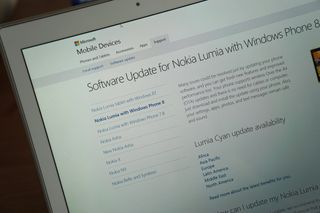 Microsoft has moved across the Lumia support section for software updates to its own website. Previously available on Nokia's online portal, it makes sense for Redmond to move things across post-acquisition of the Nokia handset division. Consumers interested in finding out just when they can expect to receive future updates will now need to head to Microsoft's website, or load previous locations to only be redirected across.
If you've not used these sections before, you'll see us refer to them when we're talking about software upgrades, be it major Windows Phone releases or bundled firmware updates. It's a better experience to have everything available for consumers to quickly check through, instead of having to release multiple articles to detail the same piece of information for multiple regions.
Just make a mental note that everything has moved home and we're good to go. Oh and it's not just Lumia either, as all Nokia update stuff is now on Microsoft's website, including the Asha series of phones.
Source: Microsoft (opens in new tab); Thanks, Anders M., for the tip!
Windows Central Newsletter
Get the best of Windows Central in in your inbox, every day!
Rich Edmonds was formerly a Senior Editor of PC hardware at Windows Central, covering everything related to PC components and NAS. He's been involved in technology for more than a decade and knows a thing or two about the magic inside a PC chassis. You can follow him on Twitter at @RichEdmonds.
How long we shud wait cyan update for DP?

Surely you will get it before 2018,

See what you did there lol

Nokia recovery software is updated with Cyan. You can use that to upgrade to Cyan. If you have updated yo DP 8.1.1...don't sign in after installing cyan. Update to DP 8.1.1 and sign in to recover all apps and live folder. I did it the same way and got everything back as it was.

Doesn't work for my ATT 920. Says not software update available.


That's because you need the DP activaton app. Sign in but don't restore then download the app and login to it. You should then be able to download 8.1.1 and after it's installed, hard reset and then you can restore it.

Thank you for the reply. I will give that a try.

Still not working. I already had the DP app loaded and active. I tried uninstalling, reninstalling and then logging into it again. Then started the recovery software app. Still got the same message. Let me know if I'm missing something.

Worked perfectly on my Att 920

Hi Milan. What steps did you take? I must be missing something somewhere.

not for everyone, I tried it today.

I don't know. I'm 520 user from Indonesia (with 8.1DP and bitlocker active). And since I'm not patient enough, I just use the Nokia Recovery Tool (which covered by WPCentral to downgrade to Black). Surprisingly, it directly supply the newest Cyan firmware (which is a good thing since I don't have to go through all hassle to update from Black to Cyan). Note that I still lose all files since this is full reflashing. And I'm glad I did it since the phone is now work faster than before (maybe because of hardreset effect which clears all junks).

Now we can bother Microsoft directly to push for the Lumia 810 to be updated. #sarcasm

Looks like ATT is the only carrier making an attemp in US

Microsoft is doing all the craps without resolving main problem. Now that support page is shifted to Microsoft website can I ask when cyan is coming for DP!!! It will take forever for ms to solve as always. Slow as hell !!

It is not like one person is doing all of it at the same time .. is it

When you have an ever more limited amount of man power, resources should be focused on solving major issues such as the DP/Cyan update issue.
Consumers don't care whether they go to a Nokia or Microsoft branded support website....but they do care when big issues aren't resolved (and the timescale for a fix isn't communicated).

What is the link to see the updates? I'm looking on http://microsoft.com, but not finding it.

http://www.microsoft.com/en/mobile/ -> Support -> Software Update Or direct link: http://www.microsoft.com/en/mobile/support/software-update/wp8-software-...

Its a slow death for Nokia :(

It makes sense to move everything to the Microsoft brand, so the company that is still Nokia can have its name back http://company.nokia.com/

Nokia is still very much alive and kicking. They're just not alive in the platform of your choice ;)

Yeah! I know... Its just there won't be any Nokia handsets anymore, I was a complete Nokia fan and never used any other brand :p

How about the same shit for all windows phones?

Not a bad idea as Microsoft will have a better clue on when other manufacturers such as HTC will release their updates.

Better ask about 0x80188308 error there

The worse thing is that every "famous WP person" is ignoring any question about DP not receiving cyan update.

When will we get Lumia denim update ???

Can I update my Lumia 625??

https://www.windowscentral.com/e?link=https2F%2Fclick.linksynergy.co...

Hmmm... Here's hoping we won't get locked-out of accessing and manually downloading the ROMs via Nokia Care Suite/Data Package Manager/NaviFirm+

After I downgraded to W8 to be able to install Lumia Cyan update (I was using DP), I cannot create folders anymore and my music app doesn't have a live tile. Why is that?

That's because you have WP 8.1 with Cyan and not the WP 8.1 update 1 that is currently available only on DP and which has the features you are noticing missing.

You have to reinstall Windows Phone 8.1 Update 1 (Developer Preview) because you downloaded Windows Phone 8.1 with Lumia Cyan.

What about the Cyan update for the Developer Preview??? How long should we wait for that Microsoft fix for the Cyan update on Developer Preview OS....or we shouldn't wait because no news regarding the Cyan update for Developer Preview is coming from Microsoft....its really a shame because the Developer Preview should get all the updates first and now what happened?? Everyone except the Developer Preview got the Cyan....due to some stupid Bitlocker issue.... Please help us Sam/Daniel anyone with something information about the Cyan update for Developer Preview....
Our Devices are going terrible performance, lag issues..... Thanks WPCentral.

Cyan update will not get rid of your terrible performance and lag issues. Is just software extras from Nokia.

No, Cyan is a firmware, so it may help with performance issues.

If it doesn't help with lag issues then Microsoft has a real problem on their hands. Windows Phone is supposed to run lag free - it shouldn't need a hard reset after an update to make that happen!
Regardless, DP users should have received Cyan by now. It's ridiculous that MS hasn't lifted the block (particularly given that they could selectively block the update for bitlocker users....and allow the rest of us to get the update).
I also won't reset my phone until Whatsapp brings in cloud backup support.

Got the Cyan update....but no results....
Still have those terrible performance and lag issues....mostly the lag shows in start screen when loading all the live tiles!!
Terrible it is.....feel shame for DP.....

I can't upgrade. My phone backup has stopped working. Spent an hour on the chat with Nokia Support but they were pretty useless.
Not happy!

Try to delete your old backup file and repeat the procedure. It worked for me.

DO NOT DELETE YOUR BACKUP!, cut and paste it in another folder elsewhere. That way if anything happens to go wrong you will still have your original backup.

Rubino et al actually recommended deleting the backup as it resolves backup glitches.
It didn't work with me - my backup now hangs at 99%.
Given that Windows Phone aspires to be a simple yet powerful OS, it sure does have a lot of teething issues!!

ALL the pages of nokia.com are now available on Microsoft's site.

All ex-Yugoslavia countries still don't Cyan for Lumia 1520. All on CV.

Seems...faster! Seriously, Microsoft's website is much faster than Nokia's.

Now I hv to assume that PD will ship cyan and jump into denim soon, and the worst case is WHAT IF NOT

At least Verizon is finally "Under testing" for most models

Yes, this will likely be your Christmas gift this year (if you're lucky).

Look at the source of the article...

It makes sense since Nokia must have their domains back. Since Microsoft can't use the Nokia brand anymore, it makes no sense to keep these things on Nokia's site.

I would love to go back to window 8 on my Lumia Nokia 520 Phone.But if I can't how do I update or upgrade to window 8.1 Phone

Hey Joe B! Release the GOD DAMN CYAN FOR DP loosers! No more BS needed, act now, for god sake!

Which Laptop is that on the picture ?? :P

And of course.......Verizon is still dragging their asses with the Cyan update. Thanks for nothing Big Red !!

I just got a phone update of 25 MB for my Lumia 925 in India. I was already using Lumia cyan n wp 8.1..
Just Wondered what was this new update all about!!

Why don't you include a link to the new site, cause that would be handy to save me searching.

Kikiki it's far. Very soon. Just be patient.

Checked for 8.1 availability from nokia.com without any redirecting to https://www.windowscentral.com/e?link=https2F%2Fclick.linksynergy.co... Of course no 8.1 for my 822. Is Verizon OK?


its been a nice journey travelling in the lumia comfort.i updated to version 8.1 windows and its so awesome.cool tiles and everything but my nightmares are confirmed when i cant log into my Microsoft account,tried to easen things by creating another account but only the password box is active.i cant update app or either download them.somebody help.
willieateto@gmail.com
Windows Central Newsletter
Thank you for signing up to Windows Central. You will receive a verification email shortly.
There was a problem. Please refresh the page and try again.