Lumsing Bluetooth NFC Speaker review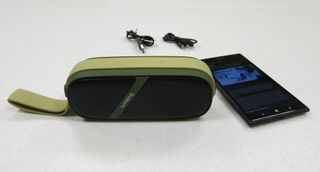 Not long ago, we reviewed an attractive little Splashproof Bluetooth Speaker from Lumsing. I loved the speaker's stylish design, sound, and resistance to water. On the other hand, its battery life could have been better.
If you're looking for a louder speaker with better battery life, the Lumsing Bluetooth NFC Speaker might just fit the bill. With two speakers and a bass diaphragm, this speaker can really pump out the sound. Plus you get Near Field Communication (NFC) pairing and microSD card support. The speaker includes some less-than-welcome voice prompts, but it's still a great buy for your phone or tablet at under $30.
Lumsing Bluetooth NFC Speaker specs
Power: 3W * 2
Channel: Dual speakers + passive basin (bass diaphragm)
Battery capacity: 3.7V/2500mAh
Impedance: 4 ohms
SNR: ≥ 80DB
Working hours:≈ 25h (depending upon the volume of music)
Transmission Distance ≥ 10m with obstructions (depending upon operation environment and devices to which it connects)
Distortion: ≤ 0.5% @ 1W
Frequency response: 20-20KHz
Charging voltage: DC5V, Support 1000mAh
Bluetooth Version: Bluetooth 3.0 + EDR
Product Warranty: One Full Year
Colors and size
The NFC speaker comes in three colors: blue, green, and hot pink. Only green and hot pink are available in the UK. The green speaker has an attractive two tone appearance, with the top rubber stripe using a lighter color of green. The rubber stripe on the other two color variants is simply black instead of a lighter toned color.
The oblong speaker measures 177 x 70 x 50mm (6.7 x 2.76 x 1.97 inches). It weighs 14.28 ounces, about twice as much as the Lumia 1520. Given the size and power of the speaker, it's a reasonable weight.
Carrying band
To make carrying the speaker easier, the rubber portion that runs along the top of the unit extends past the left side into a carrying band. You could also attach the speaker to a bag or other object by placing a clip through the band.
A couple of plastic clips secure the place junction where the rubber leaves the speaker and becomes a band. On the right side of the speaker, a shiny metal speaker caps off the end of the rubber stripe. The strap can't be removed or replaced.
Inputs and on/off switch
On the back of the speaker, you'll find a row of inputs: auxiliary, micro-USB, TF card (microSD card), and an on/off switch.
As for actually using those ports, Lumsing has you covered. The speaker comes with both a 3.5 mm male-to-male cable, and a micro-USB cable measuring about 1.5 feet in length. You can use the 3.5mm cable to connect the speaker to devices that don't support Bluetooth, or even just to avoid the use of Bluetooth with devices that do support it.
The speaker doesn't come with an actual wall charger for the micro-USB cable, but that's not uncommon. Plug the speaker into a USB power source and the power light (behind the front grill, to the left of the Bluetooth LED) will glow red as long as it charges. Charging time should take 3-4 hours and offers about 25 hours of battery life. The battery life is really good, much better than Lumsing's Splashproof Bluetooth Speaker.
If you insert a microSD card with songs on it, I believe the speaker can play them directly from the card without the need for a phone or other device. I don't have a spare card to test the function, but it seems like a cool feature.
The on/off switch is simple enough to slide back and forth. Sometimes I find myself forgetting to turn the switch off after use. If using Bluetooth mode, it will power off on its own after few minutes. Line in mode prevents the speaker from shutting down on its own though, so be careful.
Behind the front grill just below the minus button, the speaker has two LEDs. The red one indicates charging, whereas the single blue LED to the right of it represents both power and Bluetooth. The blue light comes on when you switch the speaker on. If it detects a paired device, the light will blink steadily during use.
Pairing the speaker with your device
After powering the unit on, it goes into Bluetooth discovery mode by default. During this time, you would select the speaker's name (Pioneer) on your phone or tablet in order to pair the devices.
After that, the speaker will automatically find your device as long as Bluetooth remains switched on. The voice prompt announces "Paired" each time the speaker finds the paired device.
Alternately, you can pair with NFC! The NFC location is clearly labeled in white text on the rear of the speaker.
Controls and calls
On the top side of the speaker, you'll find four large buttons etched into the rubbery portion of the surface: Minus, Plus, Play/Pause, and Phone.
Play/Pause (as you'd expect) will alternate between playing and pausing music and video apps. On Windows Phone, it works fine on YouTube and will pause Netflix. Unfortunately Netflix experiences an error after pausing, likely due to that app's general crumminess.
You'd think the plus and minus buttons would raise or lower the speaker's volume. Well, by default they skip forward and backward instead. Luckily, users can still adjust the volume by pressing and holding either button.
Since the Lumsing NFC speaker has a microphone, so you can use it as a speakerphone. When a call comes in, press the phone button to answer it. If you initiate a call while the speaker is on, the call will automatically go through the speaker. Press the phone button to end the call when you're done.
The microphone used during phone calls sits to the right of the Bluetooth LED behind the front grill, and is not labelled. I gave someone a call using the speaker mic and both of us could hear each other clearly.
Voice prompts
The Lumsing Splashproof Bluetooth Speaker featured voice prompts, and so does this NFC speaker. Unfortunately, this one's prompts are just terrible. First off, they're loud and can't be disabled. Anyone nearby when you turn the speaker on is likely to hear the startup prompts.
Some of the prompts:
"Welcome to Bluetooth music."
"Bluetooth mode."
"It's ready. Waiting for device connecting."
"Paired."
"Line in mode."
Besides the loud volume and questionable grammar, the other annoying thing about the prompts is the female speaker. You can tell English is not her first language, as she exclaims "Wer-come to Bluetoof muthic" in a strong Chinese accent. You can hear it in our video review.
The Splashproof speaker's prompts sound much better. Perhaps Lumsing recorded the prompts for this speaker first, and later switched to a better voice for the Splashproof prompts. What they really need to do is offer a way to disable the prompts, regardless of what they sound like.
Overall Impression
I'm more of a features guy than a sound guy, so I can't go into great detail about the Lumsing Bluetooth NFC Speaker's sound. But with two large speakers spread fairly far apart, this unit delivers much louder and richer sound than any phone or tablet could hope to pump out. Even simple things like podcasts sound great on it.
Lumsing's NFC Speaker has some fine features like a distinctive appearance with carrying strap, NFC pairing, microSD card support, and very long battery life. The voice prompts are annoying, but you only have to hear them when you first turn the unit on and connect your device. After that, enjoy some loud and proud sound that won't run out of juice before the party ends.
Lumsing NFC Stereo Speaker – $28.99 – Amazon Link

(opens in new tab)

Lumsing NFC Stereo Speaker – £30.99 – Amazon UK Link

(opens in new tab)
Windows Central Newsletter
Get the best of Windows Central in in your inbox, every day!
Paul Acevedo is the Games Editor at Windows Central. A lifelong gamer, he has written about videogames for over 15 years and reviewed over 350 games for our site. Follow him on Twitter @PaulRAcevedo. Don't hate. Appreciate!
Almost tempted to buy this just to hear "Wer-come to Bluetoof muthic" But I think I will give it a miss

You can hear it in the video review.

I'm looking for one for my wife under $100 4 Christmas any recommendations?

This one have no NFC but I'm sure your wife will love it. Here u go : http://affiliates.digitalriver.com/z/555050/CD220848/&subid1=d_wp&subid2...

JBL charge if you're in US. Best buy has it for $89.99.

If you can find the original Nokia play 360 MD 50W, it really is a great quality speaker. The battery is also a standard Nokia phone type battery and so is easily replaced. Bad is good and it has NFC. Certainly recommended. Can also be linked to another play 360 to make a stereo pair.

I haven't seen a Mini SD card in a long time.

What kind of name is that?

Lumsing? It's a Chinese company. We've reviewed a few of their other products in the past.

The voice prompts sound like some weird combination of Chinese and British accents. Haha

i think i like it. I'll be able to take my little asian woman with me hehehe Side note, Thank you so much for posting actual specs and not generic yada yada specs!!!

Those voice prompts are awful, and honestly a deal breaker for me. I would go insane hearing those every time I tried using the speaker.

The voice prompts... Lol, can imagine they would get thin pretty darn quickly.

I understand that you don't want to review the sound performance, but it is kind of the most important thing to do with this kind of hardware. There are many different units out at the moment, and it sounds like there are no clear winners, therefore a review comparing a whole group of models would be fantastic.

$28 or £30! Don't you just love living in the UK :(

You should do a little more research before posting an article. A TF-card is simply a normal microSD card. (TransFlash was what a microSD card was originally called before the SD Card Association adopted it in 2005) In the bottom of the article you mention a miniSD card support instead of microSD.

Show me where that information is easily available to find online. It's not on the SD card Wikipedia page, for instance. I found a search result that called it miniSD, but it looks like that source was mistaken.
Windows Central Newsletter
Thank you for signing up to Windows Central. You will receive a verification email shortly.
There was a problem. Please refresh the page and try again.