Review: Lumsing splashproof Bluetooth speaker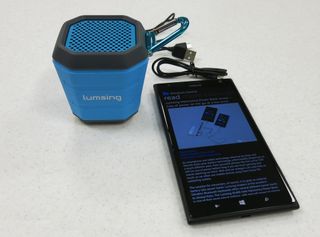 Sexy sound that won't give out at the pool, in the bedroom or anywhere else
We've reviewed a couple of phone and tablet accessories from Lumsing before: their Ultrathin keyboard and their Harmonica Power Bank. I found both items to look and work great, especially given their low prices. Today we check out a new kind of accessory from Lumsing –a Bluetooth speaker.
The Lumsing Splashproof Bluetooth Speaker (also known as the HiFi MM526) is a tiny portable speaker with microphone. It can connect to your phone, tablet, or other device by either Bluetooth or auxiliary cable. The speaker comes in five different colors and can clip onto your bag or clothing with ease. It also happens to be splashproof, so you can take it to the pool without fear. The MM526 sells for less than $40, making it a great alternative to the Nokia MD-12 speaker.
Lumsing HiFi MM526 specs
Power:4W(RMS)
Battery capacity:3.7V/1000mAh
Loudspeaker: 2-3Ω
Signal to noise ratio: ≥70dB
Working hours: ≈8h (being different based on volume and music)
Size: W80×H81×D83mm
Transmission distance of Bluetooth: ≥10m
Degree of distortion: ≤0.5%@1W
Frequency response: 100Hz~20KHz
Charging voltage: DC5V,≥500mA
Bluetooth version: 4.0
Product Warranty: One Full Year
Size and style
The MM526 comes in five colors: blue, green, grey, orange, and hot pink. Only blue and green are available in the UK. The blue my speaker came in closely resembles the cyan Nokia Lumia 920. Which is to say: it's bright and pretty.
When viewed from the side, the speaker has a mostly trapezoidal shape. It starts out thick on top and tapering down towards the bottom. From above or below, the shape is that of a square with recessed corners. The actual top and bottom are gray in color.
Two of the MM526's sides are mostly featureless, except for a white Lumsing logo and a couple of ridges. The two ridges provide some grip, making it easier to hold the speaker without dropping it.
Metal clip, micro-USB charging, and audio input jack
The third side of the speaker has a metal clip that can be folded up when in use and folded against the speaker (sticking out about 4mm) when not in use. The clip's metallic color matches that of the speaker, so an orange speaker will have an orange clip, etc.
Below the clip is a compartment that houses the speaker's micro-USB port and 3.5mm audio port. The ports are covered by a thin rubbery door in order to protect them from water and other elements. It opens easily, so accessing the ports won't be a problem. My concern with the design is that the door could break off eventually, especially if someone applies excessive pressure to it. The rubbery hinge is only like 2mm thick. I guess you could still use it even if it broke off, as long as you didn't lose it.
As for actually using those ports, Lumsing has you covered. TheMM526 comes with both a 3.5 mm male-to-male cable, and a micro-USB cable measuring about 1.5 feet in length. You can use the 3.5mm cable to connect the speaker to devices that don't support Bluetooth, or even just to avoid the use of Bluetooth with devices that do support it.
The speaker doesn't come with an actual wall charger for the micro-USB cable, but that's not uncommon. Plug the speaker into a USB power source and the power light (on the opposite side of the speaker) will glow green as long as it charges. Charging time should take 1-2 hours and offers about 8 hours of battery life. That number is this speaker's greatest weakness compared to the Nokia MD-12, which gets 15 hours of battery life.
Powering on pairing the speaker to your device
The Lumsing Waterproof Speaker's power button is located on the bottom of the unit. Basically the entire bottom side is one giant power button, which I like. Press and hold the button for two seconds to turn it on or off. The speaker will announce "Powering on" or "Powering off" out loud when you do so.
After powering the unit on, it goes into Bluetooth discovery mode. During this time, you would select the speaker's name on your phone or tablet in order to pair the devices. After that, the speaker will automatically find your device as long as Bluetooth remains switched on. The voice prompt announces "Paired" each time the speaker finds the paired device.
If the speaker doesn't find a device to pair with after ten minutes, it will automatically shut down.
Controls and calls
On the opposite side of the speaker's clip and ports side, you'll find four large buttons etched into the device's rubbery surface: Play/Pause, +, -, and Phone.
Play/Pause (as you'd expect) will alternate between playing and pausing music and video apps. On Windows Phone, it works fine on YouTube and will pause Netflix. Unfortunately Netflix experiences an error after pausing, likely due to that app's general crumminess.
The + and - buttons simply raise or lower the speaker's volume. That adjustment is in addition to the device's own volume settings.
One advantage the Lumsing MM526 has over the Nokia MD-12: this one has a microphone, so you can use it as a speakerphone. When a call comes in (indicated by a simple and pleasant Donkey Kong-like tune), press the phone button to answer it. If you initiate a call while the speaker is on, the call will automatically go through the speaker. Press the phone button to end the call when you're done.
Below the control buttons lie two LEDs: power and Bluetooth. The power light glows green when the speaker is charging. It only has a single LED, so unfortunately you can't determine the speaker's charge level.
The power LED does not remain on during use, but the (blue, duh!) Bluetooth LED does. If the speaker can't find a connected device, a voice prompt indicates "Ready to pair" and the Bluetooth LED will blink instead of remaining steady.
The microphone used during phone calls sits between the power and Bluetooth LEDs, clearly labelled in white text. I gave my dear old mother a call using the speaker mic and she had no trouble understanding me during the call.
Durability and water resistance
The Lumsing Waterproof Speaker has an International Protection (IP) rating of 64. That means it's completely protected from dust. As for water, the rating indicates the speaker is protected from splashes, but not submersion.
As mentioned earlier, Lumsing's Amazon listing uses both waterproof and splashproof, but the facts point towards the speaker just being protected against splashes. I believe a large quantity of liquid would be able to penetrate the speaker grill. Don't toss it in the pool.
Overall Impression
The HiFi MM526 is great little speaker for the price. It provides a fuller, louder sound than a phone or tablet could do on its own. Most of us probably won't use the calling option, but it's cool to have. The attractive and distinct appearance is welcome, as is the resistance to splashes.
This speaker only has two significant disadvantages that I can see: the 8-hour battery life (discussed earlier) and the inability to disable voice prompts. Those prompts are loud and somewhat redundant. It's not a huge deal, but there should be an option to turn them off.
If you're choosing between the Lumsing MM526 and the Nokia MD-12, the latter is a bit smaller, has better battery life, and offers NFC pairing (a very minor feature in my opinion). This one has calling support and splash resistance, plus it costs at least ten bucks less. If you don't mind having to charge it a bit more, Lumsing's Splashproof speaker won't let you down.
Paul Acevedo is the Games Editor at Windows Central. A lifelong gamer, he has written about videogames for over 15 years and reviewed over 350 games for our site. Follow him on Twitter @PaulRAcevedo. Don't hate. Appreciate!
If it's decent, might make a good shower speaker

I just purchased a Jarv Mist from Amazon for $10. Same concept, splashproof and more... It is a shower speaker and outdoor speaker... I paired it with my 1520 last weekend and took it out fishing of my kayak. The phone was stored in the kayak away from all danger. I streamed music from nokia music, answered phone calls as it has a microphone and just had a great time out there for hours. The speaker DID get wet, it stayed wet, but it worked flawlessly. The 1520 has like a 2 day battery and the mist has an estimated 5 hours of use time per charge... I never had an issue with the mist crapping out and i was out there for at least 4 hours. The mist does not look as good as this one, but it serves its purpose and I would not pay mroe than $10 for a portable waterprooff speaker were it could fall overboard... I lost over 1k in camera and fishing equiptment already... shoot.. I dropped my sunglasses in the water yesterday... http://www.amazon.com/Jarv-Bluetooth-Resistant-Microphone-Handsfree/dp/B00NP9QWR8/ref=sr_1_2?ie=UTF8&qid=1414096459&sr=8-2&keywords=jarv+mist why not... http://www.youtube.com/user/jaimeastin/videos :)

I'm gonna get one of these speakers for my wife for Xmas. Is there any other's people might recommend? It has to be bluetooth, battery powered and waterproof. NFC would be nice but not required.

If it means anything: You can get any old WP compatible NFC tag, use adhesive to stick it to what you like, then just program the tag to connect to your Bluetooth accessory.

Note my comment below about the Jabra Solemate Mini. It has all of your reqs and isn't designed to be waterproof, but it is regardless! http://www.jabra.com/products/speakers/jabra_solemate_mini/jabra_solemat...

A review for a speaker that doesn't really mention sound quality... Come on, guys.

Won't give out even "in the bedroom'. Yeah, I would hate for the music to die in the middle of the Delphonics' "For The Love I Give To You". lol.

I use my MD-12 as a speakerphone all the time. And the NFC pairing is quite convenient.

Weird, I asked Daniel and he didn't think it had that feature.

I have a cyan Jabra Solemate Mini (which closely matches my 920), which I like very much. Nice sound for a small package and a very smart design for durability, with a rubberized casing. I'll note that waterproof-ness is not a selling point of the device. I absent-mindedly left it on my back porch for 2 days, through soaking rains. When I finally noticed, I was crushed, certain that it was dead, especially since I left it turned on. Nope. I turned it off and it cearly gave the loud, 'turning off' sound. Gobsmacked! The finish is a bit off from the rain, but it works and sounds like it was brand new.

Lumsing sounds like Samsung...hmmmmmmm
Windows Central Newsletter
Thank you for signing up to Windows Central. You will receive a verification email shortly.
There was a problem. Please refresh the page and try again.