Lumsing Harmonica Power Bank review – Lots of power on the go at a low price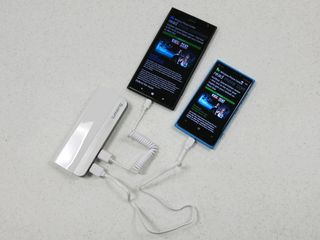 As smartphone and tablet technology advances by leaps and bounds every year, battery technology unfortunately progresses at a much different pace. Even powerful phones like the Lumia 1520 will run out of power before long if you do much gaming and movie watching on them. Wall and car chargers can only help so much, as we often use mobile devices away from those life-sustaining outlets.
The solution for consumers, of course, is to grab an external battery (aka power bank). Lumsing (makers of the excellent Ultrathin Bluetooth keyboard) offers several different power banks to choose from. The Lumsing 10,400 mAh Harmonica Power Bank is one of their more robust options, with enough power to charge a tablet like the Dell Venue 8 Pro twice over. It's also shockingly affordable at only $19.99 on Amazon. Let's take a closer look at the big little power bank.
Inside the box
The Harmonica Power Bank comes inside a distinctive elongated cardboard box that opens at only one end. Pop it open, remove the sheet of charcoal packing material, and you'll find the contents neatly packed within two compartments:
The Power bank itself
A flat white micro-USB cable, approximately two feet long (pretty short)
A brown carrying pouch with a white drawstring and emblazoned with a white Lumsing logo
A card inviting users to join the Lumsing "Power User Program." If accepted, you'll get free products to review.
An instruction manual written in poor English. Luckily, this type of product requires very little in the way of instructions.
Dude looks like a harmonica
How does a power bank get the words "harmonica" or "harmonica-style" in its name? By being shaped like a harmonica, of course. I tried blowing in the device, but nothing came out except for precious, precious electricity.
Still, this bank is shaped like a futuristic harmonica, measuring 5.43 x 2.32 x 0.82 inches. I say futuristic because it's ergonomic, curved and tapered in a way that makes it easy to hold with one hand. It's a little heavy at 8.5 ounces though, weighing slightly more than the Lumia 1520's 7.37 ounces.
Most of the device is white (it's also available in black or champagne gold), with silver running along 3 of the four outside edges. The front has a metal stripe along one side that resembles (and might be) brushed aluminum. The Lumsing logo is laser-etched in the corner of this metallic area.
If we consider the corner with the Lumsing logo the top-right corner, then the micro-USB input jack is found on the very bottom end of the device. That location makes the Harmonica Power Bank easy to charge while stored inside of its carrying bag.
Along the long silver side of the device, there are two USB output jacks, four power indicator LEDs, and a power button. The back of the power bank is featureless, other than some technical specs written in gray.
Big on power
The Harmonica Power Bank doesn't come with a wall charger, but that's not unexpected at that price. To charge it, just connect the bank's micro-USB input jack and cable to your own charger or other suitable USB power source. Charging it with a 1.5A adapter will take 6.5 hours. A little long, but remember, this thing stores a lot of power.
This Power Bank contains a genuine Samsung Li-Ion battery inside its Jetsons-like Harmonica exterior. The battery holds 10,400 mAh of power, which is a lot. For comparison, the Lumia 520's battery is 1430 mAh, the Lumia 920's is 2000 mAh, and the Lumia 1520's is 3400 mAh. The USB-charging Dell Venue 8 Pro tablet has a 4830 mAh battery.
External batteries like this lose a small percentage of their power when charging other devices, but the Harmonica Power Bank can still fill up just about any USB-powered mobile device at least twice before running dry. Lumsing says the device has overcharge protection, so it won't keep pumping all of that power into a fully charged device, either.
One of the USB output jacks is 1A, and the other is 2.1A. The 1A will charge devices more slowly, but might be better suited to charging devices with lower power needs. The 2.1A jack will charge a phone or tablet as quickly as possible. Yes, you can charge two devices at once, which proves extremely handy.
To actually begin charging something with this power bank, you need to press the power button to turn it on. The four LEDs will then light up in blue. Each one represents 25 percent of the Harmonica's power. Once they all run out, you'll need to charge it again.
Although it's easy to charge the Harmonica Power Bank itself while storing it in the carrying pouch, the same can't be said for using the power bank to charge other devices. Since the USB output jacks are on the long side instead of either short side, they won't prove easily accessible while the whole power bank is inside of the bag. You can pull it out a little to charge and mostly protect it from scratches though.
Overall Impression
The Lumsing 10,400 mAh Harmonica Power Bank is a well-designed external battery. It's big, but fits within my hand with the fingers closed. A lot of similar devices would be too long in one direction to hold that way. This shape also helps the Harmonica fit easily within a pants pocket.
Visually, this is an attractive device. White is a common mobile accessory color thanks to Apple products, but this one has the nice silver portions to keep it from looking too sterile or fruity.
Finally, the Harmonica is very useful for people who tend to drain their mobile devices on the go. It can charge two devices at once, and holds more power than most similar accessories. You even get a case, so storing in a bag or purse won't scuff your power bank.
The only downsides I can see are the weight of the accessory, and the length of the included micro-USB cable. I use a Lumia 1520 daily, so I can handle carrying something like this in my pocket without feeling weighed down. Weight-conscious users might prefer a smaller power bank, though.
As for the micro-USB cable, it's short and cheap, but you have to remember how much the Harmonica Power Bank costs. A short cable is a worthwhile tradeoff in this situation. We all own several cables already anyway.
If you're looking for an external battery with a lot of power, you won't find many better deals than this one. You can get it from Amazon in several worldwide regions, with the US version being eligible for Amazon Prime shipping. Feel free to show us a little support by using our links to order.
Lumsing 10,400 mAh Harmonica Power Bank – $19.99 – Amazon

(opens in new tab)

Lumsing 10,400 mAh Harmonica Power Bank – £16.99 – Amazon UK

(opens in new tab)

Lumsing 10,400 mAh Harmonica Power Bank – EUR 21,99 – Amazon DE

(opens in new tab)

Lumsing 10,400 mAh Harmonica Power Bank – ¥ 2,480 – Amazon Japan
Windows Central Newsletter
Get the best of Windows Central in in your inbox, every day!
Paul Acevedo is the Games Editor at Windows Central. A lifelong gamer, he has written about videogames for over 15 years and reviewed over 350 games for our site. Follow him on Twitter @PaulRAcevedo. Don't hate. Appreciate!
And I was just thinking about getting the dc-19....

i have DC-19 and Anker 2nd generation 12000mAh i use both of them, DC-19 i use when i need for 1 day traveling and Anker one i use when i travel for longer than couple days Anker has PowerIQ Technology that charges the phone really quick... it recognise which kind of USB device it has been connected and it automatically charge the device as how it should for the fast charging... it costs alot but in Amazon was on sale when i bought it what i like in Anker is the PowerIQ Technology

Can I get it delivered to India from Amazon.com?

You can try place an order and it will tell you can you place an order to India or not. That's how I do when I want to know does it send the item to Finland from Amazon UK

The DC-19 is a beautiful design, BUT cannot fully charge my 1020, it is overheating the phone and it takes around 5 hours to be charged...

Cool. If I hadn't a Nokia DC-19 already, I'd definitely consider getting one of these.

Weird I just ordered this a few days ago on amazon because of the price and power. Glad to see I made a good choice. I get it tomorrow.

Similar set up to the one I have, although mine cost me 40 euro overseas and is only 8000 mAh, though I still get almost two full charges into my 1520 with it. I also have two 1600mAh basic chargers for when I just need a little bit extra.

This isn't bad at all considering the battery capacity.

I don't understand why smartphone batteries are so bad. I'm usually lucky if my Lumia 928 can last a half a day. If I boot up a game like Terraria, the entire battery will be killed in 40-50 minutes. In contrast, I used to have a Nintendo DSi and that thing would regularly last for 20-25 hours of intense gaming. In fact, it was left in storage for 2 years. I rediscovered it a month ago and booted it up: still had 90% battery life. I played it for hours on end just to be sure but the battery still held up. A smartphone left alone, completely powered down, for a month would have a completely dead battery. Yes, smart phones have a lot more going on than a Nintendo DSi does, but why is the discrepancy so large? The DSi's batteries can last 20x as long, at worst.

I've always wondered this. Same comparison I always use as well.

Having to remain connected all the time to a network takes its toll, especially when the coverage is bad or there are materials blocking a clear signal (wall/door/etc.) Not just that, modern day smartphones are required to behave like proper OSs that manage your mail, calendars, appointments and are connected in real time. The price paid is the battery life - simply put, the Nintendo only has a few processes running at one time and is therefore, much more efficient at conserving battery than an always running device. It's just like your laptop. They have awful batteries too.
Actually, batteries are awful in general.

I wouldn't mind Microsoft putting in a "gaming mode" into the windows software, where It shuts down literally everything else running except what is needed for gaming. So it could have the similar effect of the Gameboy only needing to use some battery power at a time. I wonder if this would be practical and have a good outcome or not. So you know, when you decide to game, you usually aren't wanting incoming texts to bother you anyways! Seems like a win win to me

Compare the hardware of the DSi with todays smartphones and you will understand.

Looks a little ugly, but who can complain at that price?

Sold. Typically it's $20 for a 2000mAh one so this is sweet for a quality one

I'm going to buy one tonight when I get home :) thanks.

I bought one back in May and it's definitely well worth it for price and convenience. A must have for outdoor events and taking pictures.

Has anyone here tried the Duracell power Bank yet? Or the Energizer one?

Hy guys, I'm from Italy but I really want to buy this charger, but in amazon.it there isn't. Can I buy it in the Deutschland Amazon or not? Thanks at all!

Yes you can, you're in eu. So anything within eu can be bought there maybe additional shipping charges though

I can not get it on the British Amazon (I live in Holland) but I could buy it on the German one. Just try them all out.

This is a nice review, thanks Paul. I went to amazon to buy it but the reviews on amazon say it fails after 2 months or after charging it up a few times. So I will hold off on this for now.

in indian amazon store it is about 3500 rs that is about 60 dollar which is insane as compared to the price mentioned in the article

Buy a nokia 1100....... Never hona face any power problems

Maestro mail app is in the store :D

Good review, like the price-per-mAh for it. I don't really ever have battery issues, but my brother-in-law does, so might see about telling him to get one, or I'll see about getting him one for Christmas.

Can it charge a surface 3?

If you could somehow get a USB cord with SP3's magnetic connector one one end..maybe then yes.

Purchased and on its way. This should work well for me when I'm deployed soon.

Nice! I hope you have a good, safe deployment.

Lumia + Samsung = lumsing

Just check in Amazon India website and this power bank device costs Rs.3500 (approx. $60). Better to wait for Mi Power Bank to launch in India.

At this price, this is a great deal. At this price in my country, I get only around 4000mah power banks.

You can get Xiaomi Mi power bank 10400mah at cheaper than the price mentioned here, along with better build quality and portability.

I decided to buy this.. It seems like a good product, and I had a $10 Amazon credit from MS for taking a survey about my 1520.. I paid $15 with shipping..

Xiaomi 10400mah powerbank is cheaper than this one and comes with better looks/build/portability, costs approx $16 (INR 999) and available in many Asian countries including China and India.

Its not 16 bucks here in the states. Better looks? Portability? Please do explain.

You're mostly incorrect about that portability: Xiaomi 8.82 ounces, 3.56 x 3.03 x .85 inches Lumsing Harmonica 7.37 ounces, 5.43 x 2.32 x 0.82 inches The Xiaomi is shorter in length, but larger in the other dimensions, and heavier too. Looks are a matter of opinion, but I do like that the Xiaomi comes in multiple colors.

What do you expect the device to be light weight with 10k mah battery

Nope, I didn't expect that.

Amazon is not shipping this item to Canada! :( I'm going to look at some alternative way to get this. Available on eBay but costs are definitely higher... But I do like the design and capacity!

Ordered Black and Champagne Gold. Very nice. A bit more bulky in person but you'll certainly get used to it when it saves your *** a few times ;) living in New England, USA winters are a pain in the *** and $%&@s so we tend to lose power and these'll fit right in :) they arrived 80% charged and reached 100% quickly. They work as they should. Folks... There's some cheaper and believe me... They are CHEAP crap. Bought one a week ago and it charged and stopped working. Then wouldn't turn on. So dont skim. Even tho this price seams like your skimming, your not. Very good quality. Enjoy all! Oh and the gold is the best

Ok so im back to leave my official opinion on this after using it for more than a week.... I use it almost daily. I bought two. One Champaign Gold which is def the best. Black which shows oily fingerprints. They exceed expectations. I charge my phone and my ladies and I've only seen it go down one light (75%). I suggest using the 2.1amp output on most smartphones since they're smart enough to only take 1.5a or whatever they can handle automatically.. Faster charge. At first you'll think its bulky but it grows on you. Sleek, beautiful, durable, Cheap. Very well made and even the sleeve is premium like a jewelry bag. I highly recommend it to anyone who wants the best portability out of a power bank and have a large amount of backup power. I dont think they can get much better to be honest. Enjoy, folks!
Windows Central Newsletter
Thank you for signing up to Windows Central. You will receive a verification email shortly.
There was a problem. Please refresh the page and try again.