Lumsing Harmonica Power Bank review – Lots of power on the go at a low price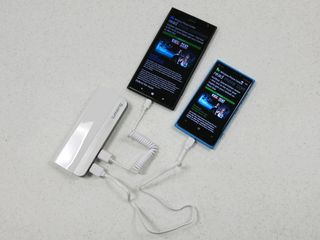 As smartphone and tablet technology advances by leaps and bounds every year, battery technology unfortunately progresses at a much different pace. Even powerful phones like the Lumia 1520 will run out of power before long if you do much gaming and movie watching on them. Wall and car chargers can only help so much, as we often use mobile devices away from those life-sustaining outlets.
The solution for consumers, of course, is to grab an external battery (aka power bank). Lumsing (makers of the excellent Ultrathin Bluetooth keyboard) offers several different power banks to choose from. The Lumsing 10,400 mAh Harmonica Power Bank is one of their more robust options, with enough power to charge a tablet like the Dell Venue 8 Pro twice over. It's also shockingly affordable at only $19.99 on Amazon. Let's take a closer look at the big little power bank.
Inside the box
The Harmonica Power Bank comes inside a distinctive elongated cardboard box that opens at only one end. Pop it open, remove the sheet of charcoal packing material, and you'll find the contents neatly packed within two compartments:
The Power bank itself
A flat white micro-USB cable, approximately two feet long (pretty short)
A brown carrying pouch with a white drawstring and emblazoned with a white Lumsing logo
A card inviting users to join the Lumsing "Power User Program." If accepted, you'll get free products to review.
An instruction manual written in poor English. Luckily, this type of product requires very little in the way of instructions.
Dude looks like a harmonica
How does a power bank get the words "harmonica" or "harmonica-style" in its name? By being shaped like a harmonica, of course. I tried blowing in the device, but nothing came out except for precious, precious electricity.
Still, this bank is shaped like a futuristic harmonica, measuring 5.43 x 2.32 x 0.82 inches. I say futuristic because it's ergonomic, curved and tapered in a way that makes it easy to hold with one hand. It's a little heavy at 8.5 ounces though, weighing slightly more than the Lumia 1520's 7.37 ounces.
Most of the device is white (it's also available in black or champagne gold), with silver running along 3 of the four outside edges. The front has a metal stripe along one side that resembles (and might be) brushed aluminum. The Lumsing logo is laser-etched in the corner of this metallic area.
If we consider the corner with the Lumsing logo the top-right corner, then the micro-USB input jack is found on the very bottom end of the device. That location makes the Harmonica Power Bank easy to charge while stored inside of its carrying bag.
Along the long silver side of the device, there are two USB output jacks, four power indicator LEDs, and a power button. The back of the power bank is featureless, other than some technical specs written in gray.
Big on power
The Harmonica Power Bank doesn't come with a wall charger, but that's not unexpected at that price. To charge it, just connect the bank's micro-USB input jack and cable to your own charger or other suitable USB power source. Charging it with a 1.5A adapter will take 6.5 hours. A little long, but remember, this thing stores a lot of power.
This Power Bank contains a genuine Samsung Li-Ion battery inside its Jetsons-like Harmonica exterior. The battery holds 10,400 mAh of power, which is a lot. For comparison, the Lumia 520's battery is 1430 mAh, the Lumia 920's is 2000 mAh, and the Lumia 1520's is 3400 mAh. The USB-charging Dell Venue 8 Pro tablet has a 4830 mAh battery.
External batteries like this lose a small percentage of their power when charging other devices, but the Harmonica Power Bank can still fill up just about any USB-powered mobile device at least twice before running dry. Lumsing says the device has overcharge protection, so it won't keep pumping all of that power into a fully charged device, either.
One of the USB output jacks is 1A, and the other is 2.1A. The 1A will charge devices more slowly, but might be better suited to charging devices with lower power needs. The 2.1A jack will charge a phone or tablet as quickly as possible. Yes, you can charge two devices at once, which proves extremely handy.
To actually begin charging something with this power bank, you need to press the power button to turn it on. The four LEDs will then light up in blue. Each one represents 25 percent of the Harmonica's power. Once they all run out, you'll need to charge it again.
Although it's easy to charge the Harmonica Power Bank itself while storing it in the carrying pouch, the same can't be said for using the power bank to charge other devices. Since the USB output jacks are on the long side instead of either short side, they won't prove easily accessible while the whole power bank is inside of the bag. You can pull it out a little to charge and mostly protect it from scratches though.
Overall Impression
The Lumsing 10,400 mAh Harmonica Power Bank is a well-designed external battery. It's big, but fits within my hand with the fingers closed. A lot of similar devices would be too long in one direction to hold that way. This shape also helps the Harmonica fit easily within a pants pocket.
Visually, this is an attractive device. White is a common mobile accessory color thanks to Apple products, but this one has the nice silver portions to keep it from looking too sterile or fruity.
Finally, the Harmonica is very useful for people who tend to drain their mobile devices on the go. It can charge two devices at once, and holds more power than most similar accessories. You even get a case, so storing in a bag or purse won't scuff your power bank.
The only downsides I can see are the weight of the accessory, and the length of the included micro-USB cable. I use a Lumia 1520 daily, so I can handle carrying something like this in my pocket without feeling weighed down. Weight-conscious users might prefer a smaller power bank, though.
As for the micro-USB cable, it's short and cheap, but you have to remember how much the Harmonica Power Bank costs. A short cable is a worthwhile tradeoff in this situation. We all own several cables already anyway.
If you're looking for an external battery with a lot of power, you won't find many better deals than this one. You can get it from Amazon in several worldwide regions, with the US version being eligible for Amazon Prime shipping. Feel free to show us a little support by using our links to order.
Get the Windows Central Newsletter
All the latest news, reviews, and guides for Windows and Xbox diehards.
Paul Acevedo is the Games Editor at Windows Central. A lifelong gamer, he has written about videogames for over 15 years and reviewed over 350 games for our site. Follow him on Twitter @PaulRAcevedo. Don't hate. Appreciate!