Lumsing Ultrathin Keyboard review – a tiny universal keyboard for Windows 8 and more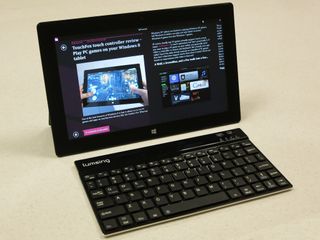 Microsoft's Surface tablets have multiple great first-party keyboards to choose from. Several other Windows 8 and RT tablets have fine official keyboards as well, such as the Nokia Lumia 2520 with its Power Keyboard. These keyboards have a couple of things in common. They're typically a bit expensive, and probably can't be used with other tablets. Universal keyboards, on the other hand, don't suffer from either of those issues…
A few months ago we reviewed one such keyboard for tablets, the MiniSuit BluBoard. Now we're back with a look at the Lumsing Ultrathin Wireless Keyboard, which works with Windows 8 and RT, Android, and iOS devices. Lumsing's peripheral doesn't come with its own case and tablet stand, but it makes up for that by being more portable and offering better Windows support. It's also really affordable! We'll walk you through its ins and outs as well as the unwieldy Windows 8 Bluetooth setup process.
Small and thin
The Lumsing Ultrathin Wireless Keyboard comes in two colors: black and white. Odds are your Windows tablet is black (unless Nokia made it), so a black keyboard would probably match it better. The glossy top surface of the keyboard (just above the keys) shows smudges very easily, but otherwise it's a nice looking accessory.
A Lumsing logo occupies the top-left corner of the top face. The top-right corner holds a "Connect" button for Bluetooth connectivity, an Off/On power slider, and four LEDs: Caps Lock, Bluetooth, Charge, and Power. We'll discuss the charging and power functions in a bit.
The actual base (bottom side) of the keyboard is aluminum. By itself, the underside is smooth and featureless. But the keyboard comes with four clear adhesive rubber feet that users can attach to the base in order to prevent it from sliding around. I recommend making use of them.
Lumsing's keyboard measures 9.5 x 5.11 inches (240 x 130mm). That's smaller than a Surface tablet but slightly larger than an 8-inch tablet like the Dell Venue Pro. The thickness is 3mm (0.18 inches) at its thinnest point and about 5mm at its thickest – basically the same thickness as the Surface Type Cover. And that's very thin. The keyboard weighs 6.7 ounces (0.19kg).
Charging and battery life
The Lumsing keyboard charges via micro-USB. A charging cable is included in the package, but users will have to supply their own USB power source in order to use it. Not a big deal, especially given the keyboard's price. The Micro-USB port sits on the back right side of the keyboard, near the power switch and LED.
Charging the keyboard takes up to two hours. While it charges, the Charge LED will glow red. Once the light goes out, the keyboard is fully charged. The battery has a capacity of 280mA. That doesn't sound like a lot, but Lumsing promises 100-140 hours of uninterrupted use. The Charge light starts to blink when power runs low.
Although the keyboard has an Off/On switch, it also offers a power saving mode. This sleep mode kicks in automatically after 15 minutes of idle time. To wake it back up, press any key and wait three seconds. Sleep mode is a good thing because I usually forget to switch my accessories off.
Keys
This Lumsing keyboard holds 78 keys. Included are one Ctrl key and one Alt (both on the left side), and two Shifts. The keys are slightly smaller than those of a full size keyboard, but still large enough for comfortable typing.
This keyboard has a couple of important keys that are missing on the MiniSuit BluBoard. One is a real Windows key between the Ctrl and Alt keys. MiniSuit's keyboard has a Windows key but it was not labeled as such. Lumsing's keyboard also has both Delete and Backspace keys. Tablet-oriented keyboards often leave out Backspace, which is silly considering how much more most of us use it than Delete.
The keyboard also has dedicated "IE" and "Mail" keys at right of the Spacebar. IE launches the Modern UI web browser and mail launches the Modern UI email client. Both shortcuts are incredibly handy given that web browsing and email are universally common functions on tablets.
Finally, Lumsing's keyboard has several platform-specific key combinations for the Windows, Android, and iOS. The keyboard defaults to Android mode, but switching to Windows mode is as simple as pressing Fn + W. The W key even has the label "For Win" below the W.
Having switched to Windows mode, you can use the following key combinations:
Fn + F2: Search. Brings up the Windows search dialog.
Fn + F8-F10: Rewind, Play/Pause, and Fast forward in supported media apps.
Fn + F11-F12: Volume down and Volume up.
No case? Not so bad
Besides the size and certain keys, the other key difference between the MiniSuit BluBoard and the Lumsing Ultrathin Wireless keyboard is that the MiniSuit keyboard has a built-in folio case and tablet stand. The Lumsing keyboard doesn't.
The lack of tablet stand could be a legitimate disadvantage for anyone whose tablet doesn't have a built-in stand (and doesn't use a case with a stand). But the Surface tablets all have their own stands anyway. And if you use a tablet case, you'd have to remove it to fit in the BluBoard stand. I'm a case kind of guy, so I don't need my keyboard to hold my tablet up.
As for the lack of folio case for the Lumsing keyboard, it's true that you'll have to supply your own protection for this particular keyboard. But one of this product's key features is its extreme thinness, which you'd lose with a built-in case. And Lumsing claims it's waterproof and dustproof anyway.
Windows 8 and RT setup
Ready to use your keyboard? First you'll need to connect it via Bluetooth. Windows 8 and RT hide the Bluetooth menu away so well, you could be forgiven for not realizing your tablet even supports Bluetooth! Microsoft needs to make Bluetooth access more accessible, especially since turning it off when not in use conserves battery life.
Here's how to get to your Bluetooth settings and connect the device:
Pull up the charms bar by swiping right from the right edge of the screen or moving your mouse inward from the screen's bottom-right corner.
Select Settings.
Choose PC and devices.
Select Bluetooth. At last!
Make sure Bluetooth is on.
Switch on the keyboard and press the Bluetooth button. The Bluetooth LED should start blinking.
After Windows detects the keyboard, select it and then choose to Pair when the menu pops up.
Windows will display a series of eight numbers for you to type on the keyboard. After typing them, don't forget to press Enter.
After a few seconds, the keyboard should be paired with Windows. You're ready to type emails and leave positive comments on our articles!
Overall Impression
The Lumsing Ultrathin Wireless Keyboard is a very well designed accessory. It will work with any Bluetooth-enabled tablet you throw at it, regardless of the platform. As an actual Windows tablet, this one really is no slouch. It has every important function and hotkey you'd expect, with nothing placed unintuitively. The small size and weight are quite cool as well.
The Lumsing Keyboard sells for only $17.99 at Amazon (opens in new tab) and is eligible for Prime shipping.
Windows Central Newsletter
Get the best of Windows Central in in your inbox, every day!
Paul Acevedo is the Games Editor at Windows Central. A lifelong gamer, he has written about videogames for over 15 years and reviewed over 350 games for our site. Follow him on Twitter @PaulRAcevedo. Don't hate. Appreciate!
Four clear adhesive rubber feet that users can ATTACH to the base, I think.

Why wouldn't they attack the base?! ;)

This isn't a video game you know :)

ALL YOUR BASE ARE BELONG TO ME

Ha! Thanks for catching that, dear readers. :)

MS did release a Bluetooth adapter for the type cover
Q6W-00001

I know pretty much a few dealers here & there are still selling through their remaining stock

Actually it's an awesome price tag.

Yeah I was really surprised, I thought it was going to be at least $30

I use this....http://www.amazon.com/Fintie-Dell-Venue-Windows-Shell/dp/B00GZNCP3G with my Dell V8P, its like having a mini laptop now. Love it.

It's good, but I hate how part of the screen is covered by the cover when in landscape...

It is? I have a similar Fintie folio case and keyboard for my DV8P (as well as the Dell Folio case) and I don't think it covers the screen in landscape orientation.

Well maybe its a different one. I bought it on eBay but they look exactly the same.

I use my BlackBerry PlayBook mini Bluetooth keyboard with my Dell Venue 8 Pro. I love it the most because it offers the trackpad and its Bluetooth as well. Although nearly impossible to find now.

I was considering buying that case. Going to hold out for the birthday and see if I get one, if not this is most likely the case I will go with. I need to decide on what color. I don't suppose it has a place to put a keyboard but that is ok.

Now if windows phone would just support Bluetooth keyboards...

LOL! Ain't WordFlow enough?

Perhaps he wished for a physical keyboard, something that WordFlow can't be

It has been proven phones with physical keyboards don't sell. People for the most part just don't care about them. So, I really doubt we will see them again.

Gunbust3r meant Windows Phone support for wireless Bluetooth keyboards, not phones with built-in physical keyboards.

How big is it in relation to one of those 8" tablets?

Not all the 8" tablets have the same physical dimensions, but looking at the specs for this keyboard and the DV8P, it looks like this keyboard is about 2.5cm longer than the DV8P. Perhaps it isn't ideal, but if it only sticks out about 1.4cm on each end of the tablet when you carry it around, then it doesn't seem too bad.

Good price but I still love my Logitech k810.

Doesn't seem to be available in the uk

Everything about this is amazing (specially price) but it is kinda small. The type cover 2 is fine and everything, but if I applied a Bluetooth keyboard (or even USB), I would make sure that the keyboard was wider and longer (not thick though [good luck exkerz]) in order to have that normal keyboard experience and raise my typing speed back to its prime ;) But cool keyboard

You might like the MiniSuit keyboard linked in the review then. It's legitimately full-sized.

This is a MUCH BETTER alternative: http://www.amazon.com/Perixx-PERIDUO-880-Bluetooth-Keyboard-Touchpad/dp/...

Not seeing what's so much better about it. Just a different (and less attractive) design, and $30 more expensive. Touchpad would be cool for some users though.

Check out the Perixx website ... They excel at making these types if products ... Also, touchpad is not just a cool feature ... For an OS like Windows 8.x with a full fledged desktop and with tablets which have no full size USB port ... Having a well designed keyboard and a touchpad on one Bluetooth connection is a BIG DEAL ... Design is a subjective thing, the Perixx is a very slim, well made German design, with a magnetic origami style prop up back to hold your tablet in place ... I own one so I know how convenient and useful it is.

Love my Anker blutooth keyboard. :)

Why, oh why can't we have HID support for larger 5+ screens so we could type instead of tap on a screen? Oh no, would it hurt to have controller support? This Windows phone does babble and incorporate Xbox and all? Cyan, cyan and the 930, where are you? Promises. Cyan was said to offer HID support, but no one ever spoke about it again after showing a supposed change log with HID support, whether it be USB or Bluetooth who knows, I'll take any. (SMH and sit in the corner)

Yeah, the lack of HID on Windows Phone is such a shame.

At 17.99 it makes me nauseous to think of the markup on the Surface keyboards.

Hmmmm.....would love to find a store to see how it feels to type on it but for $18, I am realm thinking about it... I have a Samsung slate 8, and I need a keyboard for it

Wow! I was expecting it to be very expensive! 18 USD is AMAZING :D

What I like about this keyboard is that it has a built in rechargable battery, not using AA battery. What are some of the other mini keyboards which have built in rechargable batteries instead of using AA batteries?

Kinda reminds me of this :) http://www.myprius.co.za/ZXSpectrum48k.jpg

That would've been cool to own back in the day!

I like this, but a question. Can I connect this AND a Bluetooth mouse to the same tablet? Will it support the two devices at the same time? Toshiba Encore tablet.

I have an Asus Bluetooth unit that is slight more expensive, but equally as reliable.... I'm very happy with it; I have an Asus T100 that is a very good durable unit unfortunately the keyboard is not very liquid friendly :(

When will WP support Bluetooth keyboards?????

This! Why isn't this implemented yet? I don't get it. Windows Phone has OFFICE on it and Microsoft sells bluetooth keyboards. You would expect that it would have been implemented in the beginning. Does anybody know why Microsoft doesn't implement it?

All we can do is tweet Microsoft folks about it and vote for the feature at UserVoice. I'm sure they'll support it eventually - they're just really slow about adding stuff like that to Windows Phone.
Windows Central Newsletter
Thank you for signing up to Windows Central. You will receive a verification email shortly.
There was a problem. Please refresh the page and try again.