MiniSuit BluBoard Review – A Bluetooth keyboard for Windows 8, RT, and more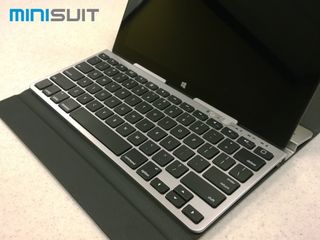 Several Windows 8 and RT tablets have excellent first-party keyboard options, namely the Type Cover for the Surface and Surface Pro and Nokia's Power Keyboard for the Lumia 2520. But sometimes the official keyboard is expensive (see the two keyboards I just mentioned) and some tablets just don't have first-party keyboard options.
That's where MiniSuit (maker of my Lumia 1520 case) comes in. The MiniSuit BluBoard is a universal wireless Bluetooth keyboard that works with Windows 8 and RT, Windows 7, Android, and iOS. It won't break the bank and you can keep using it even if you switch tablets. But does it do everything a Windows tablet user needs a keyboard to do? Find out in our full review.
Fold that keyboard up
The MiniSui BluBoard is a silver keyboard with black keys. It comes built into a non-removable black folio case. The front and back flaps of the folio can fold up under the keyboard during use, creating a steeper angle for the keyboard.
When not in use, the folio folds up and stays closed using magnets. The folio/keyboard is about one centimeter/half an inch thick when closed and weighs one pound. In other words, it's light, thin, and easy to carry along with your tablet or inside of a bag.
Keyboard construction
The keyboard itself measures 11 x 7 x 0.5 inches, giving it a very similar footprint to those of the Type and Touch Covers for Surface. The BluBoard is about half an inch wider (and obviously thicker), which is fine. Its keys here are slightly smaller than those of the Type Cover. But they are also spaced farther apart, making them easier to use for poor typists like me. The keys don't light up.
Just above the top row of keys are the Bluetooth button, power slider, and LED indicators for Caps Lock, battery, and Bluetooth. The Bluetooth button puts the keyboard into discovery mode. The power slider requires a little too much effort to push, but works well enough.
On the right side of the keyboard is a micro-USB port. The BluBoard has a built-in rechargeable battery that provides 120 hours of working use, according to MiniSuit. Having to charge the keyboard before its first use is a minor hassle, but after that it should hardly ever require additional charging. Luckily the keyboard can be used while charging, and it does come with a micro-USB cable.
Keys
The BluBoard has all of the most important keys a Windows user needs, though as with any small keyboard it does sacrifice a few useful ones. The top row of keys defaults to shortcut keys. Most of these only function with iOS, but Search, Volume Down, Volume Up, and Home (jumps to web browser's home page) work with Windows 8 and prove quite useful. To use the shortcut keys as Windows function keys (F1-F12), you have to hold the Function key located at the bottom-left of the keyboard.
With the Function key in the bottom-left corner, Control gets pushed one key over to the right. Not a huge deal, but it would have been better to have reversed their places and put Function on the right instead (as it is on my netbook computer). The "Command" key acts as the Windows key and sits immediately to the right of the Spacebar. Press it to jump between desktop and the Start screen, among other things.
The BluBoard's Delete key actually acts as Backspace, deleting the character to the left of the cursor instead of the right. The keyboard lacks a true Delete key, nor does it have Insert, Page Up, Page Down, Home, and End keys that I could find. Those omissions could limit its utility for serious document editing, though most regular users probably won't notice or care.
Tablet stand
MiniSuit's BluBoard includes a built-in tablet stand that will hold most tablets up to 10-inches in screen size at an optimum angle. Just slide the tablet in and it should fit securely. Tablets can also be used in portrait orientation without issue.
The tablet slot is perfect for the Surface RT and Surface 2, but not the thicker Surface Pro and Surface Pro 2. You can still use the Pros with the keyboard, but you'll have to set them behind the keyboard itself and engage their kickstands instead of relying on the keyboard's built-in slot. Few tablets come as thick as the Pro though, so almost any other tablet should fit fine.
The BluBoard's tablet slot has another downside: it's not case-friendly. Just as the Surface Pro is too thick for the slot, so will be any tablet inside of a case. The solution is either to remove the tablet from the case when using the keyboard or just use your tablet case's own stand, much as I described doing with the Surface Pro.
Windows 8 and RT setup
Having positioned your tablet for use with the BluBoard, you'll then need to connect it via Blueooth. Windows 8 and RT hide the Bluetooth menu away so well, I had forgotten my Surface's Bluetooth was even turned on.
Here's how to get there:
Pull up the charms bar by swiping right from the right edge of the screen or moving your mouse inward from the screen's bottom-right corner.
Select Settings.
Choose PC and devices.
Select Bluetooth. At last!
Make sure Bluetooth is on.
Switch on the keyboard and press the Bluetooth button. The Bluetooth LED should start blinking.
After Windows detects the keyboard, select it and then choose to Pair when the menu pops up.
Windows will display a series of eight numbers for you to type on the keyboard. After typing them, don't forget to press Enter.
After a few seconds, the keyboard should be paired with Windows. You're ready to type emails and leave positive comments on our articles!
Overall Impression
Other than being a well-constructed keyboard, the MiniSuit BluBoard has two key advantages: compatibility and price. It's great to have one keyboard that will work with most or all of your tablets, be they Windows, Android, or Apple-flavored. Even if you replace whatever tablet you've got down the line, this keyboard should still work with it. Can't say that about a device-specific keyboard.
Then there's the price. Although the suggested retail price of the BluBoard is $89.95, both Amazon and MiniSuit sell it for $39.99. Given that the Surface Type Cover 2 costs $130 and the Nokia Power Keyboard rings up at $149.99, the BluBoard's price is much easier to swallow. Of course, it doesn't have backlit keys or a touch pad, nor can it be used as a screen cover or to power your tablet. But some people just want a quality portable keyboard, and that's what you get with the BluBoard.
Here's hoping that Windows Phone 8 will eventually get Bluetooth keyboard support as well, in case we could add another platform to the BluBoard compatibility list.
MiniSuit BluBoard – Windows 8, RT, and more – $39.99 – Amazon Link

(opens in new tab)

– MiniSuit.com Link
Windows Central Newsletter
Get the best of Windows Central in your inbox, every day!
Paul Acevedo is the Games Editor at Windows Central. A lifelong gamer, he has written about videogames for over 15 years and reviewed over 350 games for our site. Follow him on Twitter @PaulRAcevedo. Don't hate. Appreciate!
I bought one for my galaxy tab pro. It's pretty nifty.

You meant to write Windows Phone 8 in the end?

Yup! Seemed too suspicious.. ^^

I suppose I did! Thanks for catching that.

Would have been funny if you meant WP7 and blew all our minds! Anytime, good sir.

Or just buy a Perixx 807 keyboard for $20 that actually has proper Windows keys. http://www.amazon.com/Perixx-PERIBOARD-807-Wireless-Bluetooth-Keyboard/dp/B005MJ6F80/ref=sr_1_9?ie=UTF8&qid=1398284337&sr=8-9&keywords=perrix

I would never use a keyboard that does not put the "Ctrl" key on the outside (where this keyboard puts the function key). This keyboard was obviously designed more for Apple/iOS devices, and just happens to work with everything.

The missing trackpad also makes it a no-go for Win8 desktop and Win7 for me.

You could use a mouse and get a better experience. Not helpful for lap use though, I know.

i don't have a keyboard for my 2520 i could buy into this, as the price is pretty reasonable.

I don't like it. I like seeing my Windows key in my keyboards. :P

It seems any pressure on the tablet, e.g. by my 3 year old, on the tablet will break those two tabs.

Does anyone know if it will work with an RT on 8.1? I noticed at the mfg site it says not compatible with Bluetooth 4.0.

Even if a device supports Bluetooth 4 it will still support older devices. I'm assuming they mean it doesn't support Bluetooth LE.

Pretty sure all Surfaces can do Bluetooth 3.0 also. I'll test it with the RT soon and get back to you.

Not sure I could go without a touchpad but the price is pretty awesome...Still waiting for a good deal on a type cover 2 for my Surface RT...Anyone see any deals on these yet?

I would love a touch keyboard cover for the 1520. Wish that was possible.

Am I the only one that keeps reading Minislut?

My L1520 enjoys being wrapped in its minislut ....

It looks nice but I will stick with my Microsoft Wedge keyboard.

Nice inexpensive keyboard

Sweetness! Inexpensive AND universal! Buying, thanks WPCentral!

No backlight, no care. Logitech K810 remains a MUCH better solution.

Anyone tried a BT keyboard with WP8.1 yet? Tried a mouse and it said paired but did nothing. Wondered about a keyboard but don't have one to test.

I hoped it'll improve with WP 8.1 but apparently it has not caught up yet. Oh well :(

I have tried a Kensington Bluetooth keyboard on my Lumia 1020 with wp8.1 It didn't work . I can't believe how Microsoft doesn't fix this yet...

Windows phone doesn't currently support the keyboard profile for Bluetooth :(

I just got an ASUS Transboard... Beautiful, nice finish, solid construction only millimeters thin, good battery...

Does 2520 has international version?

With the keyboard layout as it is, it's obvious that the keyboard is designed specifically for iOS/OSX and that it happens to work for Windows. I think the article should have stated that rather than to claim it as a universal keyboard.

Since i feel like a lot of people end up getting DVP8, you should do a review on this keyboard (ISVO keyboard for DVP8). I've purchased two (one for myself and the other for my uncle) and they are amazing. It also doubles as a carrying case and it's real leather. Just saying. It seems a lot more impressive than this, except that I guess this is made to fit a wider range of devices.

Have you tried pressing the function key and the delete button? This usually makes backspace work as delete..

Why does it work with both iOS and Android but not with Windows Phone ??
We were testing a compact foldable mini keyboard recently in a pub and my phone was the only one not supporting it. Embarrassing. :-/