Lumia 1520 Case Review: Minisuit Rugged Kickstand Case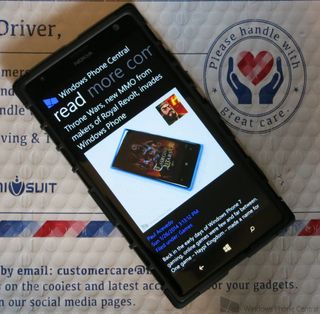 The Nokia Lumia 1520 is an absolutely massive phone. With hardware so impressive (and a fairly sizable price tag), you're going to want to take excellent care of it. And the Lumia 1520's beautiful 6-inch screen also makes the device excel at video playback. Failing to take advantage of those playback capabilities would be a form of neglect, you might say. So perhaps a method of propping the 1520 up for hands-free playback is in order.
Enter Minisuit, a company who makes a wide range of mobile accessories including cases for the Microsoft Surface tablets. Minisuit offers a solution to both protecting the Lumia 1520 and keeping it upright during movie playback: the Rugged Hybrid Kickstand Case for Lumia 1520. I've been using the case exclusively with my new 32 GB Lumia 1520, and come away impressed with its quality and value.
Hybrid design
The Rugged Kickstand Case comes in any color you want, as long as it's black. That matches the AT&T 32 GB Lumia perfectly, since the monolithic carrier only sells that model in black. But the colored 16 GB models would look good in it too – what little of the phone remains exposed when using the case, anyway.
As the case's full name indicates, it utilizes a hybrid design. That means it runs on a combination of gasoline and electricity. No wait, in this instance it signifies that the case consists of two separate pieces: a hard inner shell made of polycarbonate and an outer trim made of rubberized TPU. The pieces come put together, but you can snap them apart easily enough by pulling at any corner of the outer trim.
The inner shell bears a white Minisuit logo, the only place the logo appears on the product. That way it doesn't call attention away from the design of the case, but you still know you're using a Minisuit product when you apply I to the phone. Speaking of which, you'll want the outer piece removed when snapping the inner shell over the 1520. With the two pieces assembled, the fit will be too snug to get the phone in or out.
Rugged indeed
That two-piece design brings more benefits than just a tight fit. It also offers more shock absorption than a traditional single-piece design. Protection is important because not only is the 1520 a valuable electronic device, it's also a big one. More surface space means more phone for objects to bump into when you're carrying it around.
When viewed from the front, the case has a distinctive series of ridges all around the left and right sides of the phone. Turn around to the back and those ridges continue for about a centimeter. Most of the remaining back's surface features a tire pattern of semi-rectangular shapes protruding from the surface. These are meant to provide extra shock absorption and traction. Again, the 1520 is a big honking phone. With the Rugged Case, you'll have much less chance of losing your grip or the device sliding off of surfaces.
The front of the case features a raised lip that extends past the edge of the screen. This allows users to place the phone face-down on flat surfaces without damaging the screen.
Cut-outs and buttons
Returning to the back of the case, you'll first find a cut-out for the device's third microphone. Below it are two perfect cut-outs for the Lumia 1520's 20-megapixel camera lens and vertically-positioned flash. Some cases fail to properly account for the camera flash and end up distorting the image when taking flash photographs. Minisuit's case won't interfere with the 1520's flash at all, so you can still capture excellent night-time images.
Further down the rear, the Kickstand occupies an approximately 3 inch x 1.5 inch section in the middle of the case. We'll describe its construction shortly. Down near the bottom of the phone are two more cut-outs for the device's wireless charging connector, speaker, and fourth microphone. That's a lot of mics!
The right of the 1520 holds the device's volume, power, and camera buttons. Rather than providing cut-outs for those buttons, the Rugged Kickstand Case has its own button covers built in. You'll have to apply slightly more force to press the buttons than if they were naked. But the covers protect the buttons themselves from drops or spills, in fitting with the case's emphasis on defense and durability.
The left side of the case holds no cut-outs, just the ridged grips I described earlier. Thus the case blocks access to the phone's nano-SIM and SD card slots. Luckily those aren't things we need to access frequently.
At the top of the case you'll see a recessed cut-out for headphones and headsets. I've owned cheaper cases that prevented larger plugs from fitting in the headset jack. Not a problem here. So far, everything plug I've inserted has fit without issue.
At the bottom lies a recessed and rectangular cut-out for the phone's micro-USB port. The recessed design on both the headset and micro-USB cut-outs looks quite snazzy at close range. The bottom of the case's front also has a tiny notch for the phone's second microphone.
Kickin' it with the kickstand
Even if you're not especially concerned with guarding against bumps and drops, the kickstand part of the Rugged Kickstand Case could prove a stand-out feature.
On the backside of the case, the kickstand normally remains tucked flat into the rest of the shell. One end of the kickstand construction bears a small indention. That's where you'll pull it out with a fingernail to use the kickstand.
My kickstand requires a little too much force to snap out of the shell. The first time I tried to open it, I feared it would break. It seems to be getting easier with use, however. Hopefully the tightness will go away before long.
After snapping the kickstand all the way out, you'll be able to stand the phone upright in a landscape orientation. The kickstand only supports one angle, but it's perfect for watching videos or reading while the phone sits on a desk or counter.
Of the Rugged Kickstand Case's design, the kickstand is the only component with an air of fragility. It's not poorly made, but I could see a piece snapping off or the hinges wearing out over time. Yet this is a highly affordable case, so we're lucky it even has a kickstand at such a low price.
Overall Impression
As always, either you're a case person or you're not. Some people hate the added bulk that cases bring, or the way cases cover a mobile device's natural beauty. Those same people also have to buy a new phone when they drop theirs, which I'd rather not do. Besides, anyone who buys a phone with a 6-inch screen like the Lumia 1520 has already decided to put up with a little bulk.
The extra size and weight brought on by the Rugged Kickstand Case are insignificant in the long run. It still fits in a pants pocket (snugly). And if you could get your hand around the gargantuan 1520 before, the case won't stop you either. The extra grip, high potential for shock absorption, and kickstand feature all make this case a worthwhile purchase for the security-minded Lumia 1520 owner. And the surface ridges and tire pattern will lend your phone a cool and distinctive appearance to boot.
Rugged Hybrid Kickstand Case for Lumia 1520 – Lumia 1520 (16 GB or 32 GB models) – $5.95 – Minisuit Store Link
Windows Central Newsletter
Get the best of Windows Central in in your inbox, every day!
Paul Acevedo is the Games Editor at Windows Central. A lifelong gamer, he has written about videogames for over 15 years and reviewed over 350 games for our site. Follow him on Twitter @PaulRAcevedo. Don't hate. Appreciate!
Too bulky for my taste. I like the Nokia flip case alot. Keeps it slim and adds enough protection. One day OEM will build wireless chargers dammit. That's what the connectors are for.

Nice case for sure! But after using it, one drop and I feel my phone would be dead. There is a Belkin case, I believe that's who makes its, I have been using that on and off close to the price of the Nokia case and it provides much more protection. I just wish I could use my phone holder in my car with it :(

I actually posted in the forum about my phone dropping and it protected more than expected. My 1520 came out unscathed minus some minor screen scratch that hardly noticeable

Amen to that! I love my Belkin Flip Folio case.. Aside from being unable to use my car mount with the case on. Oh well. I found an alternative way to stand my phone up inside my car so that I can see it while driving and leaving the case on. :)

Between talks of 6 inches and tightness and making rooms for holes and cameras, thought I was reading erotica fiction.
But anyways I haven't dropped my 1520 once and I've had it since Dec 18th. I'm not a fan of cases and the attractiveness of a phone is a big factor to what I choose. I love the 1520. It's not even a phone anymore, its simply a device. My PDA if you will...
Anyways, this case looks effective, just now for me. This review however was hilarious

Heh, I thought about stretching those words into innuendo but decided against it. Glad you liked the review! :)

It looks brutal, but choice is good :)

No protection for the screen. Sorry not interested in this type of case..

Agree!! And back camera! Got a nice cheap case on amazon, amzer....doesnt over protection to lay the phone face down but key my screen protector, but great camera protection and it seems to protect those infamous Nokia corners! The phone feels naked which is great!!! Can't tell there is a case!!! However I am not doing any drop test anytime soon :)

Btw im looking for a nice case for my yellow 1520 but in india there aint no high quality case available..

Look at flipkart.it has good case's .I got one yesterday and its good

Been using this same case since day one. One of the nubbins on the kickstand did break off due to the force needed to open it. It still fastens securely however.

I think official Lumia 1520's flip case is a better choice for me.

One of my biggest WP complaints is the lack of quality cases. Even those made by big name reputable companies, are quick money grabs that are poorly designed and bad quality (ahemmm......SPECK)

I am yet to find a good 1520 case or bumper. the incipio looks ok but no yellow i got a bumper from china and in 2 weeks time the yellow started fading. This case shown looks ugly.

I have this case and it's great. The kickstand becomes easier to open over time.

How thick this thing? Current thickness 8.7mm. I just bought 1 case plastic snap on inside and rubber snap on out side but too thick. About 13~ 15mm.

Good case for the construction guy I am. Definitely one thing I wish WP had was a better relationship with places like Best Buy, not a single section of WP accessories. I get everything online anyways, which I know most ppl do, but their are those ppl that don't know what to do, and when they go to Best Buy, they walk back out with nothing. Marketing needs to step it up, and just throw stuff into these franchise stores. Anyways, I'll probably get this case.

Ya here in the states in getting sick of walking in best buy and just seeing Samsung phones!! They now have a dedicated windows section in a lot of stores so hopefully they will start selling their phones there! Similar to how Samsung has there section and just lays out every note 3 and s4! Ugh! Sorry I hate Samsung phones now! Long story! Don't care about the plastic or andorid they are just gimmicky crap! But yes windows needs to start pushing their phones on to best buy!

Its a shame speck hasn't made a case for the 1520! My hardcore drop with my 1020 was about waist up so give or take 3 feet or more and it landed hard face first on tile! I almost cried! But nope nothing! No marks, scratches, dents, etc, I was literally amazed and shocked a course it could have been pure luck! But it did the job that one time and earned its money that day! Plus the case had no marks on it!!!

I bought this case right after I got my Lumia 1520. It offers good grip and the kickstand is nice, but it adds WAY too much bulk to a phone that is already too large for my taste. I went with a minimal hard case and adhered a finger strap to the case for stability when I'm holding it with one hand. That seems to work best for me.

I am currently using this case for my 1520 and love it. My phone has dropped twice both from about 3-4 feet screen facing down and this case saved it. No marks on the case or the phone. Kickstand was hard to open at first but over time it will open a lot easier.

For the amazingly cheap price of this case, it is a pretty good quality case. In my opinion, this is a great case for those who do not like portfolio / wallet style cases. I can't stand them, but some people like them and not this type of case. The added bulk, as mentioned in the article IS VERY MINIMAL. I don't like screen protectors, because they begin to annoy me after a while, with dust, bubbles or peeling at the edges. Anyway, that's just me. If you want a quality case, this is it. Don't let the price fool you. Just in case anyone is thinking Otterbox, they don't have any for this phone...yet. Maybe, they will make one later, but for now...nope!

I have this case in Blue, as they didn't have one to match my Red Lumia 1520. They actually have 5 or 6 colors, available on eBay (of course, it may be a knockoff, but it looks exactly like your pictures. http://www.ebay.com/itm/GRENADE-RUGGED-TPU-SKIN-HARD-CASE-COVER-STAND-FO... Of course now I see that they do have Red...:-(

I bought one simply for the price ($6 including shipping). Will see how it works out.
Windows Central Newsletter
Thank you for signing up to Windows Central. You will receive a verification email shortly.
There was a problem. Please refresh the page and try again.