Surface Case Reviews: MiniSuit Classic Flip Case and Classic Stand Case for Surface RT and Pro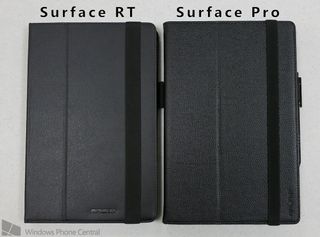 We promised you more accessory reviews for the Microsoft Surface, and we intend to deliver. A growing number of accessory manufacturers sell cases for either version of the Surface. Some users will balk since the Surface is one beautiful tablet on its own, but other users just want to protect their devices as much as possible. Enter MiniSuit, who produces a handful of cases and screen protectors for Microsoft's premiere tablets.
Today we look at two of those cases. The Classic Flip Case protects the Surface RT tablet, while the Classic Stand Case Cover shelters the Surface Pro. Both cases come in any color you want – as long as it's black. Head past the break for our complete review of both cases with video!
Flip it good
Both cases are extremely similar in design. Folio style, the Surface device goes into one side of the case while the other side closes over it for protection or folds behind it to allow access to the tablet. Each case has an elastic band on the front that can be used to hold the case closed by pulling the band behind the back of the case. You don't want it flapping open while you're carrying your tablet around.
Like most quality folio cases, the Classic Flip Case and Classic Stand Case Cover can each be used to stand the Surface tablets upright. Just fold the front of the case behind it and insert it into the clip on the back of the case to make a triangle shape that will support your Surface. Considering that these cases cover the Surface's built-in stand, it's a good thing they substitute for the feature on their own.
The two cases allow access to the Surface's keyboard port, so you can use a Touch Cover or Type Cover with either one. You can't fold the keyboard behind the Surface when using it as a tablet because of the thickness of the case though. Just snap it off and set it aside at those times. The keyboard does fold over the front of the Surface without issue. Close the keyboard and case over the front of your Surface and it's doubly protected.
Both the RT and Pro cases have a stylus holder on the side as well. Don't want that stylus falling off and into a vat of electric eels, as so often happens without a proper holder.
Little differences
The two cases do have a few differences, starting with their textures. The Classic Stand Case Cover for the Pro has a rougher texture than the RT's Classic Flip Case. I like the smoother style a bit better, but it all comes down to user preference. Also, their microfiber interiors are different shades of black – not that it makes any real difference.
The main difference between the two cases is the way they hold the tablet in place. The RT case uses one large Velcro flap to hold the device in, just like the Elsse cases we reviewed last week. The Pro style case however has two smaller, separate Velcro flaps instead of one big one. They give it a bit less holding power (I found it looser than the RT case) but it's easier to insert or remove the tablet.
Also, the Pro case has much more open sides rather than individual cut-outs for every port on the Surface Pro. The plus side is it won't block access to ports much. But on the downside, less coverage means a bit less protection.
Overall Impression
Both the Classic Flip Case for the Surface RT and the Classic Stand Case Cover for the Surface Pro are good options for the safety-minded Surface owner. Color choices would be nice, but the standard black matches the Surface just fine. You can find MiniSuit's cases at Amazon, where they are available for Prime shipping.
MiniSuit Classic Flip Case for Surface RT – $19.95 – Amazon Link

(opens in new tab)

MiniSuit Classic Stand Case Cover for Surface Pro – $16.95 – Amazon Link

(opens in new tab)
Get the Windows Central Newsletter
All the latest news, reviews, and guides for Windows and Xbox diehards.
Paul Acevedo is the Games Editor at Windows Central. A lifelong gamer, he has written about videogames for over 15 years and reviewed over 350 games for our site. Follow him on Twitter @PaulRAcevedo. Don't hate. Appreciate!
l like. More Surface related reviews. The more videos like this one would show how well this tablet works "on the ground" than what we normally see in a production video. Thanks for these reviews Paul.

The price point is good so I will consider. However, I would prefer some sort of case/protector that still lets me use the keyboard and kickstand as normal. Maybe a bumper style protector would be ideal?

Hey Paul! I was just wondering id,u dis try to use it with either Touch or Type cover too! Can u fit it,inside the case too, or do u always have to remove it? Thanks

Hiya Marco. I forgot to photograph it, but yes, the cases both work with the Touch Cover. Don't have a Type cover; presumably it would fit in the case too.

Videos were painful to watch.

You're painful to watch! :-P

You weren't supposed to see that video, your mom said she hid it well.

"Both cases come in any color you want - as long as its black" :)

Thank you, Paul. I am looking to purchase a case, so reviews help! Q: Does the case interfere with your "swiping" of your finger up and down?

They do not. However, in my previous review of the very similar Elsse case, somebody commented and said he did have that trouble. No idea why, because the cases don't extend past the screen border and they even have cut outs for the Windows button and camera.

I'm not sure what the point in these is really. The surface has a built in stand. And a bloody good one. Secondly its beautiful, and the case is ugly. And third, it doesn't look like it would work with a touch/type cover.

It does work with them, as I say in the review and a reply to another commenter. The point is to protect the Surface from bumps, scratches, and spills - same as any mobile device case.

But but but...... It looks nasty :( lol

More Surface! The coolest pad, ever !

Love my Surface Pro! How about other accessories like a docking station? I use mine as my PC.

I use the docking station Plugable UD-3000. With the MS HDMI adapter and the plugable UD3000 you can use 2 external monitors and your Surface monitor (total 3 including Surface Screen which I only use when out of the office). Or just one monitor with everything but your 3.0 USB cable connected to the Surface. Its really nice!

Paul, have you tried any of the "sticker" type of clear protective plastic adhesives that you stick to the back and then front bezel of an Surface RT? I think the device itself is very nice with the VaporMg but am concerned about scratching it up. It seems a clear plastic would work around the kick stands and not interfere with the keyboard.
Thanks for taking the time to do the video :)

Hi Rann. I currently have the Ghost armor on my Surface Pro and Zagg on my RT. Obviously they don't protect like the cases Paul reviewed but they have been great to avoid surface scratches and finger prints.

Thanks for the reply. I kinda like the matted one as it will hide scratches already on the device.

Someone needs to make a case that just barely grabs the edge as some other cases for the iPad do. I'm not sure if I'm exposing myself enough, but these type of cases shown here are worthless with the surface and makes me think no one that designed this tried using it with the surface after wards. The lip that covers the bezzle, makes it a real fight and struggle to use the swipe testers from the edges of the screen. Ugh.

This is the case I have. I think this is what you are looking for. It just grabs the edge. I have no complaints with this case so far.
http://www.amazon.com/gp/product/B00CK8QQRQ/ref=oh_details_o03_s00_i01?ie=UTF8&psc=12Fa%3E2Fp%3E&tag=wpcentralb-20


Anybody got contact info for MoKo? I'd really like to review some of their cases, if only we could get in touch with them.

As far as I can tell, seems the BSCstore is selling the Moko products on Amazon. There is a link on the right to contact their customer service about products in this link. Other than that, I don't really see any way to contact Moko, so that might be a good start.
http://www.amazon.com/gp/aag/details/ref=aag_m_ss?ie=UTF8&asin=&isAmazonFulfilled=&isCBA=&marketplaceID=ATVPDKIKX0DER&seller=A2VT4H683M5NNA&tag=wpcentralb-20#aag_legalInfo

Thanks man. I messaged them that way last month but no reply. Tried again today though, so fingers crossed!

Nice cases Paul. I never really thought about getting a case for either of my Surfaces but I may consider one of these. Like the look of them.

I use this case for my surface pro and my touch cover fits perfectly with it. I don't have any issues swiping from the sides or top?

Hairier than Ben the PC Guy. But these cases are interesting.

The Surface Pro can get pretty hot when you use it to it's full potential. I wonder if adding a case over it can make it overheat or damage it. I'll keep mine naked for now. I only use a case to carry it, but when I use it I let it breath.

You are correct and any case that blocks parts of the perimter venting when the device is in use is remarkbly stupid.

I have this case for the pro and it sucks.. The strap is the most annoying part. Happy to see support tho

How does the strap bother you, exactly?

Because it blocks the front facing camera and when swapping down apps it always seems to get in the way

Now there is a clever solution if you want to kill your Surface Pro. Buy a cover/case that blocks portions of the very essential perimter venting. You might as well just stick some duct tape over the ventilation. Of course it also blocks part of the bezel needed for swiping and you bought a device with an innovative integrated kickstand and then decide to stick in in a faux leather case that renders that useless.