Review - Nokia MD-12 Portable Bluetooth Speaker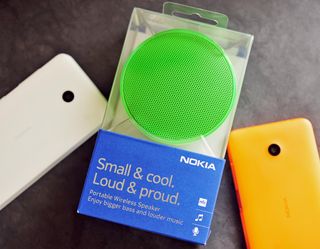 In April, Nokia announced a new accessory called the MD-12 speaker. It features Bluetooth 3.0 HS (High Speed), which is ideal for power consumption, and it weighs only 180 grams. The big selling point though for this $50 accessory is the "guaranteed" 15-hours of battery life for playback, which is impressive.
On Sunday, I reported that Microsoft Stores have begun to sell the MD-12, which is a good thing since it can be hard to find, especially in the US. For $50 (plus free ground shipping), you are not risking much, but is the sound any good?
Specifications and Nokia Product Page
(opens in new tab)
Colors: green, yellow, orange or white
38 x 44 mm (H x D)
180 grams
Maximum output: 95 dB at 0.5 m
15-hours playback time; 1020 mAh battery
NFC: Pairing
Bluetooth: Bluetooth 3.0 + HS
Micro USB charging
AV connectors: 3.5 mm audio connector
Price: $50 USD
Bass Actuator
Nokia says the MD-12 comes with an actuator for "creating a big bass effect when set on nearly any surface." In fact, placing the MD-12 on any hardwood (and preferably) hollow surface dramatically increase the bass resonance. It is a neat effect and not just a gimmick, as moving the MD-12 around to different objects can affect the richness of the sound greatly. You can even place it on your chest and feel the bass in your body, which is a tad bizarre.
Overall, though, the sound richness and bass from such a small device is noteworthy. I suggest using a wood box of any type e.g. jewelry box to maximize the bass.
Not a feature, but its magnetic
Any good quality speaker is also magnetic, and the MD-12 is no different. However, due to its small size and lack of wires, being able to stick it to your refrigerator, or any metal object is a neat addition. In fact, putting on a refrigerator creates some nice bass in addition to being ideal when cooking or washing the dishes!
Conclusion: Price versus value
I ordered the MD-12 so that I can have something small to toss in my bag when travelling and that also had decent audio quality. Sure, the sound from the MD-12 will not blow you away, but I am more than pleased with it, in fact, I am rather awe-struck overall especially when you find the right surface to place it on for playback.
The size is perfect, I like the color options, and the 15-hours of battery life is significant. Throw in the convenience of NFC pairing and the actuator for bass, and it is probably the best $50 I have spent recently.
For those curious, it does not have stereo per se, but it does mix the streams so you do not lose the left or right channels during playback.
So yeah, if you think you could use this for the office, when traveling or you have a tight area but would like some audio, then I have no hesitation in recommending the MD-12. If you are interested, you can order it from the Microsoft Store (opens in new tab) or search online at your favorite retailer.
Make sure to watch my video review to see the MD-12 in action.
Do you know of a portable speaker that could challenge the MD-12 for value and features? Let me know in comments. Alternatively, if you already have the Nokia MD-12, tell me what you think of it!
Windows Central Newsletter
Get the best of Windows Central in in your inbox, every day!
Daniel Rubino is the Editor-in-chief of Windows Central, head reviewer, podcast co-host, and analyst. He has been covering Microsoft since 2007 when this site was called WMExperts (and later Windows Phone Central). His interests include Windows, laptops, next-gen computing, and for some reason, watches. Before all this tech stuff, he worked on a Ph.D. in linguistics, watched people sleep (for medical purposes!), and ran the projectors at movie theaters because it was fun.
Doesn't Bluetooth 3.0 drain your battery very fast? BT4.0 was low battery usage right?

BT3 vs 4 has more to do with the speed and types of transfer supported, not so much about battery life. BT4 LE (low energy) is low power, but it is basically a way to remain paired without needing the devices to check in every few seconds. The 4LE is what is used for always connected devices like external sensors, fitness accessories, etc. I use BT 3 (maybe 2? they are pretty old) speakers at home and 4 hours of streaming via wifi drains my battery maybe 5-7% or so... not much of a battery drain, and most of that is probably the WiFi streaming more than the BT. That is on the Lumia 920.

Thanks for info. Now I can think of buying one

Only 7% after 4 hours of wifi streaming music? + bluetooth? are you sure? well, gotta try that...

I got this included in my 930 bundle and it surprised me for the size, so I'm very happy :D

Ive got also one. Sound is good, bass is perfect but it not lasts 15 hours... After 6 hours its already empty!

Can you stick it on top of your car and drive around blasting Baby by Justin Bieber?

But does it last 15-hours.

Got my free orange one today with my new 930, an awesome speaker too. On the right surface, the bass is incredible! The MD-12 almost gives my Mini Jambox a run for its money and the Jambox is 4 times the price...

I purchased one before I went on vacation. Got it for 35€. Damn well spent money.

Can you link two of them?

I don't believe so, but honestly haven't tried...lemme try with my JBL PowerUp. Update: Nope, you can pair to one or the other, but can't stream to both at the same time :/ Maybe with Update 1? lol

That's what I loved about the Nokia Play 360...you could pair them together for stereo sound. If I could do that with these, I'd grab some and mount them on my fridge. I just got my Dell AD211 speaker today and it's pretty sweet.

Yeah. Play360 was the last of their speakers that did this. Bought the PlayUp since I thought it could do it too and the 360's audio quality only was so so, but it couldn't :'(

Dammit, I was thinking the same thing.

Magnetic! How cool is that?!

Every speaker has a magnet.

Please compare it to the recently announced Coloud Bang (when available)!

The Nokia MD-12 will be better.

I've got one and the sound is impressive for the size however with both my phone (L820 and tablet DV8P) there is lag, which is fine for music but with video it means speech is out of sync with the image. I also have a Nokia 360 which doesn't have this lag. I'd be interested to know if Dan saw the same with Netflix for example.

I noticed this when my speaker was on whilst I sent a text. The sound is really out of sync...

Yeah, there is a slight delay with video. Even in my car I have that. I didn't really think of using this for videos, mostly music, but that is a downside.

Hi Daniel!
But i hope there is no such lag issue(for video) when using it via AUX for my Nokia Lumia 820, iPadMiniRD, and Sony VAIO ..??
I'm already dying to buy this candy like speaker LOL..

if wired connection is used, then lag is gone>?

Hopefully the update 1 for 8.1 fixes this. It has some.bluetooth additions.

Bluetooth is rarely in sync with video, just the way it tis

good thing we can still connect it through cable right?

Wish I had a reason for it.

I was actually wondering about this little speaker after the Verge did a round up of BT speakers recently but this wasn't even mentioned. Even if the sound is only ok, for $50, it packs 15 hour battery life, NFC pairing, magnetic base and bass actuator. I wonder if the battery life really does hold up. My dad has a Big Jambox and while it's a nice looking speaker, I really thought the sound it produced was reletively poor quality, especially for the price. Even the battery life doesn't hold up. We had a party last year and used it to play music and we used it while setting up from around 1pm but by 10pm, it was dead resulting in quick dash around the house trying to find a usb long enough to charge it. This wasn't even running through BT either, just through a regular 3.5mm cable which I figured would help the battery life. P.S. What's the music app you're using in the video Daniel?

The DI.FM app (Digitally Imported). Nice app.

You can also try Beem Plus as an alternative to DI.FM. Account creation isn't required.

Please, I want one so badly!!! One green!!!


Got one being delivered tonight will review after charge!

After charging, I find it to be the perfect size the white is nice, got a green one being delivered Monday. Nice led light shows charging, pairing Bluetooth was easy didn't try nfc yet, but will it's a nice feature to have and the sound is fantastic it's even better on a hard surface. For the price it is a great little extra to add to your stable.

Nice piece of sound. And that green, mmmmmm. So tempting. And yeah, DI.FM best radio ever ;P

Nice review Daniel thanks! It looks super cool. Hopefully MS continues to bundle these with new phones. I'll probably pick one of these up at some point.

How does it compare to a Jabra Solemate? http://www.amazon.com/Jabra-SOLEMATE-Wireless-Bluetooth-Portable/dp/B008R523N2/ref=sr_1_1?ie=UTF8&qid=1406755098&sr=8-1&keywords=jabra+solemate


Would be great if you could pair two speakers and them actually have real stereo sound. I think it sound be possible because both channels are available in de bluetooth stream.

I'll pick up another and find out.

I just bought green MD-12 - sound is amazing from such a small speaker + great bass! what about stereo? can we pair two of them?

The Oontz Angle is cheaper and has stereo and it even has a microphone too for calls.

I just looked it up and that Oontz Angle is a pretty compelling option to consider. Thanks for sharing.

'Cambridge SoundWorks Oontz' cost just a few more bucks & i think its a better deal than 'Oontz Angle'. And as reviewed by CNET its is one of the best mini/portable speakers of 2014, for 39.99$ at Amazon Marketplace.

I got one because it said Nokia on it and it was yellow to match my phone. I'm quite satisfied with my impulse purchase. I think it would be hard to beat the sound quality in the same size package.

is yours really the same yellow as the phone? I bought one in Germany and it is rather green (not that green as the one shown above). It was on sale (half price!), so I wonder, if it was some kind of wrong production series and that's, why it was so cheap.

The top and bottom are the same yellow as the 1020 and 1520. I think the sides are also the same yellow but are wrapped in a thick layer of clear plastic that has a green tint to it. It makes the sides look a bit green. That likely matches some of Nokia new low-end phones, like the 635. That's just a guess because I've never seen one in person. I think the speaker looks good and don't mind that some of the materials are a bit different.

exactly as mine looks. Agree, I like it a lot this way. Looks good together. Just wanted to know, if it is really from nokia. Thanks for the reply!

JBL Playup vs MD-12 anyone?

Playup is substantially better sounding and has the same battery life. It's also much bigger and more expensive (and not magnetic) so it depends what you're after!

I have the JBL charge. Nothing beats it.

Went with the Photive Cyren $40 very impressed with that couldnt get ahold of one these will try next

I've been quite happy with my Kitsound Hive Bluetooth speaker but this little fella seems to a bigger punch in a smaller package (at least it has more db output 78 to 95)

Cool. I didn't know this MD-12 had a little madnet on the bottom so you can stick it on the fridge etc. Nokia Design always seem to be a step further than most OEM and ODM. I just bought a used MD-100W, the big Nokia / JBL PowerUp one for under 67$, and it's in color Cyan (which matches my Lumia 800). I intend on using it both indoor and outdoor. And I tell you, I can't be more happy with my purchase.

The PowerUp is pretty amazing and you got a great price.

Where did u get it for that price..??

Nice review. I like gadgets, not sure I need this... But it is attractive.

Really nice review Daniel! :)
I am really happy to announce you and myself that i will be getting one or two of those. But are the lumia 520 compatible? And will they be available to buy from biggest greek online electronic stores?

Dan, thanks for the review. However, I was really hoping to find out if the speakerphone is any good... I need one, but for 80% speakerphone, 20% music.

I don't think it has speakerphone...

According to the Nokia specs it does. I also had one user in the last thread tell me it worked pretty well. Just would like a second opinion.

You are absolutely correct! Mine (green) just arrived, and that was the first thing I tested out. Worked great on a quick call. Funny, the description on the MS site didn't mention that, or at least I couldn't find it, and I looked on the Nokia site as well. This thing is great!

The base actuator function is similar to speakers from WOWee One, It's a great thing to have. I also like the NFC pair function as well but to be honest i've never actuall paired my Lumia 1020 to anything successfully.

I have one and its very good love it

It's decent for its size, pretty loud and still clear at higher volumes. Only problem I found is if it's not on a magnetic surface, for example a table, then it does have a habit of jumping about at higher volumes due to the bass actuator! Overall a good little speaker though.

How would you compare this to the Jawbone MiniJambox?

I have the white one and love it. Great value for $50

Considering that you can get a Nokia 360 for around 60-80 bucks I think these are a bad deal. It would be okay if you could sync two of these speakers.

Unless you value portability and style. ;-)

Nokia 360 are very portable as well. You are trading a little more portability for better audio quality. The 360 are more than capable of working as primary speakers, I don't think the MD can do this.

Everything is a tradeoff obviously. I have 2 360s, but an still buying one of these because I am interested in the speakerphone functionality. In addition, I think it looks really cool and would far rather lug this around than the 360 (which really is MUCH larger). I think what you should be saying is that "compared to the 360, this speaker is a bad deal for ME."
For me, there is a certain level of sound quality that is "good enough", when I factor in all the other benefits. Btw, one point in the 360's favor you didn't mention is the replaceable battery... I love that.

Already ordered, due to arrive Monday! :-)

Does anyone have this MD-12 and the Logitech X100? Which is better?

It vibrates if you turn the volume up giving the BRRR BRRRRRR sound and it is moving around on the table... If you keep the volume up to 20 ( from 0 to 30 ) then it's ok... but I was hoping it was louder.
I didn't knew about the magnet until now and this is something really cool.

I have a Jam² Plus anyone know how it compares in sound to it? Because I would love the Nokia for size and extended battery

I got mine free with my 930 bundle, an amazing offer along with free Xbox credit and a treasure tag.

Doesn't Bluetooth 3.0 drain your battery very fast? BT4.0 was low battery

No microphone on it? Would be nice to use as a speakerphone for both a phone and PC like the Jabra Speak.

I see on the side of the box it does have a microphone.

Yep, it does speakerphone nicely.

Also is there a way to pause it from the speaker?

How is it better than my Wowee One Pro? It's a bluetooth speaker, with 3.5mm audio port option and a handsfree speakerphone feature. Turn up your volume and listen (& watch) here: https://www.youtube.com/watch?v=umxVG3z5ou4&feature=youtu.be ....

Beats it on style, hands down. Nice tune, btw!

My 920 can't resist the power of the speaker battery lol.

Daniel, could you review Monster Beatbox Mini bluetooth speaker BT 4.0 S11? Its great, at maximum output it even jumping(in case its very solid and heavy as made on steel), the basses are great i can feel them in another room.

Can you pair two for stereo playback, like you could their old speakers?

I got one (white) delivered to me a number of weeks ago. I do a lot of international travel and have used BT speakers (like jambox) for both music and conf calls. I got this speaker because Im invested into the Nokia accessories, owning a 1020 and a 925. There were no reviews when I decided to take a punt on this. When I first powered this puppy up I was quite excited and NFC pairing was effortless. But that quickly became disappointment when I played some music and the sound came out tinny. I tried out the speaker phone part and was happy with that, so figured 'meh' at least its a good hands free speaker that I can toss into my suitcase while on the road. The other morning I decided to use it for a teleconf meeting at home, sitting in my lounge. I had the speaker centred in the middle of my wooden coffee table. At the end of the meeting I decided to play some music, and my jaw dropped. That whole bass actuator thing really started doing its thing. Then I started experimenting on various surfaces, and yes, the surface on which you place the speaker makes a huge difference. Its still no Beats Pill, but the size and battery life and at the price point makes this one of the most satisfying accessory purchases I've made in a while. Highly recommended.

Anyone have experience with both this and the JBL Micro Wireless?

Waterproof? If not that "portable" is just a gimmic.

Hey Daniel,
When u talk bout the magnetic 'feature', ... wth is that magnetic tinder box with a >Cortana-looking< graphic?sticker on it? Posted via the WPC App for Android!

Ah ha ...
Just realized (from other non-related articles) that this tin can is none other than a
... CORTANA LUNCHBOX !!!
- comes with ?special? versions of the 630 ... uber cool, Daniel! Posted via the WPC App for Android!

I have the md-12 and i love It. Great sound for such a tiny speaker.

Got one of these today. Yes its worth the 39€ anyday. Nice gadget.....

How does it compare to the jpl play up. Would love to see a comparison

A nicely designed speaker and the sound is good for the size/price but i'm disappointed with my Windows Phone and the lack of bluetooth support for being able to alter the sound/equaliser. So basically you are left with one sound setting, like it or not. I paired it with my LG G2 instead, made some sound alterations and it sounded stunning and more to my liking.

Can you transfer music using apt-x?

Where? Just searched on Amazon and it's not listed!

The technology is actually not new. The Mighty Dwarf BlueII - Bluetooth speaker (http://www.mightydwarf.com) has been on the market since 2012 and previous generations without Bluetooth for several years before that. . Does this product work on a SOLID surface such as a thick oak table or does it rely on thinner materials such as cardboard to produce the sound? For example, have you tried playing the music using the hood of a car or deck of a boat? There is no mention of the wattage output for the speaker in the specs but I can deduce from the "guaranteed" play time that the output would be quite low. Dous any of the owners of this product have the specs on the power output? Did I miss this in the review?

Somewhat disappointed to have visited MS store in san francisco 3 days ago, and not only was MD12 not in stock, they had no clue it even existed. Btw, one of the irritating things bout MS Store staff is they won't acknowledge any info that is spoke bout in blogs (including WPC), but not yet officially announced by MS. Much less, they wont even acknowledge that they heard bout it (i.e. a rumor) in blogs. Posted via the WPC App for Android!

Does it have a stand-by feature, or do I have to constantly turn it off then on?

I have the md12 but now it doesnt work anymore on my Lumia 830. No Bluetooth connection and even with connecting with 3.5 jack cable it keeps silenced. Dont know why my Phone doesnt see the md12 with bt. Other devices see the md12 on Bluetooth however it does not play music any more.
Windows Central Newsletter
Thank you for signing up to Windows Central. You will receive a verification email shortly.
There was a problem. Please refresh the page and try again.