Grab the Nokia MD-12 portable Bluetooth speaker from Microsoft for $49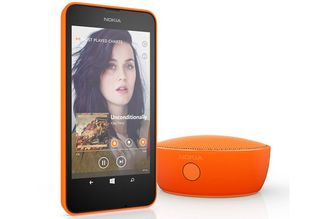 In April, Nokia revealed their Lumia 930 and a few other bits, including their new MD-12 portable Bluetooth speaker. A few months went by and finally the MD-12 started hitting various shops, though it is still relatively difficult to find (even for myself). That is why I was surprised to find it sitting on Microsoft's online Store for $49 in green, yellow, white or orange (sold out) – news to me, at least.
Mark, Sam and myself played with the MD-12 at the launch event (see the hands on video) and it is an impressive little thing. For one, it is obviously great for travel as I can toss it in my suitcase with ease. However, it is the ability to use 'surface resonance' that is truly unique to the MD-12. In short, whatever you place the speaker on for a surface becomes part of the speaker. Different objects create different effects, including placing it on your chest, which is truly awesome (and bizarre). The speaker is quite loud for its size and the bass resonance ability; it is more powerful than it lets on to be.
Microsoft Store - Nokia MD-12 Portable Wireless Speaker (opens in new tab) ($49.99; free ground shipping)
I have just ordered one up, and I will follow up in a few days with some quick thoughts on it. If, however, you are looking to pick one up in the US, at least you now know where you can get it (note: most local Microsoft Stores do not carry it, though you can check their inventory). Due to the Microsoft and Nokia mobile acquisition, it looks like the Microsoft Store is finally getting inventory on all of Nokia's accessories.
Anyone already own an MD-12? Let us know in comments what you think!
Windows Central Newsletter
Get the best of Windows Central in your inbox, every day!
Daniel Rubino is the Editor-in-chief of Windows Central, head reviewer, podcast co-host, and analyst. He has been covering Microsoft since 2007 when this site was called WMExperts (and later Windows Phone Central). His interests include Windows, laptops, next-gen computing, and for some reason, watches. Before all this tech stuff, he worked on a Ph.D. in linguistics, watched people sleep (for medical purposes!), and ran the projectors at movie theaters because it was fun.
I can only think of one thing cooler than the Microsoft Store picking up all of that inventory for Nokia accessories. Might have to do with our Store...

He just told you, MR. asky pants....

New Nokia phones to utilize them! :D

When are they going to start carrying the Treasure Tag in MS Stores?

Treasure tags are beyond crap. Bought two, both sitting in the draw, off. The wp8.1 app made them worse. (reduced options). They kept on making noises at random times, and after a couple of days they flip out and disconnect.... Might give them another try in six months

All of Nokia accessories exclusive to wpcentral store? :P

Not sure about exclusive but that sure would be convenient, yes?

I can't believe these guys.... Lol!

Yeah that will be convenient if can order them here in pakistan :P

And what would that cool thing be Dan!

Daniel - Does the MD-12 have a microphone, *or* is it just a speaker? There seems to be conflicting information on this feature, and firsthand clarification would be appreciated.

I've got the md-12 in white in the UK a week ago on amazon (and a treasure tag!)... Not that difficult to find this side of the pond!...
The Md-12 also have a MIC so that he can be used hands free for call and Skype etc...
A real little gem.... Works very well...

And what might that one cool thing be?

Those on-screen buttons look amazing .

Having Microsoft announce a product and then having it on store shelves within a week. Now *that* would be cool.

Seems cool to get I might order one I never tried Nokia products before besides their phones

How can i get one in Pakistan?? :(

I called Nokia Care store in Islamabad last week and they had MD12 in stock. If you are located elsewhere find their number and call them. I didn't buy one myself because I am more interested in Logitech's UE Mini or UE Boom

Thanks, i'll call them today

Awesome. Is is loud compared to others for its price Daniel?? Cause i might get one! :)

I mean, it impressed me enough that months later i was randomly searching one to buy. Whether it holds up to my initial impressions remains to be seen, so if you want to hold on for a few days, I'll have a better idea. At the time though, I thought it was pretty kickass.

Awesome. Thank you! I'll wait a few days! :)

Could you listen to some black metal for me and tell me how it sounds?":D

I would like to know how well the speakerphone works Daniel. Thanks!

Is this the same one that comes free with new purchases of the Lumia 930 (for a limited time)? I should be getting one free gratis very soon in that case.

I think Microsoft has some problems with availability

Is it available in Europe?

I've got mine in the UK via amazon...

What happens when you put it on your head?

It's like that scene from the movie Scanners...

I get that reference, crazy! Haha Does it do voice calling as well or just music?

You actually ate numbed enough to be a politician.

So do you buy two of them to have stereo sound?

I'm interested to see if it has this functionality. I have two Nokia 360 speakers which do that, and the MD-12 seems to be the spiritual successor to the 360.

It does not pair with one another when you have two. I tried. Sound quality not like 'play 360', md-12 sounds good, but not as crisp, however portability and the overall coolness, is great.

Can you tell me how well the speakerphone works? Thanks

I agree. I took an MD-12 on vacation last week, and used in the hotel room with my L620. It's performed quite well, but at full volume the speaker would vibrate too much and jump (move) all over the wood desk. I had to keep the BT volume below 25 (out of 30) to stop it from jumping around (20/30 was best). This is not really a problem as full volume is too loud for a hotel room anyway. I wouldn't use it to replace my laptop speakers because my laptop has stereo sound with a "subwoofer", and sounds better than the MD-12. But for a travel speaker used with a smartphone, it's great. Note: the "bass" you hear largely depends on what surface you place the speaker on, and it's hard to find a surface that offers a lot of low end in a hotel room. The speaker phone is really good. Sound quality both ways was excellent! The built in MIC was also better than expected. People on the other end had no trouble hearing me a few feet away from the speaker, and Cortana was able to hear as well (I didn't think to walk across the room and test Cortana). The battery life is strong. I didn't count how many hours I actually used it, but it was between 1 and 2 hours a day, and the battery lasted my entire trip (9 days) without a recharge. I'm impressed.

Thanks for the note about the speakerphone quality. I will definitely pick one up when MS gets them back in stock!

Is that the free one we get with the 930 ??

Perhaps you could just click the link to find out.

Did you? If so yes or no?

We not telling...read the article.

I own 2 of these Photive CYREN (http://www.amazon.com/gp/product/B00D6OHHO4/ref=as_li_tl?ie=UTF8&camp=1789&creative=390957&creativeASIN=B00D6OHHO4&linkCode=as2&tag=pinterest066-20&linkId=IYBXWZ5GIMGDGCHL) portable speakers and they are AWESOME. If someone owns a Photive CYREN and picks up an MD-12, I'd be interested in hearing which you think is better because I've been considering an MD-12 myself.

Can these be used as a speakerphone?

By the looks of what it says on ms store site it only supports playback eg. No mic

I've got one, it does have a MIC and work very well for hands free calls.

That would be amazing if it had some noise cancelling microphones and could be used as a Bluetooth headset. Would be great for conference calls on the go!

How are you going to keep it from falling off of your ear?

If paired with your phone via Bluetooth, it will sound out your text messages.

Yes, it does sound out your text messages.

Yes, you can use it as a speakerphone.

I have Nokia 360 speaker and I'm very satisfied!

I wish I could get it in red or black.

Just ordered one in green!

Just ordered a yellow one for my L1020 :D, now I have to wait until it comes to Costa Rica, perhaps it arrives first that the Cyan update jajaja

So what I you connect it to multiple devices via Bluetooth is that possible to maybe switch. It would be cool to have an app or interface to see connected devices

I see ... That must be a gas stove

Just bought the MD-12 yesterday from the MS store. I tried it out in store before I bought it. It's great for portability but not as great a build quality as the JBL playup which I own. If you're looking for sound quality in line with the play up then you'll be disappointed. It's a speaker that could fill a room but not create a full sound stage. Audio can sound muffled at times. Placing it on different surfaces changes the bass and audio quality which is helpful. I'm looking forward to the reported EQ enhancements via Bluetooth once we receive the cyan update. That should really help the sound quality.

The EQ enhancements are only being updated to work with speakerphone, they still wont work over Bluetooth. So you aren't going to get any audio changes with Cyan.

Do you know the Frequency Response Range?

I've had one for a few weeks. Excellent sound for the size however there is a lag that you don't get with the 360. Not a problem for music but if used when watching video the speech will be out of sync.

I wonder if I can order this from where I'm living since we don't have any MS store in India :'( When are they opening one here?

You can get one for 25 Euro on Amazon here.

Thanks, Il be sure to check it out. Fingers crossed for a yellow one. And hope they deliver it to the rural areas.

I bought it for 33 euro! It has a nice sound and good bass, but because of the bass the speaker moves over the table...

I would guess not.. 50 USD is very expensive..

Out of stock in online store

Quick question, does Microsoft store take long to deliver?

This speaker looks way to small. I wouldn't put too high expectations on it.

Still states coming soon on the Australian MS store :'(

Can I pair with my Lumia 1520

I bought one in Portugal for 49€. I wasn't impressed. It's good but its not AMAZING! Don't expect,a super loud speaker. It's just ok.

Tried it and can safely say that it's an odd little speaker, it vibrates itself off most surfaces, but is magnetized sideways to a fridge!!?? The play 360 is better by far, but for it's size, the md-12 is a decent little device for your music

Meanwhile, at the Canadian Microsoft store....

I love my yellow MD12, the Treasure Tag is a nice toy... (€29,99 / €17,99 ebay Germany).

Is it waterproof? Wondering if it'll work as a shower speaker like these: http://www.amazon.com/Waterproof-Bluetooth-Wireless-Speakerphone-FreshETech/dp/B00DO6WLX6/ref=sr_1_4?ie=UTF8&qid=1406520286&sr=8-4 Also, your second link in the article is broken, pointing to a local file.

I got one a month ago shipped to Canada from amazon.de. I have never had a problem with it moving, not even a millimeter, and I've used it on various surfaces. I think for volumes that don't push it to its limit, and music without thumping bass, movement is a non-issue.

Guys put it on the top of your MICROWAVE!!! For some reason it gives the best results :P

Honestly, I think the MD-12 is quite crap. Well, the price is ok, but it's still not much of an "improvement" from the phone speaker. Maby for phone calls, but not for music.

ebay.de has it for about €30 ;-)

Have got one turning up today, so looking forward to seeing how it performs!

I've got one, the speaker is really loud, i don't think you would consider that It should be more louder... I usually use it on 22/30 sound level. Speaker itself have rather average sound quality and it cannot reproduce the highest tones (although It is possible that I got a broken one) if there are much of them in music and you play it quite loud it starts to appear some annoying crackles (issue doesn't appear on lower sound levels) but on good surface has amazing quality for It size: reach,deep bass and surround. I tested it on many different surfaces and absolutely the best one was... A desk with many big half-empty drawers and a washing machine :D i usually listening on it metal, darkwave and gothic rock (i think rather demanding quality Music) and It coup with it really good (expect those highest tones) Battery capacity is absolutely great, I using it for about 1,5 week and I only charged it twice (playing everyday 3-4 hours of Music) just because I was worried it can discharge when i am away from power source (speaker doesn't have any battery level indicator)

It has a rough battery indicator: The blue led turns green or red at power up and power off for about one second: when it is red you still have a couple of hours of autonomy

Just charging it now, I'm surprised by the weight of it, it's quite the dense little unit! A good sign that it will have a decent sized driver in it for its size, rather than a featherweight once. Will see how the sound goes once I've charged it.

The only color I want it in - orange - is, of course, sold out.

Got one packaged with my 930, I thought it was sounding a bit "light" til I put it on a wooden table... Wow, that was indeed better. Still not as good as some other similar devices (can't tell their brand now), but still. Maybe a bit expensive though, at least for those who bought it ;-)

Hay! Just checked some are back in stock I just ordered two a green and a white one. Got my confirmation email and went back i was also going to get my daughter a green also but they are sold out again.

We have them Salem NH Microsoft Store