Lync 2013 updated to allow viewing of shared PowerPoint presentations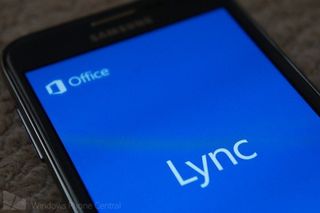 Lync 2013, the messaging client for enterprise customers on Lync Server or Office 365 subscribers, has just been updated. The Windows Phone app extends the power of Lync to your smartphone bringing voice and video over wireless, rich presence, instant messaging, conferencing, and calling features.
The latest version 5.3.1037.0 brings two major updates to the app.
View shared PowerPoint presentation during a Lync Meeting.
Control Lync with your voice - Join a meeting and play a voice mail.
For the brief time I spent with the app, in a test meeting, viewing the shared PowerPoint presentation worked quite well -- on WiFi as well as 3G. Let us know your experience with these new features in Lync 2013.
While anyone can use the Lync app when invited to a Lync 2013 meeting, you must have a Lync account in order to use the full capability of the app. If that's you, you can download or update the free app for Windows Phone 8 devices from the Windows Phone Store.
The lync Client is really useful when you in a meeting and want a quick chat with someone else descreetly.

We are in the process of deploying Lync to our 250 Lumia 625's. The Lync client for Windows Phone works seemingly well.

Wish my IT would move up from 2010!

We have 2013, and whenever I invite more people to a conversation, the IM function gets disabled. It keeps claiming that I've set it up like that, whereas totally not. Best thing is that I can't seem to make it work no matter what. But the ui and all is nice. Reminds me of msn messenger (one of the main reasons for jumping on the WP platform back in the day) before it was phased out. Too bad skype is nowhere even close.

When we first explored the idea of switching to Office 365, the trial version had us make up a name@microsoftonline.com. When we moved forward using our real domain name all the features except Lync made the transition. Lync hasn't worked since. Its on our list of 100s of tasks we need to address. It looks interesting?

The WP client never worked for me. For my fellows with Android and iOS it works just fine, like the desktop version. But the WP client can't connect to our Lync server. I hoped the new version fixes that... NO :-(

The previous version already allowed viewing shared presentations as well as the presenter's shared screen/desktop...

I was going to say the same thing, but I think shared ppt is different from regular screen sharing (ability to skip forward through the slides w/o waiting for the presenter, etc)

I wish it had toast and tile notifications of messages, or else it's not really as usefull as its iOS and Android counterparts

It does, if your Admin set it up correctly. Unlike Android and iOS apps, WP app depends solely on push notifications which must be deployed on the server. Android app runs in the background and iOS app has a running process that can fetch data even if the app is in the background.
Windows Central Newsletter
Thank you for signing up to Windows Central. You will receive a verification email shortly.
There was a problem. Please refresh the page and try again.