Mail is set to bring pop-out email viewing to Windows 10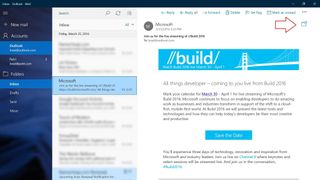 Viewing mail in a new pop-out window is handy for those who wish to check through messages without having the UI of the main inbox present and cluttering up the screen. Unfortunately, this feature isn't available in the built-in Mail app for Windows 10, but this is about to change.
Brad Sams over at Petri managed to get his hands on an unreleased build of the app, which sports this very feature. Thankfully, with Microsoft looking to implement said functionality into the Mail app, those who rely on it for email management will be able to view multiple messages at once in a more feature-rich experience.
For now, we'll have to hold out until Microsoft eventually rolls out the feature in an app update.
Rich Edmonds is Senior Editor of PC hardware at Windows Central, covering everything related to PC components and NAS. He's been involved in technology for more than a decade and knows a thing or two about the magic inside a PC chassis. You can follow him over on Twitter at @RichEdmonds.
Good feature update, i will really find this one useful... N just 2 days to build... So really excited :p Posted from Windows Central for Windows 10

They should try to make this work in continuum somehow.

I agree completely... Not only that, i feel a good step forward for continuum would be the ability to run apps in a windowed mode.. Something like Ubuntu on mobile does. Posted from Windows Central for Windows 10

Modern apps in windowed mode is very important for continuum to succeed. It was probably the greatest weakness of windows 8/8.1 and RT. They need to address it asap.

Yeah, W10M Continuum is really not that useful at the moment because of the lack of having a real desktop environment. Windows apps (with all features of Snap and other things), and full drag-and-drop between apps must be implemented, and properly. Also they need to make some apps to have multiple instances, such as Office apps, File Explorer (which needs to improved to be closely similar to desktop-class file managers), and other apps where multiple instances are necessary.

Is this something like "Full screen" Mai content and have the ability to swipe right / left for the next mail ?

I think it is just for one Mail at a time like in the calendar. Go to an event in the calendar and it will show a popout button. It just opens that event in a new window.

I wish they could implement swiping trough the mails in this full screen.

I do like the calendar event pop out so sounds like the email pop out is a worthy update.

I'd be happy with a 100% correctly rendered mail view.

Kind of OT: Did they take away notifications for different mailboxes on mobile?

Nope, I have multiple emails with custom notifications for each and each inbox pinned as,separate tiles. You need to long press the account want to pin in the hamburger menu.

Odd. They're still separate on my start screen, but the notification still shows up as outlook mail. Now I'm pissed off :/

You can rename the accounts, go to accounts - email and accounts, tap an acccount and press manage. If you don't rename them then all will show up as "outlook mail".

The account is renamed lol. It worked before, then it during one of the updates it stopped

Oh okay lol, must be a bug if anything. Sometimes no notifications are shown in the action centre on my L920. It's random, yesterday was the second time it happened with the last being several weeks or so ago.

In one of the updates, they added a new setting that does this... but it actually borked this for me when I did the update. If you open the Outlook app, bring up the ... menu, tap on settings, and then tap on notifications there should be an option to "Group notifications by account in the action center" Just switch that on and you should be all set. It will unpin your mailboxes from the start screen and then repin them at the bottom. Just move them back to wherever you had them before and it should work perfectly again. You should also be able to setup your glance screen to show separate badge counts for each account as well

I want dran-drop functionality. Browsing for attachments is so out-dated.

If I'm not mistaken.. Its already there on the Redstone builds, i think I had read it here or on neowin Posted from Windows Central for Windows 10

"Unreleased" as "it might not come at all to an actual build"? I couln't care less about this feature, but I wonder where these unreleased builds come from...

Notifications for custom folders needed on both PC and Mobile mail app.

Agreed, that and folder management are the features I'm missing.

And yeah folder management, categories and Alias support is badly needed. These are essential as Outlook web app had these alone for years that kept me still using the web app because the client app we have still inferior to we app counterpart. Heck Outlook.com is already having redesign and set of new features. This leaves Mail app alot to catch-up.

Thank you very much for making that statement. I love where microsoft is going with windows 10, but if you're going to say that it's one OS to run on everything, as you stated, these types of features should be on mobile and PC, not one or the other.

Would be nice to see it on mobile too tho

It's all well and good, but can you make my calendar tile show date and events? Or ensure that all the birthdays are synced properly? Till they get the basics right, it means nothing to me and many others plagued by such issues.

It's all a step in the right direction, ok things can be improved but it looks like this is what Ms are doing.

Click on that link to see more image Posted from Windows Central for Windows 10 with a Nokia Lumia 730

I'll watch it live. Eagerly waiting...

Yes! I've wanted this for so long ever since they added multi-window support to Apps in Windows 8.1

fingers crossed for Categories as well.

Pop-out emails will be nice in desktop mode, but hopefully, in tablet mode of the app, pop-outs will be small, else they will not be a good thing to see if they appear in maximized Windows.

Why do they need to be small in tablet mode? They can dynamically size up to the full or a percentage/portion of the screen size (with the last remembered state). It doesn't have to be a fixed size lol.

Multi-window user interfaces, wow! Who knows what else the future holds!

I'm earnestly waiting for the update. Lateef1972

I swear I used to have this feature in the Mail app a long time ago.

What about aliases within the outlook domin, I am not able to send the mails through other aliases. And if I try to connect vial login, says you have a primary account synced to the email app. Same for iOS, I can compose those mails by selecting those aliases.

We got this feedback and are using it to improve your experience.

So says Microsoft's feedback app. But is it really true? There are far more requests for alias support than for pop-outs, so why is Microsoft doing the latter not the former? You can live without pop-outs, especially on a mobile device, but it's a show stopper if you don't have alias support and you need to send an email from a particular address.
Windows Central Newsletter
Get the best of Windows Central in in your inbox, every day!
Thank you for signing up to Windows Central. You will receive a verification email shortly.
There was a problem. Please refresh the page and try again.