Make free HD video calls with the latest WeChat update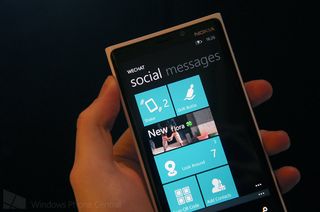 The popular mobile communication and social networking app WeChat has been updated to version 4.0. The Windows Phone client has been bumped to include further support for Windows Phone 8, Microsoft's latest mobile platform. Already available for Windows Phone 7.5, WeChat can now be utilised by those running new or legacy hardware.
The cross-platform service provides users with text, voice notes, images, videos, location data and more. WeChat also provides a private, group-based photo sharing network for images and more - think of Rooms in Windows Phone 8. All that's required to get going is a phone number and you're then able to use the service - pretty neat.
So what's new in version 4.0 for Windows Phone 8? According to the app description:
Free HD video calls.
Support for video messages: record a video and share it with your friends or loved ones.
Play audio messages in Handset Mode to keep your messages private.
You can download WeChat from the Windows Phone Store. There aren't any advertisements located within the app, which is a nice touch. Thanks, afgzee, for the tip!
Rich Edmonds is a word conjurer at Windows Central, covering everything related to Windows, gaming, and hardware. He's been involved in technology for more than a decade and knows a thing or two about the magic inside a device chassis. You can follow him over on Twitter at @RichEdmonds.
Is there any app for WP8 like VTOK that supports google video chat?

Is this only for WP8, so we hv already started seeing fragmentation ? WP7.8 left out?

It's for all. Read the article.

We have been using WeChat long before WP8 came out!

Guys, Chinese government is behind Tencent to make Wechat popular worldwide for a reason... =.=

My wife is Chinese, and we both use a lot of tencent chat software. You do have to avoid using certain words that are not considered "harmonious". Among other bizarre things, not so funny when someone decides to report your conversation. So he does have a point there. Wechat is still nice to have though, I use it often since most other apps like it are banned in China.

The concerns regarding Chinese security intelligence being behind it are legit: http://m.guardiannews.com/world/2012/dec/07/wechat-chinese-social-media-app

Or just google (or Bing): wechat security

I don't see the update on 7.8 for video calls at all

Right - no video call support with WP7

I just tried out this video call on both Nokia 920, The video look much better than Skype.
Come on Microsoft, if you want to beat apple product you need to speed up the process and do better job on Skype, It's been too long already.
I did swap my i5 and my dad's i4s for Nokia Lumia 920s.

In case you missed the Skype back story, the issue that Skype simply wasn't scalable much longer. MS bought them primarily for their subscriber base. Behind the scenes an entirely new background is being created to make Skype fully capable and functional in the future, something that can be baked into the OS of WP and other products. If it were only a new App that was required it would have been done by now. Sadly, a lot more is required and is taking time to do it right.

Let me ask you this. How is it that WebOS was able to fully bake in skype in their OS 4 years ago, and Microsoft can't do it even now. And they own the GD thing?

can u tell me if wechat haves option to turn rotation lock off????
i need to know b4 switching to wp
currently m a android user n what bothers me is absence of such a must have feature. i currenly use whatsapp n on wp whatsapp doesn't have feature to turn rotaion lock off
i chat a lot while lying down

Just tried it, only chat, and man does this app drain battery or what?!

Lumia 920.
The app is great. In fact it's the ONLY chat app I've used that actually works unlike many other half assed efforts. But it also drained the battery far too quickly for my liking

Video is only for WP8 devices. Its time to upgrade...

And where is viber voice calls i ask..

I loved Tango, back when it worked. They've made no effort to fix it. So I guess I'll give this a try as my family is a mix of MS and Apple devices.

Dope! This is a really nice HQ app. Runs really smooth on my 920.

Is anyone familiar with Good Technology? Well, a lot of people who have to use their phones for work or business just have to have the "Good" app installed on their smartphone in order to use it to access company files, or email. There is actually a WP7.5 Good app in the marketplace, but for some reason they have not made a WP8 version. I know you may think that this is not important because there are many other apps that have not been made WP8 friendly, but the Good app, and apps with similar function, are keeping a lot of people who need to access important information from work from buying, or even upgrading to WP8. Does anybody have any ideas, besides the obvious, on how to get Good Technology to upgrade their WP7.5 app to work on WP8?

Still a few version behind Android but its a good update, I like it.

Click the plus sign in the chat window, it's the 5th option available

Anybody got the update on 7.8?

amazing app, better than whatsapp. I use this and Line the most.

Is it still slow at loading using data?

I doubt if wp7.8 has the required APIs to have this feature, MS screwed up WP7.5 users big tym.

If anyone here has an answer to this question it would be much appreciated:

So basically when you hit back on the home screen it asks you if you would like to "EXIT WECHAT". Does this mean it has no ability to run in the background?
Windows Central Newsletter
Get the best of Windows Central in in your inbox, every day!
Thank you for signing up to Windows Central. You will receive a verification email shortly.
There was a problem. Please refresh the page and try again.