Massive update to 'Make it Rain' for Windows Phone adds bacon, selfies, and more!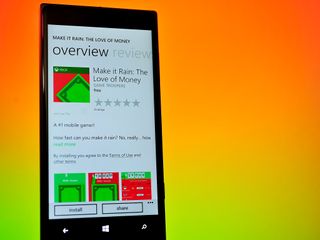 Game Troopers' Xbox for Windows Phone mission continues with an update to their addictive money swipe 'em up Make it Rain, which adds various new features.
The popular (and bizarre) Windows Phone game is an Xbox Live title, one of the more recent to drop on the Store. So what's new? Head past the break to see the full changelog!
Changelog:
All currencies unlocked! Access to a lot of new real (and not so real) currencies
Make it rain like a pro with the new $100 bill (new in-app purchase)
Get the first bucket for free! (yes, you're welcome)
New purchase: Forever gold, I want to be forever gold. Do you really want to be gold forever? Forever, and ever
New tutorials: Meet Mr. Pig Piggington, he will guide you across all the new options in the game
Take a selfie and share it across social networks!
Missions: Win money, bribe cards, bucket capacity... by accepting our crazy challenges. New missions are coming!
Wait, rain on my pictures? Yeah, you can take a photo and decorate them with our mind-blowing scenarios (more soon!). And you can share these pictures with your friends
New live tiles
Chinese language updated
Overall performance improvements
That is a lot of added features and improvements, hopefully bringing the game up to par with iOS and Android.
The version 1.7 update is now live and ready to be downloaded! Give it a spin and let us know what you think.
Download Make it Rain for Windows Phone (Free, optional in-app purchase)
Jez Corden is the Managing Editor for Windows Central, focusing primarily on all things Xbox and gaming. Jez is known for breaking exclusive news and analysis as relates to the Microsoft ecosystem while being powered by caffeine. Follow on Twitter @JezCorden and listen to his Xbox Two podcast, all about, you guessed it, Xbox!
I love exclusive game and app developers to the Windows platform :D

This game is not exclusive to Windows Phone. My family all have it on iOS and Android (trying to convert them to WP). Some of the content they have added here was already on the other platform versions, like the missions. I do welcome the updates though :)

I do too, but make it rain has been on ios and android for at least a year at this point.

I'm not sure about iOS but in Android you don't have Xbox integration so you don't get achievements which is a good reason to move out of Android and adopt Windows Phone. I've read many comments in Google Play Store on Make it Rain claiming how they lost all their advance when they move to another device.

I uninstalled and upon installing this version, I have to start over

Finally Mission support. After I unlocked everything... Lol. I welcome the update, though!

Wohoo, missions finally arrive for WP. Well at least this game is playable in WP unlike its iOS counterpart, which hung most of the time in mission overlay screen.

It's ridiculously addictive. :D

I like GameTroopers they followed me on Twitter and they support our platform like it has market share

They are just great, I am waiting for overkill 3 by craneballs port by game troopers

I have 17 out of 20 achievements, recently reached 100MB per second without touching my phone and 50MB bills per swipe, however I configured my phone to move games to my microSD card which recently died, now I'm lost, I need to start from beginning again. I'll never install my games on a microSD card again it's a big risk that can let you down. What happened to me can happen to anyone, since external storage is much more volatile and risky than having your local storage on your phone. WIth that said, my phone was 8GB of storage (A Lumia 625). This time I'm probably getting a phone with 64GB storage space minimum. Goodbye microSD cards forever!

You should buy good quality SD Cards.

Cool.. Too bad there is no cloud sync..

I play this everyday. My bucket game is strong.

Nice! I will support them for supporting Windowsphone

I didn't install this after the initial release but, with fairly huge update to bring better parity with other platforms and remembering the recent article about them looking foe WP devs... I'll give this a try.

About 2 minutes in and the game had me sold. Achievements are a big bonus.

good luck trying to advance further than 4000kb mark without buying the bribe cards as you'll get plenty of FBI investigation which could end up taking a huge chunk of that money and the money growth rate.

They cut down your rate too? Crap..

yupe.once you lose some of the rate,you have to buy it again but at a more expensive price.And the game heats up my L925 too much I had to uninstall it.

How can people even call this a game? It's just a big cash grab.

I don't like the wheel spinning. I'd rather play Adventure Capitalist, if I were looking for an idling game.

I only clicked on this article because I read "bacon selfies."

Sadly The games doesn't work on the windows 10 tp

Shit.. I wanted to ask about it. Maybe devs dont know about this issue

After a hard restart I've to start this game from $1

I have all the achievements but I'll load the game back up to see the changes. Thanks for your continued support.

Just after I got bored and deleted it... I have to start from the bottom now :/

It needs a picture of IFC Yipes screaming "Make it rain!"

more updates and they still haven't fixed the achievement glitches. I've had them all for months and my LIVE account only shows 15/20. I keep hoping that after every update, they will pop, but I'm always disappointed. did all 25 missions last night and still nothing. Same thing with a friend of mine. He even started over and his still aren't popping.

Awful "game" - no matter what they add, it's just Game Troopers polishing a turd. http://retrocoin.com/wp-review-make-it-rain/

I blame this game for bricking my 920. Had it running, phone got super hot then froze. Did a reset and it never turned back on again :(

Just wish the achievement glitches would be fixed. I love updated features, don't get me wrong, but why add new features when old features are still broken?? 20 of 20 earned but only awarded 17 of 20!?
Windows Central Newsletter
Thank you for signing up to Windows Central. You will receive a verification email shortly.
There was a problem. Please refresh the page and try again.