Make your own Windows 10 apps with the latest beta of Windows App Studio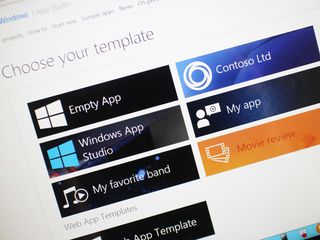 Even though its been available for over a year, Microsoft's Windows App Studio is still technically in beta. Now the service, which allows anyone to make simple Windows Phone and Windows 8.1 apps for free, has been updated to support creating Windows 10 apps as well.
While Microsoft has not yet allowed third-party developers to release Windows 10 apps in the beta store, this update to Windows App Studio has been designed to get them ready to launch apps when the store opens. Microsoft says:
While the store is not yet live, Microsoft is allowing developers to test their Windows 10 apps made from the Windows App Studio:
Microsoft has also added some more features to Windows App Studio that can be used by app developers immediately for their Windows Phone and Windows 8.1 apps. They include adding support for Bing Maps inside apps, along with the ability for apps to search through the Xbox Music catalog.
Source: Microsoft
I AM THE DEVELOPER ...Hhaha lol

So what's the difference between app studio and visual studio??

I'm not so sure, but app studio is just a basic compiler having a fixed UI. You can't do much with it. If you have to do some changes to the UI ,or anything else for that matter, you'd have to use visual studio.

Maybe the App studio is limited to some extent.

Can anyone become a developer??
If yes, how much he/she has to pay??

Do a quick Google search buddy.

We do Bing search over here, buddy.

You have to give me 10$ every month.

You need to pay USD 20 to be able to submit apps to the Store. It's free if you're a student.

When will Windows 10 reach developer preview?

Soon, aka November/December 2015.

lol, i think is more like june 19. I read it somewhere i dont remember now xD

With all the outrageous limitations appstdio has (for instance html pages must have a maximum size of 4096 (!!!) bytes) practically you can't do anything useful with it. Not to mention the ugly interface that is generated if you import a touchdevelop script :/

I've used App Studio to make Web App templates for banks that I use. For one in particular I had to mess with the source code. But its easy, and it works. I'd say it's pretty useful.

I agree. I just created a web wrapper in 5 minutes for www.taal.pk

I spent 2 hours in App Studio on a Sunday afternoon and made a Pillars of Eternity Fan app. You would be surprised. It's good looking and useful, but it's not loaded with fancy features. It's not published in the store yet, but version 1 is complete. Screenshots here: http://1drv.ms/1RmrIAI

Upper left corner hamburger menus for all.

I m a developer.. N most of my apps r developed for myself.. Such as rediff .. Bandcamp.. Chillwave lovers.. N many more .. Just loving it

I love app studio. I have made about ten or so apps for my phone and tablet. What app gap? I made an app for My BT account and mobile. Can keep an eye on my allowances at the click of a tile.

The next step is to give your tile life by making it update automatically...

I don't know how to make a app, I don't know anything about coding, God help me pkz

LOL! Act now before you realized you are alone. I have just made a calculator on Visual Studio. Though it is never better than any calculator out there, at least my own calculator has my name on it and it's color is GREEN, sam ewith my Lumia 930. SO everytime I need a calculator, I use my green calculator that has my name on it.

Ah, Yugiro Calculator? I might want to download it.

Don't get left behind mate, it's not as hard as you think to get started. Listen to that calculator guy.

You don't need to write code to use App Studio. If you can read, and follow documentation you can do it.

To answer your question as a developer app studio and visual studio are both awesome tools. And can be used together. But they are both very different. App studio is on the fly click and go development with no coding required. Visual studio is your hardcore app development where you will code and get personal with line by line. Now the good part is that you can start your project in app studio then pull your source code over to visual studio to tweak the code and and add extra elements into your app project. Build/generate your project and you now have something nice. I can't remember the price for being a developer with Microsoft but it is for life and that is a good thing and neither ios or google is offering that. Microsoft has many tools that will help you and many Microsoft employees will help you also all the way. You can also learn and earn at the same time with many rewards from drones, Xbox consoles, games, gift cards, devices like phones and many other nice things. So being a developer with microsoft is nice. Going for me an Xbox One and maybe a drone. Then maybe the holo lens if it gets added. But it is all a wonderful tool to work with and the rewards are sweet.

I founded that windows 10 have android subsystem
Is that true?????

....Nintendo DS emu for WP ....? Pls
Windows Central Newsletter
Thank you for signing up to Windows Central. You will receive a verification email shortly.
There was a problem. Please refresh the page and try again.