Microsoft wants to 'doubledown' on Cortana to make it a true personal assistant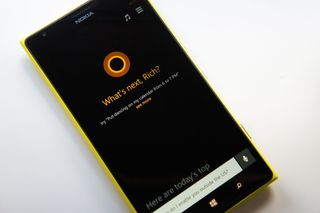 Microsoft has posted a new video interview with Cortana team Group Program Manager Marcus Ash. The video is primarily Ash going over the design philosophy behind Cortana, things like Cortana completing certain tasks for you, letting you keep your attention on other, more important parts of your day.
Ash also talked a bit about hopes for the future, such as giving Cortana more personality. As an example, when getting sports scores, if Cortana knows what team you root for, the tone of its report will reflect if your team won or not.
What do you think of the interview? Leave your thoughts with us down in the comments.
Source: Microsoft Lumia US on YouTube
Thanks to Fahmi for the tip!
Thank you for that insightful, informative comment. I always find them to be helpful.

Probably didn't even read the article.

I don't get it!!! What was it meant to say? All I see is "Gg"

Look at 1:39 What's that new look or Android?

Hmmm.. I hope Cortana becomes world wide soon, and continues to improve.

Cortana desperately needs to work with Wallet, and initiate things like package tracking and gift cards.

Great, as long as undeserving Android and IOS don't get it.

The more people that use it the better the service will get. Cortana will have to become cross platfrom at some point. Once it goes to Windows 10 and Xbox One there will be no point in dening it to Android and iOS/Mac users.

You do not see Siri or Google Now on other platforms so why should Cortana? By the measure of it being on Android and iOS because it is on the Xbox means that it should be on the PS4 as well.

@redfox I wholly agree with keeping Cortana securely, secluded to our selected platform.:-) But just as a point of clarity, I believe Google Now has made it's way to iOS.

Wrong. An in-depth personal assistant on your Windows 10 device that doesn't work with iOS and Android would be severely hampered to 90%+ of the world.

@jamesdax3 I don't think that its mandatory that Cortana by default should go to iOS and Android after she debuts in Windows 10 and Xbox. There is a 1.5 Billion install PC base, and with the preclusion of licensing fees on devices under 9 inches, we already see a growing influx of new Windows tablets and hybrids. With Cortana's inclusion in ALL upgrades to/new purchases of Windows 10 devices, including the growing phone market, that creates quite a large a market fir the early years of Windows 10, and a MASSIVE market as upgrades and new Windows 10 devices, across ALL form factors and myriad implementations, IOT, car, wearables, tablet, PC, hybrids, phone. Cortana can thrive and be quite successful relegated only within Microsoft's ecosystem.
If she MUST cross over because Microsoft, right or wrong deems that's the direction they wish to go, I might feel a little more at ease if her transfer to other OS's is in a VERY restricted form, implemented via the Bing apps already on those platforms.
Consider this, Bing already allows users who log into the service a certain level of "personalization", (getting to know you).
If you log into the Bing page( iOs, Windows Phone or Android user) you get options to follow certain topics( interests). You can also log into facebook for more personalized searches.
If the Bing app on iOS/Android is revamped to allow for the delivering up of interests, localized suggestions for some Cortana-esque features without the whole she-bang that would bother me less. We have little left that's exclusively ours.
I also think there is great potential in how Cortana on Windows Phone and PC can work together. Keeping her exclusive to Windows Phone, gives that edge to being all in the Microsoft ecosystem.
Here's what I think CORTANA ON WINDOWS PHONE and PC WORKING TOGETHER could look like.
http://jltechword.wordpress.com/2014/09/28/cortana-on-pc-and-windows-pho...

Couldn't you use the same argument for every single service from Microsoft though? Might as well give everything away. Most of us here are concerned about the future of Windows phone, although the name is now Windows Central. No matter how good Cortana gets by giving it to everyone, it's not in the least going to help WP grow.

Not in this case. There are more than enough users of Cortana now. If they move it to iOS and Android, people will lose all desire to get a WP.

Yeah i upgraded from the 928 to iphone 6 because Microsoft had no flag ship phone for fall like everyone else. I wanted the Galaxy Note Edge but a release date wasnt announced. Even though the 6 is great and a lot of doors have opened up thanks to pretty much everything supporting iPhone, i really miss WordFlow and especially Cortana. If a nice powerful flagship phone came out id get it eventually but with Cortana coming to iOS i just dont think thats happening

We all know that they will

Huh Cortana ! When will they release the highly anticipated denim update??

Denim won't change much for most of us. We need a new flagship... Yeyeye I know we have to wait for Windows 10

When will we get a Windows 10 device? Cause it seems like that is when Microsoft will release a new flagship.

For God's sake stop asking about denim. Microsoft hasn't even announced its availability yet. Besides if you are on the developer preview then all denim has are camera updates. And if your not on pfd then go shout on the lumia Facebook and Twitter pages. WC will know only after Microsoft reveals it.

Someone has they're panties in a bunch..

Lumia Panties? How come? :O

Best be staying an exclusive for windows

Ya know right,I myself don't know why its going on other OS's later on

No denim until January 2015...

No food for you untill 5012...

When I read "ash", I thought Pokemon.

Funny how generational that is...i thought evil dead.

Clatu verata ...... nectar, nudel's, oh there's definitely a N word.

Oh yeah, get me a chainsaw and a shotgun!

I always think Pokemon when I read or hear "Ash"

The only phones that denim does a lot for is the 830, 930, and 1520. That is why MSFT is focusing on getting this update to those phones and pushing the update for other Lumia's till early 2015.

I tried Lumia 730 as well as 830 but I didn't get the "hey Cortana feature working". Wish to see it on my 1020 and also some basic offline features like, play music, send text, calling a person, I don't think those commands need internet really. :)

Its only available for phones with a snapdragon 800+ chip. Which is the Icon, 930, and 1520

I think the "hey Cortana" feature will only work on snapdragon 800 processors and above.

They need to get this feature to work on the lower end WP too. I know that MS want to push the flagships but ppl are mainly buying the low end devices.

It's a hardware limitation, not software. The lower processors are not capable

Well if we can keep Cortana alive beyond rampancy she will attain sentience. At least that's the theory behind it from Halo history.

She made it. ;-)
http://cortanalives.wordpress.com/

No Cortana in most of the world, so... Who cares!

Great, more sports features...

Cortana on Android and IOS. Screw it.

I like Cortana, but I wish she could audibly tell me the time when I ask. Oh, and in my time zone, please. My phone is not configured for Eastern Time.

@wpguy yeah that and audibly announce appointments like Windows Mobile used to.

So what did they tell us we didn't already know

Minutes 1.42 the best part

I just don't like the reports of Cortana going to other devices. I think MS is stupid for even considering it.

MS should not put Cortana on any non-MS platforms, for several reasons. First, it won't have the abilities that Cortana does on Windows since it will be just another app and not have OS level access. Second, it's one of the few advantages WP has going for it. I personally find it much better than Siri, and while not as robust as Google Now, it offers the personality and Siri-style interface that's more personable than Google Now.

Ash: "Alright you Primitive Screwheads, listen up! You see this? This... is my boomstick! The twelve-gauge double-barreled Remington. S-Mart's top of the line. You can find this in the sporting goods department. That's right. Shop smart. Shop S-Mart. You got that?"

Cortana to Siri : Yo, she-bitch. Lets go.

Thank you! Now i have to go find the movie...

i can't get excited for Cortana because my Country is not supported and probably will never be

The idea is GREAT, we just are like common, get all this shit out of beta, make it worldwide and Windows Phone exclusive. That's it!!!

Nice. Now make it more useful.

I would love for some super advanced stuff in the future. Lets go crazy and say, more languages supported. Wouldn't that be cool!? A guy can dream.

Or, gasp, it being able to turn off the only alarm that is on withou asking "which one?". Nah, that would be just silly.

More personal!
What do you mean by this?
Means now Cortana will keep an eye on my WhatsApp chat.
and
will file a DIVORCE CASE against me.
Lolzzzz...

F... All this give us denim and cyan for those still on black. Thats all we are waiting for

Instead of increasing its functionality, why not making it worldwide? I don't want to change my phone region to US in order to use Cortana, and change it back to Malaysia to install local supported apps.

Interesting. But when is Cortana actually going to be released? Right now she tells me she doesn't speak my language (set to English-united states).

How many times are you gonna retitle this article?

They should add useful features like being able to set your desired departure time for work/home rather than have it guess. Or the ability to set your preferred news feeds instead of getting the crap from fox we do now. Adding personality to sportes scores serves no real purpose, real functionality is needed not gimmicks.

So many short sited folks here.

Dear tech companies. Stop doubling down, its a bizarre turn of phrase. Stop it

I would really prefer she simply DO more than simply sound better. Great down the line, but get the functionality first, then get cheeky. When I ask for sunset times, don't give me a Bing result list. Tell me the time.

Right, I hate that.. I ask a simple question and get a Bing result, Siri & Google Now tell you the answers not show you results, or they do both.

Oh yeah, double down... Like HP wanted to double down its efforts on webOS or what. Don't announce, release! Still waiting for Cortana in German, a market of 100 mio potential users...

Lol that's the first thing I thought of when I read the headline-- "doubling down" is usually a death sentence!!

Did you change the name of this article?

If cortana won't go worldwide... 80% of Windows phone users will never know and all this cortana boomsound will be useless

One option using Cortana that would be awesome is to ask Cortana if you missed any notifications and if so, then she could read it to you! Exemple: You: Cortana, any missed notifications? Cortana: Yes, you have 2 missed texts messages. You want me to read them to you? You: Yes please! Cortana: (reads the first message then) she ask: You want to reply?.... Etc!

Yes, I want this to.. Now! This should be a no-brainer to Microsoft.

Yes exactly! I hope that one day it will work like that...that would make a true personal assistant!!!!

yeah but it would be faster by hand. instead using Cortana. or else u need voice activation available inky for s800 and above processors lumias.

Yeah that's true but if,you are driving or listening to music via Bluetooth, you just need to press one button and she could read this for you.

As a fan of the Chiefs, that sounds awesome for multiple reasons. ;) But as a Verizon customer, I may never know ...

I want to see more multiple statement integration. For example I can ask Cortana to play Pearl Jam and she will open the music app and play Pearl Jam. This doesn't happen with Pandora though. You can only ask to open Pandora. I would like to be able to say open Pandora and.play Pearl Jam station.

How about getting is at least beta functionality in most places. I hate saying this, but the experience is sub par right now.

The road to hell is paved with good intentions. It's really all about swift, error-free execution. Cortana will love it die by how good it is at being truly helpful. The prize is huge. It is MSFT 's BEST chance to move users from GOOGLE. In light of that, it could be MSFT 's most important new software/service.

Android has google now nd iOS has siri no one would care for cortana. Posted via the Windows Phone Central App for Android

My thoughts are - we need Cortana to remain a "Windows" exclusive. Not on Mac, not on Android, not on iOS, nowhere but Windows. By that I mean Phone, PCs, Tablets, and Xbox...

How about improving Cortana by giving us Brits Jen Taylor?

I don't know if it would make me feel any better if Cortana said Saints 10 Bengals 27 with a touch of sadness.

Ah, the most infamous phrase in the tech industry http://www.theverge.com/2012/9/27/3417932/double-down-brief-history-mean...

Wow, can't wait for Cortana to be 100% personal!

Cortana. Excellent. Amazing. What about being able to remove picture from contacts ? What about being able to make a song my ringtone without using a PC ? Where is the data switch on the notifications bar ? And many many more...from a big windows phone follower...

cricket score card and details when asked to Cortana is the feature needed in Cortana for India.

my only question is y target Siri all the time i mean rcem they use bing search for web searches. so y targeting siri.

And all of these neat features will come to markets outside the US sometime in 2030

Release it to the whole world

oh no! I've heard "double-down" before in a mobile context, it didnt end well!

Không biết đến bao giờ Cortana mới nói được tiếng Việt đây :(

Still waiting to speak in Spanish!

Cortana should be Microsoft exclusive

Msft did state that we would be able to use audio settings equaliser via bluetooth, is that ever going to come to the platform.... And how and when?

gotta be old video, no one is wearing short sleeves in Redmond right now..

Maybe they should start by addressing an issue that makes Cortana unusable first. There is a huge number of users that are complaining about losing their microphone after the 8.1 update with no word of acknowledgment from Microsoft. +(deaf)1020

Would be great too if it could do some real grunt work. I'd love to be able to "write scripts" by saying: Cortana, search "file name" for all cells in A1 containing "x1" and create a new spreadsheet for each of those rows." More parameters can be added and that would be awesome. Kind of Star Trek "computer" like.

Great noise maker it work in more English speaking countries and other countries with existing supported languages

Forget about meaningless 'Personality' things like predicting Sports scores, Tossing a Coin, and who's going to win Dancing with the Stars (WTF?!) and roll out the Jen Taylor version to English speaking countries first. Most of us in Western countries grow up with American tv/movies/music, so we're quite capable of understanding her. It's still unbelieavable you have to change Phone regions just so you can access Quiet Hours and Inner Circles, which should be basic OS stuff.

How about doubling down on global support first!!! I really don't get why Microsoft keeps focusing on the USA their smallest WP market and leaves their loyal markets high and dry!!!

Google now and Siri have had these for years.....

Cortana... The female Jarvis

They need to focus on chit chat. No one seems to care for office use sadly.

Well, I want a personal assistant that doesn't suddenly stop working when I tell her to speak in a slightly different accent.

Start making cortana for other countries first

when I receive a text while listening to music on headphones Cortana does tell who it is from andasks me if I want her read it to me and then if I would like to reply or ignore

I love Microsoft n xbox one have faith in them all we want it to do shit has to do never stop adding new thing to windows phone and cortana love it make her most real as they can like communication personality being smart funny n cool interesting things n just smart real n very exciting
Windows Central Newsletter
Get the best of Windows Central in in your inbox, every day!
Thank you for signing up to Windows Central. You will receive a verification email shortly.
There was a problem. Please refresh the page and try again.