Mass Effect: Andromeda buyer's guide – Editions, collectibles, pre-order bonuses
Which version of Mass Effect: Andromeda is best for you?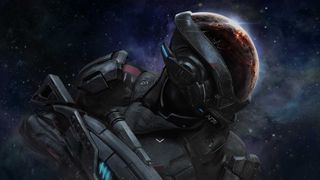 Mass Effect: Andromeda is the fourth entry in the main Mass Effect series, following a five-year hiatus from Electronic Arts. As the first title in the series playable on next-generation consoles, Andromeda promises to deliver a new level of depth in its universe across both single player and multiplayer modes.
But alongside the game's release, the sheer number of pre-order bonuses, special editions and collectibles can be overwhelming. We've brought together every version of the game and some popular official merchandise to help you pick before venturing into Andromeda.
Release date
Mass Effect: Andromeda officially releases on Tuesday, 21 March in North America for Xbox One, PlayStation 4 and Windows PCs. However, those located in Europe will have to wait an additional two days for the game's release on Thursday, 23 March. If you're looking to get your hands on the game ahead of time, a 10-hour trial is available to download on EA Access for Xbox One and Origin Access for PC.
Preorder bonuses
Swipe to scroll horizontally
| Header Cell - Column 0 | Deep Space Explorer Armor Set | Nomad Skin | Multiplayer Booster Pack | Exclusive SteelBook |
| --- | --- | --- | --- | --- |
| Amazon | ✓ | ✓ | ✓ | Row 0 - Cell 4 |
| Microsoft Store | Row 1 - Cell 1 | Row 1 - Cell 2 | Row 1 - Cell 3 | Row 1 - Cell 4 |
| Xbox Store | ✓ | ✓ | ✓ | Row 2 - Cell 4 |
| GameStop | ✓ | ✓ | ✓ | Row 3 - Cell 4 |
| Best Buy | ✓ | ✓ | ✓ | ✓ |
Pre-order bonuses can vary depending on stock levels at certain retailers.
Mass Effect: Andromeda Standard Edition (Physical)
The standard version of Mass Effect: Andromeda is being offered for $59.99, with additional bonus content dependent on the retailer (detailed breakdown supplied above). This version of the game is most common and stocked by a majority of video game retailers.
Mass Effect: Andromeda Standard Edition (Digital)
A digital version of Mass Effect: Andromeda is also available; sold in brick and mortar stores as a pre-paid Xbox Live code. Most retailers who stock pre-paid codes will distribute the codes ahead of launch, to give players the chance to pre-load the title. Like digital copies purchased directly from the Xbox Store, these copies of the game will unlock at 12:01 in your time zone.
Mass Effect: Andromeda Deluxe Edition (Physical)
For an additional $10, Mass Effect: Andromeda's Deluxe Edition offers some extra digital content over the standard version of the game. This includes exclusive in-game skins, boosters for multiplayer and various equipment packs. You'll also be able to take Mass Effect's full soundtrack on the go, with access to a free online download included inside the package. Here's a breakdown of all the content inside this edition of the game.
Deep Space Explorer Armor
Nomad Skin
Multiplayer Booster Pack
Pathfinder Casual Outfit
Scavenger Armor
Pathfinder Elite Weapon Set
Pet Pyjak
Multiplayer Deluxe Launch Pack
Digital Soundtrack
This physical version of the game can be picked up at the following retailers.
Mass Effect: Andromeda Deluxe Edition (Digital)
A digital copy of the Mass Effect: Andromeda Deluxe Edition is also available from a majority of games retailers. With the Deluxe Edition only providing in-game items, the digital version of the Deluxe Edition offers the same content as the physical release. By purchasing this version of the game from third-party retailers, you'll be receiving a code to redeem over Xbox Live.
Mass Effect: Andromeda Super Deluxe Edition (Digital)
The Super Deluxe Edition of Mass Effect: Andromeda appears to be available exclusively in a digital form, unlocking all Deluxe Edition goodies and 'Super Deluxe Booster Packs'. This provides access to weekly content drops over a 20 week period, unlocking new weapons and equipment for multiplayer. Priced at $99.99, you'll be paying a premium for this additional content.
Mass Effect: Andromeda Prima Guide
If you're looking to get the best tips and tricks for Mass Effect: Andromeda, Prima's official game guide is the way to go. Compiling walkthroughs for both the single player and multiplayer modes, the guide gives an unrivaled insight into combat, maps, enemy types and more. With the purchase of the physical book, you'll also be entitled to a free copy of the handy digital eGuide.
Mass Effect: Andromeda Collector's Edition Guide
While the Collector's Edition still houses the same tips as the standard game guide, this premium version comes with a few added bonuses for collectors. Aside from the new hardback cover and new design, you'll also be receiving bonus content only found in this guide.
Mass Effect: Andromeda Pathfinder Edition Guide
Retailing for a hefty price tag of $129.99, the Pathfinder Edition of the Prima guide offers a huge amount of additional content only found in this package. With a Mass Effect: Andromeda backpack, a redesigned game guide and other exclusive bonuses, this is designed for the most hardcore collectors. Here's a breakdown of everything found inside the Pathfinder Edition guide.
Mass Effect: Andromeda Initiative Backpack
Alternate Premium Hardcover Guide
Multiplayer Booster Pack
Welcome Letter
Galaxy Chart (11" X 17")
Field Journal
Branded Envelope
Mobile-Friendly eGuide
If you're wanting to splash out on a limited edition product, check it out at the retailers listed below.
The Art of Mass Effect: Andromeda
If guides aren't your thing, the Mass Effect: Andromeda art book gives an insight into the game's development with 184 pages packed full of artwork. Spanning the design of the game's world, characters, and equipment, this book is a must-buy for any avid fans of the Mass Effect universe. The Art of Mass Effect: Andromeda can be picked up from most leading bookstores.
Mass Effect: Andromeda – Nexus Uprising
Nexus Uprising is the official tie-in novel for Mass Effect: Andromeda, expanding on the story explored in the main game. This is the first of three books in a series, with a narrative that feeds directly into the existing universe. Being entirely canonical, this is a great way to expand your overall Mass Effect experience.
Mass Effect: Andromeda Nomad ND1 Model from PDP
Mass Effect: Andromeda's iconic NOMAD is also available in a 1:18 diecast model form. With an illuminated control panel and pop-up drone, this model is an authentic, detailed replica aimed at die-hard fans. If you're really wanting to take it to the next level, there's a $200 remote-controlled version too.
Mass Effect: Andromeda Funko POP collection
Coinciding with the release of Mass Effect: Andromeda, collectible figure manufacturer, Funko, is releasing a line of figures based on the game's main cast. Although two variations of Sara Ryder are exclusive to GameStop and Best Buy, the rest of the collection can be picked up today on Amazon. Here's a complete list of all the figures and where to buy them!
Still undecided?
If you're still undecided on whether to pick up Mass Effect: Andromeda, make sure to stay tuned for our upcoming review and guides on Windows Central!
Windows Central Newsletter
Get the best of Windows Central in your inbox, every day!
Matt Brown was formerly a Windows Central's Senior Editor, Xbox & PC, at Future. Following over seven years of professional consumer technology and gaming coverage, he's focused on the world of Microsoft's gaming efforts. You can follow him on Twitter @mattjbrown.
What about the Origin preorders?

Were you expecting a Microsoft-focused site to care about PC gaming? Bahahahahaa!

What is the deference between Microsoft Store and Xbox Store? With Windows 10 they suppose to have one Store now or not?

What is the deference between Microsoft Store and Xbox Store? With Windows 10 they suppose to have one Store now or not?

Hey! Basically the Microsoft Store is an actual store, which ships physical goods and also has its own chain of physical brick and mortar stores too. They just happen to also stock digital codes. The Xbox Store/Windows Store however is entirely unified, and that's exclusively digital content (:

Amazon also gives Prime members a discount on the disc versions, at least for the US.

Seen a few people mention this in recent buyer's guides. Will make sure to make that clear in future guides (:

Discount applies to Prime in Canada as well.

Wow, EA really trying to cash in on this one.

Sadly, it's like this for a lot of triple-A games nowadays. Didn't realize how bad it was until I started compiling these guides :P

Yeah seeing it all laid out in one article gives you the scale of the problem; especially with certain games that have a different pre-order incentive with different retailers; that way you can never have a "complete" game.

What? I can't buy the OST?! KHAAAAAAAN!!!!

The OST will 100% be available on digital stores/streaming services once launch comes around (:

You forgot that if you preorder the deluxe edition online from Best Buy. You get a nomad cast model for free, and dlc dead space armor

There's no mention of that I can see on the site - do you have a link? (:

Canadian best buy siteCanadian best buy site

Bought the Deluxe edition of Battlefield 1. Cost something like £89 less 10% for EA Access. I so wish I had bought standard. The extra cash was not worth it. A friend bought the disc version of BF on day 1, with free deluxe code at Smyth's toy store (UK), for £35. Fool me once EA, shame on you. Fool me, you can't get fooled again.

So basically Microsoft is the stingiest and Best Buy is the most generous when it comes to bonuses.

Nothing to do with MS. It's EA that make the price on digital. MS published games on Xbox Live are amazing prices.

He's not talking about prices. The pre-ordered bonuses are best at Best Buy. Likely due to the relationship BB has with game publishers.

I have a question Matt. On Xbox one store, only the deluxe and the ultimate deluxe or whatever it's called mention hdr. The standard version does not. Do you know if the standard version does in fact come with hdr enabled or is that going to be a new "paywall" item?

Hey! Sorry for the late response! HDR won't be locked behind a paywall - if that happened, there would be huge fallout over that kind of practice. If you picked up the game, hope you're enjoying it! (:

Thanks for the reply!! Good to hear there is no paywall. Yes, I picked up the game and I'm loving it! I dint understand all the hate.

after seeing the fiasco about who they chose as LEAD DEVELOPER for their facial animations, I'm too salty to even consider buying it where as just prior I was set to download it. In case nobody heard, a woman with 0 experience in game development or programming for that matter got the lead role. Her resume: Cosplayer, dancer, "man hater"

Seriously man..get your facts together..facial animation is not a one person's work ..even if the person with 0 experience was the leader of the team bioware is still responsible for the final product not a person to accuse..now I suggest you play the game and if you hate it then come back and get as salty as you can

You do know no one that worked on Mass Effect 1 and 2 worked on Andromeda. Not 1 single person. Apparently EA completely destroyed Bioware. And alot of people upped and left. The current Bioware os not Bioware of last gen. Sad really.

So that's fine, people who worked on Mass Effect 3 are still involved in Andromeda then.
But also at least one person, Mac Walters, is still on the team. He went from lead writer to director. I am sure there are plenty others who shifted roles.

You're talking ***** frank and here's why: http://www.polygon.com/2017/3/18/14969390/mass-effect-andromeda-lead-ani...
Now take that gamergate crap back under the Reddit rock where it belongs. For the TL:DR crowd, the harassment of the Bioware employee has been called out by Bioware as being baseless and that accusations she was responsible for the facial animation as false.

Worth noting if your an EA Access member then the digital version is even cheaper again. Think in the UK the normal standard is £54.99. With EA Access its £49.99.

Incomplete information Origin should be mentioned here, especially since this is an EA game

Indeed it should, but PC will always be treated as a 2nd class citizen when there's an Xbox involved...