Xbox Game Studios head Matt Booty says exclusives will be cross-gen for a year after Xbox Series X
If you just grabbed an Xbox One, you're not being cut off immediately.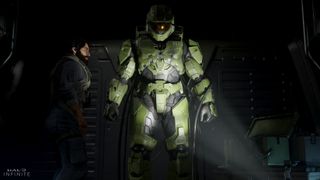 (Image credit: Microsoft)
What you need to know
Matt Booty, Head of Xbox Game Studios, held an interview with MCVUK.
In the interview, Booty confirmed that Xbox games will be cross-gen for the first year after Xbox Series X releases.
This means Xbox One owners won't immediately be cut off from new Xbox Game Studios titles.
All Xbox Game Studios games will launch into Xbox Game Pass

(opens in new tab)

.
While the next generation of console gaming is nearly here, things are changing. In an interview with MCVUK, Matt Booty, Head of Xbox Game Studios, explained that unlike past console cycles, owners of current-generation hardware won't immediately be cut off from playing the new games in development at Xbox Game Studios. This cross-gen period will last for the next two years (or through 2021) and will include.
"As our content comes out over the next year, two years, all of our games, sort of like PC, will play up and down that family of devices," Booty explains. "We want to make sure that if someone invests in Xbox between now and (Series X) that they feel that they made a good investment and that we're committed to them with content."
So, if you're an Xbox One owner who doesn't intend to immediately upgrade to new hardware, you're going to be covered as the next two years of games will still be playable on your Xbox One. Xbox Series X is set to release in the holiday period later this year, with Halo Infinite launching alongside it.
Best of the best
(opens in new tab)
Xbox Game Pass and Xbox Live Gold in one

Xbox Game Pass gives you access to over a hundred games for one monthly fee. Xbox Game Pass Ultimate also adds Xbox Live Gold to the package so you can play online with your friends.
Xbox Series X/S
Main
What is the Xbox Series X release date?
How much does Xbox Series X cost?
Why you can't preorder Xbox Series X yet
Windows Central Newsletter
Get the best of Windows Central in your inbox, every day!
Samuel Tolbert is a freelance writer covering gaming news, previews, reviews, interviews and different aspects of the gaming industry, specifically focusing on Xbox and PC gaming on Windows Central. You can find him on Twitter @SamuelTolbert.
Some combination of xcloud with existing Xbox One to play titles beyond 1 year mark would be nice.

Good news. Sony should include backwards compatibility for their next-gen console.

The PS5 is backwards compatible.

We don't know to what extent though.

That doesn't change the fact that it is.

No that's a rumour. That has not come from the company itself.

I expect both consoles to do this the first year they come out.

(laughs) World Second Exclusive

As expected. Phil Spencer said they would do this with First Party titles. Most likely the ganes will be developed for Series X. Then a porting studio will port the gane to Xbox One. Much like what happened with Tomb Raider and Forza Horizon 2. 2 years, I dsay around 4-7 first party titles. Not including the smaller first party titles they might bring out as well. Great to hear people that buy a console in 2020, aren't just left to the side for the next 2 years. Bravo MS. Hopefully Sony follow suit for their consumers who have just got a PS4 now.

This all but confirms my suspicions that Xbox One "forwards compatibility" is going to be relegated to xCloud eventually.

It was never going to last more than a couple years. It wouldn't be indefinite. I also expect that games will possibly have missing features like Forza Horizon 2, Titan fall did for their 360 versions. Some elements of the ganes will have to use existing engines. Due to the weaker cpus.

There is no reason why they couldn't have every game modified for the previous gen, look at PC. And the discussion was always that you could play Series X games on the Xbox One, generations are no longer a thing, they hadn't implied a time restriction on that before now.

MS just showed us once again how pathetic their communication is and how untrustworthy the XB division is. And this goes from Spencer to this Booty.
So when Scorpio was announced and XB1x and XB1s were the console that needed to be sold they used to say they were ending generation. The talk about MS's new vision of a console gaming "beyond generations", "forward compatibility" or not leaving anyone behind...
This was probably done to sell XB1x console at the time. And just few months back (and just before the holiday season), Matt Booty, hyped game pass. And how they'll try to scaled games so that they are playable on older XB1 consoles. For me, he was promoting game pass and also try to sell current XB consoles
http://www.vgchartz.com/article/441396/head-of-xbox-game-studios-discuss... And now, just after the Christmas season and as we approach the series X, and it looks like that's the priority, the new thing is: hey, only some new XB games will be playable on older consoles and that too only for 1-2 years. For me, the execs of the XB division are like a used car salesman. They'll say anything to sell and hype a product, but after few years they'll twist and change things to sell the new version and make the older version look bad.
So the Scorpio may has well be obsolete just 4-5 years after launch? We've already seen games compatible with older generation at the start of a generation. And since most (if not all future major MS games will also launch on steam I'm good either way), what pisses me off is their communication. Constant tweeting and turning, just to get people to buy the current product. Why can't they just say something and stick to it? What's worst is that the timing. They seem to pull this bs so often. 2015 was suppose to be the greatest line up in XB history". Of the 5 games that were showcased Fable Legend was one of them. And they waited till late in the Christmas season to tell that it was actually delayed and cancelled few months later. MS announced that QB was coming in to PC just few weeks after Christmas and less than two months before release. It's highly unlikely that they just cooked up a PC version in few weeks, so they clearly waited for after the Holiday season. Scalebound was cancelled early in January. They showed it at E3 went silence throughout the holiday season and again waited for the end of Christmas season to announce it. And that's not even talking of the loads of games they called "XB1 exclusives" but turned out to be fake exclusives...
This is horrible for their image. I actually feel for people who fell for MS's marketing and bought a XB1 scorpio truly believing that MS are going beyond generation and that the "most powerful console ever" would have more than 4-5 years of relevancy.
They just can't keep mislead people and at the same time think they can get away with it.

Who thought it was genuinely viable to have current gen hardware run new games eternally? Clearly that's impractical. Logically there's just no way that was ever actually possible. There was always going to be some kind of time limit. 2 years seems quite reasonable, and MSFT can't control what other developers do, nor would that be practical either.

Well, I used to talk a LOT about it here on windowscentral and it's funny because I don't remember anyone telling me that they thought it was limited in time. Did you open the link? He never mentioned anywhere or even implied that there could be a time limit, let alone 1-2 years. This was what he said:
"We really need to approach that family of devices in the same way that we approach PC"
Clearly you don't throw out your GPU 1-2 years after the release. There is a gradual process where the GPU will still run game for a lot longer than 1-2 years... "there will be a family of Xbox devices out there that we want to make sure we support fully."
Here he is talking of fully supporting older console, but from fully support it's now just the few MS games for 1-2 years. I really feel bad for whoever believed MS and bought a XB1x thinking there would be full support for more than just 1-2 years after the new console. It's crazy how just 2 years after the launch of Scorpio, it's now become the "has-been" console. We can just see how MS, MS fan site and MS/XB fans are covering and hyping the new console. I mean, we know that's how games like FIFA or COD operate. Huge amount of hype for the new version of a game but it becomes irrelevant a soon as the new version is just roundthe corner...