Mayan Death Robots for Xbox One lets you annihilate angry androids
Mayan Death Robots is an explosive game for Xbox One in which you battle rival robots in an artillery shootout. It's great if you're looking for a little arcade action from your Xbox console.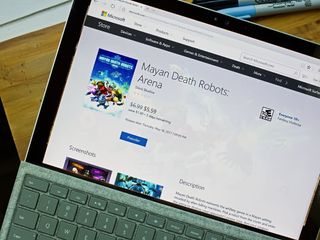 Mayan Death Robots sports colorful graphics and lively animations, and it has a user-friendly layout and plenty of gaming options, with three modes of play. The turn-based action has a strong strategy element that ranges from selecting the right artillery rounds to getting your aim just right.
Mayan Death Robots hit the Xbox Store shelves yesterday at the discount price of $5.59 (regularly $6.99). After spending a little time with the game, Mayan Death Robots comes across as a fun game that's worth a try.
See at the Xbox Store (opens in new tab)
What Mayan Death Robots is all about
The goal of Mayan Death Robots is to destroy your opponent's power core that is safely nestled in a neighboring ridgeline. The Xbox One game has three game modes that include a single player mode, a local player-versus-player mode, and an online player-versus-player mode. The single player mode additionally includes three game styles. Solo play has a multi-level campaign mode, a quick match where you can choose the terrain and opponent, and a random match in which game elements are chosen at random.
Gameplay is set on an assortment of worlds and terrains such as caverns and canyons. Your opponent is set up across the screen from your position with a variety of natural obstacles protecting the power cores. Your job is simple: destroy your opponent's power core before they destroy yours.
Mayan Death Robots includes a small collection of battle robots, each with a special set of skills. These skills dictate their primary weapons, each of which has a unique ability to destroy your opponent's territory. Weapons include grenades, energy bolts, missiles and even bananas.
Gameplay unfolds in turn-based style with both you and your opponent selecting an action to carry out. You can let loose an artillery shot, reposition your player by jumping to another spot on the battlefield or rebuild your defenses to protect the power core. Players are afforded a few seconds to get everything lined up and both execute their actions simultaneously.
Periodically, a bonus wheel appears and adds an extra weapon that is available to both players. In general, these bonus weapons wreak significantly more damage, such as carpet bombs and bouncing bombs. Just keep in mind that while you have access to these bonuses, your opponent does too.
Whether you win or lose the battle, you earn experience points that eventually unlock additional robots. These robots offer more destructive power to help you survive the advanced levels of the campaign mode or stronger online opponents.
Overall impressions of Mayan Death Robots
Mayan Death Robots passes the eye test with stunning graphics and lively animations. From flying dragons of death to banana fights, this Xbox One game is full of surprises. It is an easy game to pick up and play, using minimal controls (only the A and B buttons and the Joystick are used), but it offers an enjoyable level of difficulty.
The pace of play keeps you on your toes, from quickly lining up your next action to planning ahead with your moves. Should you spend a move by repositioning your robot? Build up your defenses? Or is continuing the offensive artillery barrage the best course of action? I like how Mayan Death Robots presents you with a gaming environment in which no two matches are the same.
I also like having the game mode options, especially the three single player options. The online and local player-versus-player modes are fun when you feel like blowing a friend to smithereens, but the solo play choices are perfect when you need a little alone time to unwind.
The only downside to Mayan Death Robots is that the game is not available for Windows 10 PC. There is a rumor that a PC version is in the works, and I can see it being an outstanding game to lose track of time with from a Windows 10 tablet. Otherwise, it is an outstanding arcade game for Xbox One.
See at the Xbox Store (opens in new tab)
George is the Reviews Editor at Windows Central, concentrating on Windows 10 PC and Mobile apps. He's been a supporter of the platform since the days of Windows CE and uses his current Windows 10 Mobile phone daily to keep up with life and enjoy a game during down time.
Yeah, this game would be perfect on my tablet.

Yeah, this title is perfect for 'Play Anywhere' status. Would be great on smaller screen too.

This is a unique little game. Definitely a good pick for local multiplayer fans.

For a moment, I misinterpreted this title and thought it was about a game destroying the Google Android robot! LOL!
Windows Central Newsletter
Thank you for signing up to Windows Central. You will receive a verification email shortly.
There was a problem. Please refresh the page and try again.