Everything we know about Medal of Honor: Above and Beyond
Respawn is bringing the classic WW2 shooter to life in VR.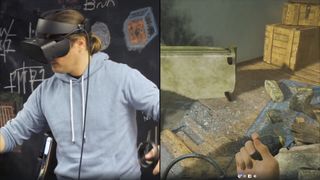 Respawn has made a considerable resurgence lately with the Titanfall series and the extremely popular, and free-to-play, Apex Legends. When they first started though they made one of the first World War 2 first-person shooters to hit the big time, Medal of Honor.
Medal of Honor: Above and Beyond is Respawn coming back to the Medal of Honor franchise, and this time leveraging the power of PC-driven VR to give us a brand new experience.
What is Medal of Honor: Above and Beyond?
Medal of Honor: Above and Beyond is a VR game made for the Oculus Rift with the help of the Oculus team. It is designed from the ground up to be a VR game. We first saw the footage at Oculus Connect 6 on September 25, 2019.
The game is set in World War 2 in France, at the height of the war. As Respawn says, you'll play a member of the Allied forces trying to stop Nazi's from taking over the world. There looks to be a lot of different locations in the game, from French villages to flying bombers, you are sure to see a lot of incredible vistas.
What platform does it work on?
Right now, the game is going to be available on what Oculus is calling, "the Rift Platform." So the Oculus Rift and Rift S will see the game while the Oculus Quest won't. At least for now. The Quest is also getting a neat new feature that will allow it to play rift games shortly, so perhaps it isn't as important what platform it is on.
The Oculus platforms are soon to get finger and hand tracking as well, which could open a massive amount of gameplay for everyone.
Is it multiplayer?
The game is apparently going to include both a story-driven campaign mode and multiplayer action. We don't have more information about that right now, though I'm sure more information will become available as we get closer to release.
Having a Medal of Honor game in VR is incredible, but having one that has a full multiplayer experience as well is going to be amazing. Especially if the action is as smooth as it is shown in the videos.
A lovely touch to the game is the ability to sit down with actual World War 2 veterans in VR recordings and listen as they tell their incredible stories. I am willing to play the game just for that.
When can you play?
So far all we know is that Medal of Honor: Above and Beyond will be available sometime in 2020. I know that feels like a long time, but there are only three months left of 2019, so we could see it sooner than you think.
We will keep you updated every step of the way until then.
Affordable VR accessories you'll use every time
Energizer rechargeable batteries (opens in new tab) ($14 at Amazon)
Touch and WMR controllers require AA batteries to operate and speaking from experience, you're going to want to invest early in some rechargeable batteries to save money in the long run. This pack includes a wall charger that can handle four AAs at once, so you shouldn't have any downtime while waiting for a charge.
SecurOMax microfiber cloths (opens in new tab) ($7 at Amazon)
There's nothing worse than foggy or dirty VR lenses. They obstruct your ability to focus on the action in the headset properly, and frankly, they're just gross. These cloths from SecurOMax won't scratch your headset's lenses, and you'll be glad you have them on hand after a couple of sessions.
Hyperkin FreeStep (opens in new tab) ($22 at Amazon)
If you're tired of tripping over the cable running from your VR headset to your PC, you can get it up off the ground with this suspension system. It has six retractable carabiners that stick to a ceiling and provide the right amount of slack to keep the cable at an ideal length.
Windows Central Newsletter
Get the best of Windows Central in your inbox, every day!
James built his first PC when he was 13 and has never looked back. He can be found on Windows Central, usually in the corner where all the 3D printers are, or huddled around the Xbox playing the latest games.