Media Browser for Windows 8.1 updated with sync and offline support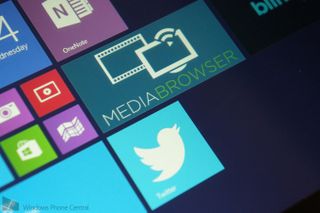 Media Browser for Windows 8.1 got an update this week that adds, among other things, sync and offline support. Both of these features will be added to the Windows Phone and other versions of the app in the future.
Here's the change log for the new version:
Full Featured Sync Management - The app provides the same functions to create and manage your sync jobs as does the web client. No need to switch between two different apps to get the job done.
Offline Browsing - Offline content is accessible with the same rich metadata you're accustomed to when online. To access offline content, simply sign in using the Offline Sign in mode or browse your offline content when signed as well.
Offline even supports Parental Control - The server now allows configuration of an easy pin code for offline access. If utilized this will allow user-specific content to remain protected even when offline, perfect for families and shared devices.
Smart Offline Playback - If you play content that is already synced locally to the device, we'll play the local version to spare the network transfer and preserve your battery. This will happen even when you're connected to the server.
All Text Subtitles Accessible Offline with the same in-video menu - When videos are synced, all text-based subtltles are converted to a format the device understands and synced along with the video. When you play that video offline, all subtitle tracks will be available for selection, and will default based on your user profile settings.
User Profile Settings Now In-App - Your user profile settings that you're accustomed from the web client can now be edited directly within the app, making them more portable than ever.
Support for grouping movies into collections
Support for display of unaired and missing episodes
Shuffle, Play All added to Genre, Series and Season screens.
Support for instant mixes
Support for Play all from here
Download Media Browser from the Windows Store

(opens in new tab)
Source: Media Browser
Yup and still cannot play a single file my 930 has recorded rendering the app useless for me

In the Next update they will fix this.

I am hoping so, I have it installed and want it badly to actually work. No excuse that it cant run on a soc800 2gigs of ram. I know other issues arise but yea...

Sadly the hosting portion isnt working with whs2011 or it could be buggy nforce drivers

Most windows apps are for sale....why?

I don't get it either, why do developers want to paid for their work? Ridiculous.

After reading the whole comment then I understood.

Media Browser has been doing an amazing job updating. I haven't tried it in a while, after I saw their transcode side is not as good as Universal Media Server and then I don-t need their apps on my WP or Win8... but then, I haven't really needed servers in a while, not much content is transmitted via DLNA by me. but Media Browser looks nice and it was nice to play with, just not so much with my tv. but I might try it again someday. but it is nice to see they suppport the platform, and not like other developers that just think users don't deserve good things.

I use Plex everywhere now, but it is good to see MB updated too. I tried it for a few weeks and it was actually pretty good in my opinion, but I had already paid my lifetime Plex Pass subscription. I'm also happy to see Plex keeps updating their Windows and Windows Phone apps quite often. They recently announced that they will no longer release new features for their Windows Phone 8 app to continue improving their 8.1 universal apps for Windows and Windows Phone 8.1. So I'm suspecting they have a decent roadmap of new features going forward for 8.1 and Windows 10. We'll see, but I'm very happy with Plex for now.

Absolutely love mb3. Streaming live TV to every device, phone, tablet, PC, TV and Roku.

Great. Much better and reliable than Plex when streaming to my Roku, and metadata and folders works better with non mainstream collections like mine.

I seem to have problems with syncing, it will sync a whole season to my tablet but miss out a couple of episodes
Windows Central Newsletter
Get the best of Windows Central in in your inbox, every day!
Thank you for signing up to Windows Central. You will receive a verification email shortly.
There was a problem. Please refresh the page and try again.