Melodia now lets you assign even more official sounds to your official apps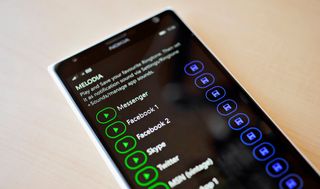 On Thursday, we detailed a new app dubbed Melodia, which let you assign official chimes and melodies to your favorite apps on Windows Phone 8.1, so for Twitter, you can have their little bird alert, or for Facebook Messenger, you can have the familiar Facebook Chat ding.
This morning, version 1.0.8.0 of Melodia has been released, and it features even more notification sounds to be assigned and gets some categories too. In addition, you can now email the developer with your suggestions for other sounds, which he's looking to add in future builds. Let's take a look at what's new.
Melodia 1.0.8
Added categories
HQ MSN
More sounds! thanks for your suggestions!
Added an email for suggestions
The app is now divided into categories, including Apps, Vintage, Unique, Fresh and …OOPS!. Apps are the familiar official sounds of apps, including Facebook, Skype, ESPN Sports/ScoreCenter, Xbox alert and Twitter. Heck, even WPCentral is there now, with our little chime from our videos (something we'll add to our app soon). Vintage has a new higher-quality MSN sound, the Nudge and the oldie 'You've Got Mail'. The Unique category has one from TRON, while Fresh has 11 new Windows 8 sounds, which work very nicely with Windows Phone e.g. Notify Email. Finally, …OOPS! Contains the Samsung Whistle and a bunch of rips from BlackBerry Messenger, BBM Reminder and BBM Text to suite your needs.
In my case, I've assigned the new CNN sound to Bing News for breaking alerts, and I'm using a BBM one for my text messages. Overall, it's a lot of fun, and I highly recommend it. To assign this sounds to apps in Windows Phone 8.1, just follow these directions after saving the samples from the Melodia app:
Custom App Notifications in Windows Phone 8.1
Settings
Notifications + actions
Choose desired app
Select 'notification sound'
Under custom you should see your newly saved samples
Hopefully you picked up the app on Thursday, because it was free at the time. Now, it's 99 cents but if you already downloaded it at the free level, you won't pay a dime and the update will be free (as are all other ones going forward). Still, even for 99 cents, and with the promise of future updates, this app is very much worth it for the convenience.
To request sounds you may want, send an email to the developer melodiaapp@outlook.com
Pick up Melodia here in the Store. Windows Phone 8 and 8.1 only.
Get the Windows Central Newsletter
All the latest news, reviews, and guides for Windows and Xbox diehards.
Daniel Rubino is the Editor-in-chief of Windows Central, head reviewer, podcast co-host, and analyst. He has been covering Microsoft since 2007 when this site was called WMExperts (and later Windows Phone Central). His interests include Windows, laptops, next-gen computing, and for some reason, watches. Before all this tech stuff, he worked on a Ph.D. in linguistics, watched people sleep (for medical purposes!), and ran the projectors at movie theaters because it was fun.
nope as in the app fails for you or its not a life saver ..?it sure is for me(life saver) easy to scroll to the next track when playing music ...a handy feature while driving ........and yes no lag after the inital launch which is on par with the "official app"

Such a great app from our great WP Dev Community

Lol! The app even has WPCentral tone!

It was requested last time.....:)

I put it as notification sound for wpcentral app right away great

This made my day (minute)

Still my Cortana request never made it :'(
I want to set Cortana notification to same sounds that the circle makes when Cortana replies to me.

erm, I made a post on the forums for the sound, just dl and put it in the Ringtone folder http://forums.wpcentral.com/cortana/279711-cortanas-sound-effect.html

Any way to hear the sounds first? I might like none.

Yeah, you can preview them before applying any. Edit: Never mind, just noticed they made it a paid-only app now. That really sucks =/

This is my point. Being featured on WPCentral must have generated a lot of downloads for them. And now it's generating something else.

Exactly! I just went and wasted a whole $0.99 on this.
The reason why i paid for it was because of a particular whistle samsung used on its phone that I've been wanting for a while, and they didn't even have the right one. The only one that I liked was the Xbox. I want my $ back, this isn't worth buying!

Contract Microsoft support for the refund.

If only you'd gone and downloaded it before they priced it out like I did, you would have got the "you've already purchased this app." I originally didn't like the quality of the alert sounds, but the new ones are decent. Of course, you could always just do it the hard way and look them up, download them, and install them yourself if you want to go the cheap route.

Apparently it's not free if you uninstalled it after installing free one.

It never ceases to amaze me how we are always bent on getting everything for free. I am no dev but a lot of time is spent by devs in coming up with these apps and asking for payment is hardly unfair. If you can afford a handset you can afford a $0.99 app

I know, right? Now you have to sell your house and cars to get that $0.99 back... Man, life sucks...


"I just went and wasted a whole $0.99 on this." Quin 2013, is this sarcasm? Please tell me it's sarcasm.

Great to see them evolve this app. Thnx.

Too late I didn't look it when it's free :(

Great app. How can I give some $

Delete and purchase the current version.

This all have me a boner!

Awesome app. Looking forward to seeing updates to apps like Twitter, Skype, and Whatsapp so I can set custom tones to them.

Now if we just had an ESPN app that would give reliable toast notifications...

I downloaded the other day but no download. Only pay me option.

Same. Seems only people who left it installed have the option to update for free.

I dislike developers who revoke licenses like that. Find it dishonest. Feel sorry for folks you uninstalled it.

Try looking under your download history. You might be able to download it free that way.

lol, WP 8.1 store is buggy, so it says 'bought' on app list even if the app is free.. same thing with paid apps, it doesn't mark as bought, but after you tap on BUY you'll see "you already bought this app"

It's not buggy. Bought means you paid for it. Either £0.00 or £0.99 - either way you own it.

not really mate. I can see Angry Birds Rio as free (no mention I bought it), It is buggy. I see plenty of apps which I bought with the price tags instead of "bought", few of free apps I have downloaded in the past are marked as bought and few just as "free" (e.g AB RIO)

Last night I was thinking on using the same "echo-ed ding" sound for WPCentral from the videos. The dev read my mind. xD

This is cool! I like having Twitter and Skype notifications.

Now this app is a must have for me.
I requested BlackBerry tones both here and in the app review, Big thanks to the developer, you saved me some time searching for the right ringtones for my apps.

Blackberry tones are easiest to find. Even the guys on Crackberry have made a zip for some that has BB10 sounds. What would be real praise worthy task is adding all iOS tones. I know for the fact that such task needs sound conversion and that exercise would make $.99 worthy app. Not compiling freely available tones in an app.

Is this better than free Zedge?

Nope. About 15-20 sounds. If you know how to find things on Zedge, you have ready more choice there than in the app.

That's what I though. Wish I read your reply before buying this one though :)

Hey!!! Nice update... Hope to see new one soon... ;)

I don't know... I paid the dollar and, sure, it has some good sounds but they are filled with static and of low quality in my opinion... Was not impressed.

Don't judge the sounds by the preview in app. Download and play them from settings they are much better

Ain't there any thanks for the tip?! :)

We noticed this update this morning and I grabbed brunch first, never saw your tip, sorry.

I hear a new Lumia 1520 was sent to you. Congratulations!

Thanks man, my new Lumia is awesome :) :(

Thanks reda igbaria for the tip! And congratulations, you have just crossed a major milestone in your life!

Anyone have any idea why I don't see Skype in manage apps section of Ringtones & Sounds? Would love to use the official Skype notification sound from this app

Make sure you have banner notifications turned on in the Skype app, then wait until you have a message come in. The NC only 'catches' apps when their banners go through the system, not before.

Can you please make a step by step guide for it, I can't find where to turn on.

Installed!!! Like it!!!!!

Probably not long until this gets pulled for audio copyright, especially now that they're charging for it...

If you set the customs sounds and then uninstall the app, do they still work?

You're saving the sounds to your phone..so I'd imagine so yes.

Never coment, but thanks for sharing this! Theres a reason I check WPC daily :D

Wish I had taken a coffee instead...

I can't understand WPCENTRAL even mentioning this app. There are a lot of similar ones in the store and quite frankly : the sound quality of most sounds in Melodia sucks big time. Sometimes I use this one : http://www.windowsphone.com/nl-be/store/app/free-ringtones/46a064d2-1375...

These are badly made ringtones and almost unusable. Sloppy.