Merchants of Kaidan is this week's Windows Phone myAppFree Deal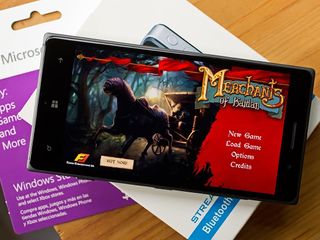 Merchants of Kaidan is a challenging Windows Phone game that combines the elements of a trading game with a touch of Role Playing Game elements. You begin game play with an empty cart, a purse of gold and silver coins and the challenge of roaming the world searching for deals that you can turn into a profit.
The game is a universal app and ordinarily, Merchants of Kaidan is priced at $3.99 in the Windows Phone and $14.99 in the Windows Store. If the game sounds interesting, now is the time to act because through the myAppFree campaign you can pick up the game free.
While Merchants of Kaidan is not a fast-paced action game, it does have its fair share of challenges, colorful characters and quality graphics. Key features of Merchants of Kaidan include:
The Windows Phone game has over one hundred quests that span four story lines - one story line where you are avenging your father's death and three side stories.
A set of random events that influence your journeys. A storm on the sea, attack by dragons, highway robbery and many, many more.
Three types of transportation is available to move your goods that include roads, the open seas and flight. Each with its own advantages and disadvantages.
Advisers are available for hire to council you on a variety of issues such as short cuts on the roads, how to deal with bandits and more.
Four seasons of the year that influence the prices of goods, open some paths for travel and block the others. They also impact the way the game looks with each city having a distinct look at different times of the year.
Random blessings and curses that influence your statistics. They in turn affect how well you conduct business.
The game is driven by a complex, market fluctuation algorithm that include variables such as demand, supply, seasons of the year, localization of the city and random events like droughts or rat infestation.
In just exploring the game this morning, it comes across as an entertaining, challenging title that will test your skills at market prediction, patience and luck.
Merchants of Kaidan is a universal game that is available for both Windows 8 devices and Windows Phone, unfortunately not for low-memory models. The Windows Phone version normally runs $3.99 and $14.99 for the Windows 8 version (both having trial versions).
If you have been on the fence about investing in the Merchants of Kaidan, today may be your lucky day. Being the myAppFree Deal of the Week, you can pick up the Windows Phone and Windows 8 versions of the game free.
If you take advantage of this deal, let us know what you think of Merchants of Kaidan in the comments below. Also, don't forget to rate the game in the Windows Phone or Windows Store to offer a little feedback to the developer.
myAppFree
Windows Central is proud to be partnering up with myAppFree to bring you savings on Windows Phone apps and games. myAppFree is a free Windows Phone app and service that highlights special deals for software on the Windows Phone Store. Make sure you download their app to keep track of all the specials they run weekly, as you'll never know what you may find.
Windows Central will continue to highlight select Windows Phone apps and games, such as Merchants of Kaidan, from myAppFree on a regular basis as a benefit to the Windows Central community. Additionally, with myAppFree expanding to offer deals from the Windows Store, look for us to shine the spotlight on the myAppFree deals for Windows 8 apps and games on a regular basis as well. Many of these deals will be universal apps so you'll double your savings.
Windows Central Newsletter
Get the best of Windows Central in in your inbox, every day!
George is the Reviews Editor at Windows Central, concentrating on Windows 10 PC and Mobile apps. He's been a supporter of the platform since the days of Windows CE and uses his current Windows 10 Mobile phone daily to keep up with life and enjoy a game during down time.
I need games like The Amazing SpiderMan, The Dark Knight, etc for free. No this game

Man up and pay for apps you want. Don't complain about free apps.

I'm ready to pay but they aren't supported in Lumia 520 what to do now. If I'm gonna buy a new phone it will be Cyanogen or even BB not Windows.

Good for you. Maybe. Is like a poor man asking for a Mercedes. Do you even know that Lumia 520 is the most basic phone? It's the oldest. And the specs are low. You expect these high fi games on it? Be a little reasonable please.

The fuck ure talking about I own a Lumia 730

I need cars, houses, and boats for free too.

Sad your family can't afford you.

Need support for 512 Mb ram

This app cant be run on mu Lumia 1520 because apparently it requires more than one gigs of ram...

Do you mean 520? 1520 packs 2GB RAM.

Last time I checked my 1520 hasnt shrinked to 520 size :)

Cannot install it on my Lumia 920 running windows 10 TP because the apps says it needs 1 GB Ram or more. WTH?!?!?!

Same here...using L1320..might be a os problem

Its official...no one supports 512 mb ram.....bye bye Lumia and hello Asus zenfone 2

Android games are also not always compatible with 512mb ram when released. Devs update their apps to support 512mb. So stop whining and wait or buy a new 1gig Lumia!!

Nokia 1020.. Says i need 1gb ram... 2gb is higher than 1gb.. Lucky i did not purchase it.

In my Nokia Lumia 525 it works fine
Windows Central Newsletter
Thank you for signing up to Windows Central. You will receive a verification email shortly.
There was a problem. Please refresh the page and try again.