Metrotube fix is now live in the Windows Phone Store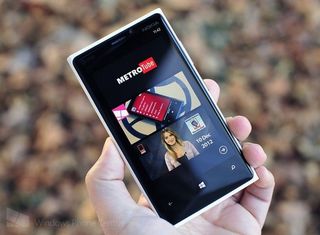 Metrotube was recently pulled due to YouTube alterations that broke playback. The developer has got in touch with us to reveal that an update containing a fix has been submitted and should be live in the Store within the next 24 hours (it is currently live for those in the US). The app update has passed certification, meaning consumers will be seeing the release shortly.
Metrotube for Windows Phone 7 is also updated to include video preloading for offline playback, which is already sported on Windows Phone 8. This will bring the legacy version up-to-date with the app on the latest version of Windows Phone. YouTube has continuously broken connectivity of Windows Phone third-party apps that offer consumers a way to watch videos online.
It's good to see an update so quickly released. You can download Metrotube from the Windows Phone Store for $0.99 (£0.79).
Windows Central Newsletter
Get the best of Windows Central in your inbox, every day!
Rich Edmonds was formerly a Senior Editor of PC hardware at Windows Central, covering everything related to PC components and NAS. He's been involved in technology for more than a decade and knows a thing or two about the magic inside a PC chassis. You can follow him on Twitter at @RichEdmonds.

Metrotube8 for windows 8 and Windows RT
http://apps.microsoft.com/windows/tr-TR/app/metrotube8/e79cffc0-cc0a-4ee...

And it was a ~3 day turnaround from submission to approval! I'd like to see Microsoft expand on this and create a proper fast-track approval method for fixes.

I just wish it didn't take longer than that for the store to notify us of the updates. Thankfully we have this site.

Lets give them better than one star now. ;)

They've deserved 5 stars since WP7! ;)

i am in miami, and my metro does not work...

Metrotube8 for windows 8 and Windows RT https://www.windowscentral.com/e?link=https2F%2Fclick.linksynergy.co...

Already got it! works great!

Seems live to me, TX, USA

Updated! No need for a Google app when Metrotube is so damn superior to anything those hacks in Mountainview could create.

Yay! Its reaching everyone! Take that google!

We are really happy metrotube is awesome =)

Oh happy day! I've been anticipating this update for a while. This app is absolutely amazing.

I can't get preloading videos to work, Nokia 920

I have the same problem. It shows the video formats to preload, however neither are available. Would love to preload a bunch of my faves.

I have the same problem. It shows the video formats to preload, however neither are available. Would love to preload a bunch of my faves.

Works fine for me, just downloaded the 720p version of the Victoria's Secret models singing carols as a test :)

Preloading works fine on my 920.

Google needs to stop stupid game they are playing rendering app unsusable. I am not going to buy an android phone just for YouTube. So google may as well stop that stupidity and act the "done be evil" crap they seems to follow.

There's nothing sinister about changing the APIs now and then. It happens all the time for all kinds of platforms.

Well google does it like every other month. Obviously just to fuck with third party devs. Fuck em.
I just hope the Lazyworm guys keep supporting their awesome app in the future.

You don't even need an app. The website works great on WP

Nope.
How you enjoying scrubbing through videos? Oh wait, you can't.

I just press the forward button and it skips forward... works like a charm

No, it does not. You have no idea where you'll end up if you hold it down, and if you tap it you'll take an eternity to get through a longer video. Enjoy the crappier experience.

To each their own. I have HTC YouTube, LazyTube, SuperTube and MetroTube all installed and I still prefer to use the website on my phone. For the 1 in 1000 videos where I actually need to use precision scrubbing I'll switch to an app or use my desktop. Otherwise skipping forwards works great.

Some videos (a high number of them) don't run in browser version.
With MetroTube most of them run.
ANd for 3g poor connection for us from Brazil, Metrotube is perfect.

It's not showing up in the store for me..

Working in the UK. Such a great app, just wish they could add uploading.

Couldn't find it in the store, but going to the link from the WPCentral app worked perfectly

if you can not find it in the store, go to the App and go to about and you'll see a button you can click and it will take you right to the Metrotube page in the app store.

Too funny I tweeted at metrotube and windows phone about 15 minutes before it went live.

Thank you .. Because i stop attempting to watch videos on my phone without this

There needs to be a voting system in market place comments, so intelligent people can effectively remove the bad ratings given by "special" folk.

Here's a question for the Pocket Now staff that maybe you can answer.
When Google changed it's API why weren't Windows 8 and Windows RT YouTube apps not affected? I would assume they would treat Windows RT/8 the same shabby way they treat Windows Phone 7.5/8

Dude you are not at pocketnow. :D

Nice. Had to use crappy web base site since it was broken. I hope Google doesnt fuck it up again.

Sorry not Pocket Now staff WPcentral staff......
My humblest apologies.

LOL I was wondering how Pocket Now fit into all this.

I have super tube and no problems is metro tube better?

Not showing up in the Swedish store :(

I got the update yesterday.

WP can't continue to keep going like this. There is no alternative to YouTube and for being popular as it is, WP needs it. But the monopoly Google have over is just outrages and I just cannot believe regulators allowed google this purchase. Something needs to be done about it!

Yes I agree. I don't know how this takeover got approved.

I don't see it on the store either

The ppl at metrotube are awesome thanks for the fast turnaround on Such an awesome product.

When will 3rd party apps be more integrated into WP8? For example sharing a video link from MetroTube through Whatsapp. One of the things I miss about Android...but I digress. MetroTube FTW!

They can, there is an API for sharing to all apps.

Good to see it back up and running

Also its not showing up as an update for me in nyc

Metrotube is still not available in the Windows Store in my country but the app I have had in my phone works just fine. Don't watch youtube that much so I have no idea how well or badly it worked previous to the fix.

Not seeing it in uk store

Ok in France... Great app ;)
And I add my YouTube account... Perfect

Got mine today in Denmark.

I just want to say that the developer of this app is like Greek God in my book this update came so fast I wish I had a G+ app that looked this good I've been thinking of deleting my page

Here in Brazil, updated to Lumia 800 with Windows Phone 7.8.
Preload works fine to me.