Metrotube for Windows 8 is right around the corner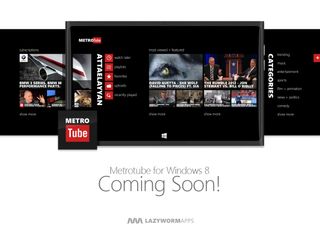 Metrotube is by far the most popular YouTube application for Windows Phone. Wouldn't it be great if that same interface was available for your Surface or PC? It will be soon, because Metrotube for Windows 8 is almost here.
Lazyworm Applications, the team behind Metrotube and Tweetro+, are on track to submit Metrotube for Windows 8 to the Store within the two weeks. The app will be free for everyone and the team will accept donations through the form of an in-app payment system. Otherwise there won't be any ads obstructive your experience while using the app.
If you have any questions about Metrotube for Windows 8 sound off below, the developers tend to hang around and respond. You can also reach out to them on Twitter. Don't forget to subscribe to the Windows Phone Central YouTube channel for the latest videos. Anybody excited to load this up on their Surface?
Sorry, you gotta wait at least two weeks :P

The mean time you can use Youtube+, it's technically a free app, where the trial is full unrestricted use, and purchasing the app only removes adverts. Been using it sine consumer preview and it is deffinetely the best youtube app out there.

http://apps.microsoft.com/windows/en-gb/app/youtube/b9a59406-f2c0-414b-9...

A lot of the options are in the settings charm.

Yeeeeah hanging out for this on my surface!!

Me too. I've been waiting to have this consistency across both devices.

Too bad its been broken for months on windows phone and doesn't let you watch vevo videos.

Metrotube = Youtube player... why would you expect it to play Vevo =..=

Because vevo videos contain original music videos and it's really hard to find them from other users. Yes its a YouTube client meaning it should play anything without limitation. So I just use the website now instead

If you want to play Vevo videos why not get the Vevo app?

I agree. The Vevo app is actually quite fantastic and they got my support after doing their updates and making it consistent across all platforms (android, iOS and WP8 all have same features). Good on them.

Great!!! I can't wait!! Offer Portuguese support in this app. I can help with the translation.

Damn, Lazyworm beat me to it! I better start working on the Win8 version of my YouTube app this weekend

Early bird catches the worm, if your app is better, than you got know worries, thanx for making Windows 8 apps

Guys from WP Central: It would be cool if you did a survey asking readers for which Windows Phone apps we would like to see in Windows 8/RT and then make a top 10 apps that we most want to be ported to the big screen.

Good idea. I'll toss the idea around with the team when they're awake.

@GuilhermeManso: Awesome idea!


Brilliant idea I want TVShow, Facebook, Wikipedia and of course WPCentral (I understand this is already being built)

Wikipedia already has an app for Windows 8. Just throwin that out there for everyone.

I would love WPCentral App as well. It's on my top five list at #1
#2MetroTube
#3Fantasia Painter
#4The current Music + Vidoe app. it's not perfects but it's 100 times better then whet we have on W8
#5 BBC

Metrotube coming to Windows 8? Yeah!!!!!

MeteoTube Ui puts Google's own YouTube apps for other platforms, including their own android, to shame. I will pay for this on windows 8 too

Dear developer, don't forget to submit it in Indonesia! :)

I swear I use an app with this same design (light theme) on my surface called primetube...

Metrotube for Windows 8 was designed to look and feel like Metrotube for Windows Phone (which has been out well before any version of Primetube existed).

Damn pioneers up in here. That app is so clean.

Pleaaaase bring the suggestions tab videos linked to your account in next metrotube updates.Been using metrotube since its available on the store and STILL the very best youtube app.Thanks to the pin options for subs and favs!!!! Great work guys ;)

Dont worry LazywormApps! Your full supporters know the truth! I`ve been here since you guys first started and have to say you guys have done an amazing job and have made a giant leap over the years! Keep up the great work! Hopefully one day MS will be able to have some sort of feature to make any YouTube app as our default player, and you will definitely be on mine and MANY others :).

Sorry dude. Early adopters in this ish from 2010. MetroTube has been on WP since jump.

This is kinda epic it's one of my favorite apps on windows phone

Alright! The other RT YouTube apps sucks. Lazyworm is quality.

looks great with elegant design

I wish I could use metrotube :( for some reason it stops working randomly and I have to reinstall it. :/

The windows 8 IE metro browser pretty much gives a YouTube app experience. Just pin the site to the start screen and you got your YouTube. Still, I will get this app once it becomes available

If I'm not mistaken, it doesn't do HD video though, right? I remember using YouTube via IE on an ex girlfriend's Lumia 900, and the video was pretty pixelated. All in all, not a fan of mobile IE; it wouldn't even render my two banks' websites properly.

I like MetroTube. Honestly though I have found myself login onto the YouTube site to find videos I know are there, yet MetroTube do not display. What gives? Anyone have a inner workings answer?

We'll be pushing out an update that should fix the majority of these issues soon :)

Awesome. Look forward to it!

So that's the Lumia Tablet? It's more interesting than getting MetroTube...

Lol, just an old render. If Nokia were to release tablets any time soon they would likely be phablets, 5-7 inch devices.

Better have a separate phone tablet rather than having a phablet. You might accidentally hit and break your skull in case you are not carying your headset around.

That's very exciting. Been living with primetube which is also quite well designed but definitely looking forward to metrotube on win8. They need to improve the wp8 too though, search predictions is missing

Awesome!!! I can't wait for this on my surface pro. Prime tube is ok but metrotube is THE best YouTube I've ever used!! I've been waiting for it..

Can I just ask - will metrotube on win 8 search the desktop or mobile YouTube. Also what will the live tile show?? Lastly will there be a preload feature???
thanks for your hard work. I love my surface pro and this and thus is all I need!!


You will be able to find any YouTube video, live tile will fip through either show popular or subscription videos depending on sign in status and pre-loading won't make it into the first version but it is on the to-do list for the next major update :)

Great! Devtip: Would love to see a posibility to push playback from WP8 to W8. (Search on phone, play on pc/tablet). It would be perfect for us with big screen setup. Thanks! :)

Just want to throw in some more support for the dev. The WP8 app is easily one of the best apps in the store with fantastic design and UX. So happy that it will be coming to W8.

Now bring Weave to W8 please!

Work is already underway!

On a side note...i wish these guys would make a program that replaced Xbox Video to watch and ORGANIZE our own videos. I'm tired of all my movies and TV shows being thrown together in a ball under "other" with no DVD or Series cover art. Help us Lazy Worm!!!!

Been waiting a long time for this.. They sure are getting my money whether it's free or not..

Agreed. If it likes the Windows Phone app I will be making a donation to keep apps like this coming to the ecosystem.

I paid for YouTube RT and i like the app, so... Metrotube will be only on my Windows Phone :)

Metrotube is broken on windows phone if I sign in with my google account.

Yes, this is one ive been waiting for, this and VLC!!!

I have seen pics of VLC and if they are real, unfortunately they are nothing like the original Metro art work concept.

Best youtube client ever! Luv it on my 920 & can't wait to download onto my surface pro.. Credit to the two lads from lazyworm

Great! Another good reason to get a Surface RT soon :)

I use YouTube+ and it works great.

Nice. I'll be sending them 5 bucks for their effort. They should also create a music + video app because they seem to understand what us early adopter's like when it comes to this metro thing, the crap Microsoft gave use for audio + video is way below standards.

ATTENTION: Now that we have same app on WP8 and Windows 8, I want that such apps must be in sync using my Live/Outlook.com/Hotmail account.

For eg, if theres a game on WP8 and W8, (e.g. Cut The Rope), then game progress should be in sync on WP8 and W8 using my Microsoft account, (even when Cut The Rope is not xbox live game..)

Is there a WPCentral app on W8/RT?

when is metrotube for windows phone getting an update. i have issues with preloaded videos not playing smoothly either with or without signal?

cheers

Will definitely be downloading it

Hopefully Tweetro for WP8 ist right around the corner too!

Awesome news. Kudos to Lazyworm and a perfect example for other developers.

Excellent news for an excellent app! Everytime I use this app on my Lumia around friends, they always ask me to demo it. It is well-designed and a joy to use.

it is a real shame YouTube is a Google property, therefore I won't touch it.

Looking forward to testing this out.

Preloading. I might be a Win8 Desktop user, but that one feature will make me switch over from the web version for sure.

Why does it take so long to port a WP8 app to W8? I thought it just required some minor updates and UI changes.

Likely because they have to support various resolutions, I'm guessing. And probably not everything's as close as some devs would like it to be (I wouldn't know...).

Also I read above that they will now have access to ALL YouTube vids now within their apps (not just mobile), which I think will change a few things here and there. But that's my guess :)

It'll probably be the entire 2 weeks or maybe even a little longer cause there's still quite a bit to be fixed or added.

I love TubeTV for YouTube on windows 8.
http://apps.microsoft.com/windows/en-us/app/tube-tv/c532adb7-a25f-40be-846f-451299a65a7b

Yup pretty cool app indeed!!!!!!!

thanks for sharing. its awesome...

A WINDOWS 8 APP WITH VERTICAL SCROLLING! YES!
Sorry, couldn't contain my approval of people that actually know how to use Metro.

Loved metro tube since the beginning but in the last few days its started crashing and getting really slow again, so got the new youtube app and its sooooo smooth and lovely, cant remember the name I will have a look, wpc had it up yesterday, anyway, using lumia820 Mtube has done this b4, I have uninstalled reinstalled it but still the same?? Mytube, its brilliant, but iam not saying Mtube isn't, it just ain't working for me at the moment

Hey guys....I also have created a YouTube app for Windows 8 named 'Tube +'. It's been on store since 27th April, 2013. And I am getting quite a good reviews from the users. Please take a look at it. Below is the link to it.
http://apps.microsoft.com/windows/en-US/app/tube/56c86380-3d69-49f5-b41f-278ef76ba5a6

Windows Central Newsletter
Get the best of Windows Central in in your inbox, every day!
Thank you for signing up to Windows Central. You will receive a verification email shortly.
There was a problem. Please refresh the page and try again.