Michelle Obama to speak at Microsoft's Envision conference in September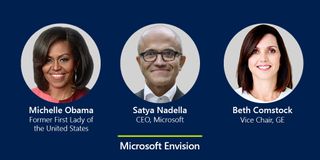 Former First Lady of the United States Michelle Obama is set to speak at Microsoft's upcoming Envision conference in September. Obama will join other featured speakers including Microsoft CEO Satya Nadella, General Electric Vice Chair Beth Comstock, and other Microsoft executives.
Microsoft Envision is an annual conference that Microsoft started in 2016 for business leaders. In addition to offering business executives an opportunity to network, Envision features (opens in new tab) keynotes and sessions from "a broad slate of visionaries, experts, and innovators." Envision officially runs from September 25 through September 27 in Orlando, Florida. Registration is open at the Microsoft Envision website (opens in new tab).
Windows Central Newsletter
Get the best of Windows Central in your inbox, every day!
Dan Thorp-Lancaster is the former Editor-in-Chief of Windows Central. He began working with Windows Central, Android Central, and iMore as a news writer in 2014 and is obsessed with tech of all sorts. You can follow Dan on Twitter @DthorpL and Instagram @heyitsdtl.
netmann, pretty much. It will have a big influence on her wallet I am sure.

How much is the speaking fee, and what could this be payback for? The last speaking fee for the Obama's was $400,000.

I wouldn't care if she got $1M, if the current president can make money off of the highest office in the land by having our tax $ go straight into his pockets thru MaraLargo then all bets are off.

This here is so true and I agree 100%!

You must have missed the part where his companies are donating to the Treasury department any and all revenue received that could in any way be connected to the fact that he is President.

I agree, this is one to skip. While I do not always agree with her husband, I respect much of his beliefs. I have never heard anything of real Intelectual Substance come from her.

You must have never heard her speak then. Who cares if you go anyways

and she will be talking about women... and feminism... and the need for girls in IT... because the future generations should about women and not men. I know her propaganda

Gross... I can hear it now... "my flip phone is amazing"

Because Michelle Obama has literally nothing else in her life that's interesting. Maybe put down your phone every now and again and you'll see there's a world out there.

She obviously has more to do than you do.

I have absolutely no doubt that's true. I work here every day remember, with you lovely people.

Nice to hear that she will speak. She has been a great influence on peoples lives.

Agreed! These people speaking negative must be Trump or Chump supporters.

or obviously have issues with minorities or people of color..

And apparently people have a problem with people of orange color.

and have problems with strong women

or wise people who are tired of the mainstream propaganda?

wow here are many Obama haters who are downvoting everything.

since the election, they have crawled from under their rocks

As long as they don't climb into Hillary's diapers they are probably safe. fyi, Those farts aren't farts.

Strange, don't think she has vision, expertise nor innovation.

Not to mention her lack of business experience. What a waste.

she may lack business experience...but what about the waste and lack thereof of the people with business experience running our country now...total disaster

Back to Berkley with you!

Then you obviously have issues with the current administration's lack of fairness, morals, integrity, HONESTY, common sense, experience....you get the idea...talk about a waste..

Now where have I seen this before... oh yeah, the Clinton's giving speeches for hundreds of thousands of dollars to Goldman Sachs and whatnot. It'll be interesting to see if the Obamas go the same route in the next few years... and who can blame them? It's easy money.
Still pretty offputting tho. (#BernieWouldHaveWon) Then again, would I have cared if it was Elon Musk giving a speech? Porbably not. Heck, I'd probably demand for it to be streamed.

Elon Musk... supported by the American taxpayer whether they want it or not. (must be nice, how do I sign up for free funding)

This is a good move, as Michelle knows how to promote science and engineering carreers in Girls, as she did when she traveled to Africa.

You do not have to be a hater to know that nothing shes says will make any difference one way or the other. Oh well, guess if you are going to make money and all you have to do is speak, might as well do it.

You go girl! When you are up on stage, turn and look that dead-beat Nutella right in the eyes and yell "GIVE ME A RAISE, B**CH!"

Elon Musk, a person who is actually producing things we will use everyday.

More of his inventions blow up than actually work. He is half genius and half crack-pot.

And half scam artist, whoops.. too many halves. :) I would say this... he is top notch at ripping the American taxpayer off... nobody is doubting that.

Nice!!! Good to know that they have someone of her status speaking. She know a whole lot more than all of these racist haters and others that are speaking negative of her. She is very smart and I'm sure can run circles around these people.

This is disgusting. This woman does nothing but trash the USA and the American people. Microsoft would do well to stay out of political endorsements, which is what this is.

Oh waaaahh. At this point, the "american people" DESERVE to be trashed after the idiotic choices they made. But if you enjoy corrupt, Putin loving Autocrats that think sexual assult is A-ok, then by all means wave that tarnished flag high.

You're an idiot. I don't know any "Putin loving (sic) Autocrats (sic) that think sexual assault is A-ok." Typical of a leftist to base his argument on bullshit.

@the19thd0ctor you're sorta funny but in a way that isn't funny. Curious.

Why? Because she's a politically aligned diversity choice? Does she have any qualified knowledge of use for this? Doubt it. I won't watch if it's available because I'm not here to have political figures shoved in my face.

Ok! We won't cry if you don't

This is America, we elect presidents without qualified knowledge. (see current)

I see no problem with this. What's wrong with the login when using fire/water fox? I had to go to the forums just to log in

This comment section is from South Park right?

We dodged a bullet, they have the right people for this. We could have ended up with Donald Chump instead! (whipes forehead) Thank God we didn't!

Next step, selling Uranium and Plutonium to Iran and North Korea. Should have stayed on the private island.

Great,the woman who told everyone how to eat for eight years and is married to the worst president since Carter is gonna speak at a Microsoft event. Guess I'll skip it.

You are a clueless soul.. The best president ever is what I think you meant to say.

your opinion but mine says the current is the worst....

I don't see where Mrs. Obama is relevant other than lending her name to the conference. Her big issues as first lady were physical fitness and gender equality. While these are certainly worthy subjects, I just don't see how that ties into Microsoft as a technology company and the Envision conference goal of "Lead Your Digital Transformation with Microsoft" that is designed to improve the capabilities of business leaders. Mrs. Obama is being invited for who she is, not for what she has done. Her influence is in the political arena and I seriously doubt she has the technical ability to leverage technology to change the way organizations work. As first-lady of the United States I bet she hasn't directly touched a computer since 2008 other than mabye sending out tweets. Honestly, this sounds like Microsoft is buying influence with the Obamas much the same way the Clintons used their "non-profit foundation" to consolidate political power under the guise of helping worldwide social issues. I will apologize if it turns out she is doing this at no cost to promote her issues, but I'm reasonably confident she is getting a six-figure speaking fee.

Looks like you understand logic and facts, unlike some of the pro-Bama commenters here

Since this has descended into political whining, how about we close those comments.